Boston Red Sox at New York Yankees Game 2 Live Blog: Highlights, Reaction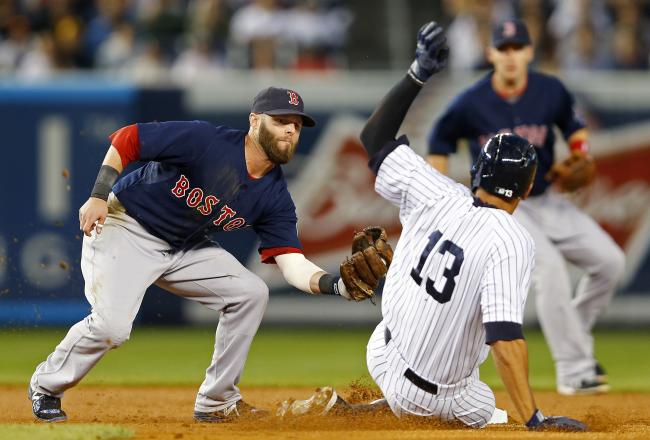 Rich Schultz/Getty Images
In the wake of one of the year's best games—do we expect anything less from this great rivalry—the Yankees and Red Sox will be at it again tonight in the Bronx at 7:05 p.m. ET.
Boston (85-57) listed Felix Doubront as the night's starting pitcher. The lefty had had moderate success on the year, going 10-6 with a 3.89 ERA but has struggled of late. In his last outing, he struggled mightily, managing only 3.2 innings, allowing seven hits and four runs.
Tonight was not much better, as he again went 3.2 innings, giving up six runs. He could not continue his good fortune on the road, where was 5-2 with a 3.82 ERA before tonight. Of the Yankees available for the night's game, only Eduardo Nunez had at least 10 at-bats and an average over .200 (he has 15 at-bats and .333 AVG). Nunez again hurt Doubront, including a key triple in the second inning.
On the bump for the Yankees was veteran lefty Andy Pettitte, who was looking to build on his recent successes. In his last 25.2 innings he had allowed just six runs.
However, three players on the Red Sox active roster had had pretty good success against Pettitte, most notably Jonny Gomes (.474), Mike Napoli (.368) and David Ortiz (.435). Pettitte pitched well, leaving the game after six innings of work with a five-run lead.
Both teams had been playing great baseball since their last series back in mid-August. Before Thursday night's game, the Red Sox were 11-4 and the Yankees were 11-5.
Friday saw some more magic and yet another chapter of this great rivalry. Despite a great start by the Yankees offense and pitching for the first six innings, the Sox scored nine unanswered runs to end the game and complete yet another comeback win against their rivals from the Bronx.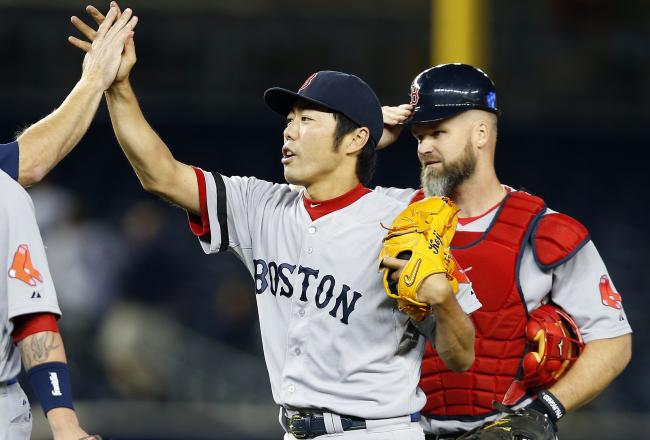 Enter...Koji Uehara
The game ended with Red Sox closer Koji Uehara continuing his scoreless innings streak to 27 innings. A Jeter ground out followed by strikeouts by Soriano and Cano ended yet another great game by these two American League East rivals.
Final score: Red Sox-12, Yankees- 8.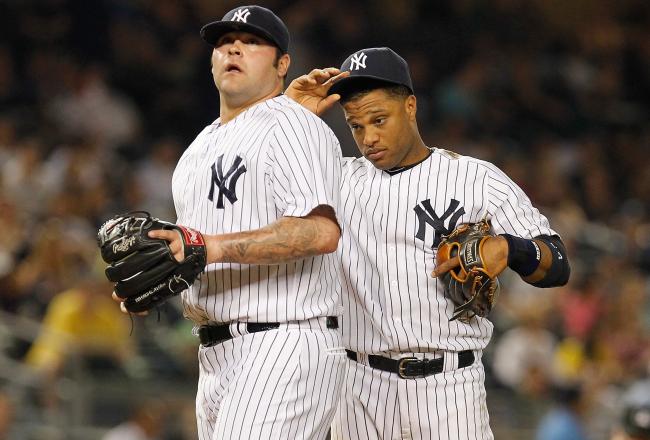 Sox Extend Lead in Top of the 8th
After a fielder's choice by Pedroia sends pinch-runner Quintin Berry (came in for Carp) to second, Chamberlain intentionally walks Ortiz and unintentionally walks Napoli to load the bases. Nava follows up with a tough at-bat, drawing yet another walk from Chamberlain to bring the score to 11-8.
Drew gets his first hit of the game by singling through the shortstop-third base hole and scoring Ortiz, extending the lead to four.
The inning is finally ended when Ross strikes out on a Chamberlain curveball.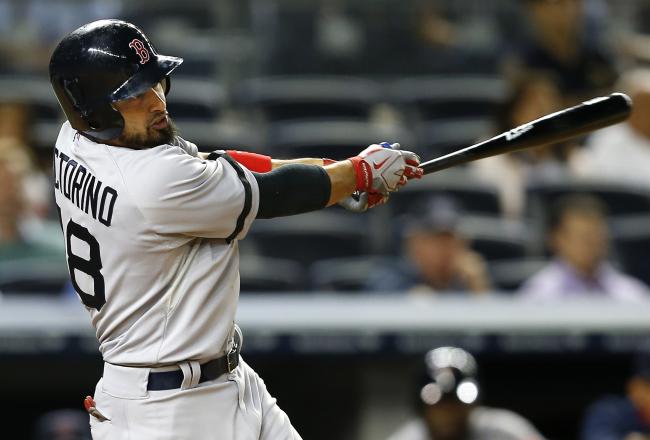 Red Sox Take Lead on Victorino Jack
In the top of the inning, Claiborne is still pitching for New York. He strikes out Ross to lead off the inning. Middlebrooks, who reached on a single to left, scores as Victorino hits his sixth home run in his last 12 games on a hanging breaking ball from Claiborne.
10-8, Red Sox.
Carp's line-drive single up the middle convinces Girardi to replace Claiborne with Joba Chamberlain.
Workman shuts down Yanks in Bottom 7th
Relief pitcher Brandon Workman shows nasty breaking stuff to Soriano, striking him out on four pitches. On the first pitch he sees, Cano grounds out. A-Rod cannot figure out Workman either, swinging through two cutters and watching a curveball for strike three, completing the 1-2-3 inning.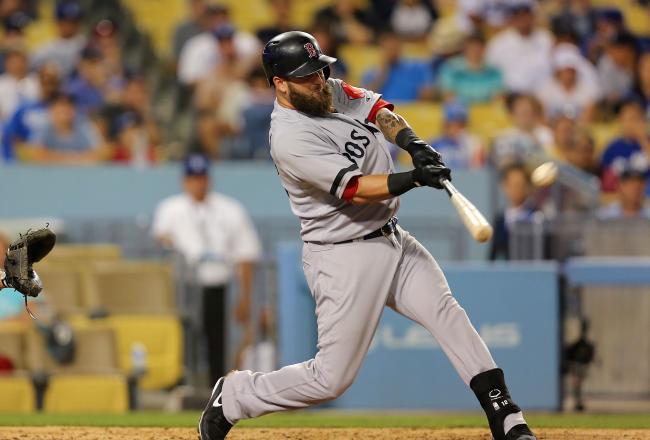 Boone Logan in for Hughes, Napoli Grand Slam Ties It
Ortiz strikes out on a Logan slider that catches the outside black.
Napoli takes a Logan fastball to right field for a grand slam. What looked like a routine fly ball to Ichiro squeaked over the right field wall for a game-tying grand slam...Yankee Stadium dimensions...a home run likely no where else.
Red Sox mount a comeback for the second game in a row against their rivals. Doubront is off the hook for the loss, and Pettitte is no longer in line for the win. It's a new game!
After giving up a line-drive single up the middle to Nava, Logan replaced on the mound for what looked like an injury. Preston Claiborne ends the inning by getting Drew to fly out to left, but the damage is done: 8-8.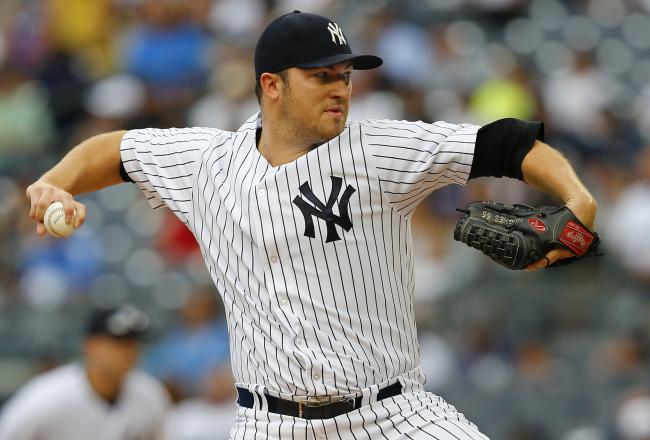 Hughes in relief
Phil Hughes is now in pitching for the Yankees. It is his first relief appearance since 2011. Hughes has had his struggles this season, going 4-13 on the year. Pettitte leaves with an 8-3 lead, in line for his 11th win.
Ross lines a one-hopper to Nunez at shortstop. The hard-hit ball hits off Nunez's glove and the play is rightfully scored a single. After a fly-out to center by Middlebrooks, Victorino grounds a single up the middle.
Mike Carp pinch-hitting for Jonny Gomes
After living on the outside corner for the entirety of the at-bat, Hughes finally walks Carp on nine pitches, prompting a mound visit by Yankees pitching coach Larry Rothschild.
With the bases loaded, Pedroia hits a slow grounder to third which A-Rod fielded cleanly but throws low, cutting the lead to four and leading to Hughes' removal for the game.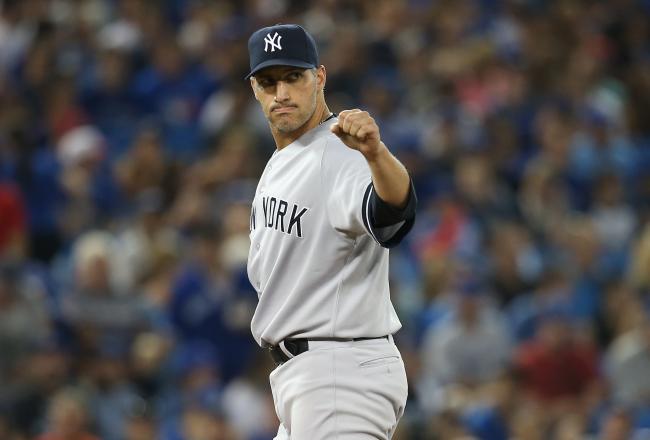 Top 6th
Have to wonder what Girardi said to Pettitte on that mound visit after his lefty walked Napoli. Whatever it was worked: Pettite proceeded to strikeout Daniel Nava and get Drew to pop out to first.
Announcers talking about how weird it must be for Pettitte ot be playing for someone (Girardi) who he once played with. It is likely not as weird as they might think because a pitcher-catcher relationship is very comparable to a player-coach relationship.
Pettitte could be done after this inning. He now has 100 pitches. Ross and Middlebrooks are leading off the 7th, however, and Girardi might send out his veteran for the two righties.
De La Rossa finishes off the Yankees in the bottom of the inning, 1-2-3.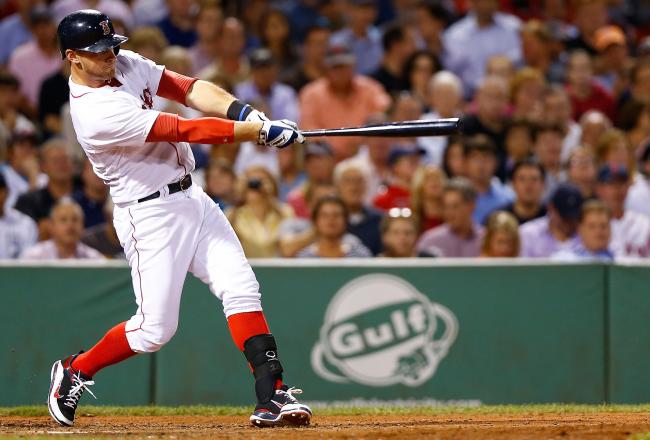 5th Inning Recap
Will Middlebrooks hits his 14th home run of the season, a solo shot that made it 6-3, Yankees.
In the bottom half, Robinson Cano hit a Rubby De La Rossa (who replaced Doubront in the 4th inning) changeup to the warning track in left-center for a double. After a fly ball to center by Alex Rodriguez moved Cano to third, a single by Vernon Wells scored Cano.
Score is now 7-3, Yankees.
On the very next pitch by De La Rossa, Nunez scorched a single to right field.
Former Oriole Mark Reynolds' single brings in Wells from second. Throw from right was cut off, catching Nunez between second and third for the last out of the inning.
Yankees 8, Red Sox 3 after five innings.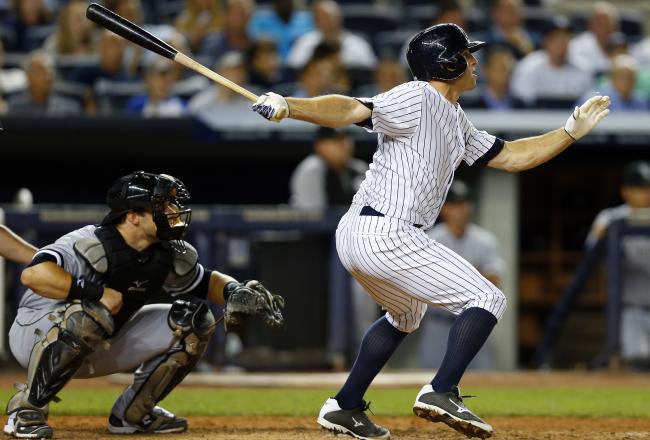 4th Inning Recap
In the top of the 4th Napoli led off with a double and was scored on a ground out to first by Stephen Drew.
Ross struck out to end the inning.
Gardner tripled (tenth of the season) in the bottom half of the inning, scoring Mark Reynolds and Stewart.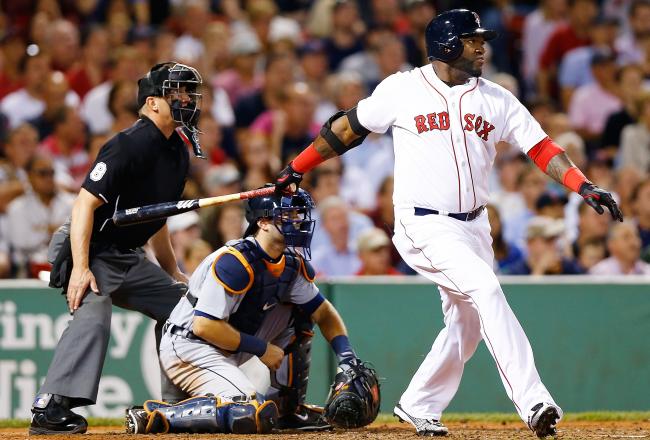 Pettite strikes out Jonny Gomes for the second time. He continues to pound the strike zone with the cutter, challenging the Red Sox hitters.
Vernon Wells robs Ortiz of a hit in right, making a nice sliding catch for the third out of the inning.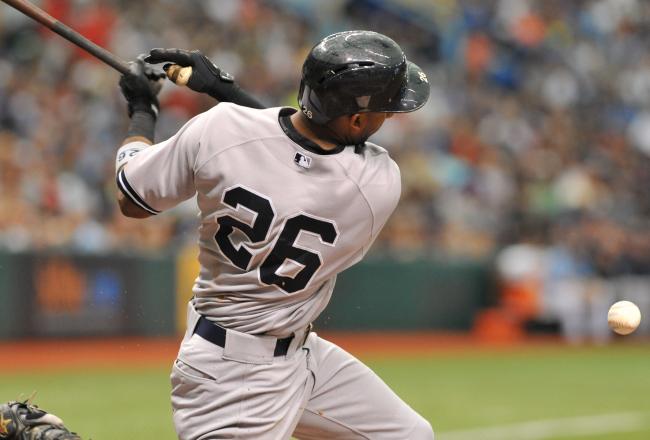 After two innings, it's 4-1, Yankees
Eduardo Nunez continues his success against Doubront with an RBI triple.
Mark Reynolds was called out on a questionable strike-three call on a low-and-in fastball (computerized strike zone program saw the ball off the inside corner).
Chris Stewart drives in Nunez on a sacrifice fly to left.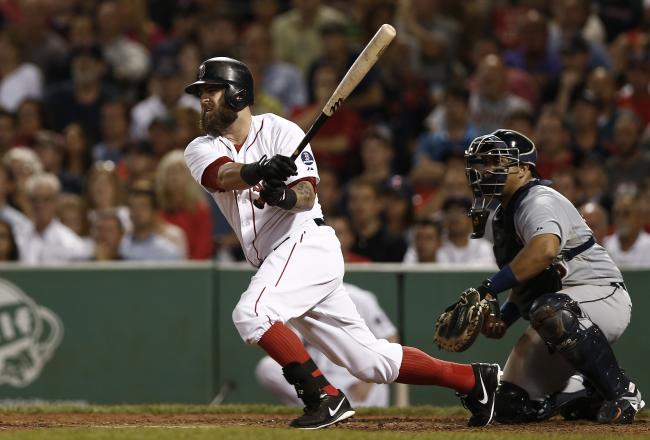 Through Top 2nd
The "beard connection" produces a run: Mike Napoli driven in on a David Carr single.
Pettitte still looks good through two innings, despite giving up the run. He struck out another and got Will Middlebrooks to ground into a double play to end the inning.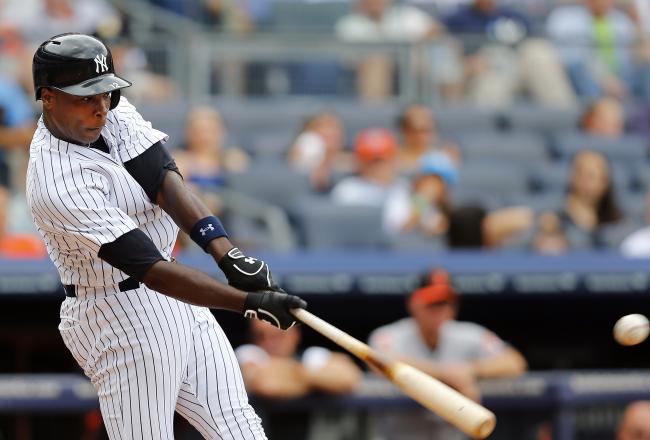 Bottom of 1st, Soriano 2-Run Home Run
Interesting move having the lefty Brett Gardner lead off against the lefty Doubront today for Yankees manager Joe Girardi. Pedroia makes nice play on the speedy Gardner's drag-bunt attempt.
Standard Derek Jeter at-bat: works the count, sees eight pitches and earns the base-on-balls
Alfonso Soriano takes an up-and-in fastball from Doubront into the left field stands to put the Yankees up 2-0.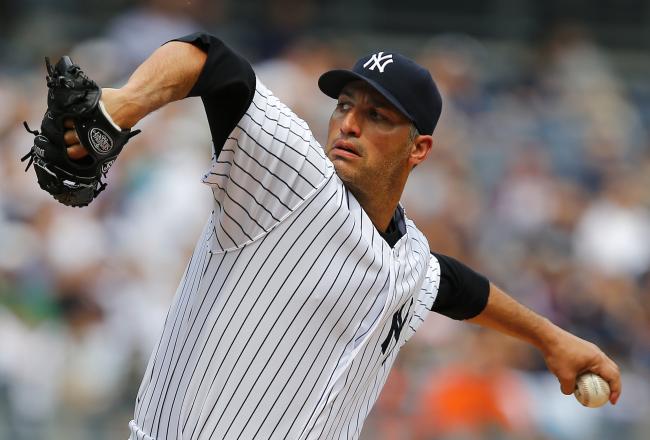 Pettitte struck out Shane Victorino and Jonny Gomes before surrendering a single to Dustin Pedroia. He ended the inning striking out David Ortiz. He looks to have the slider working today.
This article is
What is the duplicate article?
Why is this article offensive?
Where is this article plagiarized from?
Why is this article poorly edited?

Boston Red Sox: Like this team?