Have you ever wondered whether closers are less determined to get the job done in non-save situations?
I certainly have, and it's all Casey Janssen's fault.
When Sergio Santos landed on the disabled list in late April 2012, the race was on to add his replacement in fantasy leagues. I lost that particular race by a matter of moments to a close friend, with whom Janssen's name quickly became a punchline of jokes and the subject of unrealistic trade proposals.
Within a couple of months, our facetious scrutiny of Janssen eventually led to the realization that he was extremely clutch in save situations and painfully mortal otherwise. By the time the All-Star break came and went, I would text my friend "Janssen getting CINSS'd" as a gleeful warning that his closer was entering the game in a non-save situation.
At the end of the season, I tallied up his statistics in save situations and non-save situations. The contrast was rather staggering.
In games where Janssen recorded a save, blown save or hold, he had a 1.01 ERA, 0.60 WHIP and 12.0 K/BB. In all other games, he posted marks of 3.65 ERA, 1.05 WHIP and 4.8 K/BB.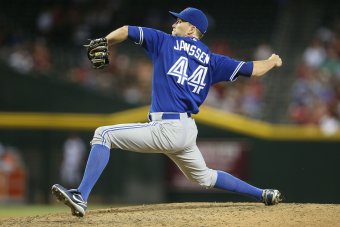 Christian Petersen/Getty Images
Was Janssen an outlier, or was this a league-wide epidemic in which closers simply aren't as motivated to get the job done without a save on the line?
Many veteran closers (Heath Bell, Jonathan Papelbon, Mariano Rivera and Francisco Rodriguez to name a few) either have had or currently have stipulations in their contract, by which they either get performance bonuses or option years added for reaching various plateaus in games finished.
Would it really be a surprise if the evidence showed that they don't put forth as much effort when brought into the top of the ninth inning in a tie ballgame?
With all of these questions in mind, I decided to more closely track the performance of closers in 2013 based on the situations in which they're brought into the game.
Since he provoked the CINSS theory in the first place, it was impossible not to notice that Janssen's splits are still eye-popping. Through the end of August, he had a 1.55 ERA and 0.86 WHIP in 30 save chances and a 4.77 ERA and 1.29 WHIP in his other 17 innings of work.
Sergio Romo, Glen Perkins and Addison Reed have each also shown a significant drop-off in production in non-save situations. Even Craig Kimbrel hasn't been anywhere near as dominant when he isn't chasing a save: 0.76 WHIP and 13.7 K/9 in save situations; 1.22 WHIP and 9.3 K/9 in other appearances.
I looked through the game logs of the 15 pitchers who entered the month of September with at least 30 saves, and was a bit disappointed to discover that my theory was total hogwash.
Performance of Closers with 30+ Saves By Situation

| | | | | | | | | |
| --- | --- | --- | --- | --- | --- | --- | --- | --- |
| | Non-Save | | | | Save | | | |
| Closer | IP | ERA | WHIP | K/9 | IP | ERA | WHIP | K/9 |
| Craig Kimbrel | 10.2 | 0.84 | 1.22 | 9.3 | 46.0 | 0.98 | 0.76 | 13.7 |
| Jim Johnson | 10.2 | 2.53 | 1.22 | 8.4 | 46.2 | 3.66 | 1.37 | 6.6 |
| Mariano Rivera | 7.2 | 1.17 | 1.57 | 3.5 | 42.1 | 2.34 | 1.09 | 8.7 |
| Joe Nathan | 16.1 | 0.55 | 0.86 | 12.1 | 37.1 | 1.93 | 0.96 | 8.9 |
| Rafael Soriano | 15.2 | 2.87 | 1.47 | 6.9 | 42.0 | 3.86 | 1.17 | 7.9 |
| Greg Holland | 15.0 | 0.00 | 0.40 | 12.0 | 38.0 | 1.89 | 1.08 | 14.9 |
| Addison Reed | 22.1 | 4.03 | 1.07 | 10.1 | 41.0 | 2.85 | 0.98 | 8.3 |
| Grant Balfour | 19.1 | 2.79 | 0.98 | 12.1 | 34.1 | 2.36 | 1.25 | 9.2 |
| Edward Mujica | 17.1 | 2.08 | 1.04 | 6.2 | 41.0 | 1.76 | 0.71 | 6.8 |
| Sergio Romo | 13.2 | 4.61 | 1.46 | 11.2 | 35.2 | 1.77 | 0.79 | 8.6 |
| Aroldis Chapman | 18.2 | 2.41 | 0.86 | 18.3 | 34.2 | 3.12 | 1.21 | 13.5 |
| Glen Perkins | 19.2 | 3.66 | 0.92 | 13.3 | 34.0 | 1.32 | 0.94 | 10.3 |
| Fernando Rodney | 19.2 | 3.10 | 1.37 | 11.4 | 36.0 | 4.00 | 1.44 | 11.8 |
| Jason Grilli | 11.1 | 3.18 | 1.24 | 15.1 | 31.0 | 2.03 | 0.81 | 13.6 |
| Ernesto Frieri | 21.0 | 3.86 | 1.24 | 12.0 | 36.2 | 3.93 | 1.31 | 13.7 |
| Total | 239.0 | 2.67 | 1.10 | 11.2 | 576.2 | 2.53 | 1.06 | 10.3 |
ESPN Game Logs
(There are a few particular points of interest from that chart. Rivera apparently doesn't even try to strike out the opposition in non-save situations and has a pretty terrible WHIP—which tells me that he saves his best bullets for when he actually needs them. Also, Holland has been an excellent closer this season, and zero earned runs and only six base runners allowed in 15 innings of non-save work is pretty incredible.)
The small sample sizes among individual closers led to the handful of aforementioned names who appear to be much less dominant without the pressures of a pending save. Lump all 15 of those closers into one data set, however, and the sample size is larger than any starting pitcher had in the entire 2012 season.
In 239 innings of non-save situation pitching, these closers have a 2.67 ERA, 1.10 WHIP and 11.2 K/9. In nearly 600 innings of save opportunities, those numbers vary ever so slightly to 2.53 ERA, 1.06 WHIP and 10.3 K/9.
On a per 100 IP basis, that's a whopping difference of 1.8 earned runs, 4.3 base runners and 9.6 strikeouts.
Considering the higher K/9 in non-save situations and the negligible difference in ERA and WHIP, it might be easier to argue that closers are better in non-save situations. At any rate, it's pretty clear that Casey Janssen's extended run with a drastic split is an exception to the rule.
Before doing the full-blown research, the original intent of this article was to ask managers to stop using closers in non-save situations by showing a stark difference in their statistics. Instead, I'm now forced to wonder why managers use their bullpens the way that they do.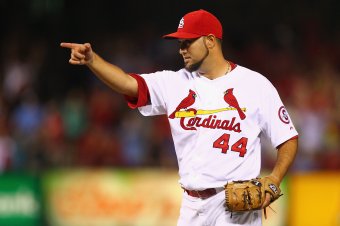 Dilip Vishwanat/Getty Images
Real-world application
On September 4, the Cardinals and Reds waged a 16-inning war in a game with severe NL playoff implications. Manager Dusty Baker—though it took him five months to put together a logical batting order—correctly used his best reliever in the top of the ninth inning in a tie ballgame.
By and large, managers have figured out that they might as well use their closer in that situation, because there's no opportunity for the home team to get a save after the ninth inning.
Managers of the road team in those situations, however, seem to be completely clueless on what to do.
Cardinals' closer Edward Mujica had not pitched in either of the previous two days, and had only been brought into a game three days prior to this one in order to get some work in a 7-1 game after not pitching in nearly a week. With Trevor Rosenthal having already pitched the eighth and ninth innings, Mujica was the most valuable reliever left in the Cardinals' bullpen.
And in the bullpen he remained for four innings as Sam Freeman (who entered the game with 7.0 IP on the season), John Axford (4.55 ERA since the start of 2012) and Tyler Lyons (making just his second career relief appearance in the majors) threw 46 pitches that could have ended the game with a walk-off home run.
Even though Mujica was well-rested and already had a span of 96 hours in mid-August in which he appeared three times for two innings each, manager Mike Matheny decided to save his best reliever for a possible one-inning save situation.
In the 14th inning, he finally got his wish. Mujica entered the game with a one-run lead.
After two batters the lead was gone.
Would the universe punish Matheny for the debacle? Of course not! The Cardinals went on to win the game anyway, mitigating any lesson that should have been learned.
Lest you get the impression that I'm just harping on Matheny and the Cardinals, this was just one of 15-extra-innings games played between August 17 and September 5 in which the visiting team did not use its primary closer in the first nine innings of the game.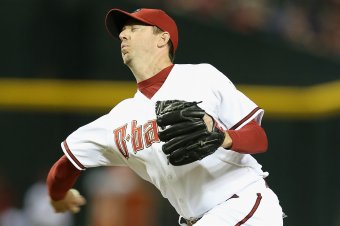 Christian Petersen/Getty Images
In 11 of those other 14 games, the road team either lost before using its closer (five times), kept him in the bullpen until he could get a save (five times), or—as in the case of the Cubs on August 25—kept its closer for a save situation only to see him blow the save before the team lost the game.
In two of the other three situations, the closer was brought into the game as a last resort before bringing in a starting pitcher for however much longer the game was meant to last.
And in the final game remaining on the list, Kirk Gibson finally called upon Brad Ziegler in the 13th inning, though perhaps only to avoid taxing the rest of the bullpen, as it was only their third game of a 10-game east coast road trip with no days off. Also, Ziegler hadn't pitched on any of the previous three days.
In all of those situations, the manager chose to rely upon significantly less reliable relievers in do-or-die situations.
Why?
Better yet, why do managers consistently use their best reliever to protect a three-run lead with only three outs left to go?
Mike Zarrilli/Getty Images
Argument against protecting multi-run leads on consecutive days
Kimbrel has been unbelievable over the past four months, allowing just one run to score since his last blown save on May 7—a run that scored in a non-save situation, for the record—but only nine of his last 36 saves have come in situations where he entered the game with a one-run lead. Eleven times he had a two-run lead and 16 times the opposition would have needed three runs to extend the game.
After saving three consecutive games against the Cardinals from July 26-28—three games that were decided by a total of eight runs—Kimbrel was unavailable the following day for a one-run save situation against the Colorado Rockies. The Braves would win the game, but not before Jordan Walden blew the save in the ninth inning.
The same thing nearly happened less than a week later on August 5. Kimbrel had saved all three of Atlanta's games against the Phillies—including a 12th-inning save—by a total margin of six runs and was unavailable for a one-run save situation against the Nationals. Walden allowed Anthony Rendon to get to third base with one out before the Nationals failed to get the job done. (What else is new?)
If two is a coincidence, three is a trend. From August 25-29, the Braves used Kimbrel four times—none of them in a one-run save situation—before needing Anthony Varvaro to protect their one-run lead in the ninth inning against the Marlins on August 30.
Because it has been a magical season for them, the Braves won all three of those games without Kimbrel. Even if there weren't any immediate consequences for using him to protect leads that just about anyone could protect, at what point do we start to worry about the long-term effects?
In 2011, the Braves held a 7.5-game lead over the Cardinals for the NL Wild Card on September 8 thanks to 69.2 innings and 43 saves from Kimbrel. He went on to blow three of his final six save opportunities and the Braves missed the playoffs.
Would he have been fresh enough for the home stretch if Fredi Gonzalez hadn't brought him in to protect a three-run lead 15 times that season? We'll never know. But after spending the past decade with increasing concern over pitch counts and inning limits for starting pitchers, perhaps it's finally time to start getting a little smarter about when closers are utilized.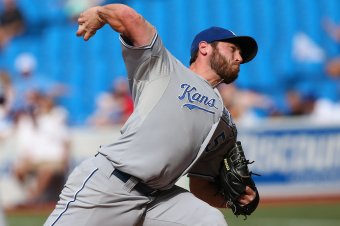 Tom Szczerbowski/Getty Images
Where do we go from here?
"Bullpen by committee" has become a dirty phrase. Any manager uttering those words in a press conference has lost all faith in his closer and is simply waiting for someone to step up and earn the vacated job.
But what if we could revolutionize the approach to the bullpen and make things more situational instead of innings-based? No more set-up guys, closers or left-handed specialists, but rather a hierarchy of seven or eight relievers to use in various situations.
Say there are two men on base with no outs in the seventh inning and the Royals are clinging to a two-run lead. Under the current approach to managing, Ned Yost is either going to Kelvin Herrera or Tim Collins in that situation, depending on whether the next few batters are left-handed or right-handed.
But why not turn to Greg Holland right then and there?
There's no way to know whether you'll have a five-run lead or a 10-run deficit by the time the ninth inning rolls around, so wouldn't you just want your best reliever protecting a slim margin regardless of the inning? If you actually trust Herrera or Collins in that seventh-inning situation, wouldn't you also trust them to start the ninth inning with a lead and no one on base?
Should the save statistic be altered or even eliminated altogether?
It's pretty easy to argue that the only reason managers don't take this approach is because of the existence of the save statistic and the insistence from agents and ownership that certain players get used in those situations.
I'm not suggesting we abolish the save statistic—though, it would certainly be amazing to see that happen—but I do think it's time that contracts and performance bonuses stop getting based on a statistic with such a wide range of applications.
When a pitcher can come into a game with the bases loaded, two outs and a five-run lead, and get the same exact statistic as one who comes in with the bases loaded, no outs and a one-run lead, it's time to reconsider the amount of emphasis placed on said statistic.