Aaron Hernandez Pleads Not Guilty to Murder of Odin Lloyd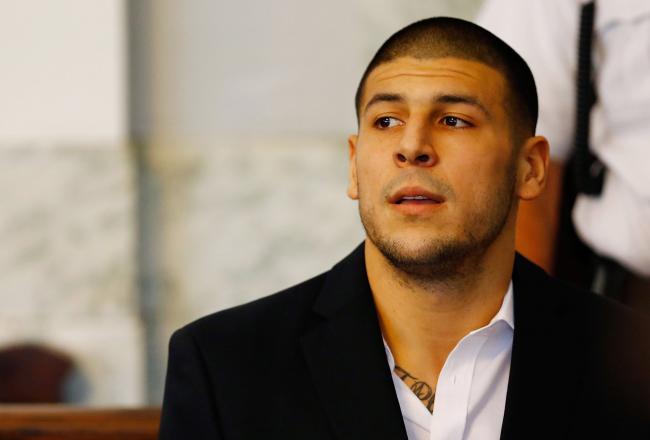 Jared Wickerham/Getty Images
Former New England Patriots tight end Aaron Hernandez officially pleaded not guilty to the murder of Odin Lloyd and five gun charges at his arraignment Friday at Fall River Superior Court.
Wesley Lowery of The Boston Globe first reported the news, where Hernandez was also denied a chance to be released on bail:
As expected, Aaron Hernandez pleading not guilty to first degree murder & gun charges.

— Wesley Lowery (@WesleyLowery) September 6, 2013
Hernandez will continue to be held without bail. Will have another bail hearing in the future.

— Wesley Lowery (@WesleyLowery) September 6, 2013
According to Albert Breer of NFL.com, the next major date in the case is Oct. 2, where a pre-trial conference will be held:
Sorry ... No bail for Hernandez. Pre trial conference is set for October 9 at 2 pm in Fall River.

— Albert Breer (@AlbertBreer) September 6, 2013
Hernandez, 23, initially pleaded not guilty to the charges in district court in June. He had to formally enter his plea again during Friday's arraignment because the case had moved from the district to the superior court, where Massachusetts state prosecutes murder cases.
The Bristol County grand jury upheld the state's charges at a probable cause hearing in August. Hernandez was charged with first-degree murder in the case, along with the weapons charges. Massachusetts does not have the death penalty, but Hernandez faces life in prison if convicted on all counts.
Through his representation, Hernandez has maintained innocence. His attorney Michael Fee called the state's case "circumstantial" at last month's arraignment and claimed the state and local authorities were overzealous in the charging of his client (h/t New York Daily News' Kevin Armstrong).
"There has been an incredible rush to judgment in this case," Fee said.
Ernest Wallace and Tanya Cummings-Singleton have also been arraigned and charged with their involvement in the murder and subsequent alleged cover-up. Wallace was charged as an accessory to first-degree murder. Cummings-Singleton, Hernandez's cousin, was charged with contempt after failing to respond to a subpoena request.
Another man, Carlos Ortiz, faces a federal gun charge but has not been formally arraigned.
Hernandez was arrested 10 days after Lloyd's body was found at a North Attleborough industrial park, less than a mile away from Hernandez's house in the area.
Police allege that Hernandez not only arranged Lloyd's death with premeditation but also served as the gunman. The state's case claims that Hernandez felt betrayed by Lloyd, a semi-pro football player who became friends with Hernandez through his girlfriend, after an incident at a nightclub.
Leaked surveillance from Hernandez's house has showed toting a handgun on the night of Lloyd's murder, evidence the state used in showing their burden of proof. Lloyd was shot five times in the chest and back with what police believe was a .45-caliber Glock.
Bullets from a similar gun were found in Hernandez's SUV policed seized as part of the case. Authorities are yet to find the murder weapon, and spent multiple days diving in a North Attleborough lake in an unsuccessful search. ESPN legal analyst Roger Cossack noted that the state may have a difficult time prosecuting the case without tying the murder weapon to Hernandez:
Aaron Hernandez will plead not guilty to Lloyd murder today, trial at least a year away. Prosecution must find murder weapon or case shaky

— Roger Cossack (@RogerCossack) September 6, 2013
The Patriots, who signed Hernandez to a $40 million contract with $16.4 million guaranteed, released their former Pro Bowl tight end the day he was arrested. Taken in the fourth round of the 2010 draft, Hernandez had become one of the league's most promising tight ends. He compiled 175 catches for 1,956 yards and 18 touchdowns over his three-year career.
The NFLPA filed a grievance earlier this week against the Patriots to recover $82,000 in unpaid workout bonuses due to Hernandez, according to ESPN's Adam Schefter.
Hernandez is also considered a suspect in the double-murder of Daniel Abreu and Safiro Furtado in 2012. Jenny Wilson of the Hartford Courant reported earlier this week that surveillance footage shows Hernandez with the two victims just hours before they were gunned down in Boston's South End.
No charges have been brought against Hernandez or any of his associates in that case at this time. Abreu and Furtado were victims of a drive-by shooting, and police found the silver SUV associated with the killings at Hernandez's uncle's house in June.
Follow Tyler Conway on Twitter:
This article is
What is the duplicate article?
Why is this article offensive?
Where is this article plagiarized from?
Why is this article poorly edited?