Predicting the 10 Most Penalized Players for the 2013-14 NHL Season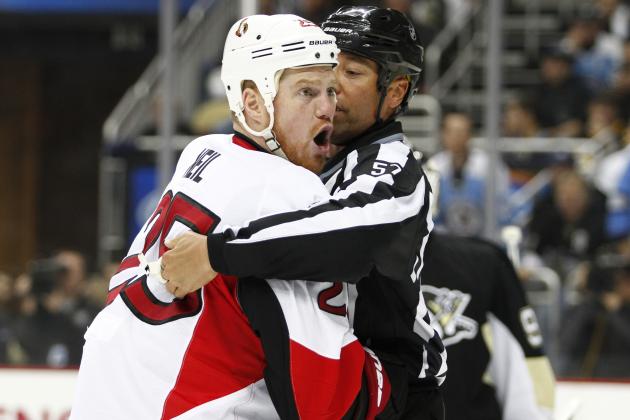 Justin K. Aller/Getty Images

You aren't going to hook and hold your way onto the NHL's list of top 10 most penalized players. No way, no how. A player would have put up a ridiculous number of stick infractions to try and keep up with the likes of Zenon Konopka, Colton Orr and Zac Rinaldo.
That's because those guys like to fight, and they do it a lot.
So while this list attempts to predict the PIM leaders, what it really does is predict which NHL players will be dropping their gloves more than most for the upcoming season. Scott Hartnell and David Clarkson crack the Top 10, but they'd have to do more fighting than scoring to even touch our top three.
Begin Slideshow

»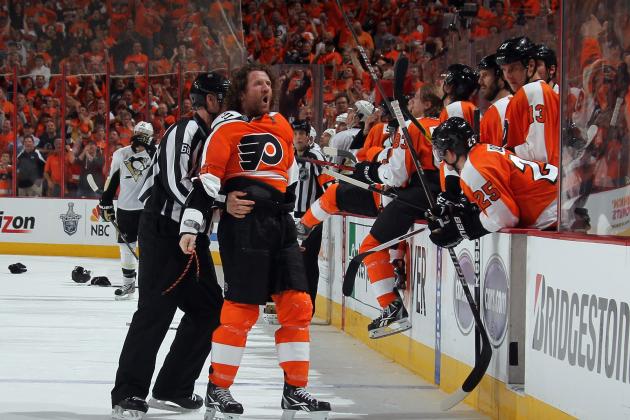 Bruce Bennett/Getty Images

A fantasy hockey favorite because of his ability to both produce points and punches, Scott Hartnell is a power forward the likes of which the NHL hasn't seen since Brendan Shanahan laced up his skates.
He's scored anywhere from 40 to 60 points over the last seven seasons (except for 2006, when he only scored 39 with the Nashville Predators) while producing some pretty gaudy PIM totals—at least for a guy who clearly possesses some skill in the offensive zone.
The Regina, Saskatchewan native managed to rack up 70 PIMs in 2013 despite only playing in 32 games, and he'll make his triumphant return to the top 10 this season.
From his flowing locks to his flying fists, Hartnell is a rare breed in the NHL these days and a fan favorite with the Philadelphia Flyers for very clear reasons.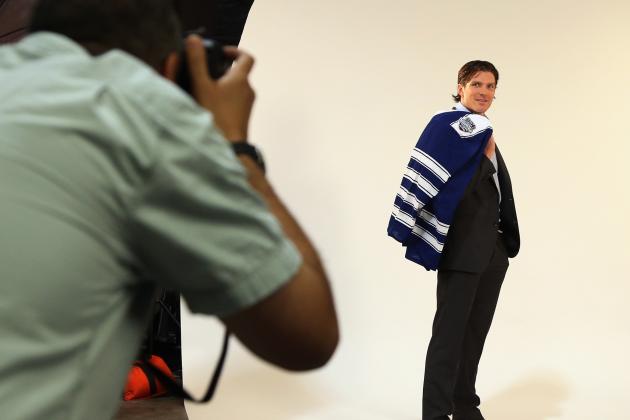 Bruce Bennett/Getty Images

In David Clarkson, the Toronto Maple Leafs secured a point-producing forward that is also a physical force in all three zones. It's likely that he would have cracked the 30-goal mark for the second straight season had 2013 not been chopped by another lockout—impressive considering how much time Clarkson spends in the penalty box.
While he barely hung on to a spot in the top 20 most penalized players last year with 78 PIMs, he's only one season removed from a massive 138 PIM, 46 point outing in 2012.
Expect him to go full-on sandpaper for the Toronto Maple Leafs, who acquired Clarkson for both his grit and skill.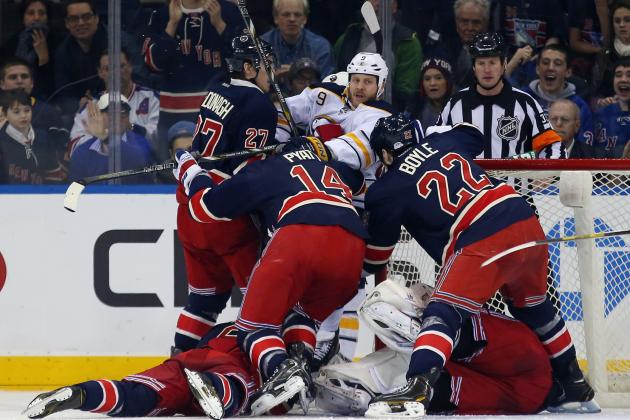 Bruce Bennett/Getty Images

Aside from having one of the best "I didn't do it" faces in the NHL, Steve Ott is another forward that is capable of putting up points while bruising the competition.
He was the 10th-most penalized player in 2013, punching 93 minutes worth of time in the penalty box as the Buffalo Sabres tried to get Ott to single-handedly alter their reputation for being an easy team to play against.
Of course, agitating the competition and fighting them when necessary isn't new territory for Ott. He's played in 614 games through his NHL career and has a whopping 1,263 PIMs to show for it.
It just wouldn't be the Top 10 without him at this point.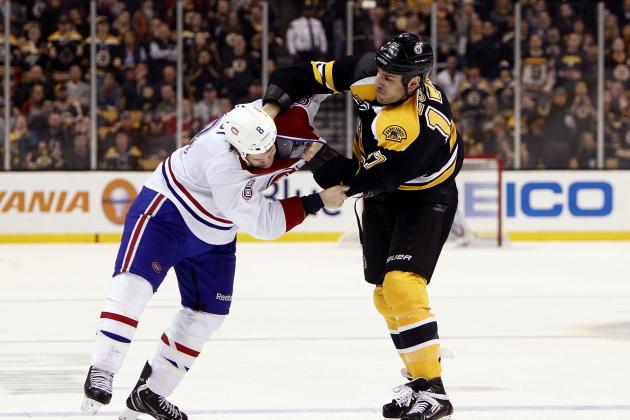 Alex Trautwig/Getty Images

In 2013, Brandon Prust was the seventh-most penalized player after putting up 110 PIMs. In 2012, Prust was also the seventh-most penalized player, spending 156 minutes of his life sitting in the penalty box.
With two consecutive years as the reigning No. 7, who are we to predict that Prust suddenly changes his game up? The Montreal Canadiens have one of the smaller forward groups in the NHL, and Prust will earn a steady paycheck and stream of PIMs while defending the heads of players like Danny Briere and Brian Gionta.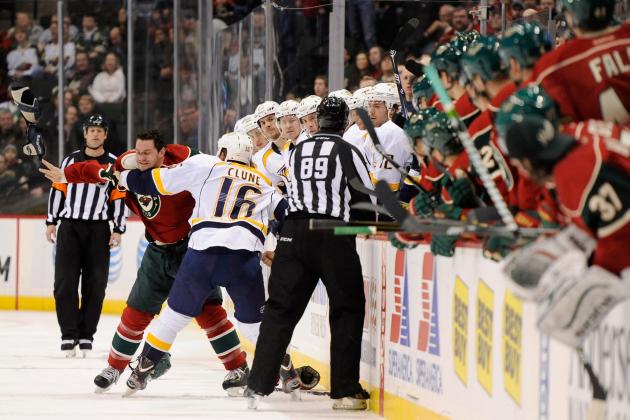 Hannah Foslien/Getty Images

No one is going to confuse Zenon Konopka for David Clarkson in the offensive zone, but the man has carved out an interesting niche for himself in the NHL. While he doesn't take important draws too often, he doesn't typically lose in the faceoff circle.
When he isn't hunched over for a draw, you can usually find Konopka rearranging his gear after a fight out on the ice. He was the fourth-most penalized player in the league in 2013, posting 117 PIMs while winning 60 percent of his faceoffs.
The impact of won draws and fights might not show up directly on the scoreboard, but Konopka is one of the more interesting value players in the NHL at this juncture of his career.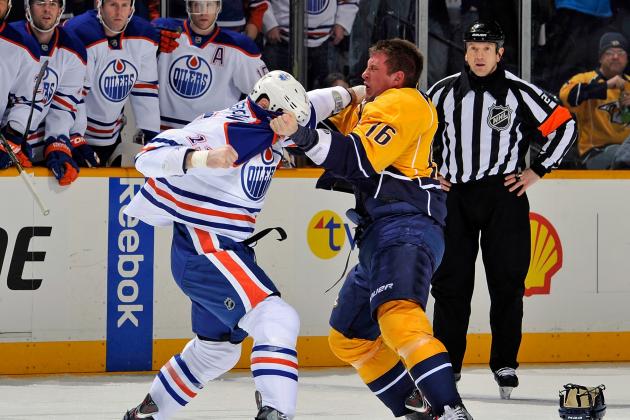 Frederick Breedon/Getty Images

After leading the league in fighting majors, the Toronto Maple Leafs decided that it wouldn't hurt to deal one of their heavyweights to the Edmonton Oilers last season. Mike Brown is in town to do one thing, and that's to protect a ridiculous group of talented youngsters that includes Nail Yakupov, Taylor Hall and Ryan Nugent-Hopkins.
If an opposing player takes a run at any of these kids, Brown will be hitting the ice to take care of business. This is something we can see happening frequently this year, so Brown could be one of the busiest fighters in the NHL.
He was the third-most penalized player in the league last season, and we can't see him suddenly slipping out of the top five. Not with all that talent to protect.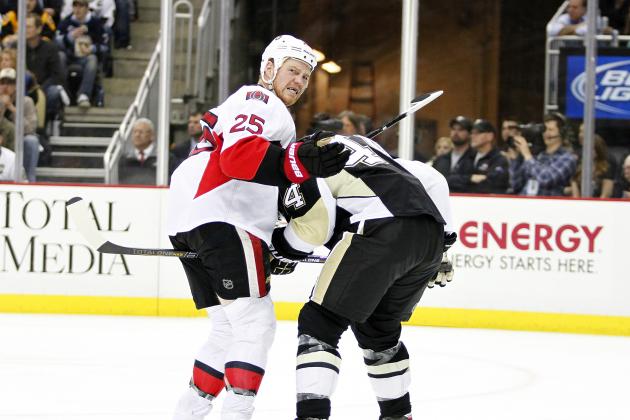 Justin K. Aller/Getty Images

Chris Neil is one of the most effective agitators in the league. Nothing is worse than having a guy chirping at you on one shift, only to see him score an ugly goal moments later.
To go along with his 144 PIMs in 2013—which was good for second in the NHL—Neil found the back of the net four times and added eight assists. Not too shabby for a guy who is typically viewed as a goon. Unlike the prototypical punk though, Neil will drop the gloves and stick up for himself when the need arises.
He was also the second-most penalized player in 2012, coming in with a respectable 210 PIMs that year.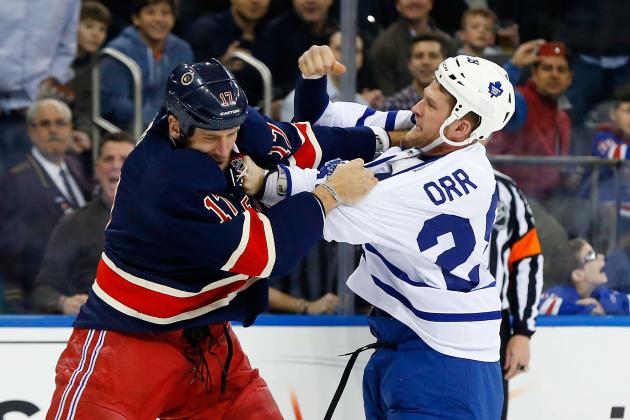 Jim McIsaac/Getty Images

Few players made a bigger PIM jump in 2013 than Colton Orr. He was the 22nd-most penalized player in 2012 and had 128 minutes in penalties for his trouble.
The Toronto Maple Leafs morphed into a boxing club last year though, and Orr led the team—and the league—in PIMs with 155. He could have possibly broken the 300-PIM plateau had the season been 82 games long.
Orr is one of the leading heavyweights in the league heading into next year, and he'll have a target on his back if anyone goes out looking for trouble.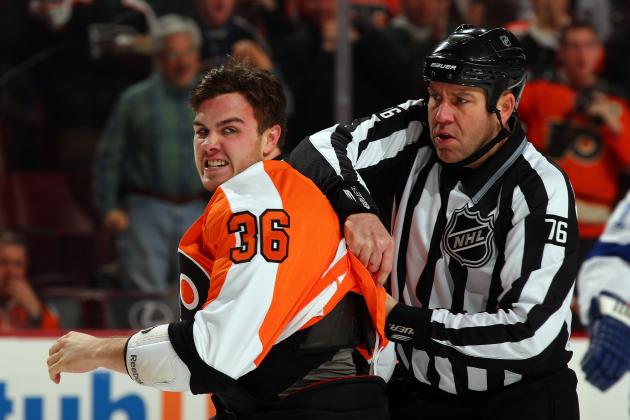 Elsa/Getty Images

There may not be a more opportunistic player in the NHL than Zac Rinaldo. The amount of PIMs he's able to put up despite playing a limited role in a limited number of games is staggering. Take, for instance, Rinaldo's 2010-11 AHL rookie season.
He skated in 60 games for the Adirondack Phantoms. His PIM total that year? Only 331.
Rinaldo toned it down a bit in 2013, skating in 31 regular season games with the Phantoms en route to securing 92 PIMs. He also received another long look from the Philadelphia Flyers last year, appearing in 32 games and racking up 85 PIMs.
Our guess is that he becomes a full-time Flyer next season and takes a charge for the No. 1 spot among PIM leaders. He'll have to take a few runs at the king before he dethrones him however.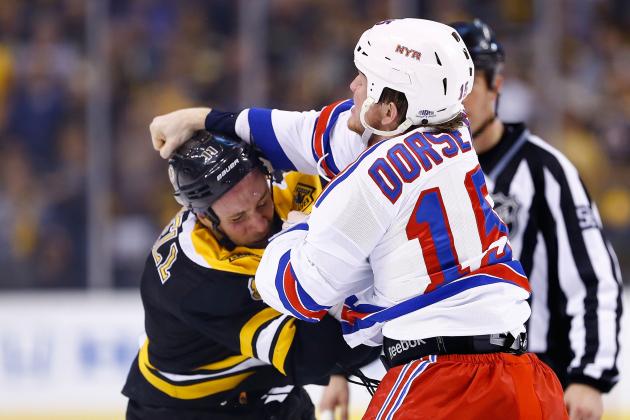 Jared Wickerham/Getty Images

Derek Dorsett and Zac Rinaldo finished one-two in PIMs during the 2011-12 regular season, and we wouldn't be surprised to see that exact scenario unfold this year. Brandon Prust will continue to hold down the No. 7 spot—of this we're sure—and these two will duke it out for the reigning PIM king crown.
Our money is on Dorsett.
Despite his small stature (compared to other heavyweights around the league) there isn't anyone that Dorsett won't fight. He was an overlooked part of the deal that sent Marian Gaborik to the Columbus Blue Jackets, mostly because he didn't play a single regular-season game as a New York Ranger.
He spent the end of 2013 injured and watched someone else become the No. 1 PIM producer. He'll surge back to his rightful spot at the top of the list in 2013-14.