Breaking Down the Best and Worst of the WWE for Week of Sept. 2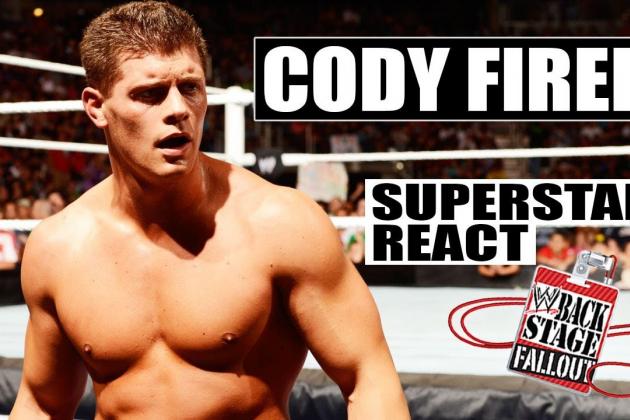 (Photo: WWE)
A giant's tears and a warrior's last stand were the talk of the WWE week.
Cody Rhodes turned getting fired into a career highlight, Big Show sobbed onscreen and Bray Wyatt did his best to give us nightmares.
The women AJ Lee famously dissed last week got a chance to knock the champ out.
From Rhodes' making the most of his opportunity to Fandango's bloody nose, here is the best and worst of the week in the world of WWE.
Begin Slideshow

»
When Jack Swagger announced he was leaving Raw, it was done with no fanfare and little forethought. WWE could have handled Cody Rhodes taking time off the same way, but instead elevated his star power via a dramatic exit.
Triple H put Rhodes into a career-threatening match against Randy Orton, a choice that instantly made Rhodes one of the focal points of the show.
He gutted out the match against the WWE champ, but ultimately lost. No matter, Rhodes gave us a great match and an emotional moment when he realized he was fired. Before he left the arena, he knocked a promo out of the park.
He talked to Josh Mathews about how WWE has mistreated the Rhodes family from putting his father in polka dots to dressing his brother in a wig. This was easily one of Rhodes' career highlights and adds tons of intrigue to his eventual return.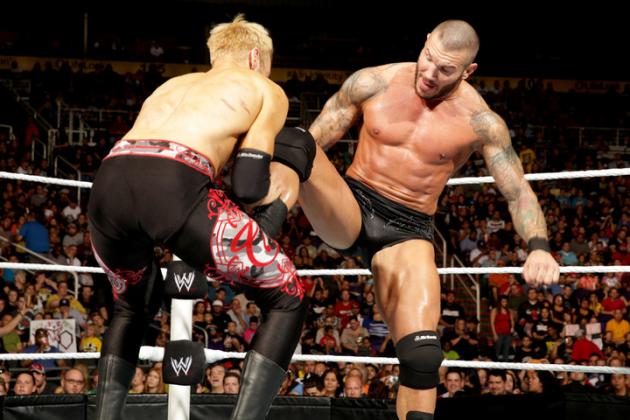 Photo: WWE.com
News about Mark Henry's injury improved, but it didn't for Christian.
Henry injured his hamstring over the weekend, leaving a potential tag team title match with him and Big Show against The Shield in doubt. That potential thriller appears to be scrapped thanks to fears over The World's Strongest Man's health.
The latest on Henry, per F4WOnline.com via WrestleZone.com, is that he is cleared to return. It may be too late to get him in the Night of Champions mix as Big Show appears to be heading down another narrative path altogether.
As for Captain Charisma, he suffered a concussion, per WWE.com, in his match last week against Randy Orton. Though the injury happened last week, it was this week that fans caught wind of it, deflating hopes of Christian continuing his recent run complete with good health and great matches.
The Divas haven't gotten the airtime that CM Punk, Paul Heyman, Triple H and Daniel Bryan have leading into Night of Champions, but WWE did well to add logs to the fire in terms of the Divas title storyline.
After AJ Lee crushed her peers in a scathing promo, three victims of that verbal attack looked to become the woman to face her at Night of Champions.
AJ continued her dismissal of her potential challengers while commentating during that match. Thinking none of them deserved to challenge her, she interrupted the match. Naomi, Brie Bella and Natalya then attacked her ferociously, each Diva seemingly try to leave AJ in no condition to defend her title.
Stephanie McMahon announced that the Divas title bout would be a Fatal 4-Way match, turning AJ into prey in a room full of predators.
While not as deep and well-built as the feud between AJ and Kaitlyn heading into Payback, it's refreshing to see a Divas match with ample motivation and some buzz to go along with it.
Excessively poking holes in plots, wrestling or otherwise, is a guaranteed way to avoid having fun, but sometimes those holes just glare at you and are impossible to ignore.
Last year, Big Show turned on John Cena and aligned with John Laurinaitis because he was promised an "iron-clad" contract where he couldn't be pushed around by authority figures. Fast forward to Monday and Stephanie McMahon says that if he doesn't compete, he'll be in breach of contract, iron-clad or not.
Somebody needs to fire the lawyer that wrote that contract up.
If a fan were to ignore that flaw in the narrative, they'd still have to question why Big Show was so torn up about having to beat up Daniel Bryan. Bryan and Big Show have been enemies dating back to 2011 and Big Show likes fighting, so what's the big deal?
Triple H wasn't asking him to meet Bryan in a match where he had to beat him with a bat wrapped in barb wire; they could have just competed in a respectful, fair match.
WWE could have provided answers to Big Show's motivations and to his hesitation, but instead provided a dramatic moment built on a hollow foundation.
Two former WWE Superstars weren't fans of the angle either.
Just tuned into the end of #RAW. Are Big Show & Daniel Bryan dating? Why is Big Show crying over Bryan being tortured? Did I miss something?

— Matt Hardy (@MATTHARDYBRAND) September 3, 2013
This is sillyass storyline. Big Show is a multi-millionaire. Why the Hell is he crying and sobbing like a baby? #KamalaBenefitShirt

— Gregory Shane Helms (@ShaneHelmsCom) May 15, 2012
Beyond Kane, WWE may not have figured out who to pit Bray Wyatt against, but the company is wise to keep putting him in a rocking chair and giving him opportunities to disturb us.
Wyatt ended Wednesday's Main Event grinning as he hovered over a fallen Darren Young, but he did his best work on Monday. The story of Icarus and his wings is a well-known one, but it was made anew coming out of Wyatt's mouth.
He then went on to talk about Kane and addressed questions about where The Big Red Machine has gone.
Wyatt said that Kane had made his bed "and" is now burning in it. The promo stirred up intrigue in the story as the "Eater of Worlds" continues to make a lasting impression on the audience.
Accidents and injuries are as assured in pro wrestling as champions are assured of eventually losing their titles.
Still, Miz's name was once again in the mix in a story about a move gone wrong. In a match against Fandango, Miz apparently broke his foe's nose with an errant kick, per PWMania.com.
That incident alone doesn't mean much, but Miz's resume also includes injuring R-Truth when he failed to catch him and dropping CM Punk on his head in a dangerous botch. Fair or not, Miz is developing a reputation as an unsafe wrestler to work with which is certainly not the best way to climb out of the midcard.