College Football Rankings 2013: 5 Ranked Teams with the Biggest Weaknesses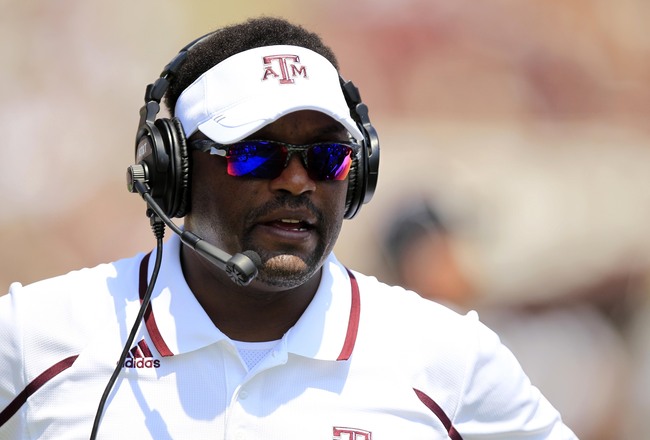 Thomas Campbell-USA TODAY Sports
The Week 2 college football rankings saw transformations at both ends of the polls, as strengths and weaknesses of the perceived top teams were exposed in the opening weekend.
For Texas A&M, the return of Johnny Manziel overshadowed a performance against Rice that revealed a major downfall of the Southeastern Conference and BCS national title hopefuls.
Clemson's Week 1 win over Georgia vaulted the Tigers into the Top 5, despite a familiar frailty rearing its head in Death Valley.
Finally, a trio of traditional powerhouses managed victories to start their seasons but in the process showed that they might not be quite back to national prominence.
Note: Rankings are based on the Week 2 Associated Press Top 25 poll.
No. 25 USC Trojans
Harry How/Getty Images
Weakness: Two quarterbacks = No quarterback
USC doesn't have a quarterback, which is about as big of an issue as a football team can have.
Trojans head coach Lane Kiffin is still deciding between a pair of sophomores, Cody Kessler and Max Wittek.
Kessler started Week 1 against Hawaii and was unimpressive. The Bakersfield, Calif. native finished 10-of-19 passing for just 95 yards, one touchdown and one interception. He also took a sack in the end zone for a safety.
Wittek relieved him against the Warriors and went 5-for-10 passing for 77 yards without a touchdown or interception.
The Trojans do have a few weeks in which they could skate by with their quarterback carousel, but they must have a solidified signal-caller before their Sept. 28 trip to Tempe to take on Arizona State.
No. 22 Nebraska Cornhuskers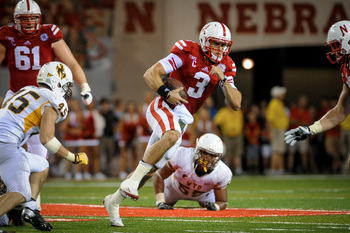 Eric Francis/Getty Images
Weakness: Suspect defense, ball security
Nebraska looked about as bad as any Top 25 team in a narrow Week 1 win over Wyoming.
Two late turnovers from quarterback Taylor Martinez soured an otherwise solid day and also provided the Cowboys an opportunity to fight back into the game.
The Cornhusker defense struggled against both the run and the pass as they allowed more than 600 yards of offense from Wyoming.
Nebraska ended up escaping with a 37-34 win, but improvements must be made on defense and in ball security before Big Ten Conference play begins.
No. 16 Oklahoma Sooners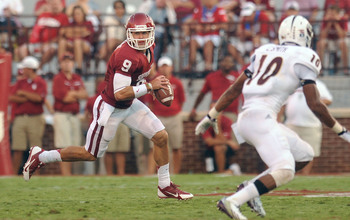 Mark D. Smith-USA TODAY Sports
Weakness: One-dimensional offense
Oklahoma looked fantastic on defense in a 34-0 win over Louisiana-Monroe to open the season.
However, the Sooners offense looked nothing like it has in the past.
OU finished No. 5 in the nation in passing offense last season, averaging 336.8 yards per game, but totaled just 124 yards through the air with new quarterback Trevor Knight at the helm.
Thanks to a strong rushing attack, Oklahoma took care of business against ULM, but a one-dimensional offense won't win a Big 12 Conference title.
The Sooners will have a shot at generating an air attack this weekend against West Virginia.
No. 7 Texas A&M Aggies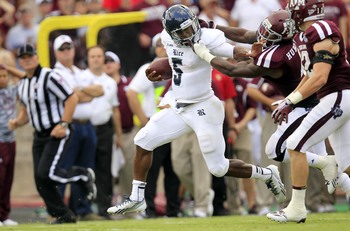 Thomas Campbell-USA TODAY Sports
Weakness: Weak run defense
Texas A&M may have one of the most skilled offenses in the nation, but its defense was torn apart by Rice.
The Owls gained 509 total yards, including 306 on the ground.
After one week, the Aggies are No. 115 in the country in rush defense.
With all due respect to Rice, Texas A&M will be faced with much tougher rushing attacks in SEC play.
If the Aggies don't right the ship soon, they'll be in serious trouble Sept. 14 against Alabama.
No. 4 Clemson Tigers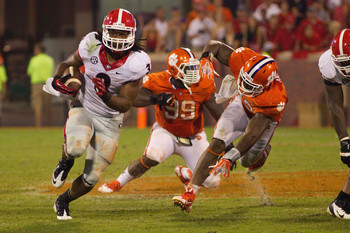 Joshua S. Kelly-USA TODAY Sports
Weakness: Delicate defense
Clemson pulled off the biggest win of Week 1 with its upset of Georgia and earned a Top 5 ranking in the process.
However, even in the win, the Tigers showed some defensive issues.
Georgia racked up 545 yards of total offense, finding success on the ground and through the air. Aaron Murray totaled 323 passing yards, while the UGA rushers netted 222 yards on the ground.
The offense, led by Tajh Boyd and Sammy Watkins, is certainly there for the Tigers, but it still doesn't look like they have anywhere near a Top 5-caliber defense.
Keep Reading