The return of football itself is nice, but the storylines layered within each game are what is truly worth paying attention to during the NFL's opening weekend.
New faces in new places, new names in beginning stages, injury comebacks and tales of redemption are all littered throughout the first weekend of NFL football to start the 2013 season.
Many of these stories will have a direct impact on games, while others are simply interesting tidbits of information to digest.
The list of intriguing stories could go on and on, but here are the three biggest to watch come Sunday and how they will impact their respective teams now and in the future.
Chris Roling's Week 1 Predictions

| | | | | |
| --- | --- | --- | --- | --- |
| Matchup | Time (ET) | TV | Location | Prediction |
| Baltimore at Denver | 8:30 PM | NBC | Sports Authority Field at Mile High | Denver |
| New England at Buffalo | 1:00 PM | CBS | Ralph Wilson Stadium | New England |
| Cincinnati at Chicago | 1:00 | CBS | Soldier Field | Cincinnati |
| Miami at Cleveland | 1:00 PM | CBS | FirstEnergy Stadium | Cleveland |
| Atlanta at New Orleans | 1:00 PM | FOX | Mercedes-Benz Superdome | New Orleans |
| Tampa Bay at NY Jets | 1:00 PM | FOX | MetLife Stadium | Tampa Bay |
| Tennessee at Pittsburgh | 1:00 PM | CBS | Heinz Field | Tennessee |
| Minnesota at Detroit | 1:00 PM | FOX | Ford Field | Minnesota |
| New York at Dallas | 8:30 PM | NBC | Cowboys Stadium | New York |
| Oakland at Indianapolis | 1:00 PM | CBS | Lucas Oil Stadium | Indianapolis |
| Seattle at Carolina | 1:00 PM | FOX | Bank of America Stadium | Carolina |
| Kansas City at Jacksonville | 1:00 PM | CBS | EverBank Field | Kansas City |
| Green Bay at San Francisco | 4:25 PM | FOX | Candlestick Park | Green Bay |
| Arizona at St. Louis | 4:25 PM | FOX | Edward Jones Dome | St. Louis |
| Philadelphia at Washington | 7:00 PM | ESPN | FedEx Field | Washington |
| Houston at San Diego | 10:15 PM | ESPN | Qualcomm Stadium | Houston |
Schedule courtesy of NFL.com
Darrelle Revis Returns to New York
It seems like yesterday Darrelle Revis was inhabiting his own island in New York as the best corner in football before things came crashing down with a serious knee injury last year that ultimately resulted in his trade to the Tampa Bay Buccaneers.
Revis won't have to wait long to see his former team, as he'll be active for the Buccaneers' opening game of the season when Tampa Bay travels to New York:
Barring no setbacks, the plan is for CB Darrelle Revis to play in the season opener against the Jets.

— Tampa Bay Buccaneers (@TBBuccaneers) August 30, 2013
There have been no setbacks for Revis, and he's also been biding his time for a shot at revenge by alerting the Tampa Bay coaching staff to New York's signals and tendencies, as he told ESPN's Pat Yasinskas:
It's just one of those things, when a player comes from another team, [offensive coordinator Mike Sullivan] is asking a couple of questions about [the Jets'] defense and what are the base calls, I spill them...I'll spill the beans and let him know what we used to run and let him know what things Coach [Rex] Ryan might do. It's almost like stealing a little bit. That's what you've got to do. You take the information and pass it to the offensive coordinator.
How much of a difference this makes may be minimal when it comes to signals, as those can change each week. Revis and Co. will not need a lot of help against New York anyway, going against rookie quarterback Geno Smith.
The Revis storyline, including whether or not he is healthy and will ever be the same, not to mention how former fans greet him, is one of the most interesting things to watch on Sunday.
Prediction: Buccaneers 24, Jets 7
Has the Colin Kaepernick Riddle Been Solved?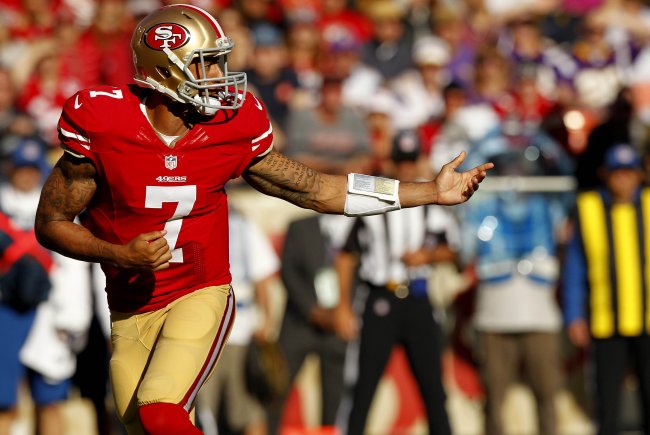 Cary Edmondson-USA TODAY Sports
Last postseason, San Francisco 49ers quarterback Colin Kaepernick elegantly glided up and down the field in the NFC Divisional round against the Green Bay Packers, ultimately gashing the defense for 444 total yards.
Green Bay's defense had little response to the effectiveness of Kaepernick's skill set on the way to being bounced from the playoffs.
Will Green Bay overcome Colin Kaepernick?
Aaron Rodgers and the Green Bay Packers will travel to Candlestick Park on Sunday in an effort to notch a measure of revenge. The coaching staff has spent all offseason preparing for Kaepernick's game, as has the rest of the NFL.
These things have a way of working themselves out in the NFL. A major offensive trend pops up, defenses adapt and overcome. Rinse, repeat. Not to say Kaepernick won't have a special season, but NFL defenses now have plenty of film and preparation time to make him less effective.
That starts in San Francisco this Sunday.
Prediction: Packers 38, 49ers 30
RGIII: the Over-Worked Athlete and the Sophomore Slump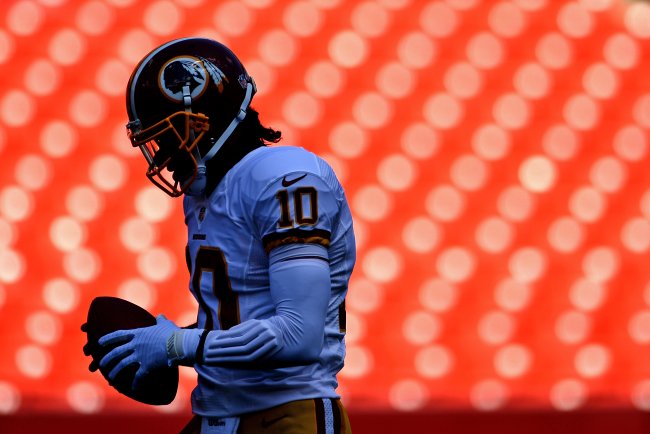 Patrick Smith/Getty Images
Not long ago, Robert Griffin III shredded ligaments in his knee as Washington lost in the playoffs to Seattle, amid much controversy.
The controversy stemmed from how head coach Mike Shanahan used RGIII in the game, re-inserting him, despite Griffin having limped off visibly hurt earlier. When RGIII went down for a second time, for good this time, public perception crashed down hard on Shanahan.
Was Griffin used incorrectly? Maybe, but some of the blame rests on RGIII's shoulders as well for wanting to go back into the game. Don't fault him for being a competitor, but Griffin has to know his limits.
THIS JUST IN: Redskins officially announce @RGIII will start at QB on @ESPNMondayNight vs the Eagles next week.

— NFL on ESPN (@ESPNNFL) September 2, 2013
Will RGIII lead the Redskins over the Eagles?
The conclusion to the story will play out in part when the Redskins take on the Eagles this Monday. RGIII has stormed back from the injury, and while knee injuries aren't what they used to be in terms of seriousness, it seems RGIII has rushed back for a guy who has had more than one bout with torn knee ligaments.
What happens if Griffin goes down again?
Not only is Griffin helping to define how much athletes should be pushed, he will also have to battle the proverbial sophomore slump, which will play out over the course of the season, health permitting. Griffin has a favorable matchup against the Eagles on Sunday, with Philadelphia starting over with a new scheme, so expect RGIII to be back in a big way.
Prediction: Redskins 35, Eagles 21
Follow B/R's Chris Roling on Twitter for more news and analysis @Chris_Roling