7 Strikers Tottenham Should Pursue in the January Transfer Window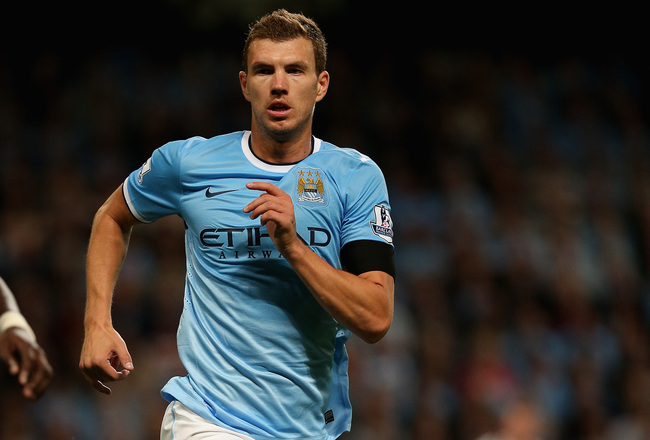 Edin Dzeko should be on Daniel Levy's shopping list this winter
Clive Brunskill/Getty Images
Now that Tottenham Hotspur have famously spent over £100 million this summer, they have a deep, well-balanced squad with healthy competition at every position, except two.
The first is at goalkeeper. But with world-class Hugo Lloris manning the posts, and adequate backups in the form of Brad Friedel and Heurelho Gomes, I can't consider this lack of competition to be a weakness. Having a top-five-in-the-world keeper like Lloris has to be considered a strength.
The other position without competition, however, is a problem. Newcomer Roberto Soldado, a.k.a. "Bobby Soldier," is the clear-and-away favorite at striker. His only competition is an aging Jermain Defoe, and the rotting carcass of Emmanuel Adebayor's work ethic.
Tottenham's newly-minted managerial trio of geniuses—Chairman Daniel Levy, Manager Andre Villas-Boas and Technical Director Franco Baldini—should be shopping for a striker come January. And here are seven men, in no particular order, that they should consider.
All estimated transfer values taken from www.transfermarkt.co.uk
Edin Dzeko, Manchester City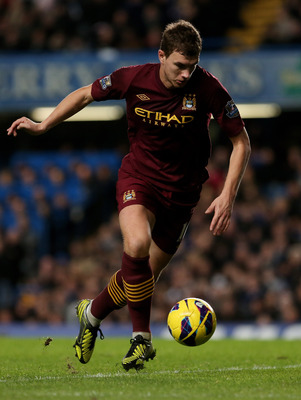 Manchester City's Edin Dzeko will be a hot commodity in the next 12 months
Julian Finney/Getty Images
2012-13 Performance: 23 goals, 13 assists in 3,300 minutes in all competitions
Estimated Transfer Value: £24,000,000
Edin Dzeko is a talented young striker, but he is in a striker logjam at the Etihad. Manchester City find themselves in an exactly-opposite situation to Tottenham, with a bevy of strikers all competing for first choice.
While no one likes to strengthen a rival, and Tottenham are indeed that to the Citizens. City need to do something about their four-headed striker monster. There simply isn't enough football to go around to keep all of Dzeko, Stevan Jovetic, Sergio Aguero and Alvaro Negredo happy.
Dzeko would not only challenge Soldado for first choice, he would potentially take it away from him immediately.
Dimitar Berbatov, Fulham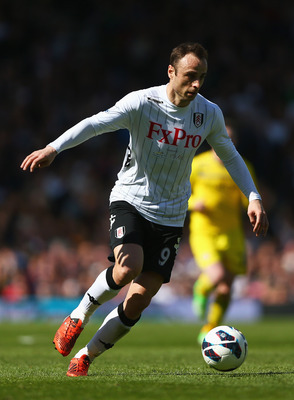 Dimitar Berbatov would be welcome back at White Hart Lane
Paul Gilham/Getty Images
2012-13 Performance: 15 goals, 4 assists in 2,844 Premier League minutes
Estimated Transfer Value: £4,400,000
Sure, Berbs isn't young, and isn't getting any younger. At 32 years old, he'd be Tottenham's oldest outfield player, but he'd be available for a lot less than someone like Dzeko.
And how excited would the Spurs faithful be to welcome Berbs back to White Hart Lane? I think excited.
Berbatov would be able to offer a nice spell for Soldado, and should something happen to the Spaniard, he'd be a much more effective drop-in than Defoe or Adebayor.
Hugo Almeida, Besiktas
Hugo Almeida could use the Premier League exposure ahead of the 2014 World Cup
Getty Images/Getty Images
2012-13 Performance: 11 goals, 7 assists in 1,730 minutes in all competitions
Estimated Transfer Value: £6,200,000
Hugo Almeida is a player who could benefit from a high-profile move ahead of the 2014 World Cup. He'll have a much better chance of cracking into the always-competitive Portugal national team playing in England than in the Turkish Super Lig.
And Tottenham could use his creativity on the ball.
Klaas-Jan Huntelaar, Schalke 04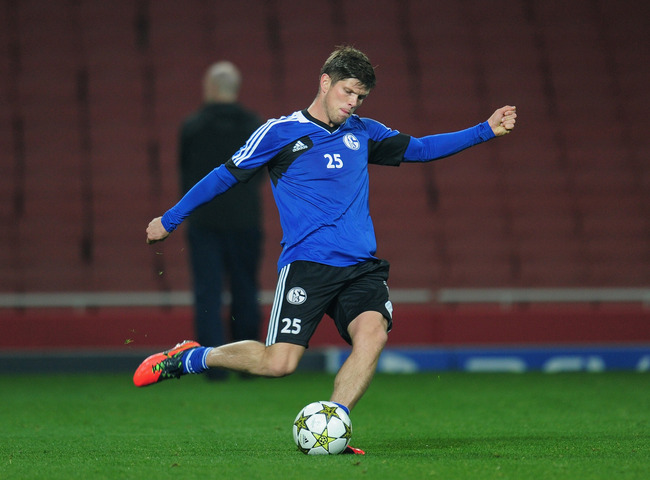 Klaas-Jan Huntelaar can find the back of the net
Shaun Botterill/Getty Images
2012-13 Performance: 19 goals, 7 assists in 3,097 minutes in all competitions
Estimated Transfer Value: £12,500,000
Huntelaar is an exciting, athletic player. While not young (at 30 he, like Berbatov, would be the club's oldest outfield player were he to join) his athleticism and prolific goalscoring ability would be more than welcome at White Hart Lane, and would give Roberto Soldado just enough competition to never fall complacent.
Andre-Pierre Gignac, Olympique Marseille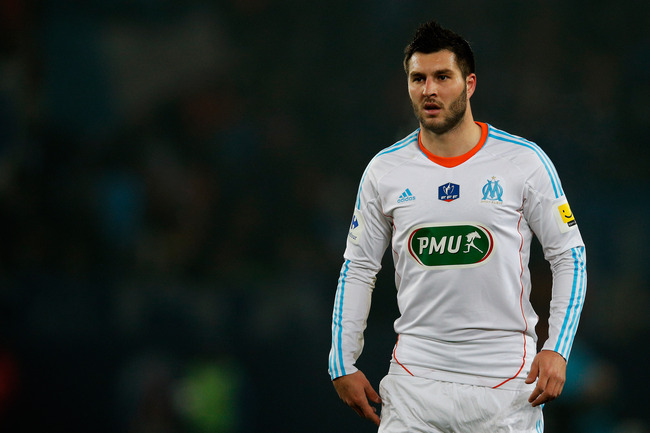 Gignac could be tempted to join countrymen Lloris and Capoue in North London
Dean Mouhtaropoulos/Getty Images
2012-13 Performance: 18 goals, 1 assist in 2,914 minutes in all competitions
Estimated Transfer Value: £7,500,000
Andre-Pierre Gignac may be the least eager to move of any player on this list, but he's a crack shot and someone Tottenham have to consider come January.
It's possible that Gignac would be unmoved—he's playing Champions League football a half hour drive from where he grew up—but his contract is up in 2015, and I've been a personal fan since his days at Toulouse. Cut a writer a break on this one.
Giampaolo Pazzini, AC Milan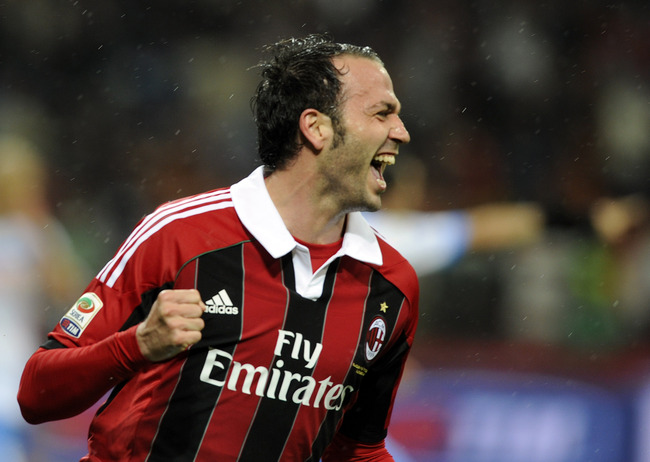 Milan's Pazzini could get more playing time at Tottenham than he can at the Rossoneri
Claudio Villa/Getty Images
2012-13 Performance: 15 goals, 5 assists in 1,632 Serie A minutes
Estimated Transfer Value: £13,000,000
Giampaolo is actually one of the players on this list I'm most excited about. He has the best minutes-per-goal rate of this group, and is in a position to seek more playing time than Milan can give him. Pazzini finds himself behind both Mario Balotelli and Stephan El Shaarawy on Massimiliano Allegri's sheet.
Ahead of the 2014 World Cup, every player is looking to showcase their abilities, and both Pazzini and Tottenham could benefit from the move.
Luis Suarez, Liverpool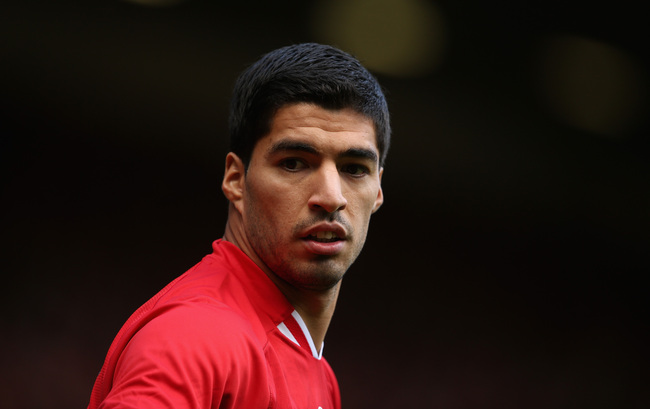 Yes, THAT Luis Suarez
Clive Brunskill/Getty Images
2012-13 Performance: 35 goals, 15 assists in 4,340 minutes in all competitions
Estimated Transfer Value: £37,000,000
Sure, he's by far the most expensive name I've floated here. Yes, he bit Branislav Ivanovic in the run of play last year. But it is hard to argue with results.
Suarez scores goals. He scores a lot of goals. Liverpool may be in no position to sell, especially when one considers how they've started their Premier League campaign. But if Suarez is available, Levy et al. have to consider making a move for the Uruguayan.
Keep Reading

Tottenham Hotspur: Like this team?