Matching Every Top NBA Star with His NFL Counterpart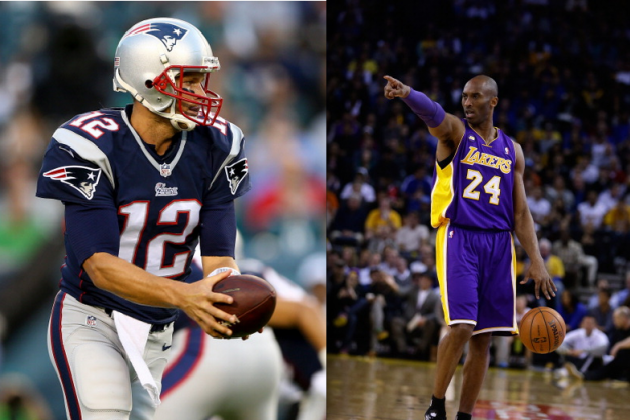 Original images both from the Getty database.
Are you ready for some football? And basketball?
I don't think Hank Williams Jr. ever sang it that way, but the questions still stand.
With the NFL season kicking off and basketball fans around the world starting to hold their breath in anticipation of the upcoming 2013-14 season, it's only natural that we start comparing the NBA's top stars to their professional football doppelgängers.
These aren't based on looks. Well, with one notable exception.
Instead, the comparisons are centered around playing styles, places within their respective sports and perception. There's no such thing as a perfect doppelgänger, though, so please feel free to leave your own comparisons in the comment section.
I hope you're ready.
Begin Slideshow

»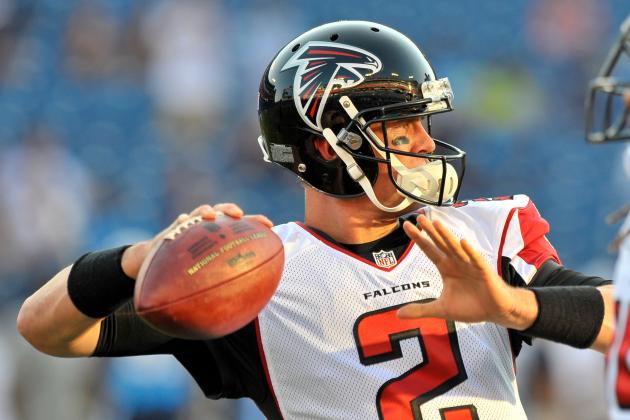 Jim Brown-USA TODAY Sports

Both Carmelo Anthony and Matt Ryan are universally viewed as dominant offensive forces.
'Melo leads the New York Knicks' high-powered scoring machine and actually dethroned Kevin Durant in the scoring race during the 2012-13 season. Ryan sparked the Atlanta Falcons offense by spreading the ball to Julio Jones, Tony Gonzalez and Roddy White.
Both players approach their games in different ways, but they're each dominant offensive players. They also haven't been able to win big games.
Ryan has flopped in the playoffs multiple times, and while Anthony doesn't deserve much blame for New York's postseason collapse, he's still starting to be viewed as the best established veteran without a ring adorning even one of his fingers.
This season, that reputation could change for both Ryan and 'Melo.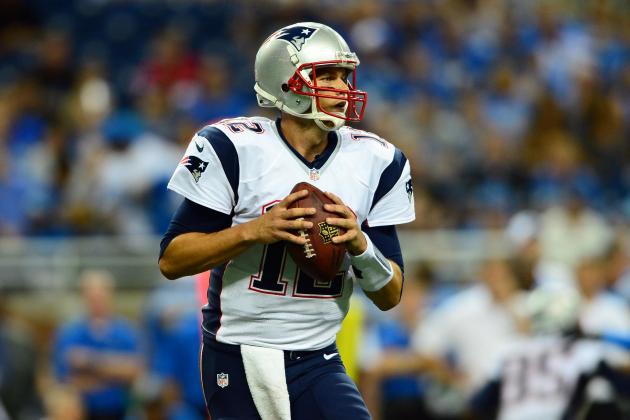 Andrew Weber-USA TODAY Sports

Two team leaders who are undeniably aging—but still playing at a high level—and sparking the offenses of premier franchises in their respective sports?
Sign me up.
Tom Brady and Kobe Bryant are each poster boys for their teams, and their careers have been filled with dominance after they exceeded draft-day expectations. While Kobe slipped down to No. 13 in 1996, Brady wasn't even selected until the sixth round of the 2000 NFL Draft.
But since they entered the league, they've experienced nothing but success and a ton of championships. And even though both studs are now over 35 years old, they're still elite players at their positions hoping to buck the odds and add one more trophy to their already crowded mantles.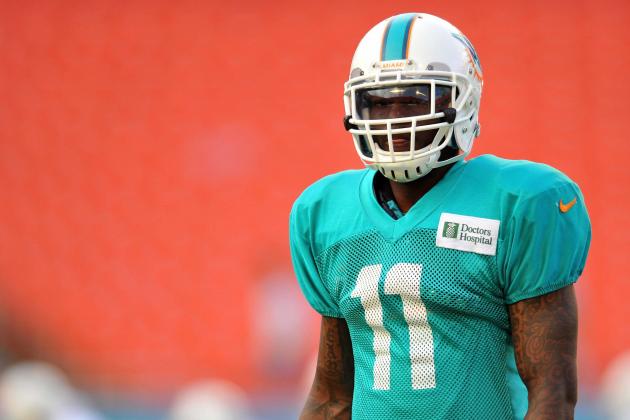 Steve Mitchell-USA TODAY Sports

It's all about the long bombs for these two.
Mike Wallace is a premier deep threat in the NFL, and he'll look even better as the featured receiver for a lackluster receiving core. Ryan Tannehill and the Miami Dolphins should be involving him as heavily as possible.
As for Stephen Curry, he's a more well-rounded player in his respective sport, but he's still known primarily for his ability to put up points far away from the basket. No player in the NBA has a more potent three-point stroke, and he's hoping to break his own single-season record for triples made in 2013-14.
Now if only Curry would grow a mohawk to complete the comparison.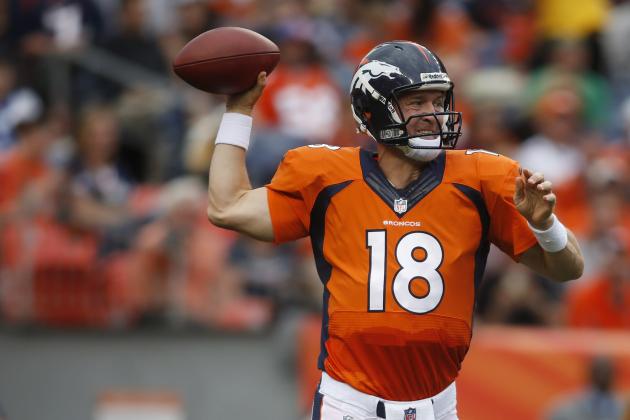 Chris Humphreys-USA TODAY Sports

There's no way that a 37-year-old quarterback should be able to open a season by throwing for 462 yards and seven touchdowns, becoming the first player since Y.A. Tittle to heave seven scores without coughing up the ball even once.
There's also no way that a 37-year-old power forward/center should be able to lead his team to the NBA Finals while maintaining the same type of per-36-minute numbers that he produced in his prime.
Peyton Manning and Tim Duncan should not still be dominating the NFL and NBA, making Pro Bowl and All-Star appearances even as their birthday cakes start to resemble fire hazards. Father Time doesn't affect them in the same way that he plagues everyone else.
The only way to stop either of these superstars is to hope they retire.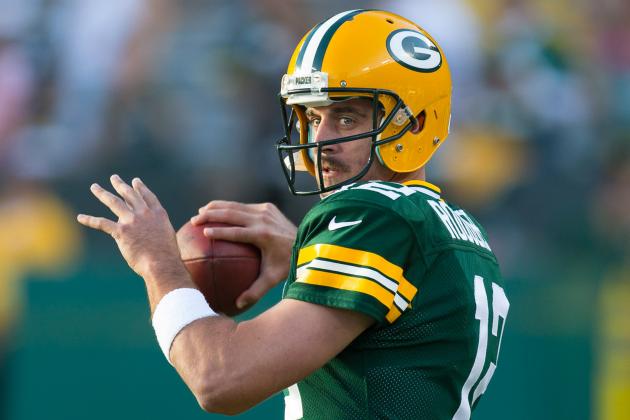 Jeff Hanisch-USA TODAY Sports

Is Aaron Rodgers an absolutely dominant quarterback in today's NFL? Certainly, but he still gets a little overshadowed by Peyton Manning and Tom Brady because they resonate on such a historical level.
Is Kevin Durant one of the best in the NBA? Definitely, seeing as he's the second-best player behind only LeBron James, even if the MVP takes away almost all of the spotlight.
If Rodgers and Durant played in the league at a different time, they'd be properly viewed as once-in-a-generation talents. However, the landscape of current stars keeps them from getting quite as much recognition as they deserve, even if they still get a lot of it.
Plus, they're both commercial junkies.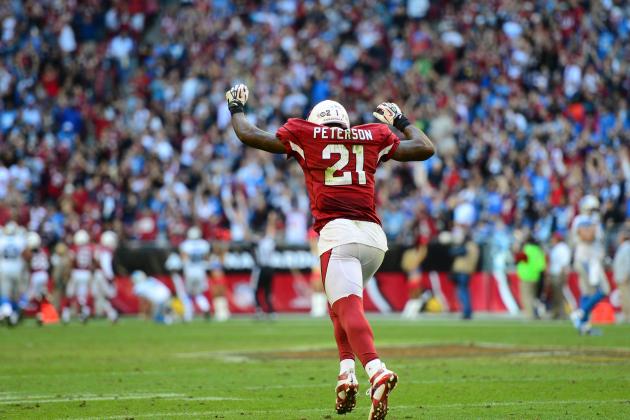 Mark J. Rebilas-USA TODAY Sports

Versatility is the name of the game for both Paul George and Patrick Peterson.
Trust me, this comparison stems from more than the fact that both of their names start with the letter "P."
George is a Swiss army knife, but he still specializes in defense. LeBron James can attest to that after getting to witness the former Fresno State standout's point-preventing skills firsthand during the Eastern Conference Finals.
But the swingman does more than just play defense. He can drill three-pointers, handle the rock and distribute it among his teammates and slash to the basket to provide interior scoring.
As for Peterson, he's one of the most versatile players in the NFL, even if he's still a primary cornerback. The young stud for the Arizona Cardinals is also a premier return man, and he's also going to be playing a little bit of wide receiver for Bruce Arians' squad.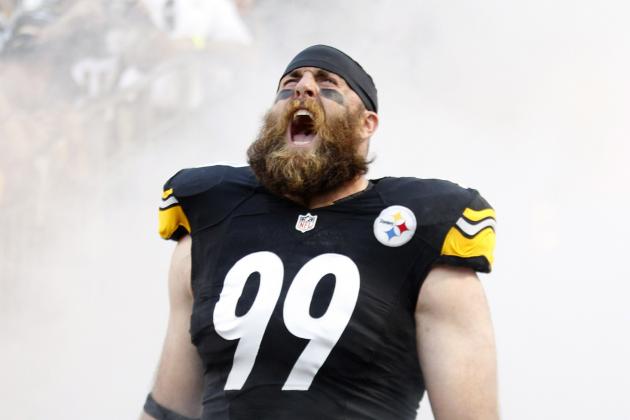 Charles LeClaire-USA TODAY Sports

If this comparison doesn't immediately make sense to you, then please search for a picture of James Harden and start following the NBA a little more closely.
That's all.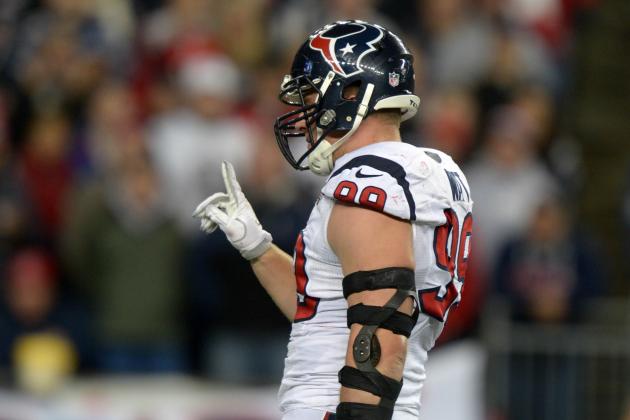 USA TODAY Sports

J.J. Watt is just a physical specimen.
He's a marvelous athlete with plenty of speed and strength, and that devastating combination has allowed him to emerge as the NFL's premier defensive players. Whether he's sacking the quarterback, bringing down a running back behind the line of scrimmage or deflecting an ill-advised pass, he's making a defensive impact.
Plus, his shoulders are about the same size as Dwight Howard's massive deltoids once he puts on his shoulder pads.
When healthy, Howard is still the best defender in the NBA. He wasn't far off that title with the Los Angeles Lakers, even though he was surrounded by uncertainty and playing with a bad back.
The whole playing in Houston thing doesn't hurt either.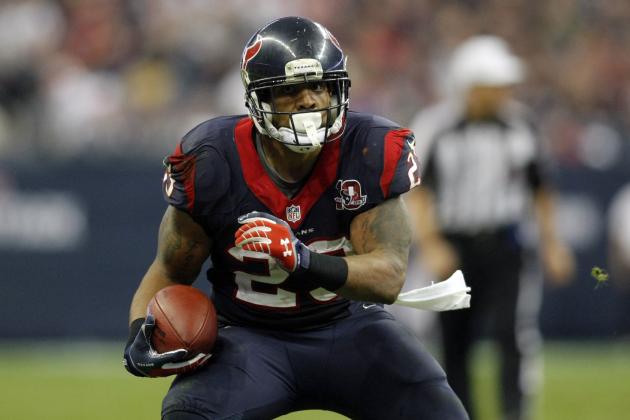 USA TODAY Sports

When you were drafting your fantasy football team (or one of your fantasy football teams if you're a junkie like I am), you might have been faced with the Arian Foster dilemma.
Should you take the Houston Texans running back near the top of the selection process? You know he's going to be dominant when he's on the field, but how often is he actually going to play? Can he stay healthy and hold off Ben Tate for the entire season as he tries to lead the Texans to the playoffs?
Well, similar questions will arise when you're deciding whether or not you want to draft Kyrie Irving in your fantasy basketball draft.
While the 21-year-old point guard is an offensive phenom, he still has yet to put together a healthy season since leaving high school, and Jarrett Jack is eager to steal as many of his minutes as possible.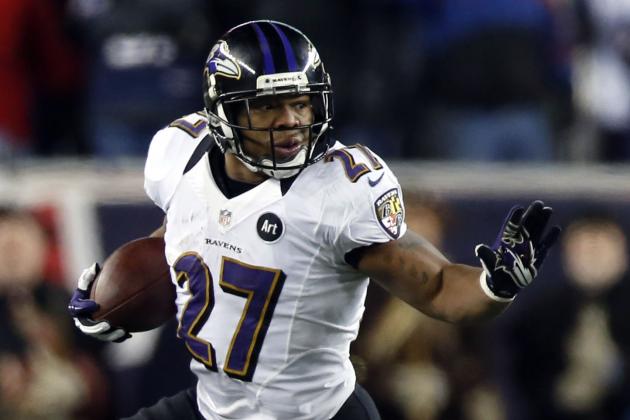 Greg M. Cooper-USA TODAY Sports

NBA/NFL reigning champion?
Check.
At or near the top of their respective positions?
Check, although the presence of Adrian Peterson does put a significant damper on this part of the comparison.
The ability to affect the game in a plethora of ways?
Check.
While LeBron James is one of the best scorers, distributors and defenders in the Association, Rice is the NFL's premier multifaceted offensive threat. Not only did he run for 1,143 yards and nine scores, but he also caught 61 balls for another 478 yards and a lone touchdown.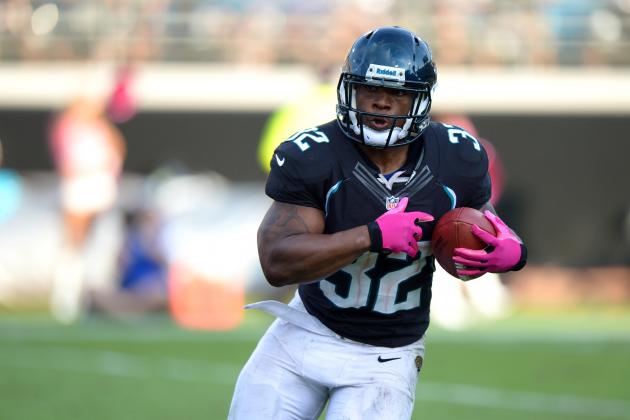 Jake Roth-USA TODAY Sports

If you forgot about how dominant Kevin Love was the last time he was healthy, I can't blame you. Once widely recognized as the best power forward in basketball, the Minnesota Timberwolves star suffered multiple hand injuries and was quite limited throughout the 2012-13 campaign.
The same scenario applies for Maurice Jones-Drew, who led the NFL in rushing two years ago but was largely forgotten about due to his unfortunate holdout and foot injury that kept him out of action.
Both players are still dominant, but they're not viewed as highly as they should because the recency effect makes us remember their injury-riddled down years.
Each of them will change that rather early on in their respective follow-up campaigns.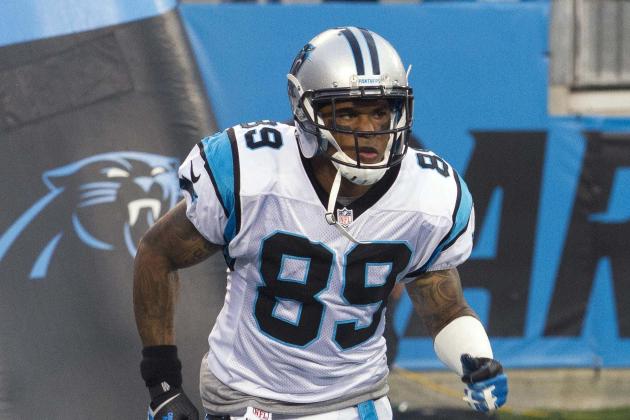 Jeremy Brevard-USA TODAY Sports

It doesn't matter who you put around Dirk Nowitzki. He's still going to get his typical scoring figures and keep the Dallas Mavericks in contention.
Similarly, it doesn't matter who throws the ball to Steve Smith. He's still going to manage to stay productive.
The 2010 season is the only blemish on Smith's resume, as he's broken the 1,000-yard barrier in all but one other year since his breakout in 2005. And during the one other slip-up, he finished only 18 yards shy and would surely have hit the milestone had he remained healthy enough to play in all 16 games.
Consistency is present for both studs, even if the lineups surrounding them have been anything but steady.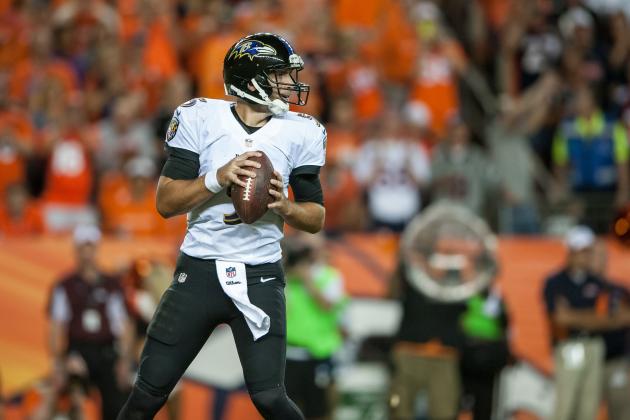 Dustin Bradford/Getty Images

Are these guys really game-managers?
Those were the reputations they earned earlier in their careers, but both Joe Flacco and Tony Parker have shattered that role by breaking out in a big way. Flacco had one of the most dominant postseasons ever, eventually winning the Super Bowl and the accompanying MVP trophy, and Parker had the best season of his career as he led the San Antonio Spurs back into the NBA Finals.
Calling either of these team leaders a game-manager is now an insult. They're each better than that would indicate.
Additionally, their games are more glamorous than most people realize.
The Spurs were called boring for a long time, but Parker is now running an up-tempo offense that scores a lot of points each and every night. And you can't watch the Baltimore Ravens for too long before you see Flacco heave a deep ball.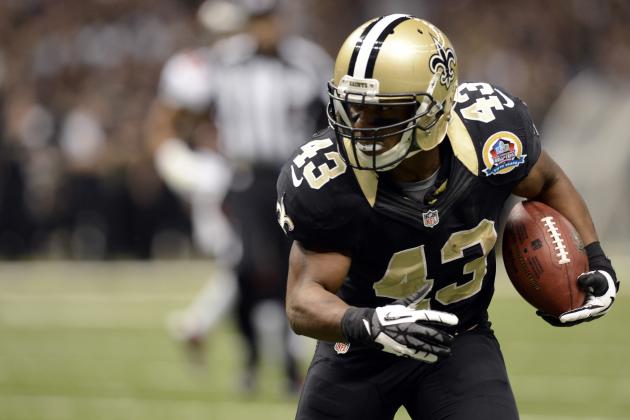 USA TODAY Sports

Chris Paul and Darren Sproles give hope to little guys everywhere.
CP3 has established himself as the best point guard in basketball despite only standing at 6'0". While most NBA players tower over him, the floor general can still get to any spot on the court and can uniquely affect the game with both his scoring and his passing.
He can drop 25 points or 15 assists on any given night.
Even Paul would look like a giant next to Sproles, though.
The Liliputian running back is only 5'6", but he's still emerged as one of the more dynamic offensive standouts in the NFL thanks to his versatile contributions in the New Orleans Saints backfield. Whether he's running the ball between the tackles, bouncing plays to the outside or bailing out Drew Brees with his pass-catching skills, he's going to make offensive contributions.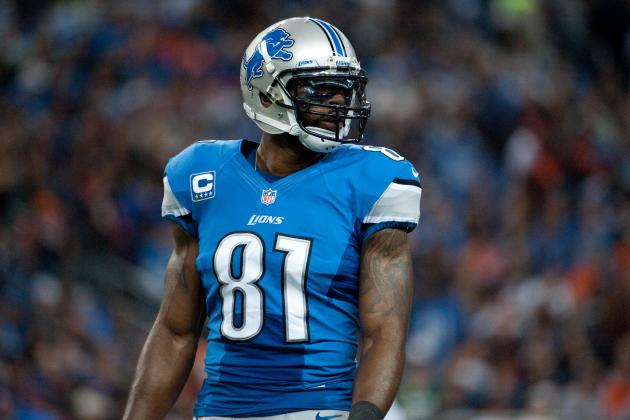 Tim Fuller-USA TODAY Sports

Both Rajon Rondo and Calvin Johnson do everything but score.
Megatron set the all-time record for single-season receiving yards, he still couldn't manage to find the end zone. A player with 122 receptions should have more than just five touchdowns, but so it goes for the Detroit Lions superstar.
As for Rondo, he's a fantastic defensive point guard who passes the ball more effectively than anyone else in basketball. But he's not a scorer, limited by his lack of a jumper and willingness to pass up easy looks in favor of assists.
This should change for both players during the next calendar year.
Johnson's lack of touchdowns was a fluky aberration, and Rondo has to score more now that the Boston Celtics have traded away both Paul Pierce and Kevin Garnett.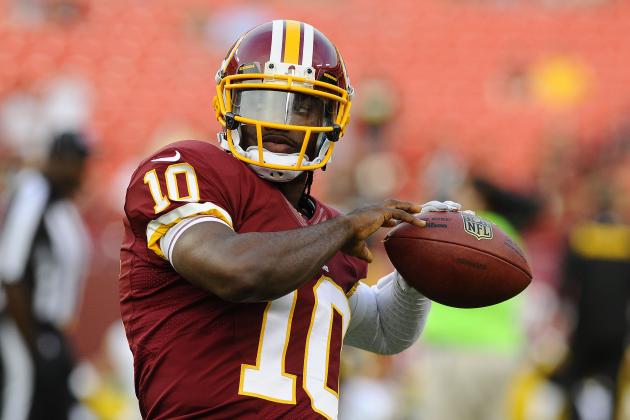 Brad Mills-USA TODAY Sports

I was tempted to use Adrian Peterson here, because his violent, explosive playing style matches Derrick Rose's basketball game perfectly. He also tore his ACL, which only helps the comparison.
However, AD has already proven that he could regain his effectiveness (and then some) after recovering from the brutal injury. And he did so waaaaaaay faster than Rose's rehab.
That's why Rose has to be compared to the NFL's premier returning-from-torn-ACL star who hasn't proven himself yet: Robert Griffin III.
While we expect great things from both the Chicago Bulls point guard and the Washington Redskins, uncertainty still rules the day.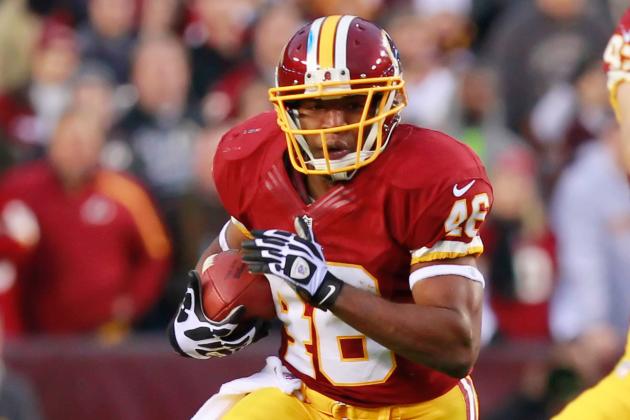 USA TODAY Sports

Let's stick with a member of the Washington Redskins for one more slide.
While their ages make this comparison a little bit faulty, Alfred Morris and Dwyane Wade both find themselves in pretty similar situations at the moment.
Morris used his rookie season to emerge as one of the best running backs in professional football, and now he's looking to prove that it wasn't a fluke. The scouting report is out on the Florida Atlantic product, and he has to prove that he's not going to decline.
The Miami Heat shooting guard also has to prove that he isn't going to provide less at this stage of his career, but those questions and concerns exist because injuries and old age have crept into the equation.
Additionally, both players are bona fide stars, although they're overshadowed by teammates. Neither will get as much attention as they deserve while they play next to LeBron James and Robert Griffin III.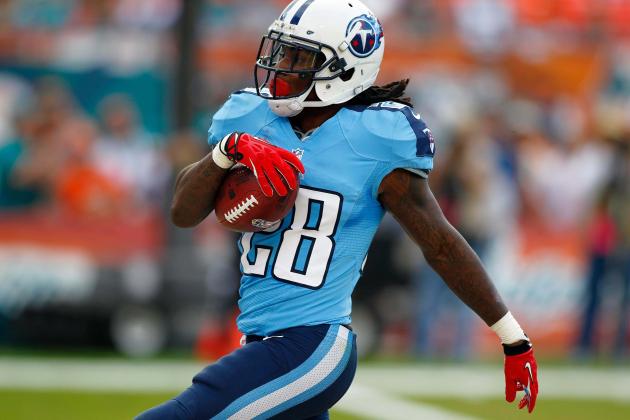 Robert Mayer-USA TODAY Sports

It's all about explosion.
That's the word that pops into my head whenever I watch Russell Westbrook burst past defenders en route to the basket for another Thunder-ous slam (sorry, couldn't resist the pun). It's also my first thought whenever Chris Johnson bursts through the line and finds open space, accelerating to a top speed that won't allow him to be caught from behind.
I also wish that Russell Westbrook had dreadlocks.