LSU Football: 5 Biggest Early Season Storylines for Tigers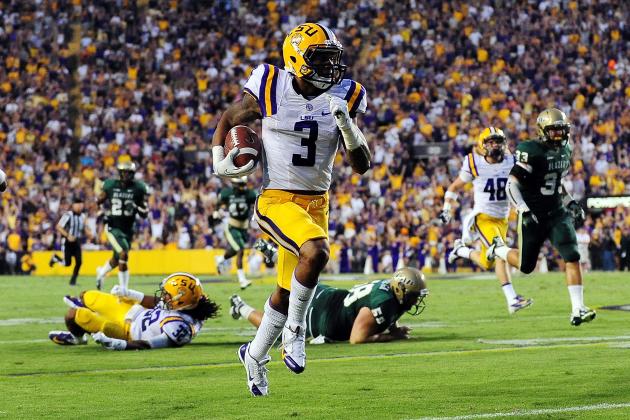 Stacy Revere/Getty Images

The LSU Tigers' biggest storyline in 2013 is that the team was tremendously underrated heading into the season.
Nobody outside of the state of Louisiana anticipated the Tigers offense to look as crisp as it has under the tutelage of Cam Cameron, and as a result of the explosiveness on offense, it looks as though the game of the year will be in November rather than early September.
While many hyped Texas A&M and the Aggies' chances to dethrone Alabama in the SEC, Tiger fans patiently waited for the season to start. After two games, it's safe to say LSU has hit the ground running and is the favorite to take down Alabama once again.
Within the course of eight quarters, the Tigers have thrown for 533 yards, totaled 93 points and posted 893 total yards of offense.
Yes, the Tigers were underrated and, yes, LSU's offense looks spectacular so far, but let's get more specific. After two games of action, here are the biggest storylines of the season for LSU.
Jake Martin is a Featured Columnist of Bleacher Report and a contributor for the The Sun Herald in Biloxi, Miss. Unless otherwise noted, all quotes were obtained firsthand or from official interview materials from The Sun Herald.
Begin Slideshow

»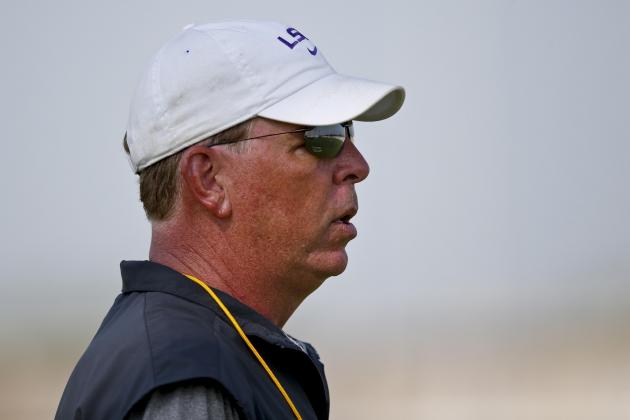 Derick E. Hingle-USA TODAY Sport

Think Cam Cameron could run for governor and win?
"I think the way the team is using Odell and myself, it's really paying off," said Jarvis Landry after practice last week.
Yeah, I'd say so. Landry, Beckham and the rest of the offense can thank Cam Cameron for that. Ever since Cameron came in, he's implemented an offensive system that focuses on a faster tempo and encompasses running backs and tight ends in the passing game.
With that said, no tandem benefited from Cameron's offensive initiative more than Landry and Beckham, who became the first pair of LSU wide receivers to each have 100-yard games since 2001.
That was against TCU, but against UAB, the two totaled 205 receiving yards and five touchdown receptions. Cameron has transformed Beckham and Landry into the most threatening wide receiver tandem in the SEC and quite possibly the nation.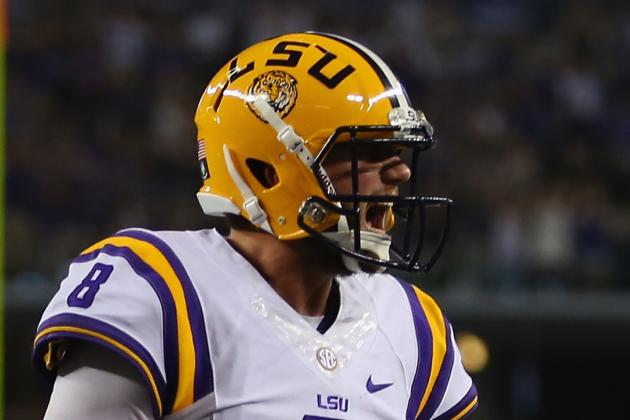 Ronald Martinez/Getty Images

This is not the Zach Mettenberger of old.
Against TCU, which will be one of the top defenses the Tigers see all season long, Mettenberger was poised in the pocket, went through his reads and delivered the ball with great accuracy.
Never mind the 50 percent completion rate that Mettenberger finished with against TCU. Heck, Les Miles said last Tuesday that if throwaway balls and drops were negated from the overall statistic, he would have completed 80 percent of his passes.
How'd he follow up that performance against UAB? Oh you know, Mettenberger causally threw for five touchdown passes, breaking a school record among LSU quarterbacks.
His comfort in the pocket is allowing his talent to truly take form. He's no longer just a quarterback with a strong arm, but he's a quarterback who's starting to incorporate both his brain and arm in unison as a weapon on the field.
Tim Heitman-USA TODAY Sports

And you were worried...
The jury may still be out about LSU's defense for some, but using the ol' eyeball test, fans should rest assured that the Tigers remain dominant on the defensive side of the football.
Replacing Barkevious Mingo and Sam Montgomery is no easy task, but so far, Jordan Allen, Jermauria Rasco and Danielle Hunter have provided a nice pass rush, totaling three sacks in the first two contests.
As for those big boys inside, Anthony Johnson and Ego Ferguson are taking guards to task with a furious bull rush, while Lamin Barrow defends, tackles and swats away balls at linebacker. And the secondary, well, the secondary is strong once again with Jalen Mills and Craig Loston serving as the cornerstones in the defensive backfield.
The Tigers showed their youth against UAB in the second quarter, giving up some scores on breakdowns in the secondary. However, LSU showed its talent in the second half, as it adjusted and held the Blazers scoreless after halftime.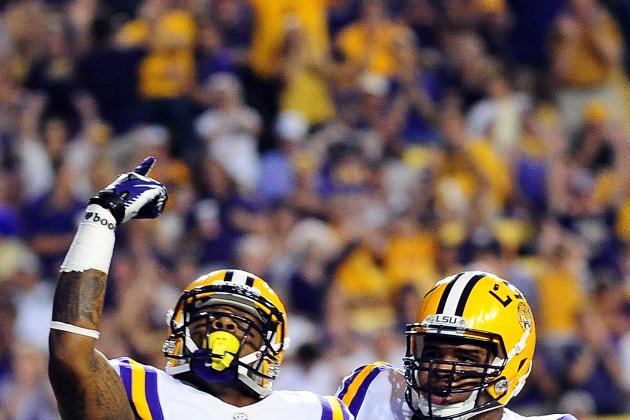 Stacy Revere/Getty Images

If there is a worry for the Tigers, it's the rushing game.
People will look at the overall stats and think that the Tigers' ground-and-pound game is still intact, but LSU's 349 rushing yards in 2013 isn't that impressive.
Take away Terrence Magee's 52-yard touchdown scamper in the TCU game (which came as a result of poor angles by TCU's defense), and you'll see that LSU is averaging under 3.7 yards per carry.
Obviously, it hasn't hurt the Tigers because of Mettenberger and the passing game's success, but the Tigers are going to need more production out of their rush offense heading into SEC play.
LSU used to take away the opposing team's will by pounding it and wearing down the defense. LSU isn't doing that this year, but again, as long as Mettenberger and the passing attack remains effective, it won't be a glaring problem. Can Mettenberger and Co. carry this team the length of the year?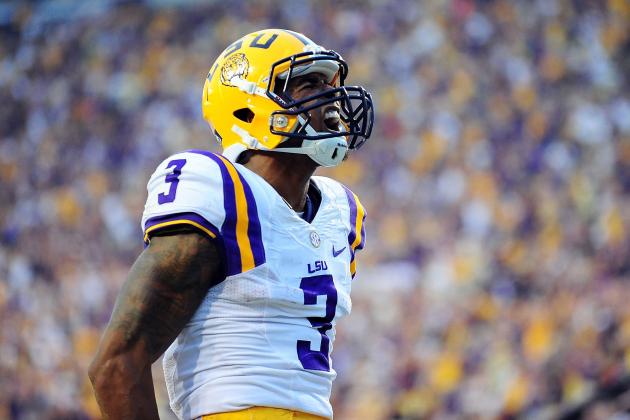 Stacy Revere/Getty Images

How good is this guy?
Beckham just might be the most dangerous player in college football right now. Against UAB, Beckham recorded 331 all-purpose yards, the third-highest total in school history.
After two games, Beckham has 603 all-purpose yards, 254 of them being receiving yards, and four total touchdowns.
Beckham told me last week that he thinks he's great with the ball in his hands, as he believed his vision and ball-carrying skills make him a dangerous man in the open field.
How fitting it was that he said that right before he showed the entire country just how hazardous he really is.