Canelo vs. Mayweather: Experience and Better Competition Give Money May the Edge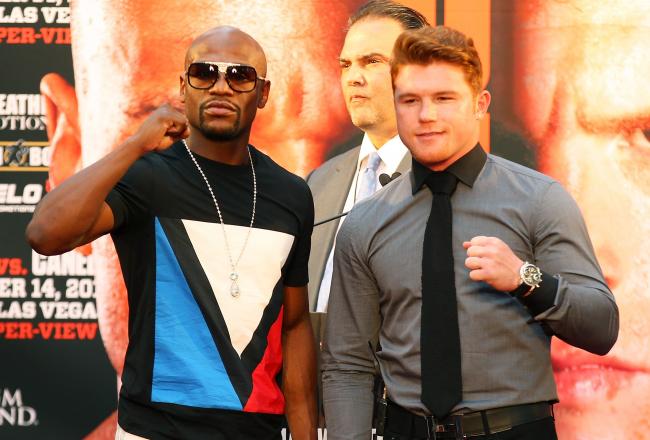 Mike Stobe/Getty Images
Floyd Mayweather Jr. will put his 44-0 record on the line against undefeated upstart Canelo Alvarez on Sept. 14 in the MGM Grand Hotel and Casino in Las Vegas, but his edge in experience and superior prior competition gives him a distinct advantage.
Alvarez is no slouch at 42-0-1 and clearly wouldn't have gotten there without some merit. However, this is unquestionably the biggest fight of his career at age 23.
Mayweather has more than a decade of experience in these types of high-stakes bouts with WBC and The Ring belts on the line. That should outweigh any sort of edge Alvarez has in terms of power and size when the showdown gets underway.
The catchweight of 152 pounds established for this fight will be exceeded by Alvarez, who could gain as many as 20 pounds after the initial weigh-in, per MLive.com's Josh Slagter.
Video Credit: Showtime Sports
Mayweather has never been knocked out before as a professional, and his father, Floyd Mayweather Sr., feels that won't change, as Slagter also reports.
The father believes the weight Alvarez adds will hurt him in terms of stamina and cites his previous unanimous-decision win over Austin Trout in saying Alvarez's stamina faded near the end:
He's going to be very strong with that weight. He's going to be strong, but the food he puts in his body, the liquids he puts in, all that stuff going to jiggle around. Can't take it. I've seen one fight (Trout) and that was enough to see what can be done. He got tired. He got winded. Trust me, it won't be 12 rounds.
Thus, it would be reasonable to think that Alvarez would come out and try to be the tone-setter in this bout, hitting Mayweather with an aggressive early flurry of punches. That's precisely what often plays into Mayweather's hands, though, and eventually results in his opponents wearing down as the fight progresses.
A record $41.5 million guarantee has been bestowed upon Mayweather ahead of the fight that is being dubbed "The One." It's an outrageous amount of coin, but the draw should be proportionately large.
How will Alvarez's extra weight affect the fight?
Earning that type of quote is a testament to the caliber of opponents Mayweather has faced—and beaten—in previous fights that were of similar hype and stature.
In a sense, though, Mayweather is still acclimating to life back in the ring after a prison stint kept him out of boxing competition for approximately a year.
A unanimous-decision romp over Robert Guerrero is the only tangible experience he's had since returning, so it will be all the more critical for him to channel his past successes and translate it to the showdown with Alvarez.
As long as Mayweather sticks to his typical game plan of wearing down opponents with outstanding defense and counterpunching ability, Alvarez should prove Mayweather's father right, wear down and ultimately drop the first fight of his career to the perennial, soon-to-be 45-0 champion.
This article is
What is the duplicate article?
Why is this article offensive?
Where is this article plagiarized from?
Why is this article poorly edited?