Week 2 of the college football schedule has some of the greatest matchups of the entire season set to take place between top teams and heated rivals.
While there are under-the-radar trap games for big teams like Ohio State, which will travel to take on a tough San Diego State squad, it is the major contests between teams like SEC powerhouses South Carolina and Georgia that highlight the week.
Not only are there major conference games set to kickoff, there are rivalry games with national championship implications as well, such as when Notre Dame travels to Ann Arbor to take on Michigan.
Fans are sure to be entertained for 12 straight hours in Week 2. If they only have a few hours available to spend in front of the tube, here are the three games to catch.
NCAA Football Top 25 Schedule-Week 2

| | | | | |
| --- | --- | --- | --- | --- |
| Date | Time (ET) | Away | Home | Predicted Winner |
| 9/7 | 3:30 p.m. | No. 2 Oregon | Virginia | Oregon |
| 9/7 | 3:30 p.m. | San Diego State | No. 3 Ohio State | Ohio State |
| 9/7 | 12:30 p.m. | South Carolina State | No. 4 Clemson | Clemson |
| 9/7 | 11:00 p.m. | San Jose State | No. 5 Stanford | Stanford |
| 9/7 | 4:30 p.m. | No. 6 South Carolina | No. 11 Georgia | South Carolina |
| 9/7 | 7 p.m. | Sam Houston State | No. 7 Texas A&M | Texas A&M |
| 9/7 | 12 p.m. | Eastern Kentucky | No. 8 Louisville | Louisville |
| 9/7 | 7 p.m. | UAB | No. 9 LSU | LSU |
| 9/7 | 12 p.m. | No. 12 Florida | Miami (FL) | Florida |
| 9/7 | 12 p.m. | No. 13 Oklahoma State | UTSA | Oklahoma State |
| 9/7 | 8 p.m. | No. 14 Notre Dame | No. 17 Michigan | Michigan |
| 9/7 | 7 p.m. | No. 15 Texas | BYU | Texas |
| 9/7 | 7 p.m. | West Virginia | No. 16 Oklahoma | Oklahoma |
| 9/7 | 6 p.m. | Syracuse | No. 19 Northwestern | Northwestern |
| 9/7 | 12 p.m. | Tennessee Tech | No. 21 Wisconsin | Wisconsin |
| 9/7 | 6 p.m. | Southern Miss | No. 22 Nebraska | Nebraska |
| 9/7 | 3:30 p.m. | Buffalo | No. 23 Baylor | Baylor |
| 9/7 | 12 p.m. | SE Louisiana | No. 24 TCU | TCU |
| 9/7 | 10:30 p.m. | Washington State | No. 25 USC | USC |
Chris Roling
No. 6 South Carolina at No. 11 Georgia
The Georgia Bulldogs are already in a bit of a tailspin after going on the road to Clemson Week 1 and coming up short.
Not only did Georgia lose and take a nosedive in the rankings, the Bulldogs lost star receiver Malcolm Mitchell to a torn ACL, which occurred as he was celebrating a teammate's touchdown early in the contest:
VIDEO: Georgia star WR Malcolm Mitchell is out for the year after tearing his ACL celebrating Todd Gurley's TD http://t.co/O0JJnIS4IF

— Bleacher Report (@BleacherReport) September 1, 2013
Things went much better for South Carolina in its opener—the Gamecocks out-rushed the North Carolina Tar Heels 228-99 en route to a 27-10 victory.
The tale of the tape here is simple—Georgia loses and the Bulldogs' title hopes go down the drain. Two losses and a remaining difficult schedule all but guarantee a disappointing season.
Last year the Gamecocks embarrassed the Bulldogs 35-7 in Columbia. That's an oddity for a final score in this rivalry as of late, but things could be headed in that direction again this year with how different these two teams have looked.
Georgia needs a win here, but Jadeveon Clowney may have a thing or two to say about that.
In two career games against Georgia he has racked up three sacks and a forced fumble. Expect that trend to continue as Aaron Murray will have little time to get rid of the ball.
Prediction: Gamecocks 42, Bulldogs 35.
No. 14 Notre Dame at. No. 17 Michigan
One of the greatest rivalries in college football is set to take center stage yet again under the national microscope when the Fighting Irish make the dreaded trip to Ann Arbor to take on the Wolverines.
Michigan has won 3 straight home games vs Notre Dame, 1 shy of its longest home win streak in the series (Saturday, 8 ET on ESPN)

— ESPN Stats & Info (@ESPNStatsInfo) September 4, 2013
Both teams have national title ambitions this season and started off down the right path last week. Notre Dame dismantled the Temple Owls 28-6 and saw a strong performance from quarterback Tommy Rees. Michigan took on in-state competition against Central Michigan and won big 59-9 behind 463 yards of total offense.
Don't expect Saturday's contest to be a repeat of the ugly slugfest that occurred last year in South Bend when the Fighting Irish came away with a gritty 13-6 win.
This year Michigan is at home with an improved quarterback in Devin Gardner and a more physical, pro-style offense led by left tackle Taylor Lewan and running back Fitzgerald Toussaint. The toughest part of running an offense like that against Notre Dame is encountering elite nose tackle Louis Nix III.
The Fighting Irish are much better in the trenches than given credit for. However, the team will have to rely on quarterback Tommy Rees.
Ultimately the game will be lost on the road because of his limitations.
Prediction: Wolverines 45, Fighting Irish 35.
No. 12 Florida vs. Miami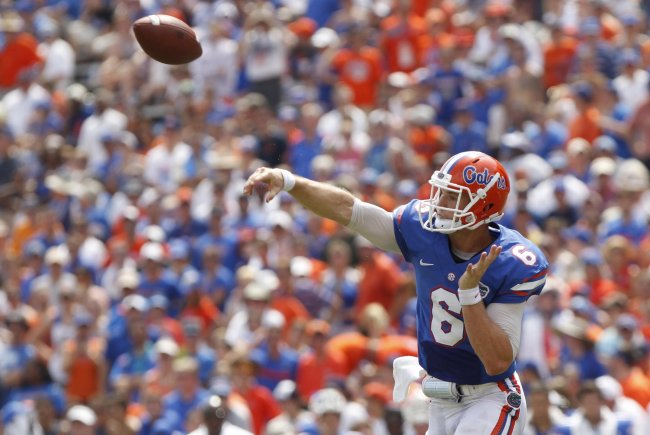 Kim Klement-USA TODAY Sports
A rivalry game that has not occurred since 2008 will once again take the world by storm Saturday when the Florida Gators travel to Sun Life Stadium to clash with in-state foe Miami.
Viewers should not be fooled by the rankings—the gap between these two teams is not wide.
Florida struggled last week against Toledo from the MAC, at least when compared to how dominant some expect the Gators to be, sneaking by with a 24-6 win behind the ineffective play of quarterback Jeff Driskel.
On the other side is a Miami team red-hot after stomping Florida Atlantic 34-6. One of the nation's top running backs in Duke Johnson made his presence known with 186 yards on 19 carries.
The game will have major implications for both sides, and that's not a break from the norm, as ESPN points out:
Miami (FL) hosts No. 12 Florida on Sat. (12 ET/ESPN). Winner of last 5 reg. season meetings has finished in top 5 of final AP poll each year

— ESPN Stats & Info (@ESPNStatsInfo) September 3, 2013
Miami is close to being ranked in the polls, and if it can pull off the upset it is not outlandish to think the team could run the table riding the hot hands of Johnson and quarterback Stephen Morris. Florida is already siting pretty in the polls thanks to an elite defense, but one loss could create a downward spiral.
This one is a toss-up. Driskel is supported by an excellent defense and a rushing attack led by sophomore Matt Jones. Miami has a sound offense overall but cannot afford to drop passes like it did against FIU.
At the end of the day, Florida should eek by courtesy of a defense that can create turnover opportunities.
Prediction: Gators 24, Hurricanes 20.
Follow B/R's Chris Roling on Twitter for more news and analysis @Chris_Roling