John Elway demolished the Baltimore Ravens on Thursday night, according to a Midwestern news outlet.
Readers of The Columbus Dispatch in Ohio awoke this morning to a headline claiming that Elway, a retired Denver Broncos legend, threw seven touchdowns during last night's NFL season opener.
The erroneous headline was spotted by Tom Ley of Deadspin.com (via baseball author Joel Luckhaupt). Naturally, football fans were confused, considering they saw Peyton Manning throw these touchdowns with their own eyes.
Flux capacitor in use? Columbus Dispatch headline: ELWAY throws 7 TDs last nite #StuckInATimeWarp pic.twitter.com/aTVUZqTCg1

— trey wingo (@wingoz) September 6, 2013
The Columbus dispatch said that elway threw 7 tds last night...aftermath of thirsty Thursday in Columbus

— Josh Mosier (@TheRealJ_MO) September 6, 2013
It's a funny but (somewhat) understandable mistake. A rain delay pushed the game's intended start time back by over a half hour, and the contest lasted till nearly 1 a.m. ET.
It's easy to picture two drowsy night editors falling into a deep conversation about how Manning stacks up against Elway and accidentally fudging the headline.
Indeed, Elway was at the game last night, though he wasn't on the sidelines. As the Broncos' executive vice president of football operations, his duties were confined to lurking in the balconies.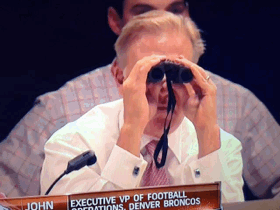 All jokes aside, it's amusing how Elway's ghost continues to loom large over the Broncos franchise. Fourteen years have passed since "Captain Comeback" retired from the NFL, but any great quarterbacking feat in Denver will forever be compared to Elway's Super Bowl-winning tenure with the team.
Elway and the Broncos are connected for life, and unless Manning can bring home a Lombardi Trophy, these slip-ups are apparently going to happen.
Wow. Thanks, Columbus Dispatch. #NoRespect pic.twitter.com/4dO36jx6aJ

— Peyton's Head (@PeytonsHead) September 6, 2013
Join me on Twitter for updates on Joe Namath's season opener against the Bucs.