Ranking the 10 NHL Coaches with the Most Job Security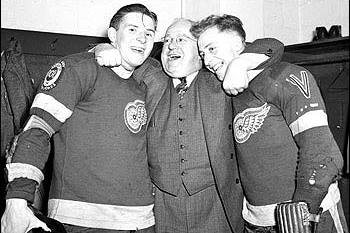 Jack Adams's 20-year run with the Red Wings yielded seven finals trips, three Stanley Cups, and, ultimately, a coaching trophy that bears his name. (Photo: www.hhof.com)
Not everyone can be Jack Adams.
A few generations back, the Ontario-born center hung up his skates after a seven-year NHL career, walked behind the bench and stayed there for the next 20 seasons.
He spent all 20 in Detroit, where he led the Red Wings—initially known as the Cougars and Falcons—to 15 playoff appearances, seven trips to the Stanley Cup final and three championships.
Adams stepped down in 1947 and was honored by the league in 1974, when it began presenting the "Jack Adams Award" annually to the coach who's "contributed the most to his team's success."
In today's NHL, the 20-year tenure is extinct. Instead, coaches of all stripes are kept on a short leash, and, as was the case with Alain Vigneault in Vancouver in May, even five consecutive division titles—and two President's trophies and an Adams award—aren't always enough to stave off the firing bug.
On the precipice of the 2013-14 season, some situations so seem more stable than others.
Click through to see our thoughts on which coaches needn't be looking over their shoulders, just yet.
Begin Slideshow

»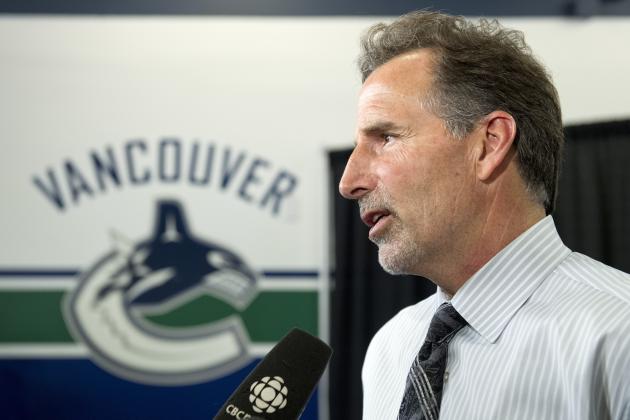 Rich Lam/Getty Images
His introductory track record and the talent on hand in Vancouver indicate Tortorella is safe for the short term with the Canucks.
Yes, he was fired for the second time only a few months ago in New York.
And yes, the man he's replacing in Vancouver (Alain Vigneault) was dumped after five division titles, two President's trophies and a Jack Adams Award.
But that doesn't mean the ax will fall on Tortorella again anytime soon.
The Canucks team he inherits is already among the league's best (tied for seventh overall in 2012-13) and the 55-year-old has shown a knack for instant success everywhere he's been—as shown by first-year titles in two minor leagues, a Stanley Cup in year three in Tampa Bay and a playoff berth in his initial go-round at Madison Square Garden.
He may not exceed the five years he spent in New York or the six he got in Tampa, but he's certainly safe for the time being in British Columbia.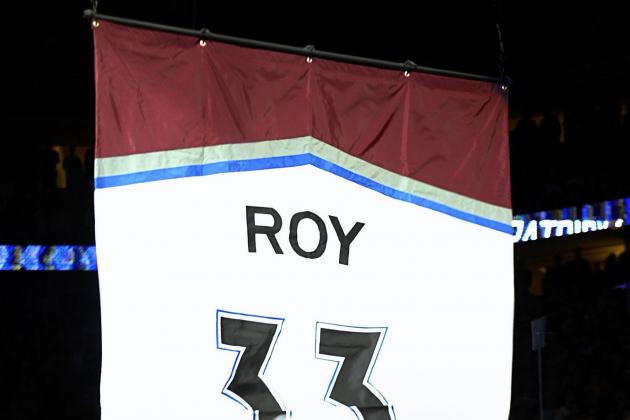 Brian Bahr/Getty Images
Not many coaches can look up in the rafters and see their own retired number, but Roy can in Colorado.
It certainly helps a coach to have the title "vice president of hockey operations" alongside his name. And it certainly helps a Colorado coach if his name is Patrick Roy.
A two-time Stanley Cup winner and consistent big-game hero in his playing days with the Avalanche, Roy moved to the front office in the offseason after a multi-year run as coach in the Quebec Major Junior Hockey League.
The team he inherits was 29th-best out of 30 in 2012-13, but, given his past success on the ice and the novelty of his new role, Roy figures to get plenty of rope behind the bench before the masses start calling for his hanging from the rafters—alongside the two banners and his retired No. 33.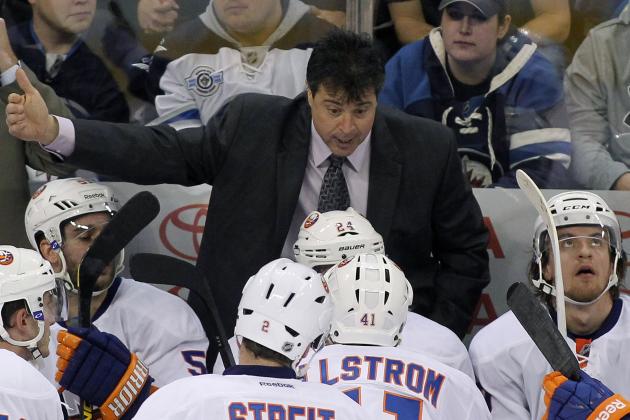 Marianne Helm/Getty Images
Surrounded by youth, the 47-year-old Capuano is in place to ride with the resurgent Islanders.
This season marks the 30th anniversary of the last time—1983-84—that the New York Islanders played in the Stanley Cup final.
And while no one expects a team that's missed the playoffs in the majority (16 of 28) of seasons since, it's also a reach to think the plug will be pulled on Jack Capuano in the midst of obvious progress.
The former fringe NHL'er took over a foundering Long Island ship from Scott Gordon just 17 games into the 2010-11 season and was borderline respectable the rest of the way, leading the Islanders to just three more losses than wins in his 65 games in charge.
They maintained that near-.500 level as the fifth link in an Atlantic Division with four 100-point occupants a year later, then leapt from fifth to third and into the playoffs last spring before falling to Pittsburgh in a spirited six-game series that included two OT losses.
With 22-year-old sniper John Tavares and 29-year-old wingman Matt Moulson back in the fold again this season, Capuano, just 47, looks poised to ride a resurgent wave for at least a few more seasons.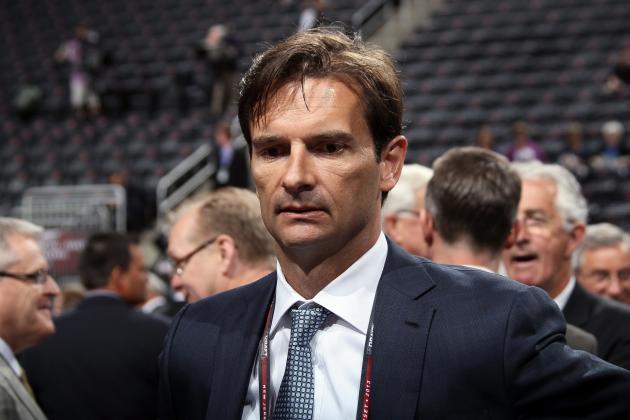 Bruce Bennett/Getty Images
Eakins' youth and intensity should play well with a young, talented stockpile of Oilers talent.
He's in a different time zone and a different country, but the coaching situation faced by Edmonton newcomer Dallas Eakins isn't all that different from his list predecessor in New York.
A year younger than Capuano, Eakins steps into a similarly chaotic Oilers organization that made him its fifth head coach since 2009. He will work under a general manager, Craig MacTavish, who started that domino effect when he was let go as coach after an eight-year run.
GM Steve Tambellini fired MacTavish as coach back then before MacTavish re-emerged as an executive and fired Tambellini in April.
He hired Eakins two months later with the idea that a younger, more creative coach would work well with the stockpile of talent the Oilers have built up with high draft picks in the seven seasons since they last made the playoffs, under MacTavish, in 2006.
"Our job now is to make this coach stay as long as he can," said Edmonton's Taylor Hall, the first pick in the 2010 draft and a 50-point scorer in 45 games last season. "Ralph (Krueger) was a great coach for us and a great teacher, but ultimately, as players, we didn't get the job done for him. Next year is a big year for us, to make sure that Dallas is here as long as he can be."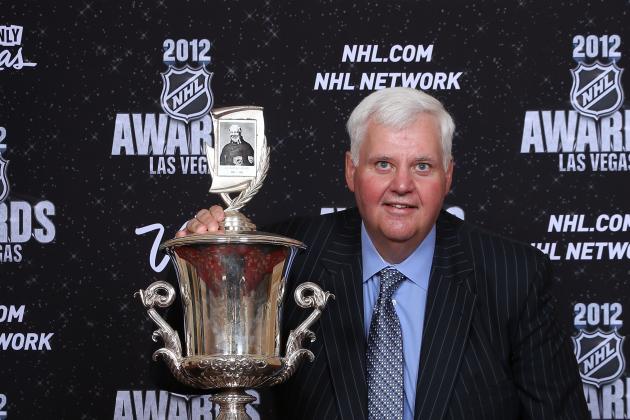 Bruce Bennett/Getty Images
A Stanley Cup and a Jack Adams Trophy illustrate Hitchcock's value to an oft-middling franchise.
Though they're counting on behind-the-bench youth in New York and Edmonton, the organization in St. Louis went the other way when reeling in its head man.
Ken Hitchcock, who took his first NHL job in 1995 and had a Stanley Cup on his resume four years later, was brought in for veteran stability after the Blues sacked 41-year-old Davis Payne following a 6-7 start to the 2011-12 season.
He brought both stability and success while going 43-11-11 in his 69-game stint en route to a Jack Adams Award and a second-round playoff berth, then was 29-17-2 in a shortened 2012-13 that saw the Blues earn consecutive playoff berths for the first time since 2004.
A voluntary step-down can never be counted out at age 61, but assuming the success curve continues in the same direction he's taken it, Hitchcock should be there as long as he wants.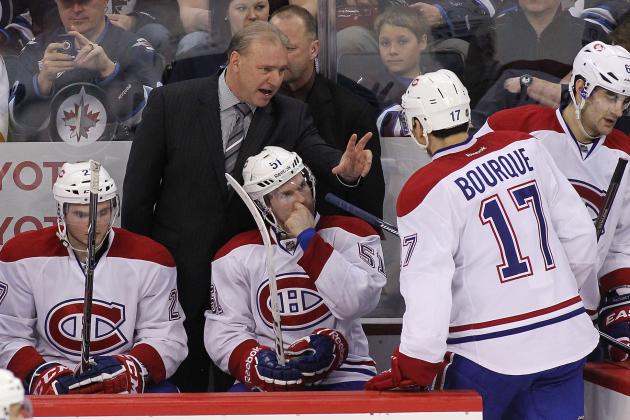 Marianne Helm/Getty Images
Therrien was an instant hit in his second go-round in Montreal.
When it comes to tradition, there's no hockey job like the Montreal Canadiens.
And as Michel Therrien already knows—having been fired as coach of the Canadiens once before—the weight of that tradition can sometimes seem particularly difficult to manage.
His initial stint was highlighted by a playoff upset of the No. 1 seeded Boston Bruins in 2006 before a six-game defeat against the eventual Stanley Cup champion Carolina Hurricanes. The momentum didn't carry over, however, and he was let go by GM Andre Savard after an 18-19-9 start in 2006-07.
Savard is long gone and Therrien—after a four-year run in Pittsburgh—was welcomed back to Montreal by new GM Marc Bergevin in 2012. The Canadiens immediately went from non-playoff qualifiers to Northeast Division winners under his watch, and, with three 24-year-olds returning from the team's top-five scorers list, the upward mobility should secure a more prolonged second tenure.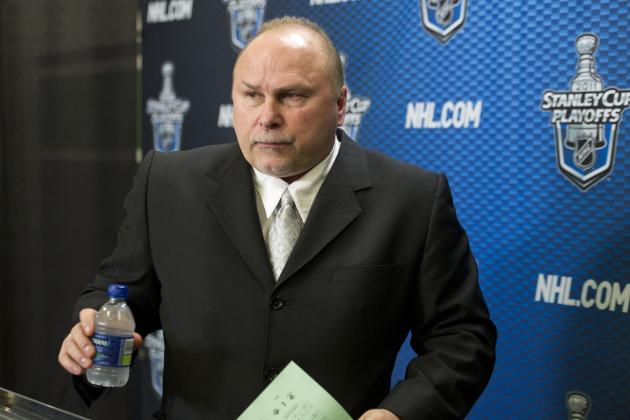 Rich Lam/Getty Images
Trotz, now 51, is the only coach the expansion Predators have ever known.
Barry Trotz is the NHL's modern-day Jack Adams.
No, he's not in an Original Six city like Detroit, and, no, he's not gotten a team out of the second round—let alone won a title—but 14 years with the same job in the same city is nothing to sneeze at in today's NHL.
The Predators knew what they were getting in the steady Winnipeg native when they brought him on as a late 30-something to lead an expansion team. And, once he survived the five years of missed playoffs that began his tenure, the regular-season success that's followed has been substantial.
Nashville won at least 40 games for seven straight seasons between 2005-06 and 2011-12, and, assuming the 16-23-9 from last season can be explained away by a tumultuous offseason and shortened schedule, the team ought to be closer to its average than its nadir this time around.
If he can keep No. 1 goalie Pekka Rinne healthy—the Finn played 43 of 48 games last season and 73 of 82 in the last non-lockout year—Trotz might have the Predators job for life.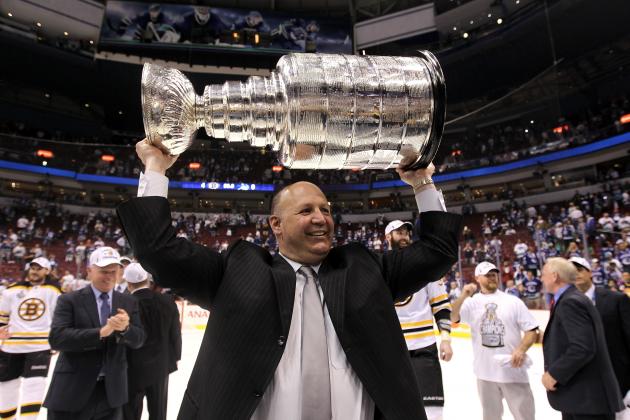 Bruce Bennett/Getty Images
The first time he kept a job more than three years, Julien returned the favor with a championship in year four.
It just took Claude Julien a while to find just the right level of patience.
He had success in Montreal in the early 2000s,but was fired with an above-.500 record by GM Bob Gainey in January 2006. He won 47 of 79 games in New Jersey in 2006-07 but was curiously let go by GM Lou Lamoriello on the eve of the playoffs.
It's all changed in Boston, however, where management stuck with him after a horrific seven-game loss to Philadelphia in the 2009-10 playoffs—when the Bruins led 3-0 before losing four straight. The following season, patience was rewarded with the franchise's first Stanley Cup since 1973.
Boston got back to the final and dropped a memorable duel with Chicago last season and figures to be among the Eastern Conference's contenders for the foreseeable future, meaning Julien's more than likely going to stay put.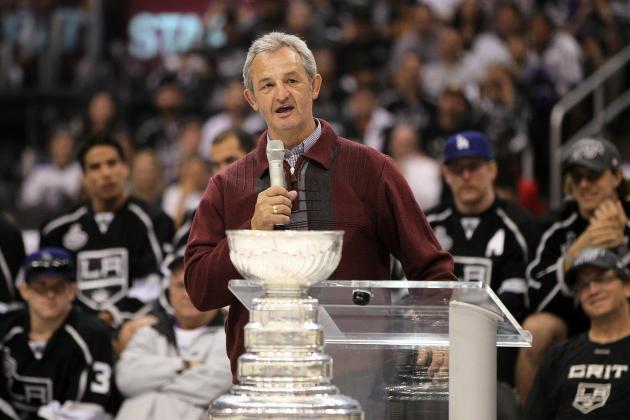 Victor Decolongon/Getty Images
Though Wayne Gretzky made the franchise viable in 1988, Sutter brought home its first championship 24 years later.
After years of kicking around the league as a player, coach and executive, it seems Darryl Sutter fell into a pretty secure spot with the Los Angeles Kings.
Previously a bench boss in Chicago, up the coast in San Jose and across the border in Calgary, Sutter was voluntarily out of work—having resigned from his last position—when he was tapped to replace Terry Murray 33 games into the 2011-12 season.
Forty-nine games later, the Kings squeaked into the playoffs. Two months after that, they completed the most improbable run in league history by toppling New Jersey in six games to win the franchise's first Stanley Cup—having beaten seeds one, two and three in the Western Conference along the way.
A second year on the job saw Sutter get the Kings back within a step of the championship round, and a talented, youthful core—all but two of last year's top 10 scorers are 28 or younger—seems evidence enough that he'll not be exiting in the imminent future.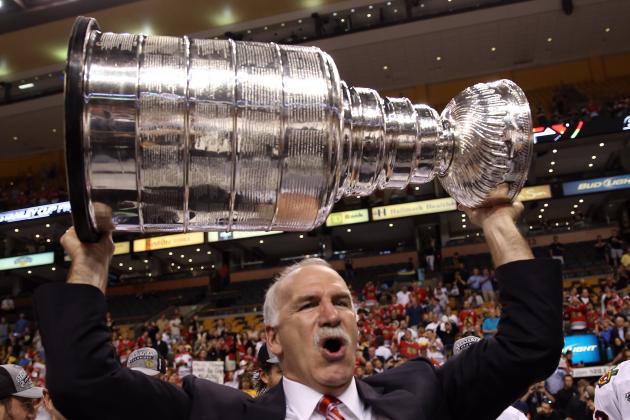 Bruce Bennett/Getty Images
Five years on the job have yielded two Cups for Quenneville, a veteran of 13 title-free years as a player.
If a coach were to pick his dream spot in today's NHL, chances are awfully good it'd be in Chicago.
The team plays before a rabid fanbase in an Original Six city. It's won two of the last four Stanley Cups. And its best two players—Patrick Kane and Jonathan Toews—will be 24 and 25, respectively—on the opening night of the 2013-14 season.
So don't expect Joel Quenneville to be perusing want ads anytime soon…unless he simply gets tired of the celebrations.
A soon-to-be 55-year-old (his birthday is Sept. 15), Quenneville took over the Blackhawks in the middle of the 2008-09 season after a stretch of five consecutive years outside the postseason.
Suddenly, the team reached the Western Conference final in his initial go-round, won its first Cup since 1960 a year later and could emerge as the closest thing to a dynasty since Edmonton won five of seven from 1984 to '90.