Early Grades for MLB's Top 10 September Call-Ups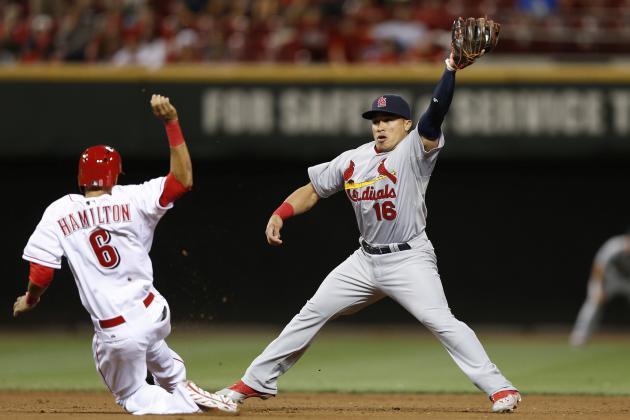 Joe Robbins/Getty Images
Billy Hamilton is 2-for-2 on the base paths since joining the Reds.
It's been only a few days since the rosters expanded and teams announced their September call-ups, but some of baseball's top prospects have already made a splash in the major leagues.
So far, speedster Billy Hamilton has stolen all the headlines after stealing the first two bases of his big league career with the game on the line and Yadier Molina behind the plate. Meanwhile, the White Sox offered a glimpse of their future on Wednesday night when they debuted a trio of prospects against the Yankees. And as the rest of the regular season unfolds, there undoubtedly will be more prospects summoned from the minor leagues.
While technically any prospect promoted on or after September 1 can be considered a "September call-up," I decided to narrow the focus of this article to only those players reaching the major leagues for the first time.
With that being said, here are the (very) early grades for baseball's top 10 September call-ups.
Begin Slideshow

»
Grade: C+
Acquired from the Tigers at last year's trade deadline, Flynn, a 6'7", 240-pound left-hander, put everything together in his first season with the Marlins. After four excellent starts for Double-A Jacksonville, the 23-year-old was promoted to Triple-A New Orleans, where he remained until getting the call to join the Marlins for the final month of the season.
Flynn made his major league debut on Wednesday when he started against the Cubs at Wrigley Field. The southpaw ultimately took a no-decision, allowing three earned runs on six hits (including two home runs) over four innings. He walked three batters and struck out a pair and needed 81 pitches (44 strikes) to get through his outing.
Grade: B-
Few prospects have enjoyed a better season than Owings. Spending his age-21 season at Triple-A Reno, the recently-turned 22-year-old shortstop batted .330/.359/.482 with 180 hits, 51 extra-base hits (12 home runs), 81 RBI and 20 stolen bases in 125 games. He was recently named as both the Rookie of the Year and MVP of the Pacific Coast League.
The Diamondbacks rewarded Owings for his outstanding season in their own way—a promotion to the major leagues. So far, he's grounded out in two separate at-bats as a pinch hitter, but given the team's lack of production from the shortstop position and overall offensive woes, there's a good chance that Owings sees considerable playing time down the stretch.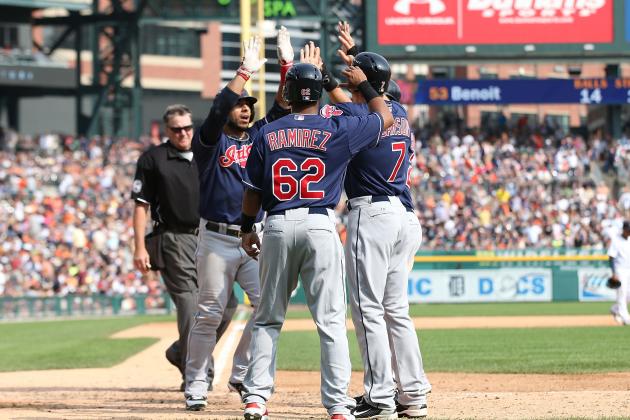 Leon Halip/Getty Images

Grade: B-
One of the more surprising September call-ups, Ramirez spent the season as one of the younger everyday players at the Double-A level and batted .272/.325/.349 with 25 extra-base hits and a 41/39 K/BB ratio in 113 games. He also led the Eastern League with 38 stolen bases and ranked fourth with 78 runs scored. Upon his promotion on Sunday, the 20-year-old became the fourth youngest player in the major leagues.
The Indians got Ramirez into a game on his first day as a big leaguer, as he entered Sunday's game as a pinch runner and subsequently scored the first run of his career. On Tuesday, he failed to record a hit in his only at-bat as a pinch hitter.
Grade: B-
Castellanos was included as one of the Tigers' September call-ups after an impressive season at Triple-A Toledo. One of the younger everyday players at the level, the 21-year-old batted .276/.343/.450 with 37 doubles and 18 home runs in 134 games.
The Tigers didn't wait to get their top prospect into a game, as Castellanos made his debut as a pinch hitter on Sunday against the Indians and took over in left field for the final few innings. While he hasn't seen any action since then, he's likely to get a start this weekend with the Tigers scheduled to face a pair of Royals left-handers.
Grade: B-
Webb was among the White Sox's September call-ups on Sunday and, like fellow prospects Erik Johnson and Marcus Semien, made his major league debut on Wednesday night against the Yankees. The promotion was Webb's third of the season; he opened the year at High-A before making stops at Double- and Triple-A en route to the major leagues. Across those three levels, the hard-throwing right-hander posted a 1.87 ERA with 10 saves and 78 strikeouts in 62.2 innings.
Webb entered Wednesday's game in the seventh and walked the first batter of his career, Derek Jeter. He then allowed a single to Robinson Cano and a sacrifice fly to Alfonso Soriano before finishing the inning. The 23-year-old has the potential to play a major role in the team's bullpen next season.
Grade: B
Choice hasn't showcased the robust power that he did during his full-season debut in 2011, but his evolution into a more complete hitter over the last two years earned him a call-up with the A's on September 1. At the time of his promotion, the 23-year-old was batting .302/.390/.445 with 29 doubles, 14 home runs, 89 RBI and 115/69 K/BB in 132 games for Triple-A Tacoma.
The 23-year-old made his major league debut on Monday against the Rangers, going 0-for-2 with a walk and a run scored as the A's designated hitter. He received his first career start in right field the following day and picked up his first big league hit as a part of a 1-for-3 effort. He also made a nice sliding catch. Considering that Choice fared as well against right-handed pitching (.825 OPS) as he did left-handers (.871 OPS), he has the potential to see significant playing time over the final month of the season.
Grade: B
Johnson got the call as a September call-up after an impressive season between Double-A Birmingham and Triple-A Charlotte in which he posted a 1.96 ERA and 131/40 K/BB ratio in 142 innings (24 starts). With the White Sox well out of any playoff race, they switched to a six-man rotation for the final month of the season so as to both limit innings and get a look at few younger players. And on Wednesday, Johnson got the call to make his major league debut at Yankee Stadium.
Besides a lengthy first inning and a four-run fourth inning that was fueled by his own throwing error, Johnson was otherwise solid in the outing. Overall, the 23-year-old allowed five runs (three earned) on seven hits over six innings. The right-hander also walked three and fanned one batter, throwing 60 of 105 pitches for strikes.
Grade: B+
The top position prospect called up by the White Sox on Sunday, Semien lacked a game of experience above the High-A level entering the 2013 season. However, after batting .284/.401/.479 with 110 runs scored, 19 home runs, 24 stolen bases and a 90/98 K/BB ratio in 137 games between Double-A Birmingham and Triple-A Charlotte, the organization decided to reward the 22-year-old with a promotion to The Show.
Also making his debut on Wednesday night against the Yankees, Semien, who got the nod at third base, opened his career with a single against C.C. Sabathia in his first at-bat. He struck out in his next two at-bats but added the first RBI of his career with an eighth-inning single. I especially enjoyed his Lyle Mouton-like facial hair.
Grade: A
I admit that I'm cheating by including Pinto in this article. While he was going to be called up by the Twins on September 1, Joe Mauer's ongoing concussion-related symptoms ultimately forced the club to promote him a day early on August 31. Regardless, the 24-year-old has been hot since getting the call.
In his major league debut on Sunday, Pinto went 2-for-4 with a double and RBI against the Rangers, and then followed with a 4-for-5 performance against the Astros on Wednesday. For good measure, he added a pinch-hit single the next day.
By all standards, seven hits in 10 at-bats to begin a major league career is pretty damn impressive.
Grade: A
The fastest man in baseball, Hamilton set a professional record last year with 155 stolen bases and then added 75 more this season at Triple-A Louisville. And at long last, the Reds called up the 22-year-old on September 2.
Expected to serve as a pinch runner during the final month of the season, Hamilton has done exactly that so far and done it well. On Tuesday night, he entered in the seventh inning of a scoreless game against the Cardinals and promptly swiped the first base of his big league career—against Yadier Molina nonetheless. He later came around to score the go-ahead run on Todd Frazier's double.
Hamilton was back at it the following night, as he replaced Ryan Ludwick at first base in the bottom of the 14th with the Reds trailing the Cardinals, 2-1. Once again, he proceeded to steal second base (against Molina) before scoring the game-tying run on a single by Zack Cozart.
Two stolen bases (in two attempts) and runs scored with the game on the line? Not bad, Billy. Not bad at all.