8 Players You've Never Heard of Who Could Win the Calder Trophy in 2013-14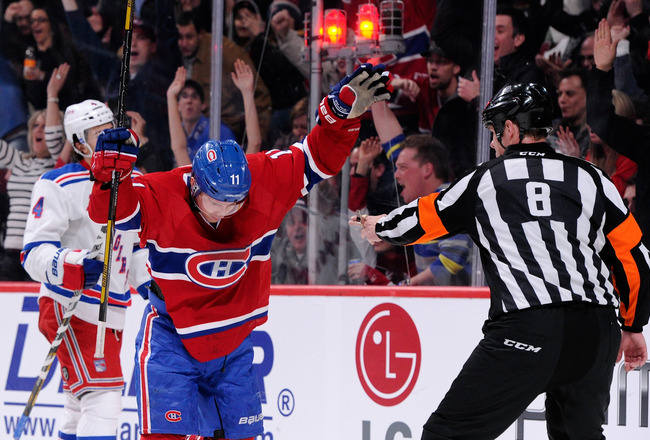 Richard Wolowicz/Getty Images
Most of the players who win the NHL's rookie of the year award are high-profile prospects, well known to fans before they've even played a single major league game. Eight of the last 10 winners were first-round draft picks; five of them went in the top three in their draft years.
Every so often, though, an unknown emerges and claims the title. Steve Mason and Andrew Raycroft are good examples, and fifth-round draft choice Brendan Gallagher almost won the award last year.
The following are eight unheralded players that could win the Calder Trophy in 2013-14, in order from least to most likely.
8. Matt Donovan, Defenseman, New York Islanders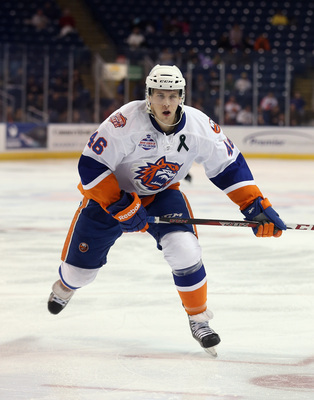 Bruce Bennett/Getty Images
A fourth-round pick in 2008, Matt Donovan has a long track record of putting up solid offensive totals from the blue line. Over the last two seasons, he has recorded 93 points in 147 AHL contests.
Donovan's coach in Bridgeport, Scott Pellerin, told NHL.com that the player was more than just an offensive defenseman. Pellerin said that Donovan had made strides in all areas, including improved positional play, defensive habits and compete level.
With leading defensive scorer Mark Streit leaving the team in the offseason, there's a spot open on the Islanders power play—and if the rest of Donovan's game has caught up to his offensive skill, he could be the man to fill it.
7. Tyler Johnson, Center, Tampa Bay Lightning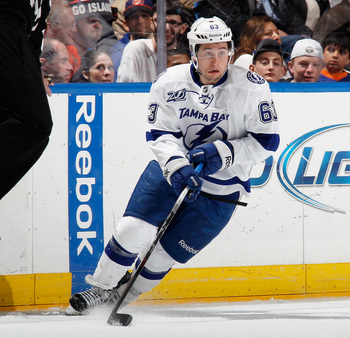 Bruce Bennett/Getty Images
Last season, the Lightning took a small scoring forward coming off an MVP-level campaign in the AHL and brought him up to the majors. Cory Conacher responded by posting 24 points in 35 games before being traded to Ottawa for goalie Ben Bishop.
Tyler Johnson checks a lot of the same boxes Conacher did. The smallish skater was the AHL's MVP last season, recording more than a point per game and leading that league in goals. Johnson's also a lightning-fast skater and, according to Tampa Bay development coach Stacy Roest, is "good at both ends of the rink."
6. Michael Sgarbossa, Center, Colorado Avalanche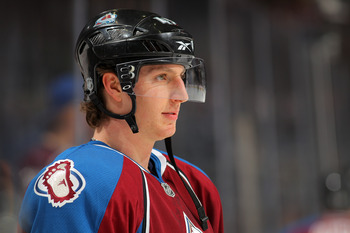 Doug Pensinger/Getty Images
Michael Sgarbossa has come a long way in a very short period of time.
The 21-year-old was never drafted despite impressive scoring numbers in the OHL, but ultimately, he managed to get a contract as a free agent and now sits behind only 2013 first overall pick Nathan MacKinnon on Colorado's prospect list.
Sgarbossa led the OHL in scoring in 2011-12 and played in the AHL All-Star Game as a rookie professional last season. If he gets an opportunity on a scoring line, he could surprise.
5. Mattias Ekholm, Defenseman, Nashville Predators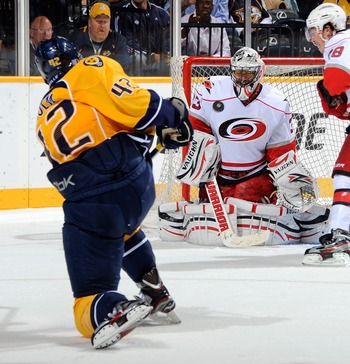 Frederick Breedon/Getty Images
The best defenseman in Sweden's top league in 2011-12, Ekholm made the jump to North America last season and impressed, putting up 32 points in 59 games for Nashville's AHL affiliate in Milwaukee.
The 6'4" defenseman brings a unique combination of size, skating and puck-moving ability, a combination very few teams in the league would turn down and Calder Trophy voters might find equally attractive.
Aside from his skill, there's opportunity in Nashville. The team's seven defensemen on the opening-night roster could include as many as three rookies in addition to 64-game veteran Ryan Ellis, meaning that Ekholm might be able to jump right from the AHL into a top-four job.
4. Sami Vatanen, Defenseman, Anaheim Ducks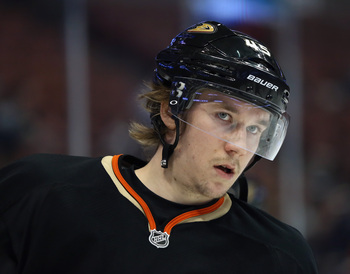 Jeff Gross/Getty Images
Just 22 years old, rookie rearguard Sami Vatanen has already piled up an impressive array of hardware.
Before coming across the Atlantic, he was twice named the top defenseman in Finland's best league, and in his North American debut, he was named to not just the AHL All-Rookie Team but also to the First All-Star Team. If not for Justin Schultz's casual dominance of the league during the NHL lockout, Vatanen would likely have also won top defenseman at that level.
The right-handed shooter (along with Ben Lovejoy, one of just two on the Anaheim blue line) has run up impressive scoring totals at every level and joins a Ducks power play that ranked fourth in the NHL last season and lost Sheldon Souray to injury this summer.
3. Danny Kristo, Right Wing, New York Rangers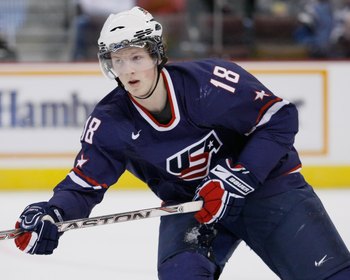 Richard Wolowicz/Getty Images
Winning the Calder Trophy tends to require both skill and opportunity, and thanks to a couple of injuries, Kristo has both.
On the skill side of the equation, the 2008 second-round pick was a first-team WCHA All-Star last year and represented Team USA at the World Championships—despite never having played an NHL game.
On the opportunity side, Rangers director of player personnel Gordie Clark says that Kristo "has a good chance to fill in" for injured wingers Carl Hagelin and Ryan Callahan, meaning that Kristo could find himself on a scoring line out of training camp.
2. Antti Raanta, Goaltender, Chicago Blackhawks
Undrafted goaltender Antti Raanta had a season for the ages last year.
Playing in Finland's top league, not only did he guide his team to a championship, but he was named best goaltender, regular season MVP and playoff MVP. His save percentage was off-the-charts good, too (.943 in the regular season, .955 in the playoffs).
Raanta enters the league at No. 3 on Chicago's depth chart. However, 40-year-old Nikolai Khabibulin has struggled with injuries in recent seasons, and starter Corey Crawford is one year removed from a .903 save percentage, so the possibility of rapid advancement exists.
1. Corban Knight, Center, Calgary Flames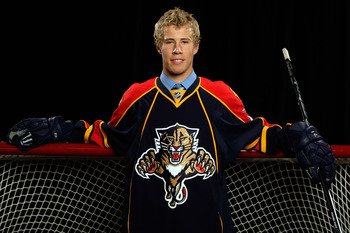 Jamie Squire/Getty Images
Unable to sign Corban Knight and facing the possibility of the prospect walking away as a free agent in the summer, Florida made the tough decision to trade him to Calgary, landing a fourth-round draft pick in the process.
Knight has good size, plays a mature two-way game and has managed a point per game or better for three consecutive seasons at the University of North Dakota.
Most of all, Knight has the opportunity for rapid advancement on a Flames roster that looks likely to feature Matt Stajan and Mikael Backlund in the top two center spots. With a well-rounded skill set, offensive ability and a world of opportunity, Knight could make some serious noise as a rookie and perhaps even compete for the Calder Trophy.
Keep Reading