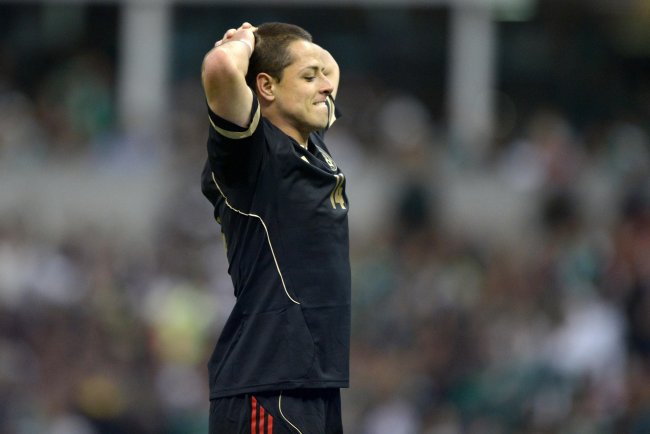 Kirby Lee-USA TODAY Sports
Honduras scored two second-half goals in a matter of minutes to stun Mexico 2-1 at the Estadio Azteca on Friday night.
Los Catrachos now have 10 points in their 2014 World Cup qualifying table, good for third place behind Costa Rica and the United States.
Jerry Bengston equalized for Honduras with a rebound in the 64th minute, right before Carlo Costly found the back of the net for what was the game-winning goal.
Mexico had chances down the stretch, but were clearly shell-shocked after Honduras virtually stole the lead.
Fox Soccer Trax had the tweet for the final score in Mexico City:
FULL TIME: Mexico 1 - Honduras 2

— FOX Soccer Trax (@FOXSoccerTrax) September 7, 2013
Sports Illustrated's Grant Wahl added some commentary of his own:
FT Mexico 1, Honduras 2. Incredible result: Only the 2nd World Cup qualifier Mexico has ever lost at home.

— Grant Wahl (@GrantWahl) September 7, 2013
Taking a clever approach to Mexico's nickname, Fox Sports 1's Thomas Hautmann took to Twitter to describe El Tri's World Cup situation perfectly:
El Trouble

— Thomas Hautmann (@HautmannOnFOX) September 7, 2013
According to ESPN's SportsCenter on Twitter, Mexico's World Cup chances took a major hit as Honduras overcame an early deficit to stun the Azteca faithful:
SHOCKER! Honduras beats Mexico, 2-1. El Tri now only has a 59.8% chance of qualifying for 2014 World Cup.

— SportsCenter (@SportsCenter) September 7, 2013
The top three teams in the hexagonal receive automatic bids to Brazil. El Tri sit in fourth place after the match, just one point ahead of Panama.
Mexico's CONCACAF frustrations may have reached a tipping point. As a result, Jose Manuel "Chepo" de la Torre might have managed his final game in the Estadio Azteca.
ESPN FC correspondent Tom Marshall certainly thinks so:
Chepo now surely out of a job. Doubt he'll be on the bench in Columbus on Tuesday.

— Tom Marshall (@mexicoworldcup) September 7, 2013
Things started magnificently for the home side. Needing three points to keep pace with the United States and Costa Rica, Mexico took an early lead when Oribe Peralta knocked in a goal off a beautiful pass from Giovani Dos Santos.
As noted by ESPN's Paul Carr, the goal broke a scoring drought of epic proportions:
Oribe Peralta puts Mexico up 1-0 on Honduras, ending Mexico's 280-minute scoring drought in home WC qualifiers.

— Paul Carr (@PCarrESPN) September 7, 2013
Mexico were patient in attack and worked the defensive gaps offered by Honduras, but still failed to put any distance between themselves and their opponents. Through 45 minutes, El Tri had to settle for a one-goal advantage.
Marshall had some thoughts as both squads enter the locker rooms:
Mexico 1-0 Honduras at halftime - El Tri got that vital goal, but has backed off a little after it. Still all to play for.

— Tom Marshall (@mexicoworldcup) September 7, 2013
At the start of the second half, all eyes were on Mexico. With a talented roster and the top three spots generally up for grabs, many expected El Tri to finally capitalize on their strong start and put the challengers away for good early on.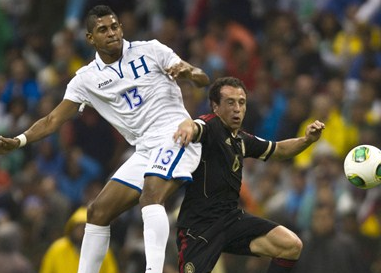 Honduras had other ideas.
Costly fired a shot toward Jesus Corona that was deflected, and substitute and MLS player Bengston was in the right place at the right time to help Los Catrachos tie the score. Costly would put Honduras ahead just seconds later.
Fox Soccer Trax 2 described the game-winning play on Twitter:
66' HON 2-1: Long ball over the top. Costly barges through Reyes and thumps home inside the far post. Stunning turn of events.

— FOX Soccer Trax 2 (@FOXSoccerTrax2) September 7, 2013
As the action unfolded, Keeper Notes reminded us that anything can happen when you're talking about the World Cup:
Carlo Clutch Costly does it again! Honduras up 2-1 at Azteca. Who knows how CONCACAF table will look in 30 minutes? ANYTHING can happen.

— Keeper Notes (@keepernotes) September 7, 2013
After taking a 2-1 lead, Honduras kept Mexico at bay for the remainder of the match. Noel Valladares made several outstanding saves late in the game to thwart El Tri. Honduras now control their own destiny with regards to a plane ticket to Brazil.
Conversely, it is hard to imagine Mexico's team members sleeping well Friday night.
Player Grades
Player Grades

| | | | |
| --- | --- | --- | --- |
| Mexico Player | Grade | Honduras Player | Grade |
| Jose de Jesus Corona | B- | Noel Valladares | A |
| Severo Meza | C+ | Brayan Beckeles | B |
| Diego Reyes | C | Maynor Figueroa | B+ |
| Hector Moreno | B | Victor Bernardez | C+ |
| Carlos Salcido | B- | Emilio Izaguirre | B- |
| Gerardo Torrado | C | Wilson Palacios | B |
| Fernando Arce | B- | Boniek Garcia | C |
| Christian Gimenez | C | Roger Espinoza | C+ |
| Angel Reyna | C- | Luis Garrido | B |
| Oribe Peralta | B | Andy Najar | C+ |
| Giovani dos Santos | B+ | Carlo Costly | A |
| Subs | | Subs | |
| Andres Guardado | B+ | Jerry Bengtson | A |
| Javier Aquino | C+ | Edgard Alvarez | B- |
| Javier Hernandez | A | Marvin Chavez | C |
What's Next?
Mexico and Honduras each have three more matches before CONCACAF World Cup qualifying is complete.
El Tri travel north of the border for their next match. The United States host Mexico on Tuesday at the Columbus Crew Stadium at 8 p.m. ET. The score was 0-0 in the first leg of the qualifier in Mexico City, but the United States will hope for a repeat of their 3-1 friendly win played in August 2012.
A home match against Panama and one away to Costa Rica also loom on Mexico's schedule. Consider all three of the "must-win" variety.
Honduras still have matches with Panama, Costa Rica and Jamaica before their World Cup fate is decided, but they now have the comfort of knowing three wins guarantees them a spot in the field.
Follow B/R's Ethan Grant on Twitter.