Julius Thomas went from virtual unknown to fantasy star in the first game of the NFL season. As a result, he should be added in every league across the country.
In the Thursday night matchup between the Denver Broncos and the Baltimore Ravens, the third-year tight end showed that he is ready for the big time, finishing with five catches for 110 yards with two touchdowns.
This performance certainly counts as a major surprise entering the game, despite the fact that Thomas had earned the starting tight end spot for the Broncos. He only had one career catch in two seasons prior, and the team had three big-time receivers ready to take targets.
However, he scored Denver's first touchdown of the season on a 24-yard touchdown pass in the second quarter. A few minutes later, he got his second touchdown on a similar play down the middle of the field.
He also had a 44-yard reception where he broke a tackle for a big gain, showing off his impressive speed.
While some people might be weary that this could be a fluke after a less-than-stellar start to his career, there is reason to believe this is the start of a great season.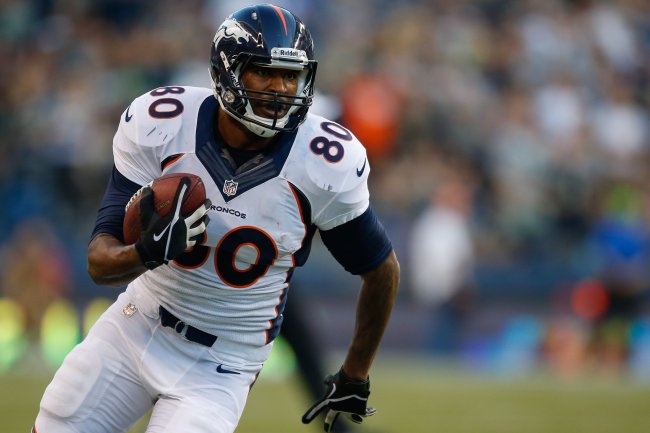 Otto Greule Jr/Getty Images
Thomas is a converted basketball player who came into the league very raw at the position. What he lacked in polish, however, he has in pure size and athleticism. He is currently listed at 6'5", 250 pounds while also having the speed of a wide receiver.
Was Julius Thomas' first game a fluke?
The Broncos selected him in the fourth round of the 2011 draft, hoping that he can follow in the footsteps of Antonio Gates and Jimmy Graham as former basketball players who became quality tight ends. Although it took Thomas a little longer to learn the position, he appears ready to achieve this level of success.
Throughout the preseason, Thomas was a favorite target of Broncos quarterbacks and led the team with 12 receptions and 123 receiving yards. He earned the starting job over Jacob Tamme and Joel Dreessen, two players who combined for 143 targets and 10 touchdowns last season.
If Thomas can fill those roles with the added athleticism that he possesses, he could be a top-10 tight end in fantasy football this season.
Unfortunately, there is one reason to be hesitant. Dan Hanzus of NFL.com reported Thursday that Thomas was arrested on Aug. 28 for failing to appear in court. The Broncos released a statement saying, "We were notified of the issue involving Julius Thomas when it occurred on Aug. 28. It was addressed internally and is being resolved."
This seems to indicate that there could be a suspension at some point for the off-the-field issue. Still, it is unlikely to be a multi-week issue if there is anything, so he is still a safe fantasy addition.
Thomas has the skill to be an elite tight end, and now he has the opportunity to shine. While the Broncos have a lot of options at receiver, it is clear that he will still have a role going forward.
You should add him to your fantasy league as soon as you get the chance.
Follow Rob Goldberg on Twitter for the latest breaking news and analysis.