Nebraska Football: A Deeper Look at the Cornhuskers' Rushing Defense Problems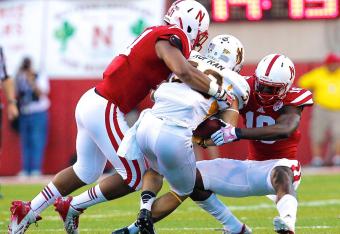 Between last year and last week against Wyoming, Nebraska football fans could easily have drawn the conclusion that NU's defense against the run has degraded significantly over the last year. And there are certainly statistics that would back up that conclusion.
Nebraska was No. 92 nationally last year in rushing defense, surrendering 192.5 yards per game and 4.76 (!) yards per attempt. One game into the 2013 campaign, Nebraska is No. 96 nationally in rushing defense.
But a closer look at the numbers reveals that the situation might be a little more complicated.
I took a look at the 2012 season, comparing Nebraska's rushing yards allowed in each game against their opponents' average rushing output per game. The difference should give us a better idea of how Nebraska's rush defense did against each opponent in comparison to the other teams that opponent played.
A negative difference means Nebraska gave up more yardage than that opponent's yearly average—or, put more bluntly, that NU was worse against the run versus that opponent than the rest of their schedule. A positive number, obviously, would mean the opposite.
I included last week's Wyoming game as well, comparing the numbers to the Cowboys' 2012 rushing totals. Here is how the numbers look, with games Nebraska lost in bold italics.
| | | | | | | | |
| --- | --- | --- | --- | --- | --- | --- | --- |
| Actual | 219 | 162 | 539 | 108 | 87 | 151 | 238 |
| Average | 125 | 183 | 237 | 123 | 153 | 144 | 150 |
| Diff. | -94 | 21 | -302 | 15 | 66 | -7 | -88 |
| Opp. | Wyo | UGA | Wisc | Iowa | Minn | PSU | MSU |
| | | | | | | | |
| --- | --- | --- | --- | --- | --- | --- | --- |
| Actual | 95 | 180 | 371 | 56 | 148 | 344 | 185 |
| Average | 184 | 226 | 243 | 237 | 208 | 191 | 155 |
| Diff. | 89 | 46 | -128 | 181 | 60 | -153 | -30 |
| Opp. | Mich | NW | OSU | Wisc | ArkSt | UCLA | SoMiss |
So what can we take away from these numbers?
Nebraska hasn't been terrible against the run...usually
Out of the 14 games charted, Nebraska held its opponents to fewer rushing yards than their season average seven times.
Penn State's differential is only seven yards, close enough to be a functional tie. And Southern Mississippi was a blowout win for Nebraska where the Golden Eagles were able to pad their stats against reserve defenders.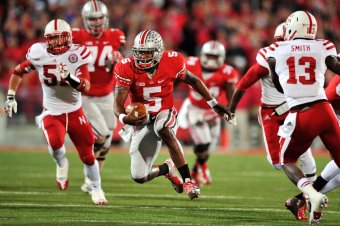 Jamie Sabau/Getty Images
So it's not entirely fair to say that Nebraska has been consistently terrible against the run. Indeed, against Michigan and Wisconsin the first go-around, Nebraska did a great job of shutting down the opposing rushing attack. That performance led head coach Bo Pelini to tell reporters in his postgame quotes after the Wisconsin game in Lincoln that he "hasn't forgotten how to coach defense" (as recounted on Huskers.com).
That was unfortunate timing, of course, given that Nebraska would surrender 371 yards on the ground and 63 points to Ohio State the following game.
But the point remains that Nebraska's rushing defense hasn't been uniformly terrible.
But when the rush defense is bad, it's really bad
153 yards. 128 yards. 302 yards. 94 yards.
Other than the game against Georgia, Nebraska's rushing defense in its losses last year and its near-miss against 4-8 Wyoming produced some truly staggering numbers in terms of how opponents over-performed their annual rushing averages.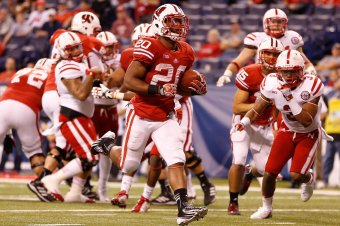 Gregory Shamus/Getty Images
The reasons for those spikes are left to speculation, of course. Against Wisconsin in the Big Ten title game, it could be argued that Nebraska was emotionally spent after needing a six-game winning streak to reach Indianapolis. Against Wyoming, Nebraska shuffled in a number of new and inexperienced players on defense, and the Cowboys took advantage of NU's inexperience.
Ohio State and UCLA, both games on the road, were examples of games where Nebraska could not stop the snowball effect of poor performances getting worse.
You can also look at matchups and opponents' play-calling to take advantage of Nebraska's weaknesses.
In the rematch, Wisconsin went from rushing for 181 yards under its season average in Lincoln to rushing for 302 yards more than its season average, a swing of 483 yards. Sure, some of that was fatigue, but some of that was a sharp Badger coaching staff finding and exploiting weaknesses in Pelini's defensive scheme.
The same can be said for Ohio State, who found success with weak-side counters, and Wyoming, running a Missouri-like offense. Schemes matter, and at least in the recent past, Nebraska has demonstrated a disturbing inability to respond to an opponent finding a weakness and exploiting it.
So in looking at Nebraska's defensive struggles, particularly against the run, it's not fair to say that NU is "bad" at rush defense.
It is fair to say, however, that Nebraska is unlikely to be just "a little bad" against the run. If Nebraska is going to be bad, it's going to be really bad.
All stats from cfbstats.com unless otherwise indicated.
If you'd like to contact Patrick, send an email to patrickrunge@gmail.com.
Or, you could always use the Twitter machine to follow @patrickrunge
This article is
What is the duplicate article?
Why is this article offensive?
Where is this article plagiarized from?
Why is this article poorly edited?

Nebraska Huskers Football: Like this team?