10 Biggest MMA Surprises of 2013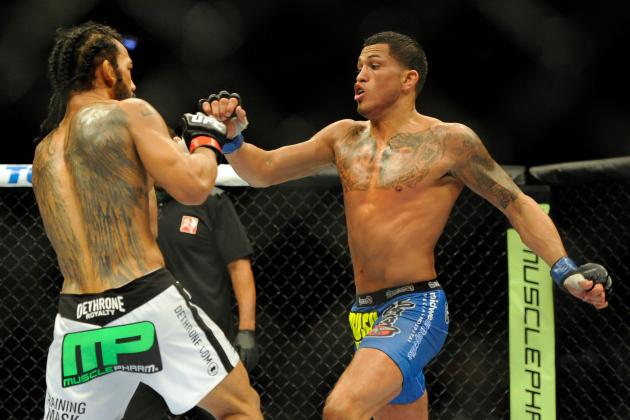 Benny Sieu-USA TODAY Sports

With four months left in the year, 2013 has already delivered on all levels for interested MMA onlookers.
From dynamic knockouts to upset title wins, the fastest growing sport in the world has, well, delivered quickly.
Like a flash flood bent on destruction, the steady stream of surprises over the past seven months has made the sport more beautiful than ever.
Here are the 10 biggest and most unprecedented gifts to the world of combat thus far.
Begin Slideshow

»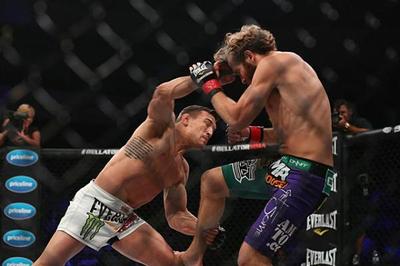 sherdog.com
It is a breathe of fresh air to witness someone outside of the glorified UFC gain recognition as a world-class champion.
Michael Chandler, Bellator's lightweight king, has been shattering opponents his whole career. But after finishing top contender Dave Rickels in 44 seconds, the undefeated phenom has officially cemented himself as a top-five fighter at 155 pounds.
Now, Rickels isn't a Benson Henderson, Anthony Pettis or Gilbert Melendez, but he's one heck of a fighter and a tough out for nearly anyone.
Seeing Chandler truck him like Adrian Peterson on a breakaway not only solidified the champ's position in the sport, but it shed some light on Bellator's fresh promotional presence.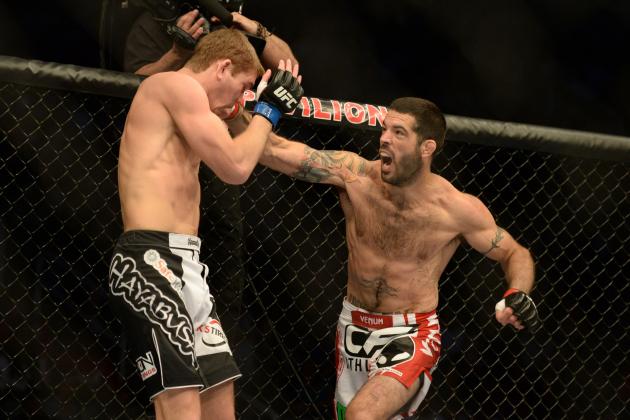 Kyle Terada-USA TODAY Sports

The story of Matt Brown has been inspirational.
From a well-known past riddled with drug abuse to winning only one fight from 2010 to 2012, Brown hasn't traveled the easiest road to success.
Instead, "The Immortal" has feasted on his past experiences to make him a more ferocious competitor—something that has transformed his career in the blink of an eye.
Since dragging a four-fight win streak into 2013, the welterweight brawler has proceeded to finish two more prominent players in the division: Jordan Mein and Mike Pyle.
Now there's no saying how Brown will fair against a Top 10 opponent, but extending a six-fight winning streak with two impressive knockouts in 2013 could lend some insight.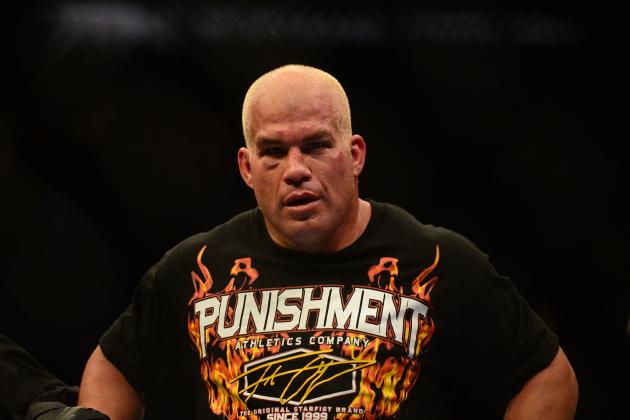 Mark J. Rebilas-USA TODAY Sports

In an effort to promote a move to pay-per-view, Bellator has rummaged through the ashes of legendary careers in search of a phoenix or two.
The promotion did what it needed to do to pit former UFC champions and all-time greats Tito Ortiz and Quinton "Rampage" Jackson against each other at Bellator 106 in November.
The matchup doesn't carry the weight it once did, but considering Ortiz and Jackson managed to elude a bloody battle all these years, the fight world is still chomping at the bit to see them square off.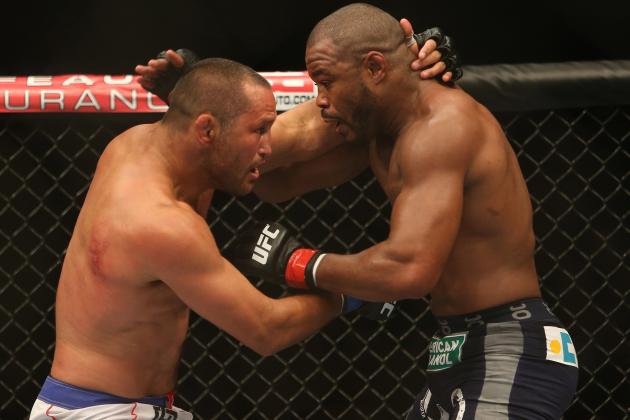 Tom Szczerbowski-USA TODAY Sport

In a division defined by each and every Jon Jones move, elite contenders are starting to drop like flies.
Whether it's been former champions Rashad Evans and Lyoto Machida or legendary gamers like Dan Henderson, the division's veteran presence has been at an all-time low.
Machida just dropped down to middleweight, Evans has produced back-to-back lackluster performances, and Henderson hasn't managed a win since 2011.
It's been a struggle for these storied contenders to make noise that a seemingly unbeatable champ can hear.
But don't worry. Young threats like Alexander Gustafsson, Glover Teixeira and Phil Davis have emerged to take the reins and challenge Jones for supremacy.
They may not pack the punch on a main card like their elders do, but their skills certainly rise to the top.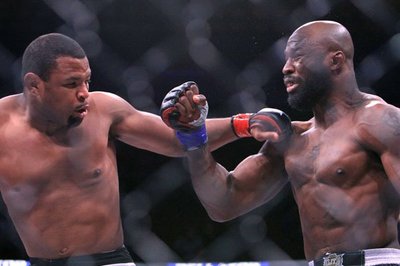 sherdog.com
Today's MMA has become so diverse and versatile that landing a move like a spinning backfist seems somewhat ordinary.
But against a bona fide bruiser like Muhammed "King Mo" Lawal, it seems borderline impossible. I guess Emanuel Newton missed the memo.
In stunning fashion, Newton floored "King Mo" with a spinning backfist at Bellator 90 to move on in the light heavyweight tournament. Many consider it to be the front-runner for Knockout of the Year.
It was a single action of offensive potency that not only left the combat world in shock but managed to quiet one of the loudest mouths in the sport for just a moment.
Some believe Newton's knockout was a matter of lucky timing, but considering he went on to defeat red-hot Mikhail Zayats, it seems as if luck had nothing to do with it.
Lawal will get his chance for revenge when the two meet again at the now jam-packed Bellator 106.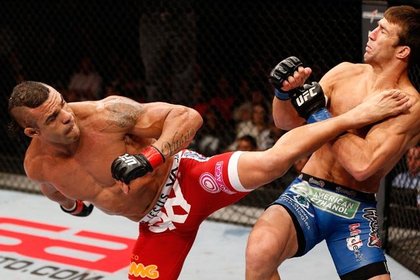 Jason Silva-USA TODAY Sports
mmafighting.com
Vitor Belfort has never been a versatile striker. Sure he possessed the power of two donkeys hauling dynamite, but every one of his opponents knew his bread-and-butter was his hands.
That hasn't changed, but at the ripe age of 36, which is 58 in MMA years, "The Phenom" has added a new element to his knockout arsenal.
Against arguably the most technical striker in the division not named Anderson Silva and one of the most physically gifted athletes at 185 pounds, Belfort captured two Knockout of the Night awards this year via vicious head kicks.
It's something that Michael Bisping and former Strikeforce champion Luke Rockhold didn't see coming.
But the fact that it came from an aging veteran known for quick hands and lights-out power made it that much more surprising.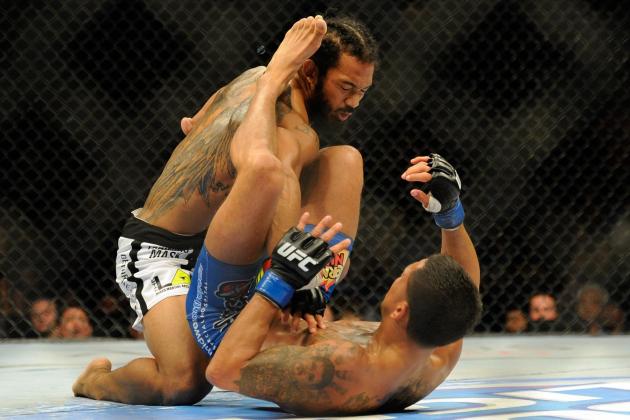 Benny Sieu-USA TODAY Sports

Despite Benson Henderson's steady reign as UFC lightweight champion, many people sided with top contender Anthony Pettis in their rematch at UFC 164.
Pettis had beaten the champion once before, so predicting another successful performance wasn't out of the ordinary.
But when "Showtime" showed up and locked in a first-round armbar, Henderson had no other option but to verbally tap.
It's a finish rarely seen inside the Octagon, let alone in a high-profile championship grudge match. The finish crowned Pettis, who became only the second fighter in lightweight history to earn a submission victory in a title fight.
BJ Penn is the other one.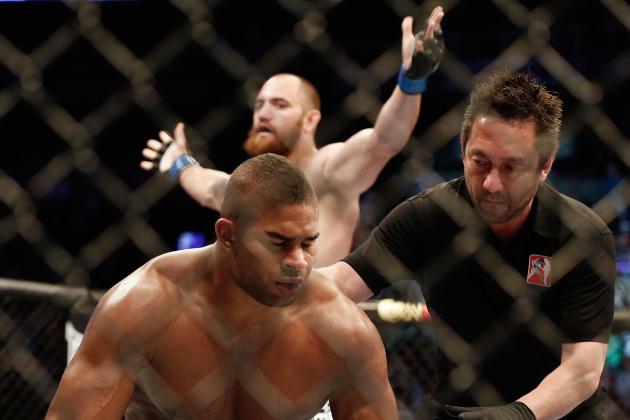 Winslow Townson-USA TODAY Sports

After he kicked Brock Lesnar's liver into the fifth row at UFC 141, the MMA world was clamoring over Alistair Overeem's heavyweight title potential.
But in classic post-failed drug test form, Overeem produced one of the most disappointing performances of his career by losing to Antonio "Bigfoot" Silva via third-round knockout at UFC 156.
The crushing loss shed some light on his ability to condition himself and pace his aggression for three whole rounds. However, being the enormous talent and global figure he is, most people gave him the benefit of the doubt.
That was until the same thing happened this past month opposite Travis Browne at the inaugural UFC on FOX Sports 1 event.
Overeem was once again unable to find a finish after dumping all of his energy early, only to get front-kicked back to reality late in the first round.
Surprising? Yes. Unforgettable? No.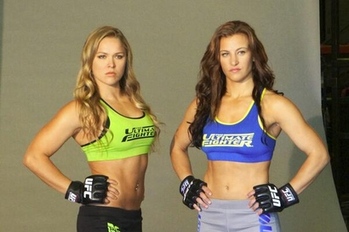 mmamania.com
Ronda Rousey has done it again. The polarizing female phenom has once again transcended all expectations and has blazed one more trail for women's MMA.
Now one-half of the newly revamped The Ultimate Fighter reality show, Rousey will continue to forge her name into the history books.
Alongside the armbar queen is arch nemesis Miesha Tate, who took over for an injured Cat Zingano.
Both ladies will headline a new half-male, half-female system that will produce unforgettable moments for one of the UFC's most prominent outlets for new talent.
Jayne Kamin-Oncea-USA TODAY Spor

All good things must come to an end. Isn't that what they say?
Maybe it is, maybe it isn't. But the one thing to remember is that you should never, and that means ever, overlook a single soul inside of the cage.
Chris Weidman's historic and glorified knockout of Anderson Silva, who is arguably the greatest competitor of all time, proves that sleeping on an opponent can produce deadly repercussions.
It only took the undefeated New Yorker one left hook to plant the Brazilian on his back and spark an all-out Las Vegas frenzy on an early July night.
The howitzer is considered MMA's shot heard around the world—something that no man wants to be on the wrong end of.
For more UFC news and coverage, Follow @DHiergesell