Under-the-Radar Winners of the 2013 NBA Offseason
Nick Laham/Getty Images
Great NBA offseasons aren't always about accumulating expensive, top-end talent. Then again, hauling in guys like Dwight Howard on the free-agent market or swinging a massive trade for Kevin Garnett and Paul Pierce are still pretty good ways to have a successful summer.
Big overhauls like the ones the Houston Rockets and Brooklyn Nets made are always going to grab headlines, but in today's NBA it's just as important for teams to get the little things right.
So it's just as praiseworthy when rebuilding franchises use the summer months to clean house, get younger and clear the books. And when championship contenders quietly shore up weaknesses on the cheap, we should applaud them as well.
You've already been doused by the big splashes. As a change of pace, let's celebrate the understated ripples created by a few of the 2013 offseason's less-celebrated winners.
Phoenix Suns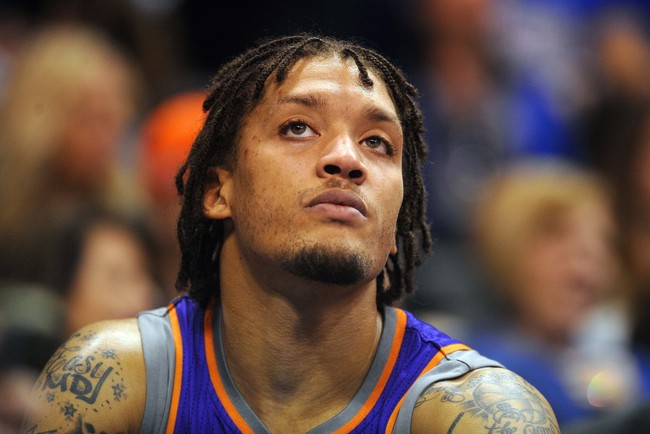 USA TODAY Sports
By the time the end of August approached, the Phoenix Suns had already had themselves a terrific offseason.
After swinging a trade to bring in Eric Bledsoe, hiring general manager Ryan McDonough to captain the team's new analytical approach and bringing in forward-thinking Jeff Hornacek to lead the troops, the Suns finally got honest with themselves and embraced a fresh start.
To that end, the team swapped out Jared Dudley, Luis Scola, Caron Butler, Jermaine O'Neal and Wesley Johnson, exchanging moderately priced vets for cheap youth.
But then the Suns made the move that put their offseason over the top: They paid Michael Beasley to go away.
The decision to waive B-Eazy was an admission that the past regime had made a colossal mistake by signing the hopelessly misguided malcontent, and it came at just the right time. Now, the Suns can head into their future with payroll flexibility, young talent and a roster free from Beasley's bad influence.
It'll be long road back to respectability for the Suns, but they took the first critical steps this offseason. Good for them.
Boston Celtics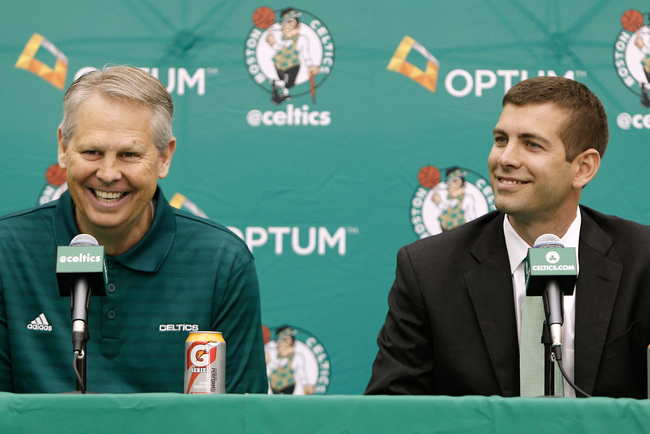 Winslow Townson-USA TODAY Sports
Much like the Suns, the Boston Celtics earn high marks for their offseason work because they also made the tough decision to embrace the rebuilding process.
On the surface, it might be difficult to view the deal that sent Garnett, Pierce, Jason Terry and any hope of a playoff berth to the Nets as anything other than the sad ending of an era. But that's how eras work, isn't it? They end.
And you can't start the next one until you officially put a bullet in the last.
Boston took back some dead weight in Gerald Wallace, whose remaining three years and $30 million will be tough to move. But overall, the Celtics made out like bandits in their franchise-altering trade.
By snatching three first-round picks and the opportunity to swap selections with the Nets in 2017, Boston armed itself with hugely valuable assets that it can either keep or use as sweeteners in future trades. Draft picks—especially first-rounders—have never been more highly prized than they are right now. And Boston has a boatload of them.
Plus, Kris Humphries might be appealing to a contender at the deadline, and his expiring contract will make him easy to move.
Toss in the league's most exciting young coach in Brad Stevens and the Celtics are fully equipped to embark on a bright future.
Portland Trail Blazers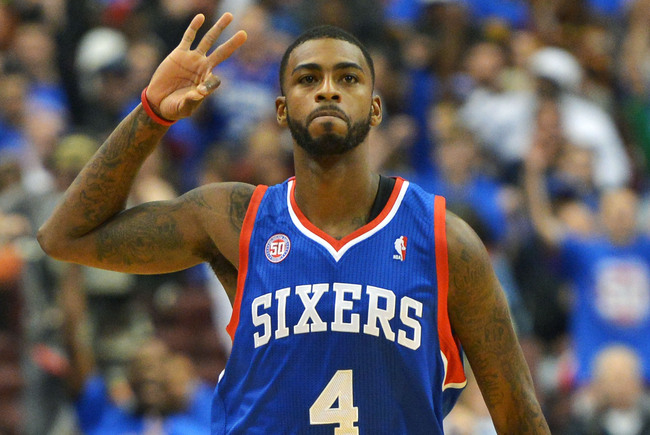 Drew Hallowell/Getty Images
The Portland Trail Blazers struggled to win just 33 games last year in part because they put the franchise in rookie Damian Lillard's hands. There's nothing wrong with that decision, but giving such a big role to a rookie was bound to result in a few growing pains.
The bigger cause of Portland's mediocrity was the team's utter lack of a bench.
According to Hoopsstats.com, the Blazers' reserves scored just 18.5 points per game last season, a figure that was—by far—the lowest in the league.
When Portland's starters left the floor, opposing teams ran wild. And as the season progressed, the Blazers' reluctance to turn to their bench resulted in a worn-out first unit that lost 13 straight games to close the 2012-13 season.
Fortunately, Portland drafted C.J. McCollum and Allen Crabbe, and signed Earl Watson to bolster the backcourt. Thomas Robinson came over as a salary dump from the Rockets, giving the Blazers a promising former lottery pick at the forward spot.
They also picked up Dorell Wright to shore up the team's three-point shooting. Robin Lopez came over in a trade as well. Even though he'll join the starting lineup, his presence means second-year pro Meyers Leonard will get a chance to grow with the second unit.
All in all, the Blazers constructed a bench that should rate as at least league average, and possibly among the NBA's top 10.
Maybe Portland has gotten too much public credit to officially qualify as an under-the-radar winner. But however much praise it has received, more is in order.
San Antonio Spurs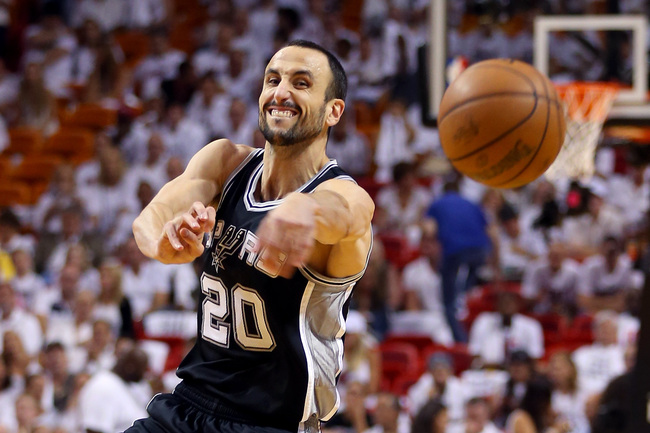 Mike Ehrmann/Getty Images
Everybody knows it's lonely at the top, but it's also true that it's awfully tough to stay there.
Just look around the league at what some of the NBA's most dangerous contenders did: Houston signed Howard, the Clippers hauled in a new coach and some much-needed shooting, the Nets added a trio of former All-Stars...
The list goes on.
Yet there were the San Antonio Spurs—a team that quietly took up residence on the NBA summit 16 years ago—making small adjustments and trusting in their tried-and-true system.
Gary Neal and DeJuan Blair left to chase bigger roles elsewhere, but the Spurs hardly panicked. Instead, they confidently re-signed Manu Ginobili and Tiago Splitter to reasonable contracts. Then they inked Marco Belinelli and Jeff Pendergraph to fill in the specific roles vacated by Neal and Blair.
San Antonio could have blown things up. It could have chased a marquee free agent to replace Ginobili. But that's not really the Spurs' style, is it?
By staying true to themselves and making the necessary moves to remain a contender, the Spurs did what they always do.
Someday, the run will end. But the Spurs' stellar offseason means it'll continue for at least another year.
Indiana Pacers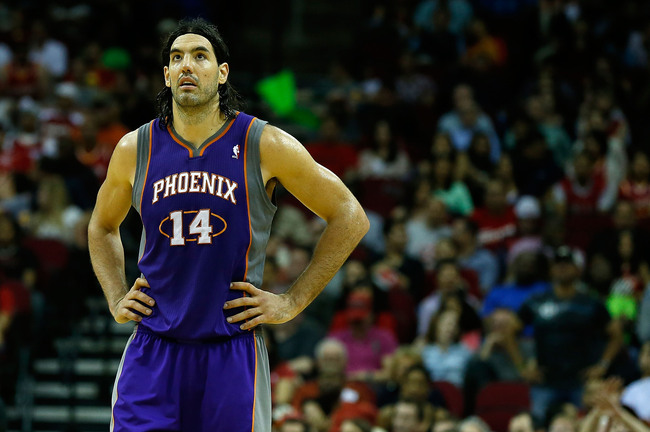 Scott Halleran/Getty Images
The Indiana Pacers were a couple of tough bounces away from making the NBA Finals last year, so they weren't in desperate need of a significant upgrade.
But they went ahead and made one anyway.
After re-signing David West to a market-rate deal, the Pacers turned their attention to their biggest weakness: the bench. Indy's starters were elite last year, neck and neck with the Oklahoma City Thunder's first unit as the most effective group in the league.
Unfortunately, the reserves were awful.
Enter Luis Scola, C.J. Watson, Chris Copeland and rookie Solomon Hill (who looks like he might be ready for the rotation right now). Bench problem: solved.
None of the names Indiana brought in qualify as headline-grabbers, but that's exactly what makes the Pacers' offseason so quietly excellent. Fully equipped with top-notch starters and a vastly improved supporting cast, the Pacers will be aiming for a rematch with the Miami Heat in the 2013-14 playoffs.
It may not come down to tough bounces this time; Indy might just be the better team.
*Note: The Pacers also earn extra-special bonus points because Larry Bird (quietly, of course) agreed to return to the front office this past summer. Anytime you can add Basketball Jesus to the mix, you've had a good offseason.
Philadelphia 76ers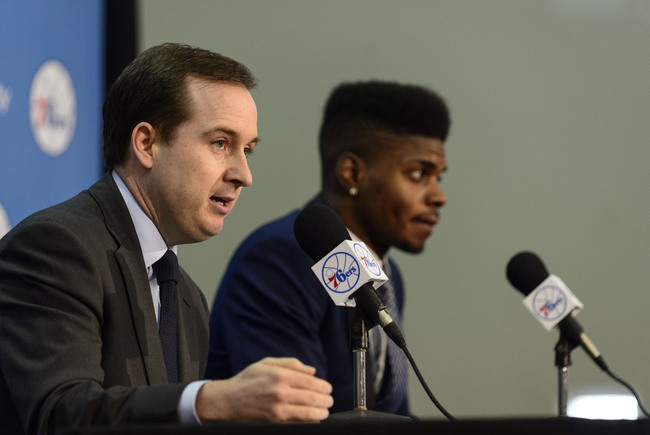 Howard Smith-USA TODAY Sports
The shrewd moves started in May when the Philadelphia 76ers, long a bastion of old-school thinking, hired analytically friendly Sam Hinkie to serve as team president and general manager.
Things then really got going on draft night when Philly sent the solid (yet overrated) Jrue Holiday to the New Orleans Pelicans for Nerlens Noel and the Pellies' first-round pick in 2014.
Finally, the Sixers let their dead weight shuffle off without so much as pretending to care. So long, Andrew Bynum and Nick Young! Happy trails!
What's left is a lean, mean tanking machine that can look forward to two shots at the Andrew Wiggins sweepstakes in 2014—thanks to the Pelicans' stunning willingness to part with a likely lottery pick.
Basically, the 76ers have put on a clinic in bottoming out. They're poised to have deep pockets, lottery picks and a couple of exciting young talents a year from now, which is really all you can ask from a team in the initial stages of its rebuilding process.
Relatively speaking, the Sixers had just as good of a summer as any of the teams that loaded up for a championship run.
Keep Reading