Ranking the NHL's 10 Most Tumultuous Coaching Tenures in the Past Decade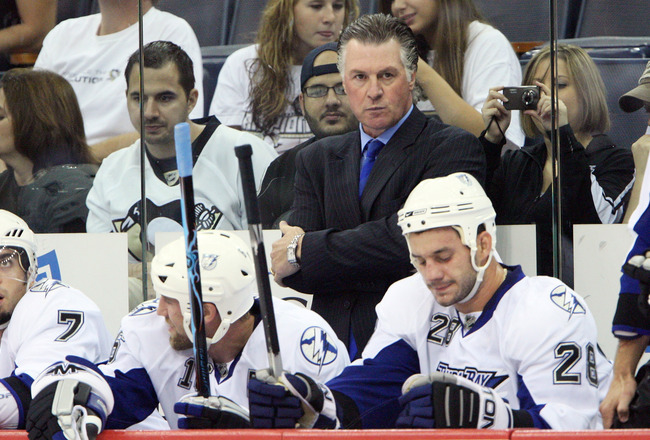 Jamie Sabau/Getty Images
The last decade of NHL hockey, 2002-03 to 2012-13, has been interesting to say the least, and there have been many coaching tenures that have been turbulent in nature.
The following coaches all ran their course with each respective franchise, and here are the 10 most tumultuous coaching tenures of the last decade.
10. Scott Arniel: Columbus Blue Jackets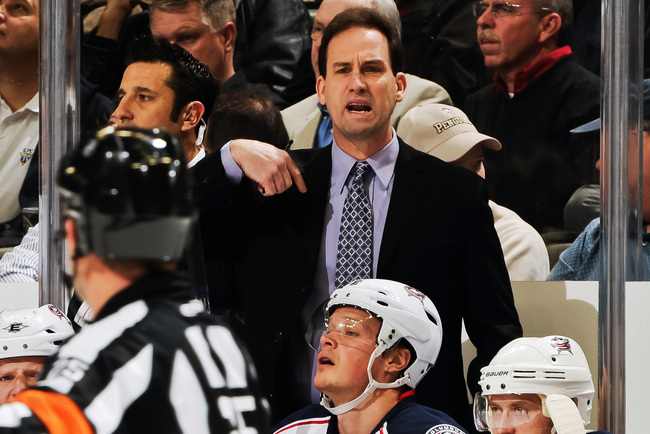 Scott Arniel was not a great coach for the Blue Jackets.
Jamie Sabau/Getty Images
Tenure: 2010-12
Record: 45-60-18
Scott Arniel did not have a ton of talent to work with in Columbus, but his time with the team was very tumultuous. Arniel's job was to help the young players on the team, but he did the exact opposite.
During his tenure with the Blue Jackets, Arniel's treatment of young star Derick Brassard was unprofessional, according to beat writer Aaron Portzline.
Arniel was not a great coach for the Blue Jackets, and there was a ton of drama under his watch.
9. Tony Granato: Colorado Avalance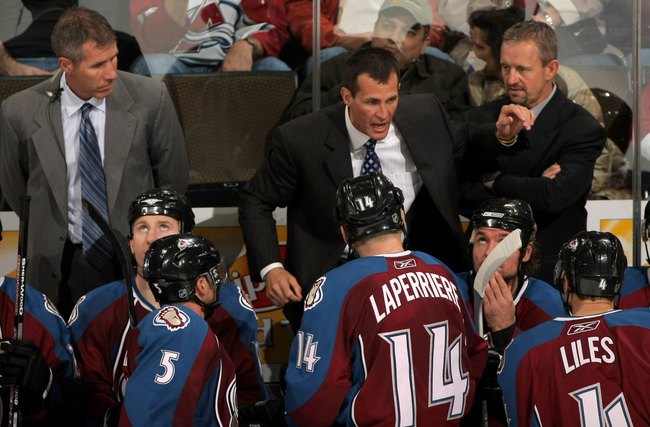 Tony Granato was the main man in Colorado for three seasons.
Doug Pensinger/Getty Images
Tenure: 2002-04; 2008-09
Record: 104-78-17-16
The Colorado Avalanche were stacked during the first two years of Tony Granato's tenured, and they should have been a powerhouse team capable of winning multiple Stanley Cups.
The Avs made the playoffs in that time, but they bowed out in the first and second round. Granato returned to the franchise in 2008, and he struggled mightily with a very young roster.
Nowadays Granato is an assistant for the Pittsburgh Penguins, and he has been much better in this secondary role.
8. Joe Sacco: Colorado Avalanche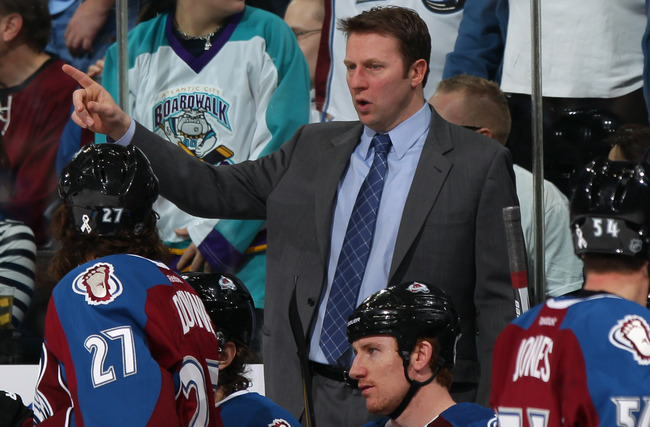 Joe Sacco was relieved of his duties this year.
Doug Pensinger/Getty Images
Tenure: 2009-2013
Record: 130-134-30
Joe Sacco was a hardworking player, but he never had success as a head coach.
Despite the amount of young talent on the Colorado Avalanche, the team only made the playoffs once under Sacco's tenure. Sacco worked hard while he was with the team, but an eighth place finish back in 2009-10 was the only positive part of his tenure worth mentioning.
7. Wayne Gretzky: Phoenix Coyotes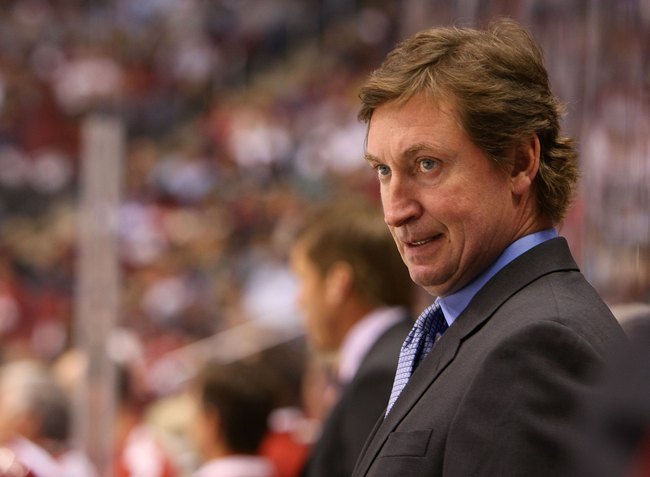 Wayne Gretzky hasn't worked in the NHL since leaving Phoenix.
Bruce Bennett/Getty Images
Tenure: 2005-2009
Record: 143-161-24
Wayne Gretzky undoubtedly is one of the greatest players in NHL history, but he wasn't able to get results out of the Phoenix Coyotes. Gretzky never led the Coyotes to the playoffs, and his tenure with the club was tumultuous partially because of the issues with ownership.
Gretzky's future with the team was unknown when the team was going through bankruptcy proceedings, and he eventually divorced himself from the situation in 2009.
6. Lindy Ruff: Buffalo Sabres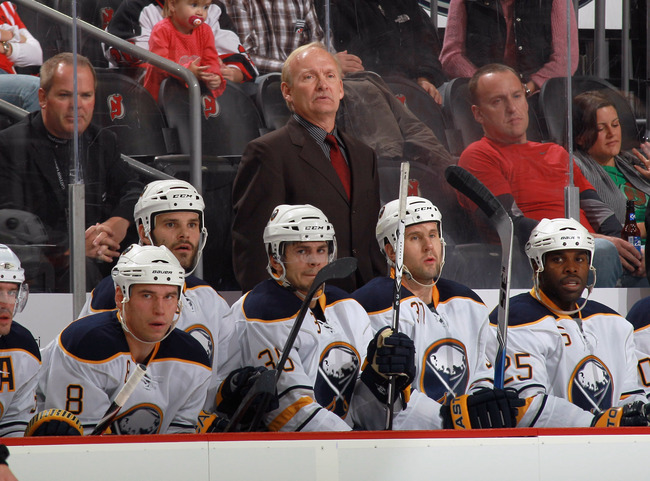 Lindy Ruff's teams were either very good, or very bad.
Bruce Bennett/Getty Images
Tenure: 1997-2013
Record:571-432-78-84
Although Lindy Ruff had a winning record with the Buffalo Sabres, the team always was up or down. A quick look at his tenure with the Sabres will show that the Sabres went through stretches in which they made or missed the playoffs for consecutive seasons.
The Sabres had multiple owners during Ruff's tenure, and that may be a reason why he kept his job for 16 years.
5. Michel Therrien: Pittsburgh Penguins
Tenure: 2005-09
Record: 135-105-32
Michel Therrien had a star-studded roster when he took over as the bench boss of the Pittsburgh Penguins in 2005, and his openness as a coach caused controversy with players. In the video above, Therrien calls out his team, and it wasn't the only time it happened during his tenure.
Therrien is a straight shooter and was fired in 2009 when the team plummeted in standings right after getting off to a hot start.
4. Ron Wilson: Toronto Maple Leafs
Tenure: 2008-2012
Record: 130-135-45
Ron Wilson has coached multiple teams throughout his career, and his most tumultuous tenure came with the Toronto Maple Leafs. The Leafs never made the playoffs under Wilson, and the situation in Toronto starting getting toxic toward the end of his tenure.
The Air Canada Centre was bellowing "Fire Wilson" chants during home games, and general manager Brian Burke eventually cut ties with Wilson in 2012.
3. Bryan Trottier: New York Rangers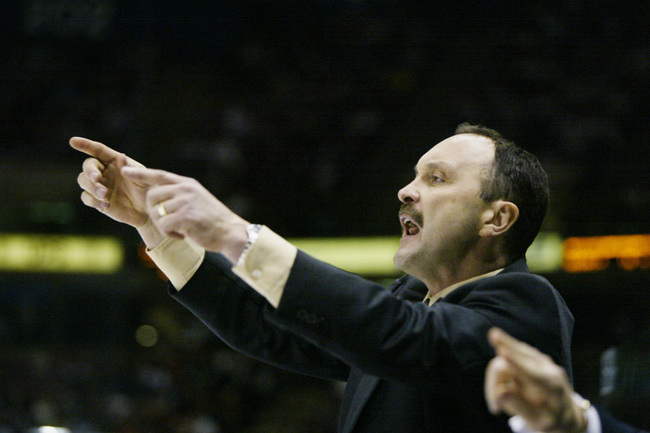 Bryan Trottier coached the Blueshirts for 54 games.
Al Bello/Getty Images
Tenure: 2002-03
Record: 21-26-6-1
Bryan Trottier became the New York Rangers' bench boss after submitting an application that included more than 80 handwritten pages, and general manager Glen Sather was sure he was the man for the job. Things didn't go to plan, and the Rangers struggled mightily under Trottier.
Players such as Pavel Bure and Eric Lindros were not used to their offensive potential, and the experiment only lasted 54 games.
2. John MacLean: New Jersey Devils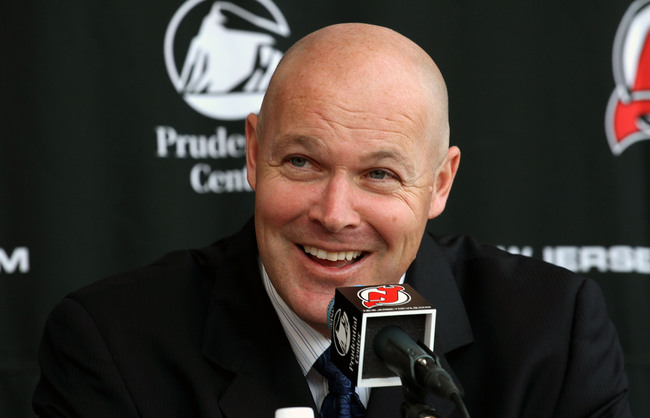 John MacLean had a tough tenure with the Devils.
Andy Marlin/Getty Images
Tenure: 2010-11
Record: 9-22-2
The New Jersey Devils were a powerhouse for most of the 2000s, and they were slated to be a top team at the start of the 2010-11 season. The roster boasted talents such as Ilya Kovalchuk, Zach Parise and Patrik Elias, but the team struggled mightily to start the season under former Devil John MacLean.
Lou Lamoriello ultimately relieved his former player of his duties after 33 games, and the Devils went on to miss the playoffs for the first time since the 1996 season.
1. Barry Melrose: Tampa Bay Lightning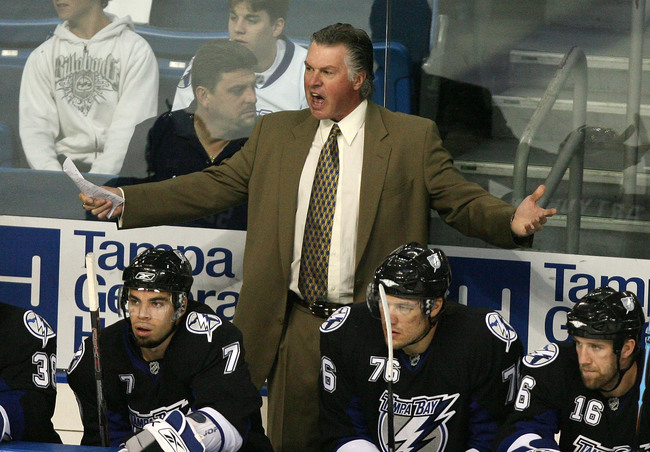 Barry Melrose was fired shortly after being hired by Tampa Bay.
Doug Benc/Getty Images
Tenure: 2008-09
Record: 5-7-4
Barry Melrose's short coaching tenure was one of the strangest events in NHL history. He was hired as the Tampa Bay Lightning's head coach, and he was let go after only 16 games.
Here is an excerpt from Melrose's book Dropping the Gloves (via ESPN) on his tenure with Tampa:
Tampa Bay was an impossible scenario for a coach. The players knew it was a screwed-up situation, and I knew it was a screwed-up situation. The owners knew I wasn't going to change, and I knew they weren't going to change. After a short period of time, they decided I wasn't the type of guy they wanted to run their team. I think they consulted with the players. The players didn't really like the way I was doing things, either, so it was an easy thing for them to let me go.
Melrose certainly ruffled feathers by placing Steven Stamkos on the third line, but it was interesting to see him get fired after such a short amount of time.
Keep Reading