Ole Miss Rebel Football: Week 1 Position Grades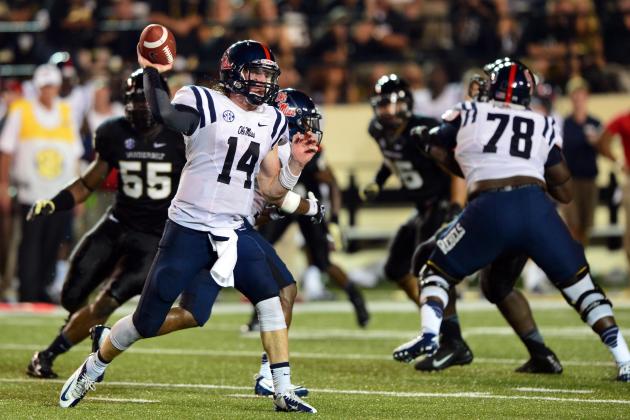 Don McPeak-USA TODAY Sports

This game proved truly to be a tale of two halves, as the starting five offensive lineman for Ole Miss had early protection problems against an experienced SEC defensive line. In 2012, Vanderbilt proved they were able to get in the backfield, finishing with 97 tackles for loss—second best in the conference.
In the first half of the game, the starting squad seemed to have communication issues and appeared confused several times on basic stunts and twists by defensive lineman. Starting quarterback Bo Wallace did not have time to find receivers. After going up quickly 10-0 in the first quarter, the offense began to stall.
Bo Wallace was sacked four times in the first half, as the Ole Miss coaching staff juggled players around, trying to find the right combination in the squad.
To make matters worse, senior right guard Aaron Morris was forced off the field for the season after an ACL tear. Coaches were forced to immediately look to two talented, albeit true freshmen, linemen to get in the game.
Highly-touted signees Laremy Tunsil and Austin Golson came in at the left tackle and right guard positions, respectively, and seemed to finally put a shield in front of their quarterback. The team, down 21-10 at halftime, slowly got back into the game and took control of the the line of scrimmage.
Losing Aaron Morris is a huge blow to this team, as he takes with him a lot of experience and depth at his position; however, in this game the Rebels were able to improve during his absence.
POSITION GRADE: C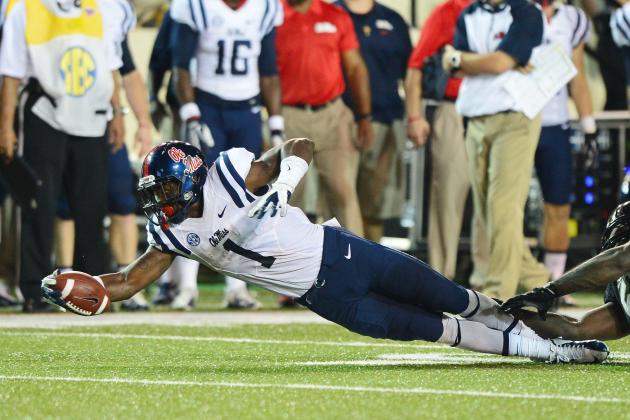 Don McPeak-USA TODAY Sports

Since head coach Hugh Freeze installed his version of the spread at Ole Miss, it was clear that wide receivers were important to the success of the team. In an up-tempo offense, with an increased number of plays, there is also an increased need for playmakers. In essence, there are more balls to go around, especially for wide receivers.
This offense made junior Donte Moncreif a star in the SEC last year; his ability shined brightest, inspiring a song named after him, "FEED MONCRIEF."
Now in 2013, thanks to an all-star recruiting class that included perhaps the nations top wide receiver Laquon Treadwell, there is a new star in Oxford.
Treadwell walked onto the field in his first college game in the slot position and played like a veteran. Finishing with nine catches for 82 yards, he was seemingly unstoppable and was key to getting the offense rolling in the third quarter.
Another freshman standout Evan Engram started as tight end and finished with five receptions for 61 yards. Despite being double teamed most of the night, Moncrief caught five balls for 56 yards.
It was a total team effort against Vandy as six different players caught passes for 283 yards total. The only negative was the lack of scoring.
POSITION GRADE: A-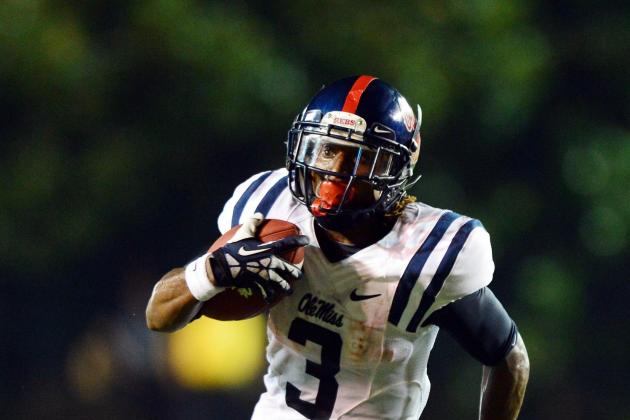 Don McPeak-USA TODAY Sports

The Rebels use many different players to move the football. You may see designed runs from the quarterback; you may see a running back set up as a slot receiver. This is all a part of creating mis-matches to favor the offense, and in 2012 it allowed the Rebels to finish in the top five in total rushing in the SEC.
Despite not having a dominate running back in the backfield, Ole Miss is typically able to gain yards either from the zone-read offense or screens.
Last year, Vanderbilt shut down the Rebels' run game, holding Ole Miss to 104 yards in 55 attempts. Last week, the Rebels improved that total to 206 in 37 attempts. Granted, Jeff Scott's miracle run to win the game helped move the statistics into the respectable realm.
It's tempting to grade the Rebels just on the body of work before that last rushing play, but you have to give Jeff Scott credit for taking the lead as a senior. On a night when all of the talk was about freshmen, Scott made sure this team finished the game out in a positive way.
POSITION GRADE: B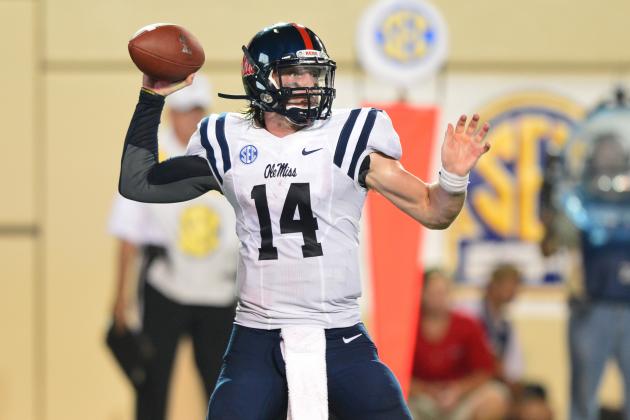 Don McPeak-USA TODAY Sports

The return of Bo Wallace after shoulder surgery presented a lot of unknowns for the junior QB. While likely sore for a few days after the game, Wallace seemed to live up to his reputation as a player who steps up his level of play during games.
After a spotty first half, Wallace began to pepper the ball around, and once they got the defense on their heels, this Ole Miss team showed its explosiveness.
Finishing 31-of-47 for 283 yards in the air and 48 yards on the ground, Wallace had a great second half, leading his team to score 29 points and proving his craftiness with ball fakes. Perhaps he is not given enough credit for his slight-of-hand with the ball, which is a great advantage in gaining yards on the ground, selling the run and throwing over the top of the defense.
Barry Brunetti also picked up some playing time on the goal line. He did a great job of getting the ball in the end zone twice.
POSITION GRADE: A-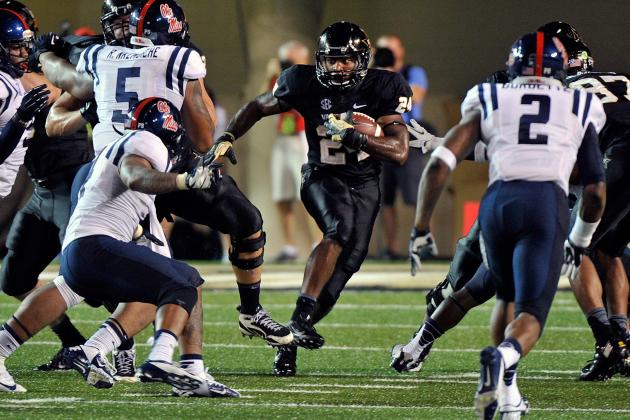 Frederick Breedon/Getty Images

With the Rebels coming into the season with an impressive front four—defensive ends CJ Johnson, Lavon Hooks, Channing Ward and newly added, top-2013 recruit Robert Nkemdiche, defensive coach Dave Wommack should have a deep talent pool on hand.
Unfortunately, Vanderbilt also has an experienced offensive line, and they stymied much of the potential rush that was expected from Ole Miss. The blitz was not used much against a mobile Vanderbilt QB, and there was only one sack in Week 1. However, this group is expected to get in the backfield and prevent quarterbacks from sitting in the pocket and picking apart a weaker defensive secondary.
When the quarterback has more time, wide receivers get open, which resulted (at least in part) to Vanderbilt's 300 total passing yards.
Defensive line coach Chris Kiffin (Clarionledger.com Video) felt his group did well in its first game but could do better. He also commented that there is still a lot of room for improvement by his touted freshman Nkemdiche.
POSITION GRADE: B-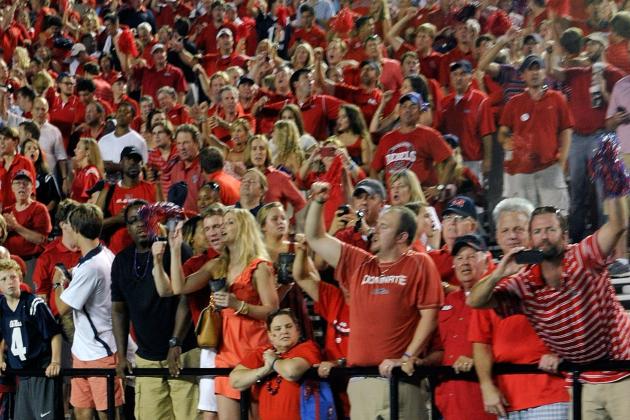 Frederick Breedon/Getty Images

This weeks linebacking corp did not leave a big impression in the game or on defensive coordinator Dave Wommack, as he felt the group could have played better. The biggest take away from the game was not so much the lack of statistics but the loss of the vocal and physical leader of the defense.
Denzel Nkemdiche will be sidelined four to six weeks with a torn meniscus. In his absence, expect senior D.T. Shackelford to move back to linebacker from defensive end, with Keith Lewis moving from middle to outside linebacker to help cover Denzel's spot.
Finding a group that can cover their assignments and cause a little havoc will be job number one this week against FCS opponent SE Missouri State.
POSITION GRADE: C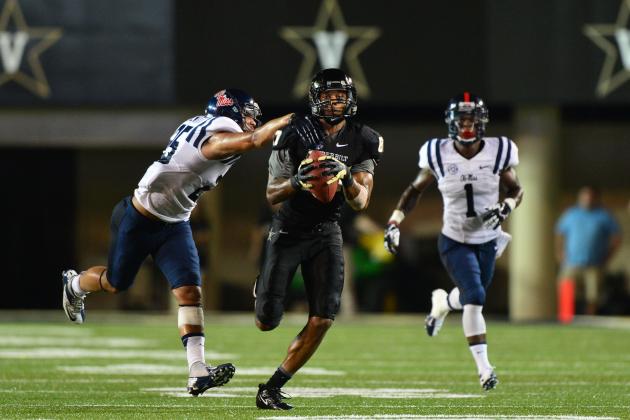 Don McPeak-USA TODAY Sports

Behind the front seven is going to be the critical link in this defense all year. The development and depth of the cornerbacks will determine how well this defense performs going forward.
Starters Charles Sawyer and Senquez Golson had been nursing minor injuries leading up to the game, with very inexperienced and unproven backups behind them. This hopefully sheds some light on how Vanderbilt lit up the scoreboard with only one wide receiver.
Over time, the secondary will improve but not before being severely tested against Texas and Alabama in the next four weeks.
Bright spots this week were freshmen Tony Conner and Cody Prewitt, each recording timely interceptions. Conner's interception set up the first field goal, and Prewitt's interception sealed the game when tipped by Vandy wideout Jordan Williams.
POSITION GRADE: C-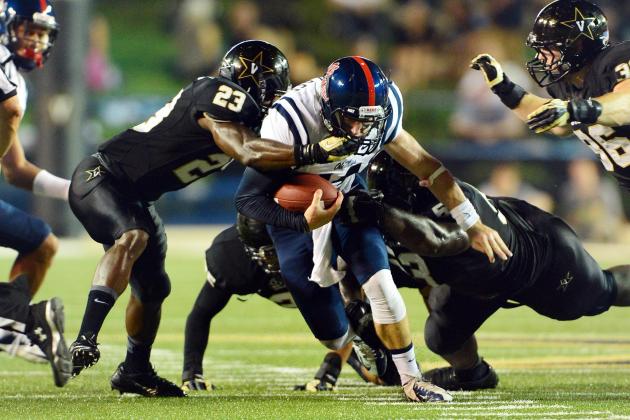 Don McPeak-USA TODAY Sports

2013 sees the return of senior Tyler Campbell, who was red shirted in 2012 to help cover recruiting gaps in Hugh Freeze's second year. Campbell is a known commodity and is expected to get an automatic 40-45 yards with each punt.
Yet to be seen is the emergence of a kick and punt returner. Starting running back Jeff Scott is expected to handle the punt return duties, and Jaylen Walton and a host of others will handle kick return.
Not much was special about the punt and kick returners this week. Place kicker Andrew Ritter hit a 30 yard field goal to begin the scoring but missed two other kicks during the game.
POSITION GRADE: C