NBA Players Who Will Be Most Critical to Their Team's Success in 2013-14 Season
Jeff Hanisch-USA TODAY Sports
While every NBA player is technically critical to their team's success, there are always a handful of players who are especially important.
It's their performance that directly impacts the performance of the entire team more than anyone else. We usually know what we can expect from the superstars and the best players on a team, but these ones are more uncertain.
Some players are more established than others, but even they still have the ability to see their performances fluctuate rather dramatically.
If your favorite team has a representative on this list, you better hope that he stands out in a positive way. Anything else won't be good news for your team's chances of exceeding—or even living up to—the expectations.
Unless noted otherwise, all stats courtesy of Basketball-Reference.
Chase Budinger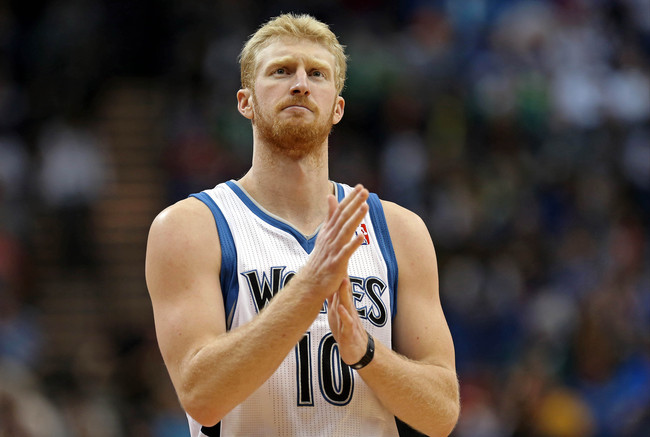 USA TODAY Sports
Team: Minnesota Timberwolves
Position: SG/SF
Age: 25
2012-13 Per-Game Stats: 9.4 points, 3.1 rebounds, 1.1 assists, 0.6 steals, 0.3 blocks, 12.6 PER
The Minnesota Timberwolves need more help on the wings.
During the 2012-13 season, the 'Wolves struggled immensely guarding shooting guards, as they constantly had to play point guards at the 2 while hoping they weren't giving up too much size. They added size in the form of Kevin Martin during the offseason, but he's not exactly a defensive presence, and Andrei Kirilenko is gone as well.
That makes it even more vital that Chase Budinger, who missed almost all of last season, emerges as a shutdown defender on the wing. He needs to be able to guard the opposing team's best perimeter scorer if Minnesota hopes to finally end Kevin Love's career-long playoff drought.
Throwing out Budinger's injury-riddled campaign due to small sample size, the Arizona product looked like he could become an elite stopper while he was with the Houston Rockets. According to Synergy Sports (subscription required), Budinger allowed only 0.61 points per possession in isolation during the 2011-12 season, ranking him 25th among all qualified players.
If he can allow Rick Adelman to hide Martin on defense, he'll be extremely valuable during the playoff push.
Jimmy Butler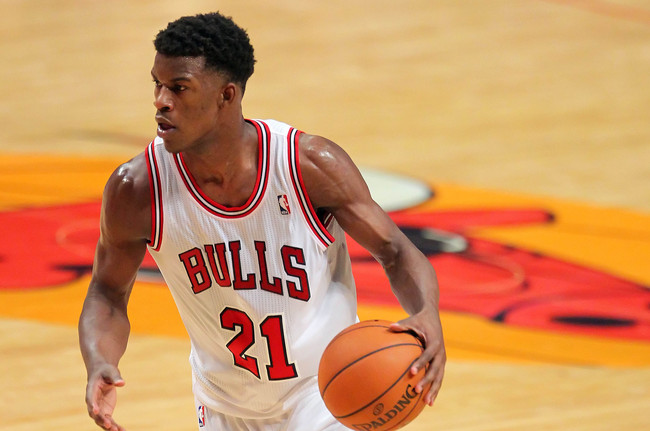 Dennis Wierzbicki-USA TODAY Spor
Team: Chicago Bulls
Position: SG/SF
Age: 23
2012-13 Per-Game Stats: 8.6 points, 4.0 rebounds, 1.4 assists, 1.0 steals, 0.4 blocks, 15.2 PER
Jimmy Butler's importance to the Chicago Bulls stems from more than just his ability to line up at shooting guard and fill the hole that has plagued the Windy City for so long.
His defensive excellence takes pressure off Luol Deng, and it might even force Tom Thibodeau's hand. The head coach has given Deng ridiculous amounts of minutes over the last few seasons, and allowing him to rest more often would eventually lead to an increase in per-minute production.
And even that isn't the only thing he brings to the table.
Butler used the second half of the 2012-13 campaign to emerge as a solid scorer, and that stemmed in particular from his ability to drain shots behind the three-point arc. He made 47.5 percent of his triples after the All-Star break and sustained the success in the postseason, hitting 40 percent of his deep tries.
The Bulls aren't a particularly potent shooting team, and Butler's knack for drilling open jumpers will free things up for Derrick Rose's inevitable assaults on the rim.
Jeff Green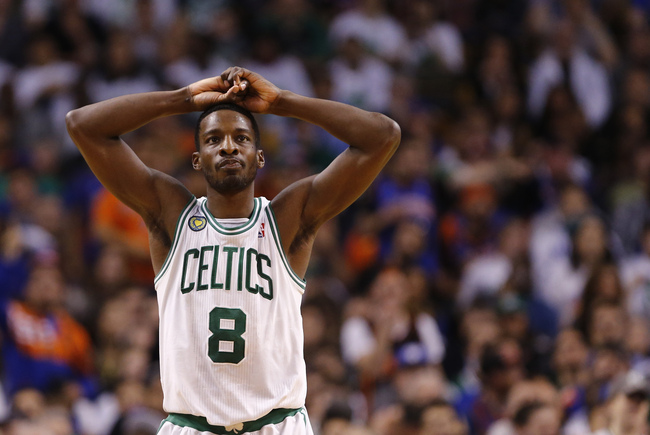 Mark L. Baer-USA TODAY Sports
Team: Boston Celtics
Position: SF/PF
Age: 27
2012-13 Per-Game Stats: 12.8 points, 3.9 rebounds, 1.6 assists, 0.7 steals, 0.8 blocks, 15.0 PER
If the Boston Celtics hope to exceed expectations, it all rests on the shoulders of Jeff Green.
Now well over a year removed from his heart procedure, Green is fully healthy and raring to go. You could see him gain confidence over the course of his first full season with the C's, and he was a remarkable asset after the All-Star break. In fact, he averaged 17.3 points, 5.0 rebounds and 2.7 assists per game while shooting 49.3 percent from the field.
Green was doing that as a secondary—sometimes even tertiary—option in Beantown, but that's no longer the case.
With Kevin Garnett and Paul Pierce leaving Boston for the Brooklyn Nets, Green suddenly becomes the No. 1 option for the Celtics. While Rajon Rondo is quite clearly the best player on the roster, the Georgetown product is still going to be the go-to scorer.
If he fails to shoulder the burden, Boston's pursuit of Andrew Wiggins is going to get a lot easier. But if he proves that he's a bona fide All-Star—a category he looked like he could soon belong in—the Celtics may actually have a chance to make the playoffs in the first season of the post-Pierce era.
Blake Griffin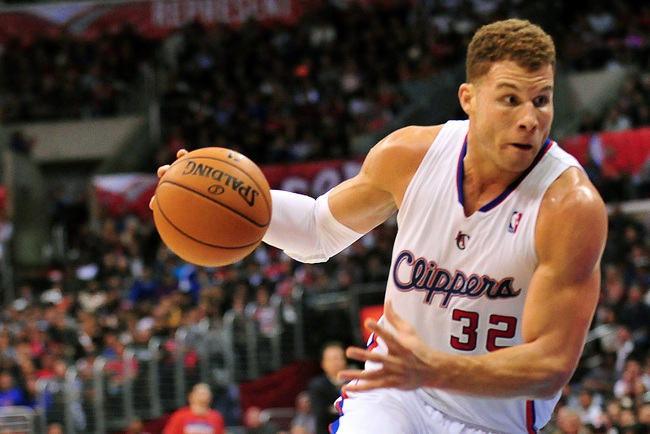 Gary A. Vasquez-USA TODAY Sports
Team: Los Angeles Clippers
Position: PF
Age: 24
2012-13 Per-Game Stats: 18.0 points, 8.3 rebounds, 3.7 assists, 1.2 steals, 0.6 blocks, 22.4 PER
Blake Griffin will determine how far the Los Angeles Clippers go in the postseason. Not Chris Paul.
You know what you're going to get out of CP3 (sustained excellence no matter who he faces), but Griffin has been known to disappear, as he did against Zach Randolph and the Memphis Grizzlies as soon as their playoff battle got a little physical.
Cliche as it may be, Griffin truly has to step up. And I'm talking about improving his game on both ends of the court.
The power forward is a great offensive player, but when he doesn't get easy dunks, the rest of his scoring potential slips away. Developing a consistent set of post moves and a consistent jumper from mid-range is crucial. I'm emphasizing "consistent" for a reason, as he's shown flashes of excellence in those areas, but only flashes.
Even more important is his defense.
L.A.'s frontcourt is supremely talented, but not on the less glamorous end of the court. Blake and DeAndre Jordan both struggle to prevent points, and things won't get better when Antawn Jamison, Ryan Hollins and Byron Mullens leave their spots on the pine and step onto the hard court.
If Griffin can't start playing more intelligent defense, the Clippers will have a fatal flaw, and that's a big one in a Western Conference gauntlet that will inevitably see them face some combination of Marc Gasol, Tim Duncan, Zach Randolph and Dwight Howard during the playoffs.
Reggie Jackson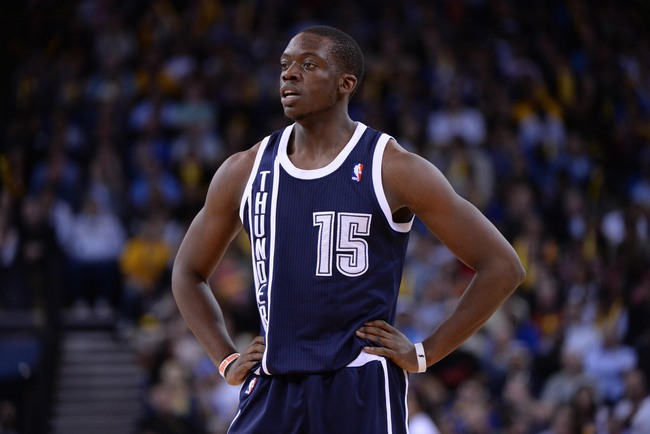 Kyle Terada-USA TODAY Sports
Team: Oklahoma City Thunder
Position: PG/SG
Age: 23
2012-13 Per-Game Stats: 5.3 points, 2.4 rebounds, 1.7 assists, 0.4 steals, 0.2 blocks, 14.2 PER
Losing Kevin Martin is going to hurt the Oklahoma City Thunder.
Somehow, someway, the team will have to replace his 14 points per game. And it's not like they're bringing in players to do so, seeing as the only offseason additions to the roster are rookies who aren't going to play much.
If at all.
That means that the replacement will have to come internally, and the best candidate to step up is Reggie Jackson.
Fresh off a dominant summer league showing, Jackson will have to prove that he can capably function as the sixth man for a title-contending squad. It's a risky move for general manager Sam Presti to make, but it could benefit the team rather dramatically if he emerges as a cheap source of points.
Fortunately for the Thunder, Jackson isn't the only option.
Jeremy Lamb could easily replace him as the man who emerges as a scoring stud, and Serge Ibaka could also take massive offensive strides during his fifth NBA season. But given Ibaka's struggles during the playoffs and Jackson's summer league performance, I'm rolling with the former Boston College standout.
Kawhi Leonard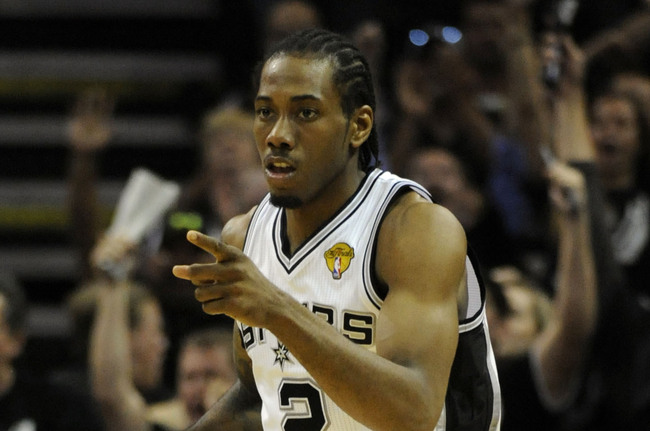 Brendan Maloney-USA TODAY Sports
Team: San Antonio Spurs
Position: SF
Age: 22
2012-13 Per-Game Stats: 11.9 points, 6.0 rebounds, 1.6 assists, 1.7 steals, 0.6 blocks, 16.4 PER
Take a look at how Kawhi Leonard's regular-season per-game stats compared to his postseason numbers and output during the NBA Finals, courtesy of Basketball-Reference:
| | Points | Rebounds | Assists | Steals | Blocks | Turnovers | FG% | PER |
| --- | --- | --- | --- | --- | --- | --- | --- | --- |
| Regular Season | 11.9 | 6.0 | 1.6 | 1.7 | 0.6 | | 49.4 | 16.4 |
| Postseason | 13.5 | 9.0 | 1.0 | 1.8 | 0.5 | | 54.5 | 18.9 |
| NBA Finals | 14.6 | 11.1 | 0.9 | 2.0 | 0.4 | | 51.3 | N/A |
And now, let's do the same exercise with Manu Ginobili, once more courtesy of Basketball-Reference:
| | Points | Rebounds | Assists | Steals | Blocks | Turnovers | FG% | PER |
| --- | --- | --- | --- | --- | --- | --- | --- | --- |
| Regular Season | 11.8 | 3.4 | 4.6 | 1.3 | 0.2 | 2.2 | 42.5 | 19.0 |
| Postseason | 11.5 | 3.7 | 5.0 | 1.1 | 0.3 | 2.6 | 39.9 | 16.5 |
| NBA Finals | 11.6 | 2.1 | 4.3 | 0.7 | 0.0 | 3.1 | 43.3 | N/A |
Ginobili's decline was not overblown. Father Time finally looked like he was getting the better of the Argentine 2-guard, and that trend may well continue on into the 2013-14 campaign.
Fortunately for the Spurs, Leonard was right there to pick up the slack.
He'll have to do that for a much longer period of time if San Antonio hopes to remain among the elite teams in the Western Conference for what seems like the 1,478th season in a row.
JaVale McGee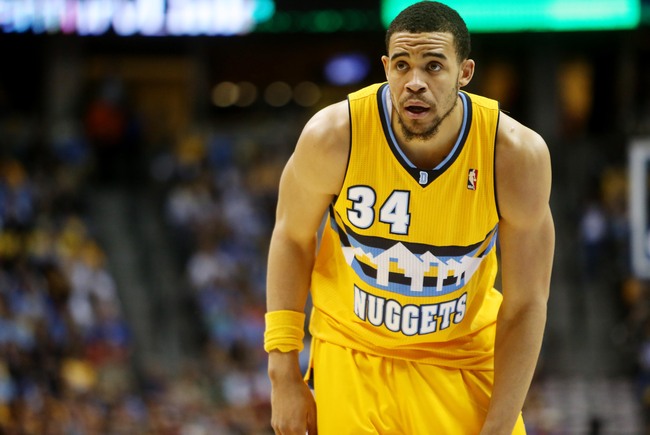 Chris Humphreys-USA TODAY Sports
Team: Denver Nuggets
Position: C
Age: 25
2012-13 Per-Game Stats: 9.1 points, 4.8 rebounds, 0.3 assists, 0.4 steals, 2.0 blocks, 20.7 PER
During the 2012-13 season, JaVale McGee had the luxury of coming off the bench and doing his damage in limited action. Kosta Koufos was the clear-cut starter, and George Karl had no need to place that much faith in the mercurial 7-footer.
Well, Koufos is now a member of the Memphis Grizzlies, and J.J. Hickson was brought in to provide some frontcourt depth. But McGee is expected to be the starter now, and that means he's going to be faced with much more responsibility.
The antics have to stop. The awful games have to stop. The headaches he causes coaches have to stop.
For the Denver Nuggets to remain in the Western Conference playoff picture, McGee has to realize that he's a legitimate starting center. Then he has to play like that. And not just for one game, but for an entire season.
Per-36-minute stats are notoriously misleading, but only because players often have a tough time maintaining their levels of play when they're spending more time on the court and inherently have more responsibility.
McGee averaged 18.0 points, 9.6 rebounds, 0.6 assists, 0.8 steals and 3.9 blocks per 36 minutes last year. Those aren't just elite numbers; those are über-elite numbers.
He has to come close to maintaining that level of per-minute production once his time spent on the court inevitably goes up.
Steve Nash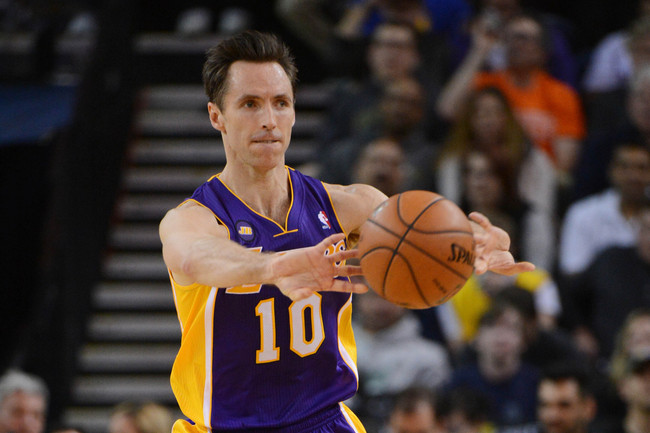 Kyle Terada-USA TODAY Sports
Team: Los Angeles Lakers
Position: PG
Age: 39
2012-13 Per-Game Stats: 12.7 points, 2.8 rebounds, 6.7 assists, 0.6 steals, 0.1 blocks, 16.0 PER
Due to the broken fibula that he suffered against the Portland Trail Blazers early on in his first go-around with the Los Angeles Lakers, Steve Nash never had a chance to establish chemistry with his new teammates.
In fact, he spent only 50 games in a Lakers uniform and was so overshadowed by the Dwight Howard drama, coaching changes and constant turmoil in the attempt to sneak into the playoffs that I still have a tough time accepting the fact he's not on the Phoenix Suns anymore.
Nash has to make this his team, even if he takes a backseat to Kobe Bryant.
While he's 39 years old, Nash is still an elite point guard capable of running an offense at a high level and making all of his teammates look better. If he's not averaging around 10 assists per game, L.A. is going to be in trouble.
Beyond Kobe, Pau Gasol and Nick Young, there isn't a lot of scoring talent on the Lakers roster. No matter what it takes, Nash will need to make everyone else look good.
Iman Shumpert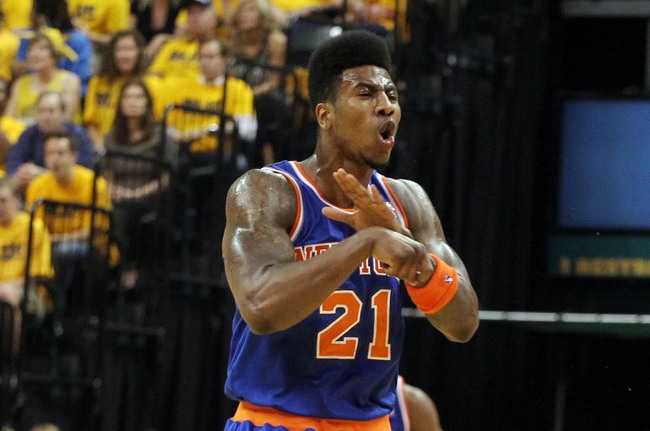 Brian Spurlock-USA TODAY Sports
Team: New York Knicks
Position: SG
Age: 23
2012-13 Per-Game Stats: 6.8 points, 3.0 rebounds, 1.7 assists, 1.0 steals, 0.2 blocks, 11.7 PER
Iman Shumpert is supposed to break out for the New York Knicks, and he's going to need to in order for the team to actually compete for a title.
The flat-topped 2-guard has shown off quite a few signs that he has breakout potential on both ends of the court.
At times, he's looked like an offensive phenom thanks to his slashing abilities and occasional knack for hitting three-pointers. Shumpert shot 40.2 percent from behind the three-point arc during his second season in the NBA, and Synergy shows that he scored 1.09 points per possession while cutting off the ball. He also put up 0.83 points per possession in isolation, the 65th-best mark in the league.
Defensively, Shumpert has seemed even better.
He ranked 128th in points per possession allowed, which is a rather impressive number for a wing defender who commonly takes on the toughest assignment. In particular, Shumpert thrived as an isolation and post-up defender.
The indications that a breakout is looming are all there. Now it's time to make that breakout into a reality, because if he doesn't, the Knicks will remain on that threshold just before the realm of elite teams.
Josh Smith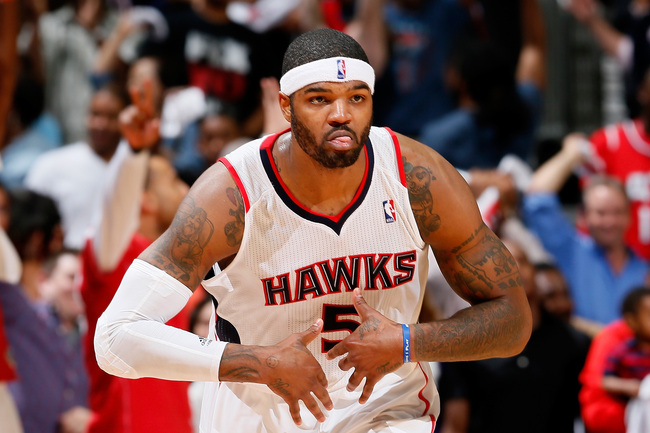 Kevin C. Cox/Getty Images
Team: Detroit Pistons
Position: SF/PF
Age: 27
2012-13 Per-Game Stats: 17.5 points, 8.4 rebounds, 4.2 assists, 1.2 steals, 1.8 blocks, 17.7 PER
For the Detroit Pistons to live up to their playoff dreams, floor spacing is going to be necessary.
They have a few options who can capably hit shots from the perimeter, but most of them fall into the unfortunate realm of shot-jackers. The only thing worse than having players who can't space the court is rostering too many players who love to shoot ill-advised jumpers.
Brandon Jennings and Josh Smith have both fallen into that category during their careers with previous teams. They can't this year.
Well, Jennings has to.
The Pistons need him to shoot perimeter jumpers for that whole floor spacing thing, and he's shown in the past that he can actually hit the looks. You can't shoot 37.5 percent from behind the arc without that being true.
Because of that, the onus is on Smoove to change his game and become more of an attacking player. During the 2012-13 season, the forward shot 19.4 percent from 10 to 16 feet, 32.9 percent from 16 to 23 feet and 29.9 percent from beyond the arc.
That's not going to cut it. At least not if he keeps hoisting up rim-rattling jumpers with such ridiculous frequency.
Keep Reading