Genius Trade Targets to Pair with Rajon Rondo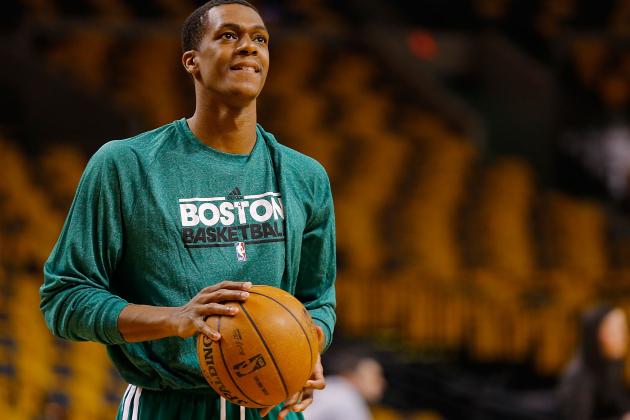 Jared Wickerham/Getty Images

In the aftermath of the Boston Celtics trading away a chunk of their core in Kevin Garnett and Paul Pierce to the Brooklyn Nets, they've transformed from a fringe contender to a lottery team. Instead of picking up the pieces and attempting to compete, Boston has instead decided to hoard assets and rebuild from scratch.
With Rajon Rondo sidelined with a torn ACL and the Celtics out of the post-season for the foreseeable future, there was speculation around the league that he would be dealt for a high draft pick or a young star. However, with the offseason rounding out, it's been made clear that the Celtics are planning on rebuilding with their All-Star point guard on deck.
Here are a few of the possible trade candidates that would be a good fit with the All-Star.
Begin Slideshow

»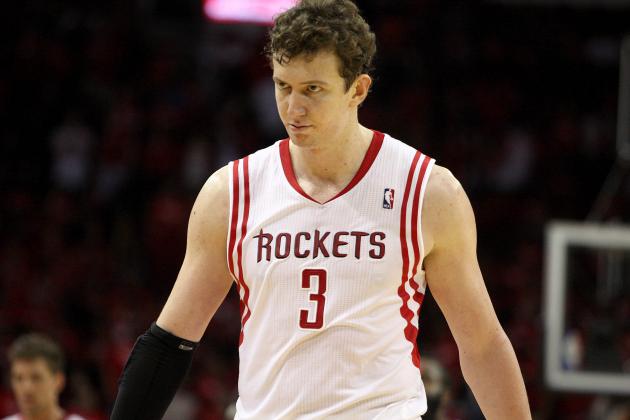 Troy Taormina-USA TODAY Sports

After playing behind Joakim Noah for the entirety of his two-year campaign with the Chicago Bulls, Omer Asik was given a chance to start at the center position with the Houston Rockets. He soared beyond expectations, averaging a 10.1-point, 11.7-rebound double-double while anchoring the Rockets' often dismal defense.
According to NBA.com's Stats tool, the Rockets' only allowed 101.3 points scored against them per 100 possessions (good for top 10 in the league) when Asik was on the floor last season. That figure plummeted to 107 with him on the bench, which would have them ranked amongst the worst teams in the league.
Asik was immediately dismayed at the idea of sliding back into a bench role when Houston traded for Dwight Howard. There were murmurs around the league that he asked for a trade, although the team has stated they fully intend to keep him around.
The problem here is that Howard and Asik's chances of co-existing together are unlikely. Asik and Howard are both rim protectors that can stymie a pick-and-roll with the kind of ease that makes playing in the NBA look effortless, and although their defensive potential together could be monstrous, it would completely destroy Houston's spread pick-and-roll offense.
Asik is owed $20 million over the next two years, and that's an awful lot to pay for either a backup or a starter that doesn't mesh with your team's superstar acquisition.
The Celtics, on the other hand, have been rail-thin at the center position, settling for stopgaps since they traded away Kendrick Perkins. Since the Rockets are probably unlikely to trust Donatas Motiejunas with a full-fledged starting role just yet, the Celtics might be able to pull Asik away from the Rockets for a deal centered around Brandon Bass, Courtney Lee (who would immediately slide in as the Rockets' best shooter off the bench) and a future first-round pick.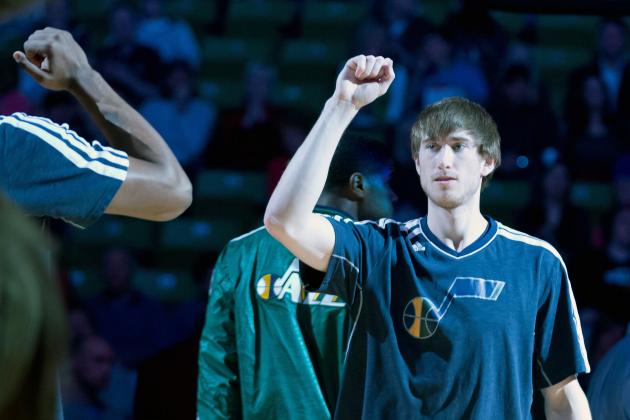 Russ Isabella-USA TODAY Sports

Gordon Hayward, who averaged 14.1 points and 3.1 rebounds last year with the Utah Jazz, is coming off the best season of his career. Hayward may not be on the trading block just yet, but if the Jazz decide he's not worthy of the contract extension he'll eventually demand, they might start shopping him.
It generally wouldn't make sense for a team to just let a player like Hayward walk, but the Jazz have just $7 million (yes, you read that right) on the books next year. It's impossible to predict which direction the team might go in coming years. If the Jazz go into rebuilding mode, it doesn't make much sense for them to retain Hayward.
Hayward is a capable defender, allowing just 0.87 points per play on defense, including an impressive 0.67 in isolation situations, according to Synergy Sports. He can shoot from anywhere on the floor, giving him the potential to fill the role of a key cog the Celtics have missed since Ray Allen departed for Miami.
He's athletic and savvy off the ball, averaging 1.68 points per play on cuts (that's a staggering 60th in the league). Expect that number to skyrocket with Rajon Rondo feeding him the ball. The two would be equal beneficiaries in this relationship, as Rondo's passing ability has the potential to produce a myriad of easy baskets for Hayward, while Hayward's shooting ability combined with his intelligence would open the floor up for Rondo.
At just 23 years old, Hayward's shown steady improvement every season, so it's possible he'll blossom even more in a starting role, something Utah hasn't been willing to offer him.
The Jazz, thin at the point guard position after rookie Trey Burke, would likely ask for a deal centered around Avery Bradley and a first-round pick in return for Hayward.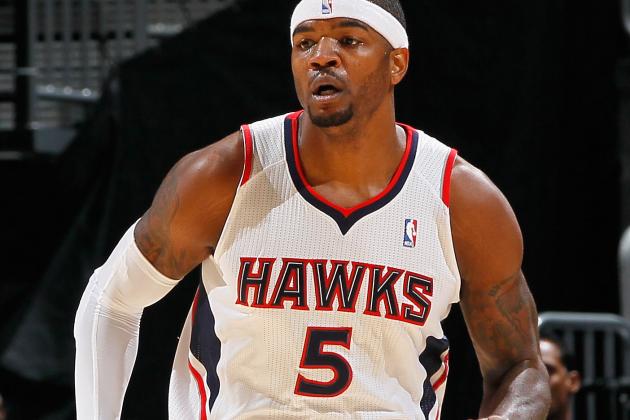 Kevin C. Cox/Getty Images

Disclaimer: Before I go on any further, I want to acknowledge the fact that I'm aware a Josh Smith acquisition is a pipe dream for Boston. Seriously, if the Celtics ever pull this off, the entire city should start parading around in Legends Way with Danny Ainge crowd-surfing.
Moving on, here's why it might work. Three out of the five likely starters for the Detroit Pistons this season were acquired this offseason. That's Chauncey Billups (who isn't ready to ride the bench just yet), J-Smoove and Brandon Jennings. The other two have a combined total of five seasons in the NBA under their belts.
Needless to say, it'll be a minor miracle if the team doesn't fall victim to a learning curve at some point. This normally wouldn't be too big of an issue, but with five teams in the Eastern Conference fighting for the last two playoff spots, even the slightest losing streak could slip the Pistons out of playoff contention.
As far as Josh Smith's fit with the Celtics goes, envision Rondo and Smoove stifling opponents in the pick-and-roll on one end, then running the floor together seconds later. Alley-oops galore. Not to mention, he'd be a shoo-in with Brad Stevens and his defensive style.
The trades that make the most sense for Boston right now are those that include one of these things: tradeable assets, young players or having a star player come play for them. A trade for Smith is the most likely move they can make for a star in the foreseeable future.
Of course, the Celtics would need a lot of things to go right for this to happen—Detroit's downfall (too soon?) and reluctance to be patient, a third team willing to take on Kris Humphries' expiring contract or the C's using their trade exception and some masterful GMing—but it's the kind of fantasy that at least has a fighter's chance of coming true.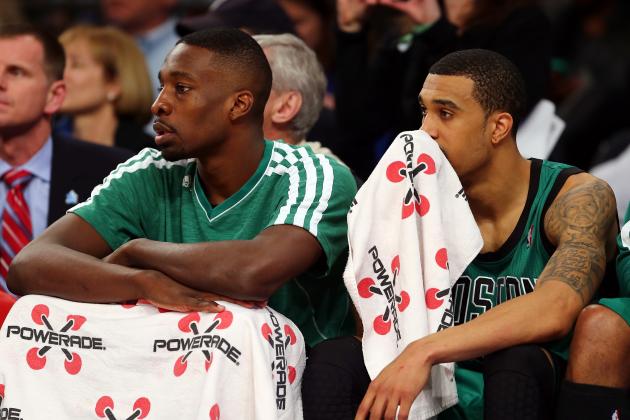 Elsa/Getty Images

The truth of the matter, unfortunately for Celtics fans, is that Boston is a long way from being a playoff team again, let alone a contender. Sure, it makes sense to explore every possible course of action, but the route best suited for the team is to play the waiting game. Rebuilding around Rondo is going to require more than lateral moves for high-quality role players.
Accumulating draft picks allows the Celtics to hoard assets until a superstar's run with their current squad (i.e. Kevin Love, LaMarcus Aldridge) is seemingly ready to come to an end, like the Rockets did with Harden. If it doesn't work out that way, Plan B isn't so bad. They'll have a ton of young talent to develop around a top-five pick in this year's star-studded draft and a healthy, well-rested Rajon Rondo.
The Celtics have a few options in this regard.
Courtney Lee's trade value is at an all-time low right now, so his number one job this season is to improve so he can leave for greener (no pun intended) pastures. If he does, it's possible a contender like the Bulls would be willing to part with a late first-round draft pick for him.
Similarly, Kris Humphries' expiring deal could be flipped for a second-round pick.
Perhaps most interestingly, the Celtics could take on a bad contract with their $10 million trade exception and score a first-round pick in the process. For example, if the Andrew Bynum experiment fails in Cleveland and they don't want him around for the next year and a half, Boston might take him on if the Cavs added a future first-rounder to sweeten the deal.