Joseph Benavidez: UFC's Only Option for Next Flyweight Title Contender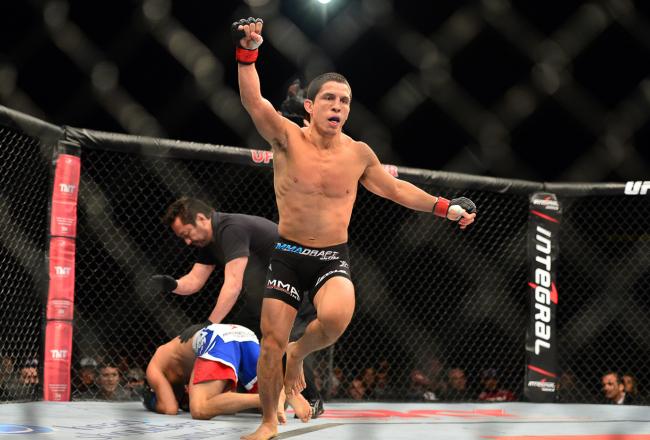 Jason Silva-USA TODAY Sports
Another event, another slam-dunk victory for flyweight mauler Joseph Benavidez.

There has never been any doubt that the Team Alpha Male product is a fearsome fighter. In spite of fighting above his native weight class, Benavidez was a killer at bantamweight. He racked up victories over some serious fighters, such as former champion Miguel Torres, current top contender Eddie Wineland and presently resurgent grappler, Rani Yahya. He even gave Dominick Cruz a run for his money in their two title bouts.

With that in mind, it's becoming ever-more-difficult to deny him another flyweight title shot. While it makes sense on many levels, sense often holds a less-than-leading role in the title fight equation.

Why isn't Benavidez fighting for a belt right now? Well, for two very close reasons.

First and foremost, Benavidez already fought for the flyweight belt; it was against current champion Demetrious "Mighty Mouse" Johnson, no less.

In that five-round affair, Johnson took the title home via a not-actually-that-close split decision. While the score cards read 48-47, 47-48 and 49-46, Johnson out-struck Benavidez by a substantial margin, landing 96 significant strikes to Benavidez's 53. He landed more total significant strikes in all five rounds and landed five takedowns to Benavidez's zero (you can check out the full Fight Metric readout here).

In short, Johnson won their first fight fairly convincingly. That fight, by the way, was less than a year ago.

While a contender often takes some time off and returns to the cage some time later, Benavidez has taken three fights since, beating Ian McCall via decision and knocking out both Darren Uyenoyama and, most recently, Jussier Formiga. That three-fight winning streak puts the flyweight division, and its matchmaker Sean Shelby, in an awkward position.

Currently, there are very few flyweight contenders in the UFC on a winning streak. In fact, the complete list of fighters that fit that bill includes Benavidez, John Lineker and Tim Elliott.

Lineker has become a legitimate dark-horse candidate for a title shot. The former Jungle Fight bantamweight champion, after losing his UFC debut to Louis Gaudinot, has broken off three big wins since. He took took a handy decision from Yasuhiro Urushitani and knocked out Azamat Gashimov and Jose Maria.

The huge thing that works against Lineker, though, is his difficulty cutting to 125 pounds. In two out of his four fights in the UFC, he has missed weight, fighting Gaudinot at 127 pounds and Maria at 129 pounds. That actually is a major consideration for a flyweight title fight, as Lineker would be required to come in at 125.0 pounds or lighter, lest he join Joe Riggs and Travis Lutter as "men who missed weight in UFC title fights."

Elliott is a physically powerful flyweight, and he looked downright scary in his recent fight as he bell-to-buzzer rag-dolled Gaudinot. Before that, he defeated Jared Papazian. However, his first UFC fight was a unanimous decision loss to John Dodson on short notice.

While Elliott certainly looked excellent against Gaudinot, which, on paper, gives him an edge over Lineker, two wins over some less-than-impressive competition makes it tough to argue in favor of a title shot. Another win and that may not be the case, but victories over the 10th best flyweight and a guy currently fighting at 135 pounds in the WSOF shouldn't be a recipe for a title fight.

That effectively leaves Joseph Benavidez as the best choice for Johnson's next opponent.

While he isn't long separated from that UFC 152 loss, there is little other choice. Regardless, Benavidez is the greatest challenge on the table for Johnson, and that is important. While it's not under ideal circumstances, Benavidez's time has come once again.
This article is
What is the duplicate article?
Why is this article offensive?
Where is this article plagiarized from?
Why is this article poorly edited?