Jonathan Quick Is Far from a Certainty as Team USA's Starter in 2014 Olympics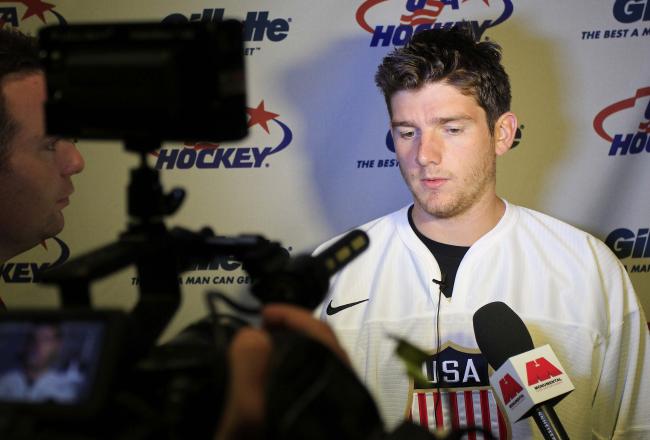 Geoff Burke-USA TODAY Sports
Despite the extremely small gap between Jonathan Quick and his competition for Team USA's starting goalie job, there seems to be an emerging consensus that Quick is far and away the favorite to win the role.
The Associated Press regards Quick as the most probable candidate for the starting role and wrote that incumbent Ryan Miller might not even make the team. Sportsnet's Chris Johnston called Quick the "natural successor" to Miller, ESPN's Craig Custance pegged Quick as the Americans' likely starter, and his colleague Scott Burnside went further, identifying Quick as the No. 1 reason Team USA would win gold.
The odd thing is that, by the numbers, it isn't certain that Quick should even be on the team, let alone the starting goalie. Looking at 5-on-5 save percentage, the fairest measure of goaltending performance, over the last three seasons Cory Schneider is the runaway leader, while the other contenders for the position are tightly grouped:
Team USA's goalies: even-strength save percentage

| | | | | |
| --- | --- | --- | --- | --- |
| Goalie | 2010-11 | 2011-12 | 2012-13 | Total |
| Cory Schneider | 0.933 | 0.931 | 0.931 | 0.932 |
| Jimmy Howard | 0.916 | 0.929 | 0.937 | 0.926 |
| Ryan Miller | 0.924 | 0.922 | 0.928 | 0.924 |
| Jonathan Quick | 0.921 | 0.933 | 0.910 | 0.924 |
| Craig Anderson | 0.917 | 0.920 | 0.943 | 0.923 |
NHL.com
Given those numbers, why is Quick seen as the favorite? In another piece, Burnside identifies the reason:
Jonathan Quick is the odds-on favorite to be the starter, given his superlative play the past couple of years, play that includes a Conn Smythe Trophy in 2012 as playoff MVP for his work in guiding the Los Angeles Kings to their first Stanley Cup. Quick, the third goaltender in Vancouver for the Americans, was again stellar this past spring as the Kings lost in the Western Conference finals to eventual Stanley Cup winner Chicago.
The primary basis for choosing Quick over the other contenders is his playoff performance. While the first two series of Quick's career were disappointing, over the last two seasons he has forged a reputation as a clutch goalie, someone who makes the saves when it matters most.
Quick's career 0.915 regular season save percentage is merely good, but he's been a 0.929 save percentage stopper in the postseason—a remarkable elevation in his game, and exactly the kind of performance that could make all the difference in a short tournament. Of the other five contenders, three post-playoff numbers in the same range as their regular-season performances; only Craig Anderson (career 0.915 regular season save percentage, 0.926 playoff save percentage) can boast of a postseason improvement in the same range as Quick.
Given the difference between Quick's regular-season totals and his playoff results, the logical question is which performance the American management team should weigh more heavily. Do they primarily look at the longer regular-season results, which have Quick in the mix with four others, or do they place emphasis on his impressive work in shorter but more pressure-filled playoff series?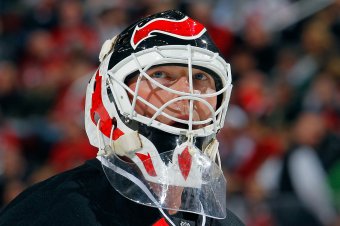 Jim McIsaac/Getty Images
The career of Martin Brodeur may suggest an answer. Brodeur posted exceptional regular-season totals, running up a 0.915 save percentage through age 26 in an era where the league-average save percentage hovered around the 0.900 mark. He was even better in the postseason, however, with a 0.926 save percentage over his first 54 playoff games (and like Quick, he won a Stanley Cup in that span). It didn't last.
While Brodeur enjoyed some good runs (particularly in 2000 and 2003) he also had some poor showings, and over the next 150 playoff games he appeared in his save percentage fell even as the league average increased.
The gap between regular-season and playoff performance all but disappeared too. In 12 playoff seasons, Brodeur improved on his regular-season performance six times and fell short of it six times. Put shortly: At age 26, Brodeur's very good regular-season numbers were a better predictor of his future playoff results than his off-the-charts postseason numbers.
The same is likely to be true of Quick. His regular-season track record is more than five times as long as his playoff resume and should receive the majority of the attention from Team USA's management group. If it does, the battle for the starting job goes from being Quick and everyone else to a close contest between five highly qualified goalies.
This article is
What is the duplicate article?
Why is this article offensive?
Where is this article plagiarized from?
Why is this article poorly edited?