Power rankings have invariably become an integral part of every major professional sports scene.
Which team deserves the No. 1 spot?
Fans everywhere flock to see where their team ranks among their opponents, discuss said rankings and debate whether they should be raised or lowered.
As the defending Super Bowl champion Baltimore Ravens and Denver Broncos prepare to kick off the 2013 NFL season with a bang, now is an appropriate time to provide fans with their first opportunity to do just that.
Before Week 1 officially begins on Thursday night, here's a look at where all 32 teams stand heading into the regular season and three squads to keep an eye on.
Week 1 Power Rankings
NFL Power Rankings—Week 1 Edition

| | | | |
| --- | --- | --- | --- |
| Rank | Team | Week 1 Schedule | Player to Watch |
| 1 | Denver Broncos | vs. Baltimore | WR Wes Welker |
| 2 | San Francisco 49ers | vs. Green Bay | TE Vernon Davis |
| 3 | Green Bay Packers | vs. San Francisco | WR Randall Cobb |
| 4 | Atlanta Falcons | at New Orleans | RB Steven Jackson |
| 5 | Seattle Seahawks | at Carolina | QB Russell Wilson |
| 6 | New England Patriots | at Buffalo | WR Danny Amendola |
| 7 | Baltimore Ravens | at Denver | LB Terrell Suggs |
| 8 | Indianapolis Colts | vs. Oakland | RB Ahmad Bradshaw |
| 9 | Houston Texans | at San Diego | DE J.J. Watt |
| 10 | Cincinnati Bengals | at Chicago | QB Andy Dalton |
| 11 | Washington Redskins | vs. Philadelphia | QB Robert Griffin III |
| 12 | New Orleans Saints | vs. Atlanta | S Kenny Vaccaro |
| 13 | Minnesota Vikings | at Detroit | RB Adrian Peterson |
| 14 | St. Louis Rams | vs. Arizona | WR Chris Givens |
| 15 | Chicago Bears | vs. Cincinnati | TE Martellus Bennett |
| 16 | Pittsburgh Steelers | vs. Tennessee | QB Ben Roethlisberger |
| 17 | Dallas Cowboys | vs. New York Giants | WR Dez Bryant |
| 18 | New York Giants | at Dallas | RB David Wilson |
| 19 | Tampa Bay Buccaneers | at New York Jets | CB Darrelle Revis |
| 20 | Detroit Lions | vs. Minnesota | RB Reggie Bush |
| 21 | Kansas City Chiefs | at Jacksonville | QB Alex Smith |
| 22 | Miami Dolphins | at Cleveland | WR Mike Wallace |
| 23 | Cleveland Browns | vs. Miami | RB Trent Richardson |
| 24 | Arizona Cardinals | at St. Louis | WR Larry Fitzgerald |
| 25 | San Diego Chargers | vs. Houston | WR Vincent Brown |
| 26 | Philadelphia Eagles | at Washington | QB Michael Vick |
| 27 | Carolina Panthers | vs. Seattle | QB Cam Newton |
| 28 | Tennessee Titans | at Pittsburgh | RB Chris Johnson |
| 29 | Buffalo Bills | vs. New England | DE Mario Williams |
| 30 | Jacksonville Jaguars | vs. Kansas City | WR Cecil Shorts |
| 31 | New York Jets | vs. Tampa Bay | QB Geno Smith |
| 32 | Oakland Raiders | at Indianapolis | QB Terrell Pryor |
Seattle Seahawks, No. 5
After coming within points of upsetting Atlanta and facing San Francisco in the NFC Championship Game, Seattle enters the 2013 season full of optimism about the possibility of going further than ever before in the Pete Carroll era.
Second-year quarterback Russell Wilson had just an average preseason and his squad faces a fierce test as it prepares to visit the upstart Carolina Panthers in Charlotte to open the season.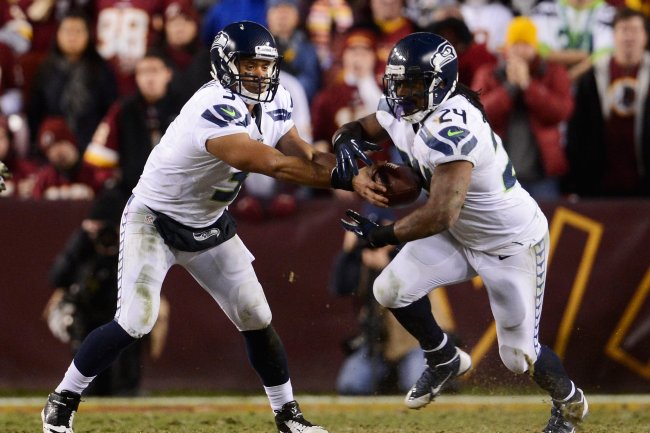 Patrick McDermott/Getty Images
Offseason acquisition Percy Harvin won't be around for the Week 1 clash, but top running back Marshawn Lynch, wideouts Sidney Rice and Golden Tate, and one of the most talented secondaries in football should provide enough momentum to take down the Panthers.
That said, the Panthers are in a make-or-break year for head coach Ron Rivera. The Seahawks will have to be firing on all cylinders to both start 1-0 and avoid dropping out of the top five in the power rankings.
Between Seattle, San Francisco, Arizona and St. Louis, the NFC West is anything but a cake walk toward a playoff spot.
Its defense, strong running game and coaching staff have Seattle poised to take aim at the 49ers. For now, though, it settles in near the top of our rankings.
Cincinnati Bengals, No. 10
Can Cincinnati get out of the first round of the playoffs this year?
It's a question that won't be answered until January, but one that needs to be asked when fans wonder why one of the league's true contenders slips to No. 10 in the power rankings.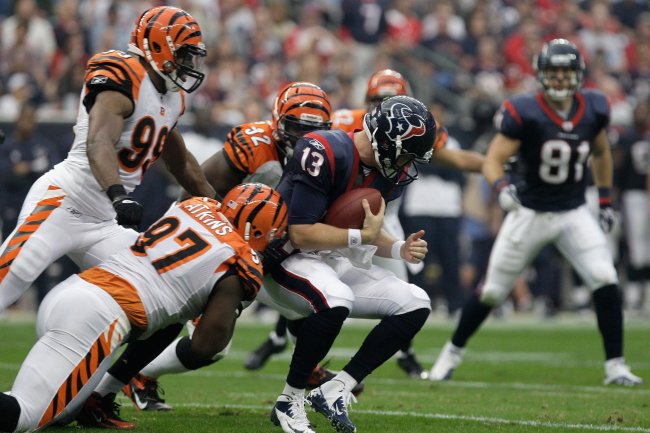 Thomas B. Shea/Getty Images
QB Andy Dalton has led the Bengals to the playoffs in each of the last two years, but he's failed to do anything when it matters—Cincinnati scored just 10 and 13 points in playoff losses to Houston over the last two years.
Taking a more shortsighted approach to the ranking, the Bengals are loaded on both sides of the ball.
A.J. Green is a superstar in the making, BenJarvus Green-Ellis and Giovani Bernard form a nice backfield tandem, and Mohamed Sanu is my pick to have a breakout year.
On defense, Geno Atkins is a star. Vontaze Burfict is motivated to repeat his rookie success. In the secondary, a talented group of corners and safeties has more than enough talent to hold down the fort.
Offensive line depth is an issue, but you could say that for a number of NFL contenders. Ahead of Pittsburgh at the moment and just a step behind Baltimore, the Bengals should contend for the AFC North crown again this year.
Dallas Cowboys, No. 17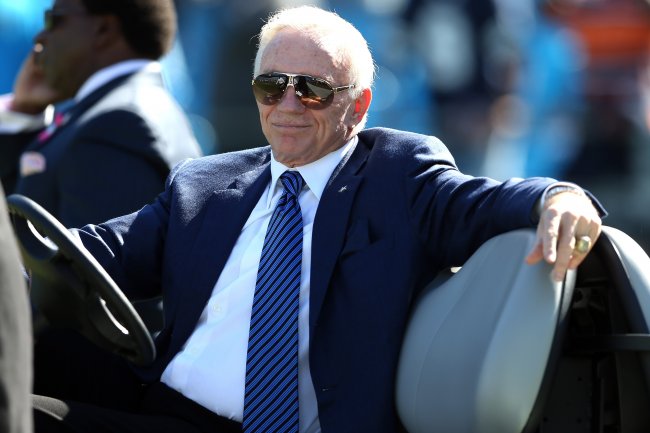 Streeter Lecka/Getty Images
The NFL's premier "treading water" team over the last few years, the Cowboys have finished 8-8 or 9-7 in five of the last eight seasons. They have a playoff record of 1-3 in that span.
As such, the Cowboys begin the year at No. 17 in our power rankings, just shy of the league's top half.
Expectations are high in Dallas yet again this season, though, as Jason Garrett begins his third full campaign as head coach and Tony Romo is now officially a $100 million QB.
As noted by Dallas Cowboys Star Magazine on Twitter, expectations are generally high in Big D regardless of the previous year's finish:
Flint's View knows @dallascowboys fans are the best. True Blue fans subscribe to Star Magazine http://t.co/m5VtpuxGcR pic.twitter.com/rrON1HMMou

— DCStarMagazine (@DCStarMagazine) September 5, 2013
While the biggest question marks—and likely the season's outcome—lie with the defense, it's the Dallas offense that has us buzzing once again. Romo, running back DeMarco Murray and wide receiver Dez Bryant form a potent 1-2-3 punch.
With Bryant, the Cowboys appear to have found a star worthy of wearing the all-important No. 88.
No. 88 himself even thinks so.
Bryant is poised to eclipse his numbers from 2012, numbers (92 receptions, 1,382 yards, 12 TDs) that made him one of the top wideouts in football. According to ESPN's Tim McMahon, via ESPN's Stats & Info on Twitter, Dez is already in a rare class:
Per @ESPNStatsInfo, only WRs in NFL history to have at least 200 catches, 2,500 yards, 25 TD in 1st 3 yrs: Rice, Moss, Rison and @DezBryant

— Tim MacMahon (@espn_macmahon) September 4, 2013
The defense will dictate how far the Cowboys travel this year, but it's the offense that gives the Cowboys a chance to stake their claim toward a much higher spot on the list moving forward.
Follow B/R's Ethan Grant on Twitter.