UAB vs. LSU: 10 Things We Learned in Tigers' Win
Stacy Revere/Getty Images

The nation learned that Odell Beckham is the most dangerous player in the SEC in LSU's 56-17 victory against UAB.
Quite a statement, right? Beckham recorded 331 all-purpose yards against the Blazers, and he did it in spectacular fashion.
More on that inside.
Amazingly, Beckham's statistics might not have been the most impressive on the night. Another offensive player placed himself in the school record book with an eyebrow-raising performance.
So what'd we learn? Well, mostly, the Tigers offense is the new strength of the team. Here's how we know...
Begin Slideshow

»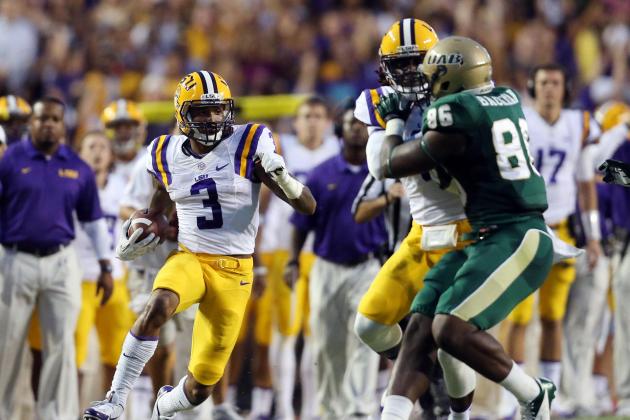 Crystal LoGiudice-USA TODAY Spor

Besides having 183 all-purpose yards in the first quarter (!), Beckham finished the first half with 109 yards receiving and two touchdown receptions. He finished the game with 136 receiving yards and three touchdowns.
Yes, this is UAB, but still to watch this junior wide receiver juke and jive his way around UAB's defense and special teams was borderline laughable, especially on his 100-yard field-goal return for a touchdown.
Beckham made a statement with a consecutive 100-yard receiving performance, and with a display of cadillac moves and graceful running, he certainly threw his name in the hat for best athlete in the country.
Beckham now has 603 all-purpose yards, with one of his games competing against an elite TCU defense. I ask you this right now—who is more dangerous than Beckham?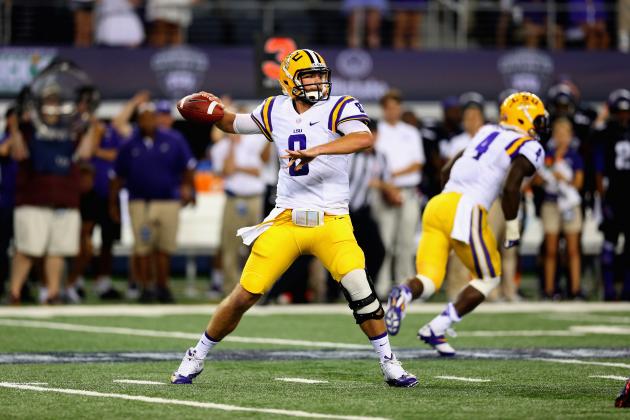 Ronald Martinez/Getty Images

So maybe UAB doesn't have the greatest pass defense. It doesn't matter.
There's this thing called an eyeball test, and if you correctly use it, you can tell that LSU's passing game is legitimate.
It looked that way against TCU's great secondary last week, and against UAB this week (a less impressive defense I grant you), the Tigers' passing attack looked as polished as ever.
Zach Mettenberger finished the game with 282 yards and five passing touchdowns. He's getting better every week, folks.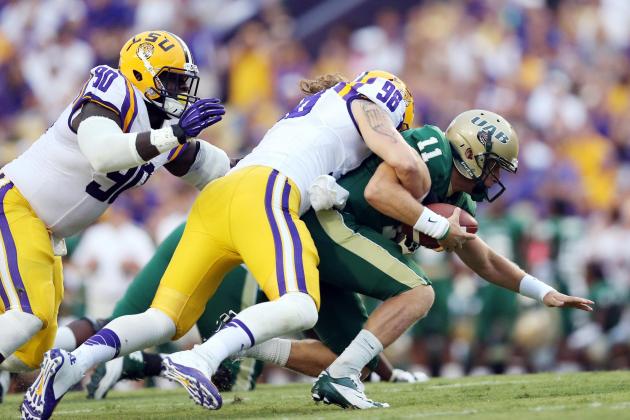 Crystal LoGiudice-USA TODAY Spor

Despite some blown coverages and defensive lapses, LSU handled its business in Tiger Stadium.
The offense moved the football, scored in the red zone and the defense provided consistent pressure on Austin Brown and UAB's passing attack.
The Tigers gave up a few scores at the end of the second quarter, but after some adjustments at halftime, LSU's defense blanked UAB in the second half.
The team out gained UAB 445 yards to 296 and had most of the starters pulled in the fourth quarter. Playing down to the competition has been a problem in previous years. That's not the case so far this season.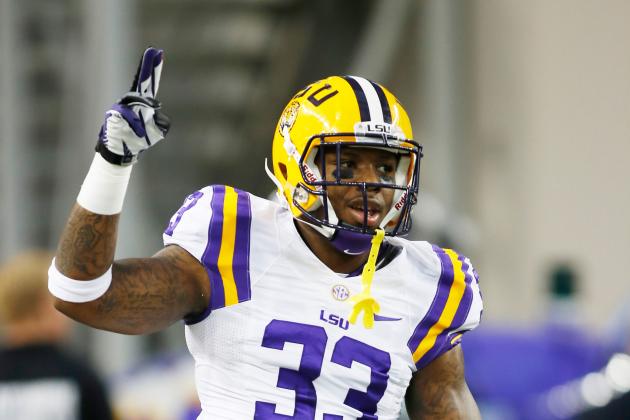 Tim Heitman-USA TODAY Sports

He's baaaack. No more questions surrounding Jeremy Hill.
After getting some reps and a touchdown against UAB, Hill's suspension was officially lifted in Tiger Stadium.
Moving forward, it will be interesting to see how often Hill gets the football and if he will become the focal point of this offense again.
He'll have to be spectacular to win LSU fans over, but moving forward, there's no reason to believe LSU won't be pounding the rock with him.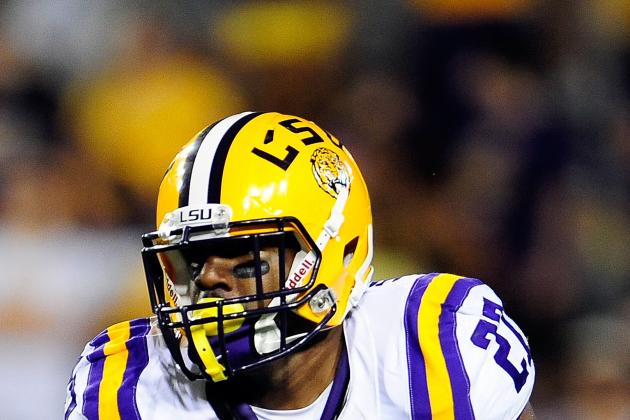 Stacy Revere/Getty Images

Questions still loom with the Tigers run game.
Besides four runs over 10 yards by Kenny Hilliard and Jeremy Hill, the Tigers once again failed to get a huge push upfront and drive defenders off the ball.
That hasn't been publicized well, though, because Mettenberger and LSU's passing attack has been superb.
Moving forward, LSU must find a running game, as talented secondaries such as Florida and Alabama will force the Tigers to pick up tough yards on the ground. In other words, the interior offensive line needs to step up and provide some gaping holes for Hill and Co. in SEC play.
Stacy Revere/Getty Images

UAB might have had three or four great athletes on the field, but LSU's 11 simply outnumbered them.
More specifically, LSU's defensive line imposed its will against a less talented offensive line. UAB's Austin Brown had very little time to throw the ball and exploit any matchups because time and time again, LSU's front four were greeting him in the backfield.
Danielle Hunter, Jermauria Rasco and Jordan Allen all played extremely well, with Allen and Rasco each recording a sack.
As for Ego Ferguson and Anthony Johnson in the middle, they did their thing by occupying space, while Lamin Barrow led all Tigers in tackling with seven tackles and .5 sacks.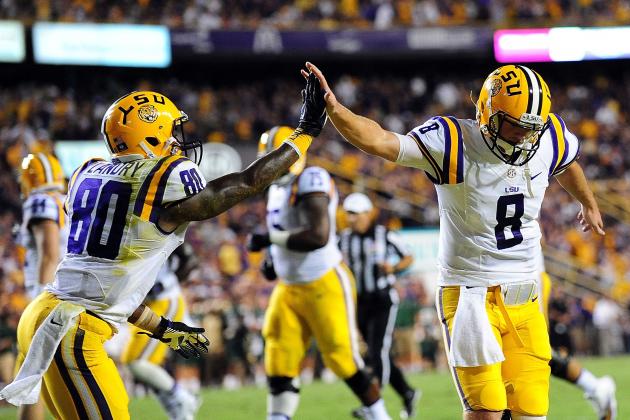 Stacy Revere/Getty Images

Though the defense looks impressive for the most part, surprisingly, the Tigers offense has become the strength of LSU.
Who would have thought? For the second week in a row, the Tigers totaled at least 445 yards, not to mention the Tigers scoring 93 points over the course of eight quarters.
Following the UAB win, I asked Mettenberger and Landry about the scrimmages in the fall, which used to be dominated by the defense in years passed, and both said that the offense had the upper hand about 50 percent of the time.
Personally, I think both were being modest.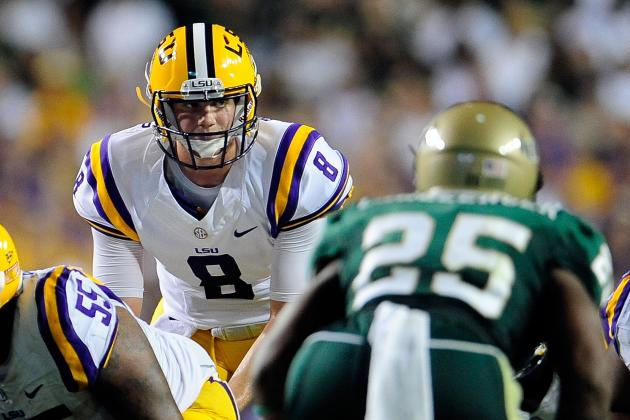 Stacy Revere/Getty Images

Mettenberger is a character.
From talking about Beckham's mint pants that he wore in interviews following the game to cracking jokes to the media, Mettenberger is always a guarantee for a good quote. He struck gold again after the UAB game.
"It's pretty cool, I guess," said Mettenberger in regard to throwing five touchdowns against UAB, a school record for LSU quarterbacks.
Pretty cool? Mettenberger may share good humor, but his play on the field this season isn't anything to joke about.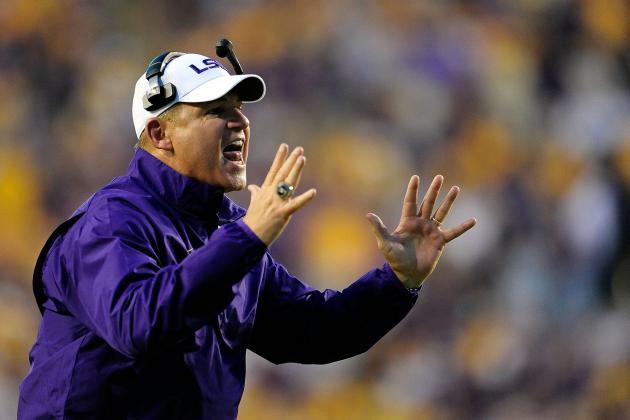 Stacy Revere/Getty Images

At first, I thought LSU was getting young players in just because it was a game against an inferior opponent, and it's always good to give your young players reps, right?
Well, after hearing Miles post-game thoughts, he played each young player with a purpose.
He wanted to get Rashard Robinson and Tre'Davious White experience in the secondary, because he feels he's going to need them down the road in 2013. They, along with Christian LaCouture, Lewis Neal, Tashawn Bower, Kendell Beckwith and Corey Thompson, are expecting to contribute to the Tigers' seemingly always rotating defense.
Don't be surprised to see more and more diaper dandies on the field this season.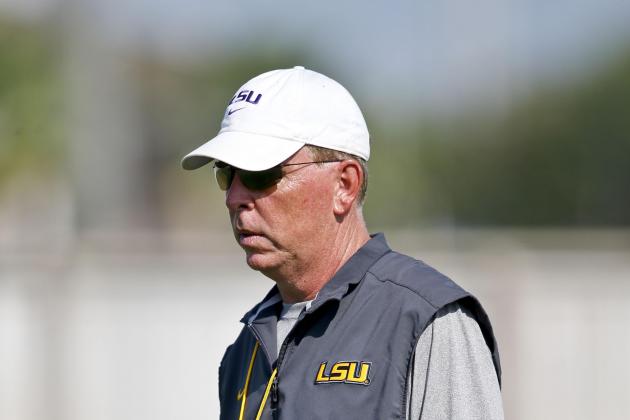 Derick E. Hingle-USA TODAY Sport

Finally, let's reiterate this—Cam Cameron has full control of this LSU offense.
Going into the season, many fans worried about the offensive play-calling. Would Cameron have complete play-calling control, or would Les Miles override Cameron's decisions?
So far this season, Cameron has been the one calling the shots, and it's easy to see.
The Tigers have relied on their passing game more than usual under Miles, and with Cameron developing chemistry between Mettenberger and the receiving corps, the offense has blossomed as a result. The frequent passing, trip formations and overall fluid nature of the passing game has Cameron's fingerprints all over it.
Jake Martin is a Featured Columnist of Bleacher Report and a contributor for the The Sun Herald in Biloxi, Miss. Unless otherwise noted, all quotes were obtained firsthand or from official interview materials from The Sun Herald.