UAB vs. LSU: Live Score and Highlights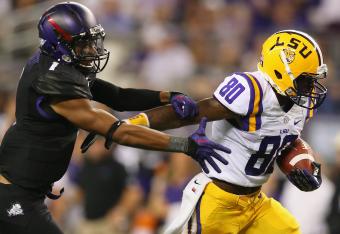 Ronald Martinez/Getty Images
LSU Tigers vs. UAB Blazers—7 p.m. ET, ESPNU
The LSU Tigers will try to clean up mistakes in their home opener against UAB Saturday evening.
A fumble near the Tigers' own goal line, a kickoff return for a touchdown and a drive-continuing roughing the passer committed against TCU nearly cost the Tigers in their 37-27 win in the season opener. Les Miles said Tuesday that the team made an effort to correct such blunders, according to the Associated Press (via Yahoo! Sports).
Besides minimizing gaffes, the Tigers must take UAB seriously tonight, as the Blazers sport an athletic wide receiver in Jamarcus Nelson who led the nation in all-purpose yards with 367 after the first week of action.
The Tigers' secondary will have to game-plan specifically for Nelson and quarterback Austin Brown, who threw for 301 yards and three touchdowns in a 34-31 loss to Troy last week. Keep an eye on the Tigers' strategy defending these talented offensive weapons.
As for any lingering questions for the Tigers, the biggest has to be whether or not Jeremy Hill will play on Saturday. Find out with me here as I break down all the action live from Tiger Stadium.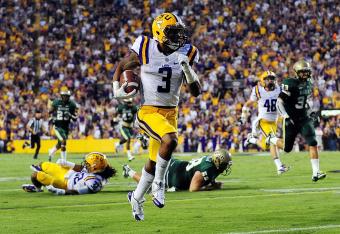 LSU 56, UAB 17—Final
Zach Mettenberger leads the LSU Tigers to a 56-17 win in the Tigers home opener against UAB.
Mettenberger finished the game with 282 passing yards and five touchdown passes, an LSU quarterback record for most passing touchdowns in a game.
As for the offense, the Tigers' stale rushing game could be troublesome in the future, but as long as Mettenberger is spinning the ball to receivers like he has been, LSU will be just fine.
The Tigers' defense played well for the most part, establishing its dominance in the second half. All in all, the Tigers look impressive once again, and judging off of the Tigers' first two performances, it seems as though the Tigers, not the Texas A&M Aggies, will be Alabama's toughest competition this year in the SEC.
Here's an analytical breakdown of the UAB game, which may or may not involve my consumption of cookies and hot dogs.
Unbelievable. Odell Beckham Jr. with 603 all-purpose yards in first two games of the season (272 vs. TCU, 331 tonight). #LSUWIN

— Bill Martin (@LSUBillMartin) September 8, 2013
LSU 56, UAB 17—4th Quarter
With the Tigers running out the clock, here are some impressive stats by LSU. The Tigers out-gained UAB 403 to 296 yards, with Mettenberger passing for five touchdowns and Beckham recording four total touchdowns.
LSU 56, UAB 17—4th Quarter
UAB is marching down the field on the Tigers defense. Deion Jones gave the Blazers momentum with a costly roughing the passer penalty. Blazers knocking at the door, but the Tigers defense holds with Tashawn Bower, another freshman, making a big fourth down stop. Tigers will run down the clock.
LSU 56, UAB 17—4th Quarter
LaCouture is a big dude. From the press box, he looks like a giant among dwarves out there. I wonder how many hot dogs in the press box he could take out? I'm going 15 at least.
LSU 56, UAB 17—4th Quarter
There is like nobody here, y'all. For once leaving the stadium won't be the biggest pain in my, well, you know what.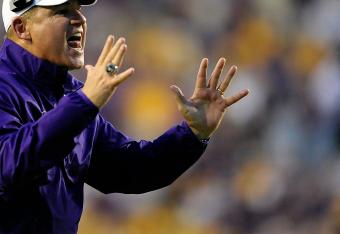 LSU 56, UAB 17—4th Quarter
Tigers run the ball on three consecutive plays and it looks like we're going to be playing the "run the clock out" game the rest of the way. Don't expect to see anymore Mettenberger, Beckham or Landry in this one.
The superstars are finding their way to the bench, as more freshmen trot out to the field for the Tigers next defensive series. I wonder if they have anymore cookies left. Hmm...
Odell Beckham Jr. tonight: 5 rec., 136 yds rec. 3 rec. TD; 1 run-15 yds; 180 yds in returns and 1 TD. Wow. #SCTop10 #LSUWIN

— Bill Martin (@LSUBillMartin) September 8, 2013
LSU 56, UAB 17—4th Quarter
Jennings time again. Just got word that Beckham's 100-yard return will be included in his all-purpose yards. That's over 300 yards for Beckham tonight.
LSU 56, UAB 17—4th Quarter
Tigers send the house and bury Brown in the backfield. Lewis Neal got his first credited sack of his young career. Neal is one of many true freshmen that turned heads in the summer. The Tigers defense has shut out UAB's offense in the second half. Credit that to great adjustments by one of the best in the business, "The Chief" John Chavis.
And it is pandemonium in the press box. Everyone blown away. Unofficially 331 all purpose yds for Beckham but how do you score a FG return?

— Bill Martin (@LSUBillMartin) September 8, 2013
LSU 56, UAB 17—End of 3rd Quarter
Forgive me but I'm still reeling from Beckham's performance. Crazy to think that just a few days ago, people were claiming that Landry was the Tigers' best offensive weapon.
OMG ... #UAB tried a 60 yd FG and Beckham got the ball 9 yds deep in end zone and returned it for officially an 100 yard return. 56-17 #LSU

— Scott Rabalais (@RabalaisAdv) September 8, 2013
LSU 56, UAB 17—3rd Quarter
Anthony Johnson appears to be walking gingerly on the sidelines. Meanwhile, Hunter and Allen continue to make the backfield their home.
UAB elects to punt, Beckham stands at the goal line, catches it and returns it 100 yards for a touchdown. I have never witnessed an offensive/all-purpose performance like this in person before. Keep in mind—I cover LSU...
LSU 49, UAB 17—3rd Quarter
The freshmen are in now. Lots of diaper dandies (can that phrase be used in football as well?) are seeing the field now for the Tigers with defensive tackle Christian LaCouture being the largest of them all.
UAB has found success in this game running the ball straight up the gut of LSU's defense. Chavis will have that fixed by next week for certain.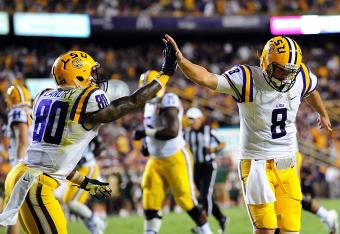 Zach Mettenberger now holds the #LSU single-game record for TD passes (5). #CamCameron

— Shea Dixon (@Sheadixon) September 8, 2013
LSU 49, UAB 17—3rd Quarter (6:16)
He did it. With a touchdown pass to Landry, Mettenberger stamps his name in the LSU record books forever. A five-touchdown performance isn't too bad, ay?
LSU 42, UAB 17—3rd Quarter
Rasco did a little "skip to my lou" after he planted Reaves in the backfield. It was quite cute but also really, really scary. Mettenberger with a chance to place himself in the record books on this next possession. A touchdown pass will rank him atop the list of most passing touchdowns in a game by an LSU quarterback.
LSU 42, UAB 17—3rd Quarter
Anthony Jennings is in, and Tiger fans have been excited about this guy. On his second snap he bobbles it and the Tigers now have a 3rd-and-California. Mettenberger back in, completes a pass to Magee and LSU will punt.
Zach Mettenberger is now 14-17 for 253 yards and 4 TDs. He is now tied for the LSU record with 4 passing TDs in one game. #LSUWIN

— LSU Football (@LSUfball) September 8, 2013
LSU 42, UAB 17—3rd Quarter
Not much has changed since the last defensive series. John Chavis must have given the Tigers a nice pep talk because they've clamped down on UAB's offense and the Tigers have allowed just four yards in the second half.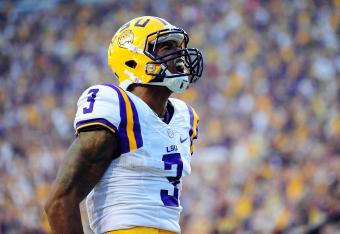 LSU 42, UAB 17—3rd Quarter (12:02)
Mettenberger gets a first down with one of the ugliest quarterback scrambles you'll ever see. He stays in the pocket on the next play and hits Mr. Beckham for another touchdown. Pretty sure Beckham will get some SEC Player of the Week recognition after this performance.
LSU 35, UAB 17—3rd Quarter
Hill carries the ball for a first down and he's getting some love from this crowd. Maybe it was just the third down run, but it looks to me that LSU fans are ready to see more of Hill with the football. Game plan looks to be to pound the rock, run the clock and try to get some momentum in the run game.
LSU 35, UAB 17—3rd Quarter
D.J. Welter has played better in this matchup, although he's still leaps and bounds away from Kevin Minter's production.
Tigers force a 3-and-out on the Blazers' opening offensive possession. LSU needed that following the defensive breakdowns at the end of the half.
WR Jarvis Landry has caught at least 1 TD pass in four straight games and six of his last seven games. #LSUWIN

— Bill Martin (@LSUBillMartin) September 8, 2013
LSU 35, UAB 17—3rd Quarter
Well, folks, we're supposed to have kicked off by now. I'm guessing television is holding us up. Broadcast media...
Lots of chatter that #LSU senior safety Craig "Poppa" Loston has a lower leg injury and might not return to game.

— Dandy Don LSU Sports (@dandydonlsu) September 8, 2013
LSU 35, UAB 17—Halftime
Alright, enough of this cookie chatter. Some serious news developed at halftime. It seems as though Craig Loston suffered a leg injury and may not return in the second half.
At the half: Mettenberger is 13-16-0 for 226 yards & 3 TDs. OBJ has 4 receptions for 109 yards & 2 TDs.

— Dandy Don LSU Sports (@dandydonlsu) September 8, 2013
LSU 35, UAB 17—Halftime
These cookies are the bomb.com.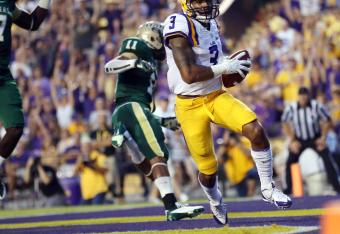 LSU 35, UAB 17—Halftime
Tiger fans remember that there's a football game going on and get "turnt up," as the kids say. UAB elects to kick a field goal, which sends us into halftime.
I'm going to grab some cookies. Heard they have peanut butter...Y'all hang tight for the second half.
LSU 35, UAB 14—2nd Quarter
Give UAB credit. They have some athletes with great speed and athleticism, but their three or four superb athletes are outnumbered by LSU's outstanding 11. So far that's been the tale of the game when the Tigers are on defense.
UAB mounting a drive late in the second quarter and following this timeout, the Blazers will try to complete a 3rd-and-long at LSU's 29-yard line.
LSU 35, UAB 14—2nd Quarter
UAB caught the Tigers napping with an inside run there. LSU was anticipating a play action and had defenders rushing on the outside. Tigers clean it up on the next play by containing Reaves.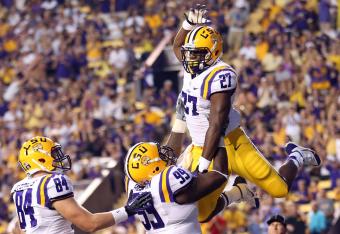 LSU 35, UAB 14—2nd Quarter
Looks like passing up the fast food this summer paid off for Kenny Hilliard on that run. That man's running like he turned down some buttered up homemade food from Momma.
This article is
What is the duplicate article?
Why is this article offensive?
Where is this article plagiarized from?
Why is this article poorly edited?

LSU Football: Like this team?