Ranking the Best Fits for Unsigned Free Agent Brenden Morrow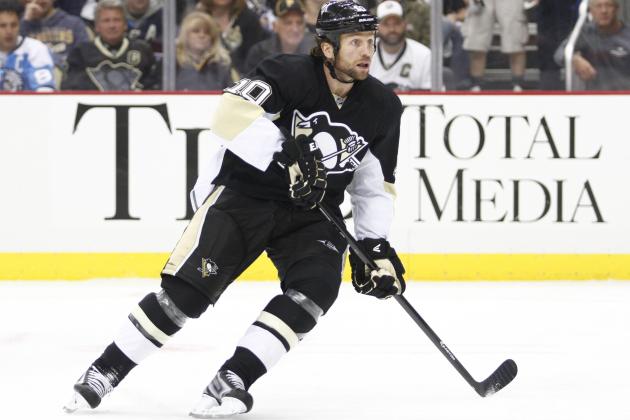 Justin K. Aller/Getty Images

Brenden Morrow is the best free-agent forward available on the open market.
As a quality second or third-line winger with lots of playoff experience and strong leadership skills as a longtime captain, Morrow being unsigned at this juncture of the offseason is a bit surprising.
Not only is the 34-year-old still skilled enough to make a positive impact for a contending team, he's highly motivated to win the first Stanley Cup of his impressive career. Morrow would bring a strong work ethic and level of professionalism to any club he joins.
Training camps will soon begin for NHL teams, so let's look at the four-best fits for Morrow as the offseason comes to a close.
Note: Salary cap information via CapGeek
Begin Slideshow

»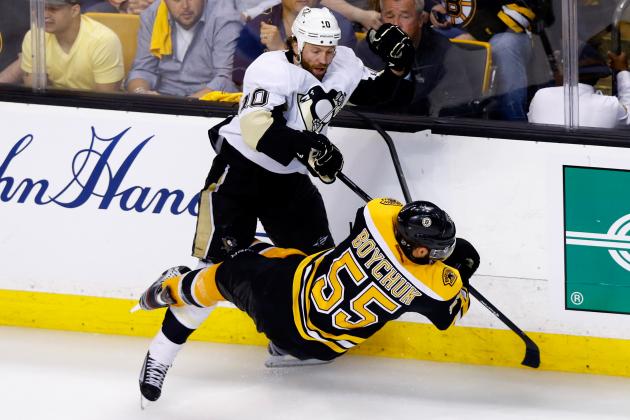 Jared Wickerham/Getty Images

The Boston Bruins' third line was a mess last season, with so many different wingers getting a chance to play alongside veteran center Chris Kelly.
This line, regardless of who played on it, provided very little scoring depth for Boston, which was noticeable in the Stanley Cup Final against the Chicago Blackhawks.
At the moment, the inexperienced Carl Soderberg and former first-round pick Jordan Caron are the likely third-line wingers for the Bruins to start the season, and neither of them are better than Morrow. Soderberg has only six games of regular season NHL experience, and Caron has been unable to earn a meaningful role on this team despite getting many chances over the last three years.
Even if Morrow only provided 35-50 points, he would significantly upgrade the team's third line. His gritty, physical style of play also fits in perfectly with the "Big and Bad" style of the Bruins. He would also transition nicely to Boston's penalty kill, which was the fourth-best unit in the league last year.
The problem with Morrow and the Bruins is that the team is $1,101,310 over the salary cap after a busy offseason. Salary would have to be moved around to fit Morrow onto the team, and that doesn't seem like a realistic possibility right now.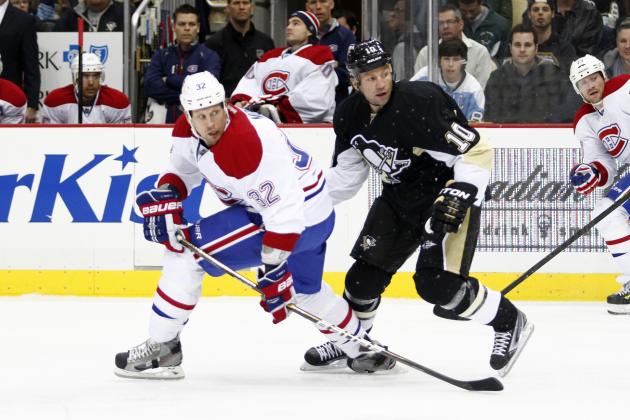 Justin K. Aller/Getty Images

The Canadiens added veteran center Danny Briere in the offseason to provide additional depth and playmaking skill down the middle, but it didn't address the team's lack of size and strength at forward.
Montreal has very few players with the combination of size and offensive skill, which is why Morrow is a good fit for head coach Michel Therrien.
Morrow should be able to give the Canadiens 40-55 points as a second or third-line winger, strong leadership for a young club and the toughness they lack on the wings. The 34-year-old's impressive defensive skills, shot-blocking ability and awareness in his own end would also make him a valuable addition to Montreal's penalty kill, which ranked 23rd in the NHL last season.
Signing the former Dallas Stars captain may be difficult given Montreal's $1,886,667 in salary cap space, but if general manager Marc Bergevin can make it work, finding a spot for Morrow would be a fantastic way for the Original Six club to close the offseason.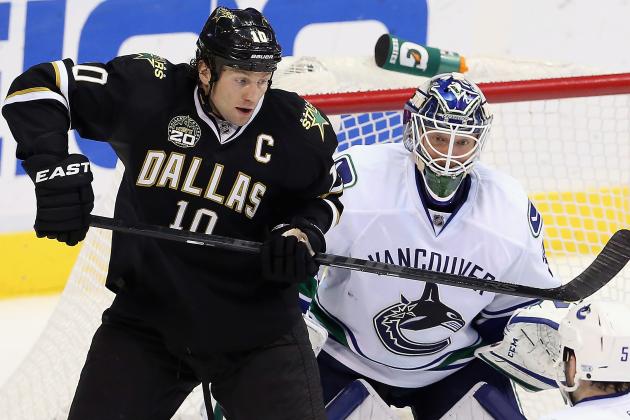 Ronald Martinez/Getty Images

The Vancouver Canucks need to be a more physical and grittier team to get back to the Stanley Cup Final from a Western Conference that includes superior opponents such as the Chicago Blackhawks, Los Angeles Kings and Anaheim Ducks.
Making a move for Morrow, who would provide the Canucks with valuable truculence, leadership and scoring depth, would be a step in the right direction for a team that will likely become a much more defensive-minded group under new head coach John Tortorella.
As a strong penalty killer and someone who's willing to block shots and go to the corners to win puck battles, Morrow is a perfect fit for Tortorella's system. Morrow would also be a much better fit alongside a talented two-way center like Ryan Kesler than current Canucks wingers such as David Booth and Chris Higgins, neither of whom are talented defensively.
Vancouver only has $2,247,222 in salary cap space, but it would likely be able to offer Morrow a second or third-line role and the opportunity to play for a contender in 2013-14.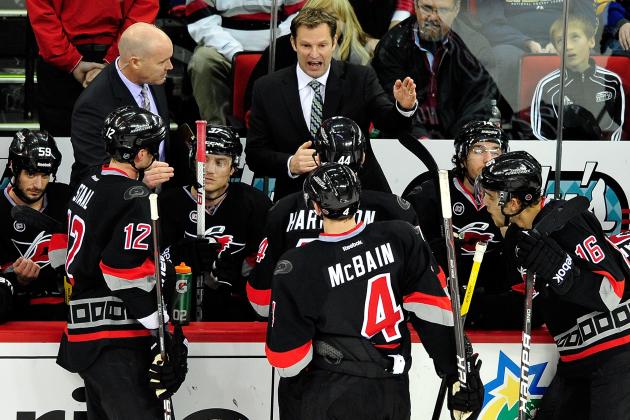 Grant Halverson/Getty Images

Carolina has plenty of two-way ability down the middle thanks to Eric and Jordan Staal, but it lacks this skill set on the wing. Alexander Semin, Tuomo Ruutu and Jeff Skinner are three offensively gifted wingers, but the depth on the wings after this trio is poor.
Adding Morrow to the mix would give the Hurricanes more scoring depth, additional truculence, strong leadership and someone who could make a substantial impact on the league's third-worst power play from last season.
The Hurricanes have spent a lot of money and made some bold moves in the last two years to build a more competitive team. The club's current playoff drought of four years is its longest since the franchise moved to Carolina during the 1997-98 season.
Morrow is the type of player that teams acquire to win now, and on a one-year deal, there wouldn't be much risk in signing the former Stars captain.
At $4,885,000 in salary cap space, the Hurricanes should be able to work out a contract with Morrow if general manager Jim Rutherford thinks the veteran forward would be a good fit.
Nicholas Goss is an NHL columnist at Bleacher Report. He was a credentialed writer at the 2011 and 2013 Stanley Cup Final, the 2012 NHL playoffs and the 2013 NHL draft.