Those who watched Ohio State's 20-point victory over Buffalo last Saturday saw the Buckeyes execute two different offensive styles.
The start of the game featured what most Ohio State fans expected—an up-tempo aerial attack which produced 23 points in just one quarter of play.
When Buffalo cut Ohio State's lead to 10 early in the third quarter, the Buckeyes reverted back to the methodical power run game they leaned on during last year's undefeated season.
Both styles were effective as Ohio State piled up 460 total yards against the Bulls.
Most of the damage was done in the first half, when Braxton Miller completed 13 of 18 passes for 172 yards and two touchdowns. Jordan Hall complemented Miller's passing numbers by rushing for 126 yards and two touchdowns on just 12 carries.
According to Kyle Rowland of ElevenWarriors.com, Urban Meyer was pleased with the fast start and the even faster pace.
I thought they came out of the chute fast. Pretty strong week. Two quick scores. First quarter was script. You can't play much better than our guys did. We're pushing the ball down the field, guys making plays.
On average, Ohio State's four first-half touchdown drives took less than 1:40 of game time.
A near-disaster early in the third quarter forced Ohio State's transition to the power run game.
The Bulls had just cut Ohio State's lead to 10 when Khalil Mack sacked Miller and forced a fumble near the Buckeyes' goal line. Mack, though, was flagged for a personal foul on the play, negating the turnover.
Ohio State answered with a 14-play, 91-yard touchdown drive that effectively ended the game. The Buckeyes ran the ball on 12 of those plays, and the touchdown—a 21-yard pass from Kenny Guiton to Chris Fields—was set up by a perfectly executed play-action fake.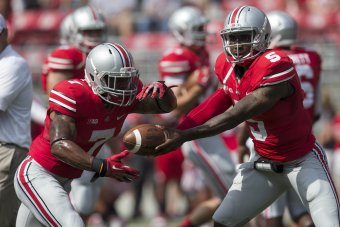 Greg Bartram-USA TODAY Sports
The drive took more than seven minutes off the clock and showed that the Buckeyes are still capable of slowing things down when they need to. Ohio State even accomplished this without the services of bruising running back Carlos Hyde, who is currently serving a three-game suspension.
Ohio State was far from perfect against Buffalo, and even though the Buckeyes struggled at times, Meyer acknowledged that the ceiling for this offense is pretty high.
"When you score 40 points out of almost 460 [yards] or something like that and you're disappointed, that's a good sign," Meyer said, according to Todd Porter of The Canton Repository. " And the bad sign is we've got a long way to go."
Even though Ohio State has a long way to go, it got off to a pretty fast start against the Bulls. And if things get tight along the way, the Buckeyes showed that they still have the ability to flex a little muscle.
All stats via ESPN.com.
David Regimbal is the Ohio State Football Lead Writer for Bleacher Report.
Follow him on Twitter @davidreg412.