Lamar Odom Reportedly Enters Drug and Alcohol Rehab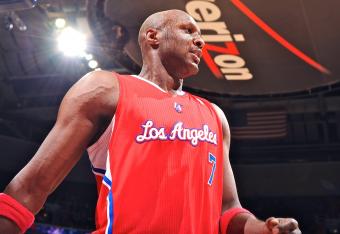 Free-agent NBA forward Lamar Odom has reportedly entered a rehabilitation center for issues relating to drugs and alcohol.
Jennifer Garcia of People magazine broke the news late Wednesday, citing two sources with knowledge of the situation who confirmed Odom had checked himself in. This comes approximately a week after Odom was arrested and charged with DUI in Los Angeles.
TMZ is reporting that Odom has not checked into rehab.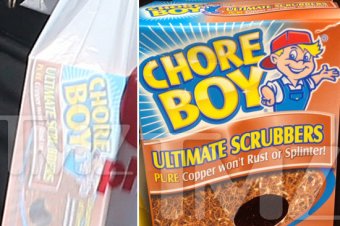 UPDATE: Wednesday, Sept. 11:
From TMZ:
Ominous sign for Lamar Odom's battle with drug addiction—he scooped up a household cleaning product that doubles as a vital part of homemade crack pipes ... and TMZ has the photos.

Lamar and his driver walked out of a San Fernando Valley pharmacy on Tuesday with a bag full of items ... most conspicuously ... Chore Boy copper scrubbing pads.
UPDATE: Friday, Sept. 6:
According to a report from People Magazine, Odom checked himself out of rehab earlier this week:
Lamar Odom checked out of a rehab center Thursday about a day after seeking help for drug problems, sources tell PEOPLE.

The pro basketball player, 32, checked into the drug and alcohol center on Wednesday morning and left Thursday afternoon with an assistant, according to two sources. Odom was later spotted in Los Angeles.
UPDATE: Friday, Sept. 6
From TMZ:
Lamar Odom fell deep into the world of hardcore drugs during a wild summer in Hollywood ... where he spent as much as $1,000 in a single day to fuel his growing addiction to crack, according to sources familiar with the situation.

We're told Lamar's habit picked up speed when he moved out of his home with Khloe Kardashian, and into Hollywood's Roosevelt Hotel with a friend in late May ... after the NBA season ended.

We're told the hotel room was used like a flop house ... where Lamar was surrounded by his pal and seven or eight other drug abusers—strangers—who came in and out of the room throughout the day and night ... for several months straight.

According to sources, Odom was dropping—on average—$800 per day, but sometimes more, for multiple drugs, including crack.

UPDATE: Thursday, Sept. 5
From Natalie Finn of Eonline:
E! News can confirm that Khloé Kardashian Odom's husband is no longer at a treatment facility, barely a day after he opted to check in following his arrest for alleged driving under the influence.
UPDATE: Thursday, Sept. 5
TMZ is disputing the report that Lamar Odom has checked himself into rehab:
There are reports out that Lamar checked himself in ... we've been making calls for the last day and just got what we're told is the definitive word ... he's not there.

Lamar has gone off the radar with the Kardashian family for the last few days. Khloe -- who has made it clear she will end the marriage if he doesn't get help -- has heard nothing from him.


Original Text
"He realized he needs help," said a source.
According to Garcia, Odom's drug use has caused issues with his marriage to reality TV star Khloe Kardashian Odom, who has been focusing on finding help for her husband.
Odom played for the Clippers this past season in all 82 games, but he has seen his play regress significantly over the past two seasons. It began when he requested a trade from the Lakers, who then shipped him to the Dallas Mavericks.
At the time of the deal, Mavs head coach Rick Carlisle said that Odom, Dirk Nowitzki and Shawn Marion may be "the best forward trio" in the league. Unfortunately, it didn't quite pan out that way, as Dallas even sent Odom to the NBA Developmental League at one point.
After being traded and then showing signs of improvement on the court in 2012-13, the Clippers let Odom go as a free agent.
More from Garcia:
[Odom] has admitted to drug use in the past. He violated NBA drug policies twice in eight months back in 2001. [...] Odom's father struggled with heroin addiction, and Odom once wondered if he was "fighting my father's demons."
Odom never quite lived up to the hype after being the No. 4 overall pick in the 1999 NBA draft, but he found his niche as the first man off the bench for the Lakers. He was a key contributor in the franchise's back-to-back championships in 2009 and 2010, and he then won the Sixth Man of the Year award in his final season with the team.
In his prime, the all-around, guard-like skills and athleticism Odom possessed at 6'10" made him one of the more intriguing role players to watch in recent memory.
For his 14-year career, the 33-year-old Odom has averaged 13.3 points, 8.4 rebounds and 3.7 assists per game.
This article is
What is the duplicate article?
Why is this article offensive?
Where is this article plagiarized from?
Why is this article poorly edited?