Comparing Barcelona's Starters to Real Madrid's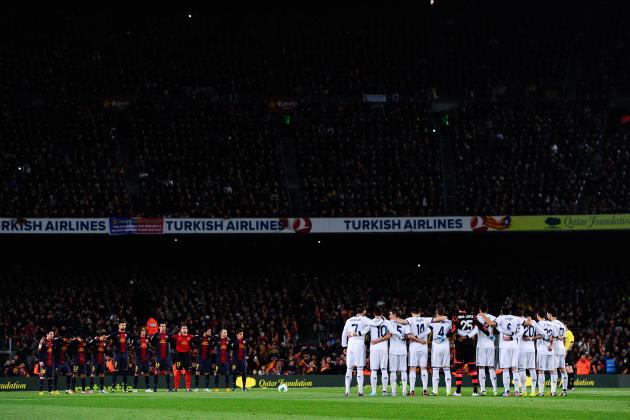 David Ramos/Getty Images

Now that the transfer window has finally slammed shut every fan knows exactly who their team is this season. But for La Liga it all comes down to the big two.
Barcelona and Real Madrid have both seen players come and go and we are all certainly in store for some incredible meetings between the two. But who has the upper hand?
In a recent article I compared the entire squads for Barcelona and Real Madrid, but now I will take a look at just how the starters match up against one another.
So sit back and be ready to be both supportive and surprised at some claims. But always tell me what you think below!
Note that all player statistics are courtesy of Squawka.com
Begin Slideshow

»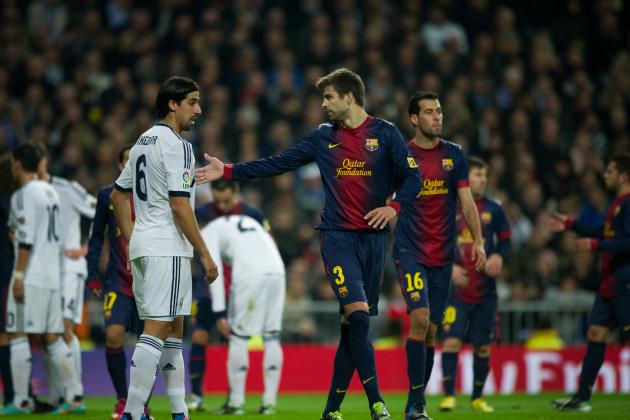 Jasper Juinen/Getty Images

Before we can compare starters we have to have an idea of who those players will be. So let's quickly take a look at the predicted starting lineups for both sides based on how they have played so far this season.
Also note that it is nearly impossible to compare individual players because everyone contributes in a different way and both of these clubs play with a different style and formation.
Because of this we will compare the starters in this way: goalkeepers, full-backs, center-backs, midfielders, wingers and of course the strikers. Now for the predicted lineups.
FC Barcelona Predicted Starting XI
Victor Valdes, Dani Alves, Gerard Pique, Javier Mascherano, Jordi Alba, Sergio Busquets, Xavi, Andres Iniesta, Neymar, Lionel Messi, Alexis Sanchez
Real Madrid Predicted Starting XI
Diego Lopez, Alvaro Arbeloa, Sergio Ramos, Pepe, Marcelo, Sami Khedira, Luka Modric, Isco, Cristiano Ronaldo, Karim Benzema, Gareth Bale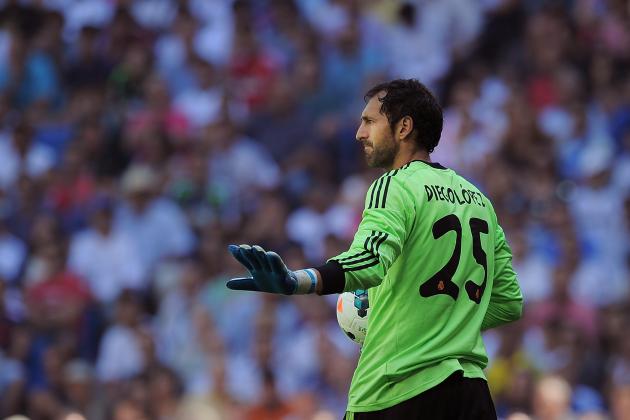 Denis Doyle/Getty Images

When comparing the keepers it all comes down to the battle between Victor Valdes and Diego Lopez. It is very tough to say just who is better but here are the numbers.
So far this season Valdes has been the better of the two by quite a margin.
The Catalan keeper is averaging over three saves per game as opposed to Lopez who usually only makes two stops. Valdes also has one more clean sheet than Lopez but it is too early in the season to read much into that statistic.
Looking back at last season and there isn't that much of a difference.
Lopez was able to earn two clean sheets in 16 La Liga matches while Valdes earned eight in twice as many performances. The Catalan also conceded just over one goal a game while Lopez crept closer to two per match.
When looking merely at the statistics Valdes would win the competition. But as every fan knows, stats can lie.
These do not account for the mistakes Valdes made last season or the heroics of Lopez to keep Real Madrid in several matches.
As a straight comparison there really is no telling who is better out of these two when you look at every factor. But just to go off of current form Valdes would have the slight edge. Valdes has also been in the best form of his career to start the new season.
However, Lopez has to edge out Valdes just barely. Barcelona fans are all too aware of the mistakes that Valdes can make whereas Lopez has been consistently solid.
Gonzalo Arroyo Moreno/Getty Images

This is where things get a bit tricky. We now compare the full-back duo of Dani Alves and Jordi Alba to the Real Madrid pairing of Alvaro Arbeloa and Marcelo.
All four of these players love to get forward and are more wingers than they are defenders. So we will look at both their defensive contribution and their offensive assistance as well.
Marcelo only played in 16 La Liga matches last season but was still able to create 18 chances. He also enjoyed a passing rating of 82 percent but did not contribute heavily to defense.
Arbeloa on the other hand was much more the defender as he won nearly 60 percent of his challenges while still creating 18 chances in 26 matches.
But things were very different for the Barcelona full-backs.
Jordi Alba was able to score two goals and create 19 chances in 29 La Liga matches. However, he made two defensive errors and won just half of his challenges. You have to wonder how much of his offensive contribution cost the defense.
Dani Alves was much the same, but did a better job of making up for his forward runs.
The Brazilian created 44 chances in 30 matches and this season he has already scored a goal. He may have also made two errors in defense but his production at the back was much better than that of Jordi Alba.
Statistically this comparison is air tight. Real Madrid takes the cake. But again stats can lead you astray.
Last season Arbeloa proved over and over again that he is the weak point in the Real Madrid defense. Marcelo has also struggled defensively in recent years while the Barcelona pair does not get many chances to defend.
I'm going to have to give the nod to Dani Alves and Jordi Alba on this one just barely. Their contribution is vital and if they can organize their runs it will be a huge season.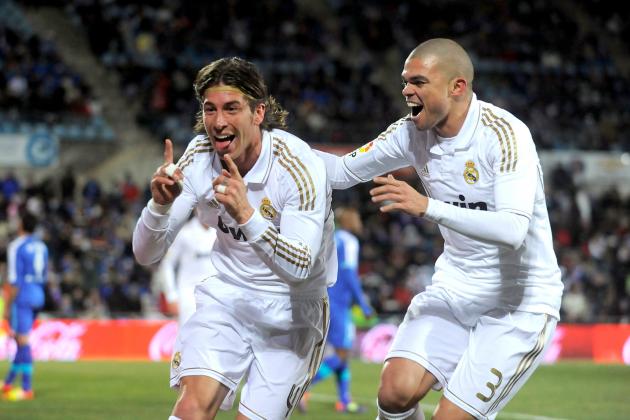 Denis Doyle/Getty Images

As soon as you start to think about comparing Barcelona's center-backs with those of Real Madrid, you already know the outcome if you regularly watch the two play.
Last season Gerard Pique and Javier Mascherano combined to win just 61 percent of challenges with the later pulling the average down quite a bit. But they did average a 90 percent passing rating.
The Barcelona pair both made two defensive errors last season and shared eight yellow cards between them. Both picked up one red card but it was the mistakes that cost them.
Mascherano struggled last season with positioning and it severely cost the defense while Pique struggled for form in general. Luckily both are having a wonderful start to the new season.
However, the Real Madrid pairing of Sergio Ramos and Pepe continues to deliver on a regular basis.
The Madrid pair combined to win over 63 percent of challenges last season. But their passing rating was only 82 percent as they both made two defensive mistakes last year.
But it is what the stats do not say that makes the biggest difference here.
Pepe was on and off last season while Sergio Ramos remained fairly consistent. On the other hand both Pique and Mascherano had disastrous years last season.
If it were up to current form then the Barcelona pair would actually win this comparison. But you can't compare one month of play.
Sergio Ramos and Pepe easily take this one. Barcelona has a lot of work to do on defense.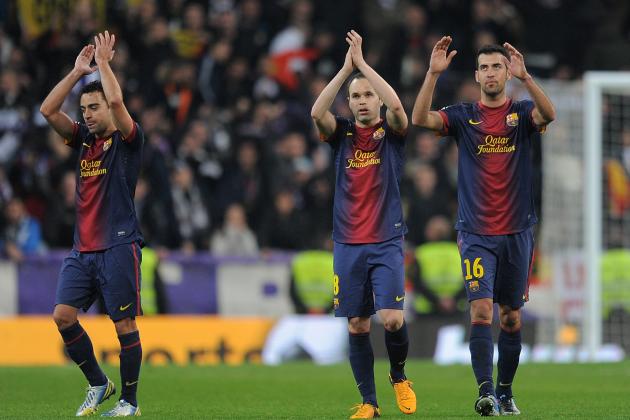 Denis Doyle/Getty Images

The midfield battle will always be a difficult one as both clubs use different formations and play very different styles of football.
When first looking at defensive contribution there is really no comparison between Sergio Busquets and Sami Khedira.
The Catalan midfielder won over 80 percent of his tackles last season while enjoying a very impressive passing rating of 92 percent. Khedira managed to win just 70 percent of his tackles and has a passing rating over 10 percent lower.
Busquets is also able to read the game better than anyone else around. His positioning is flawless and he makes very few mistakes.
If we take a look at the attacking midfielders something very worrying comes to light.
Xavi and Iniesta combined to give 24 assists last season while both had a passing rating over 90 percent. Modric and Isco managed to give just four assists all last season with neither reaching a 90 percent passing rating.
Modric also made several defensive mistakes which will hurt him as he has been featuring as a defensive midfielder as of late.
The Real Madrid pair did score 12 goals between them last season as opposed to eight goals by Xavi and Iniesta. But there is one major concern.
Who is going to create chances for Real Madrid?
Last season Mesut Ozil created 91 chances for Real Madrid giving 13 assists and scoring nine goals. Had he not joined Arsenal this summer this would be a fair fight with no winner.
With assists looking very hard to come by Barcelona's midfielders win this comparison.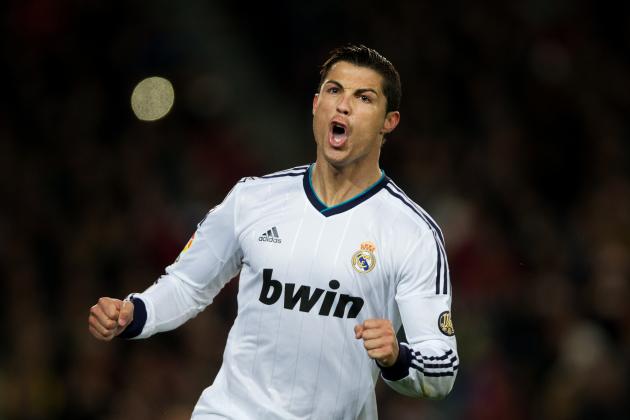 Jasper Juinen/Getty Images

There is a very good chance that either Cristiano Ronaldo or Gareth Bale will feature as Real Madrid's striker, but without knowing exactly what will happen we will keep them at their natural position as wingers.
Neymar is still working to learn the Barcelona way. He may have already scored a decisive goal to win Barcelona the Spanish Supercup but his scoring boots have been laced up well as of yet.
He has already created four chances and given an assist this season enjoying a passing rating of 89 percent. However, Barcelona will want him to score many more goals. He has the ability to do so but he is still learning how things work.
On the other side of the pitch, Alexis Sanchez has been in incredible form since the end of last season. He has been scoring goals, creating chances and contributing heavily to defense.
But when looking at the Real Madrid pairing of Cristiano Ronaldo and Gareth Bale there really is no comparison.
Ronaldo scored 34 goals in La Liga last season while giving 10 assists. That in itself is almost enough to beat out Neymar and Sanchez at this point. But he is not alone.
In England last season Bale scored 21 goals and gave four assists. It is not yet known just how well he will fit into Real Madrid's lineup but you can guarantee he will be a menace against Spanish opponents.
No question, this comparison is easily won by Real Madrid.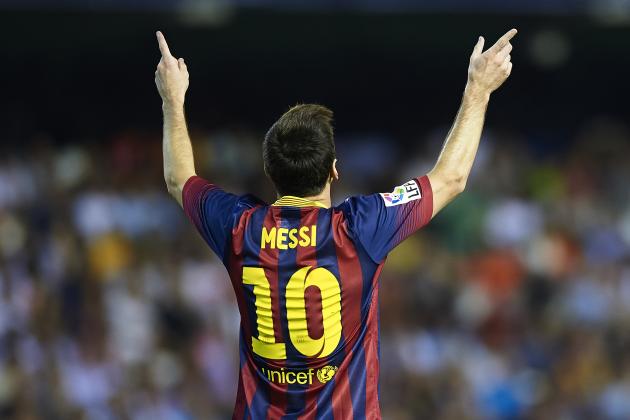 Manuel Queimadelos Alonso/Getty Images

Of all the comparison being made this one is the easiest. Lionel Messi wins this comparison over Karim Benzema in just name alone.
The Barcelona forward scored 46 goals in La Liga last season giving 12 assists in the process. Messi was again the best player on Barcelona's squad last season and rarely lost the ball when in possession.
However, Karim Benzema struggled quite a bit last year.
The French striker managed to score only 11 goals, but did dish out the same amount of assists. However, Benzema did make a few defensive errors and had a rough time finishing off chances.
There are no arguments from anyone on this one. Messi wins this category hands down.
As we compare these players and position we must always realize that this doesn't tell us who the better club is. Football comes down to which team plays the best, not which players do.
So I'm going to leave this up to you guys. You tell me which club you think is stronger this season and be sure to say why. It is a very tough comparison but we are all lucky enough to enjoy watching all of these footballers player this season.
Which club has the better starters? Who will have the most successful season? Anything you would change about these comparisons? Leave your thoughts and comments below!
Tre' Atkinson. Follow me on Twitter for more discussions on both Barcelona and Real Madrid!