MLB Prospects Update: Hottest, Coldest Hitters at Every Minor League Level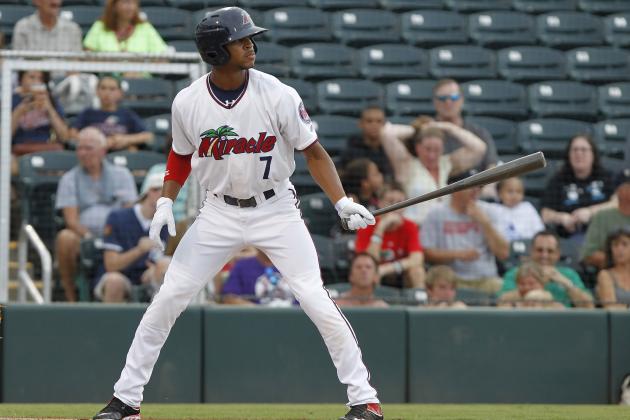 Kim Klement-USA TODAY Sports
Byron Buxton batted .402/.523/.494 with 16 stolen bases and a 16/20 K/BB ratio in 26 games last month.
Sadly, the 2013 Minor League Baseball season is nearing its end. This past weekend marked the conclusion of the regular-season schedule. And for those players on teams that failed to qualify for their respective league's playoffs, it also signified the start of the offseason.
With the first round of the playoffs at each full-season level now underway, we'll do our best to keep you informed over the upcoming weeks of all the notable performances by the game's top prospects.
But for now, it's time to take a look at the hottest and coldest hitters at every minor league level.
Begin Slideshow

»
Hottest (As usual, we're only looking at the hottest hitters at both levels)
Ryan McMahon, 3B, Colorado Rockies
.330/.406/.578, 30 XBH (9 HR), 47 RBI, 57/25 K/BB (56 G)
In my opinion, everything about McMahon suggests he'll play in the major leagues. The 18-year-old is a mature hitter with a solid approach and sound left-handed swing, and he already demonstrates a feel for tapping into his plus raw power. Given his overall consistency at the plate this summer during his pro debut, I'm eager to see how McMahon fares next year at a full-season level.
Christian Arroyo, SS, San Francisco Giants
.326/.388/.511, 47 R, 25 XBH (18 2B), 39 RBI, 32/19 K/BB (45 G)
As was the case with the Royals and Hunter Dozier, the Giants popped Arroyo with their first-round pick in order to save money for their other selections. And just like Dozier, the shortstop has easily surpassed all expectations this summer during his professional debut in the rookie-level Arizona League.
Austin Meadows, OF, Pittsburgh Pirates
.316/.424/.554, 23 XBH (7 HR), 46/29 K/BB (48 G)
The No. 9 overall selection in the 2013 draft, Meadows has both the tools and athleticism to dream on.
His bat was expected to be a work in progress this summer in his professional debut, but that wasn't the case. The 18-year-old quickly emerged as one of the top prospects in the rookie Gulf Coast League and ultimately earned a late-season promotion to the Short-Season New York-Penn League at the end of August. And through his first five games at the new level, Meadows is batting .529 (9-for-17) with two home runs and more walks (five) than strikeouts (four).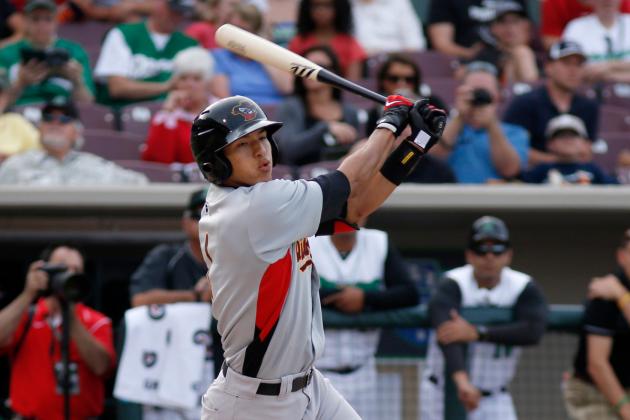 David Kohl-USA TODAY Sports

Hottest
Joey Gallo, 3B, Texas Rangers
.251/.338/.623, 68 XBH (40 HR), 78 RBI, 14 SB, 172/50 K/BB (111 G)
After setting the rookie-level Arizona League home run record last season with 18 in 43 games, Gallo became the first teenager since 1962 to hit 40 home runs in a season. The 19-year-old missed most of July with a strained groin, but he made up for the lost time in August by batting .308/.400/.885 with 12 home runs in 22 games.
Carlos Correa, SS, Houston Astros
.320/.405/.467, 144 H, 45 XBH (9 HR), 86 RBI, 10 SB, 83/58 K/BB (117 G)
Though Correa's performance this season at Low-A Quad Cities was overshadowed by Byron Buxton's rise to stardom, the 19-year-old was impressive in his own right. He showcased a present ability to hit for both average and power against older pitching and demonstrated the type of consistent approach that's a rarity for a player his age.
In general, Correa proved to be more advanced than everyone expected and appears poised for a quick ascent to the major leagues.
Hunter Dozier, SS, Kansas City Royals
.303/.393/.483, 35 XBH (29 2B), 36/36 K/BB (66 G)
People criticized the Royals when they decided to save money for Sean Manaea and went off the board to select Dozier with the No. 8 overall pick. However, after an impressive professional debut between rookie-level Idaho Falls and Low-A Lexington, the 22-year-old is looking like a potential steal.
Coldest
Larry Greene, OF, Philadelphia Phillies
.213/.306/.303, 27 XBH (4 HR), 163/55 K/BB (111 G)
The No. 39 overall pick in the 2011 draft, Greene's full-season debut was a colossal disappointment. The 20-year-old struggled to make consistent contact through the entire year and posted a sub-.200 batting average in three separate months. Meanwhile, the power, which is supposed to be his calling card, was almost nonexistent.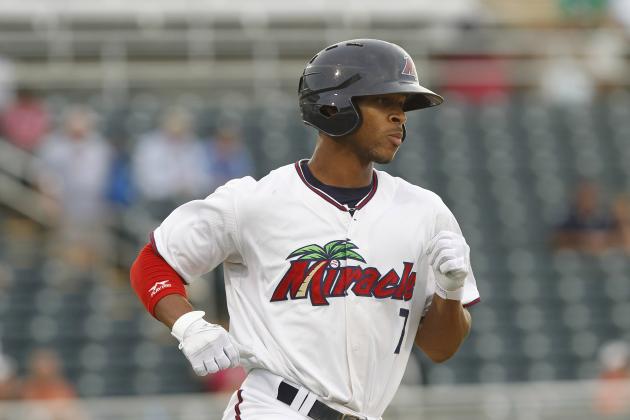 Kim Klement-USA TODAY Sports

Hottest
Byron Buxton, OF, Minnesota Twins
.334/.424/.520, 109 R, 49 XBH (12 HR), 55 SB, 105/76 K/BB (125 G)
Promoted to High-A Fort Myers after taking the Midwest League (Low-A) by storm during the first half of the season, Buxton struggled (at least by his standards) in his first full month at the new level, batting .272/.333/.495 with 28 strikeouts in 24 games. But as we probably should have expected, the 19-year-old closed out the season with an insanely good month of August, hitting .402/.523/.494 with 35 hits, 16 stolen bases and a 16/20 K/BB ratio in 26 games.
Now, feel free to take a minute to clean the drool off your keyboard.
Devon Travis, 2B, Detroit Tigers
.351/.418/.518, 177 H, 48 XBH (16 HR), 22 SB, 64/53 K/BB (132 G)
With Nick Castellanos now in the major leagues, Travis may own the title of the top position prospect in the Tigers' system. Making his full-season debut this year, the 22-year-old raked at both Class-A levels, to the tune of a .962 OPS with 10 home runs in 55 games at High-A Lakeland following a promotion in late June.
Mookie Betts, 2B, Boston Red Sox
.314/.417/.506, 93 R, 55 XBH (15 HR), 38 SB, 56/81 K/BB (127 G)
A fifth-round draft pick in 2011, Betts had outstanding full-season debut this year between both Class-A levels. Besides showcasing arguably the best plate discipline in the low minors, the 20-year-old also collected 55 extra-base hits and 38 stolen bases in 127 games. But despite his overwhelming success this season, I have a feeling he'll enter 2014 as one of baseball's more underrated prospects.
Patrick Kivlehan, 3B, Seattle Mariners
.303/.366/.464, 44 XBH (16 HR), 90 RBI, 15 SB, 107/43 K/BB (128 G)
Kivlehan made a strong impression during his professional debut last summer, posting an .883 OPS with 12 home runs in 72 games for Short-Season Everett. The 23-year-old took a huge step forward in his full-season debut this year by surpassing expectations at both Class-A levels. More specifically, he enjoyed a monster second half following a midseason promotion to High-A High Desert, posting a .914 OPS with 13 home runs in 68 games.
Coldest
Trevor Story, SS, Colorado Rockies
.233/.305/.394, 51 XBH (12 HR), 23 SB, 183/45 K/BB (130 G)
I viewed Story as one of the game's top shortstop prospects heading into the 2013 season. So you can imagine how disappointed I am with his .233 batting average and 183 strikeouts in the hitter-friendly California League. However, the 20-year-old did finish the year on a positive note, batting .294 with 16 extra-base hits over his final 28 games.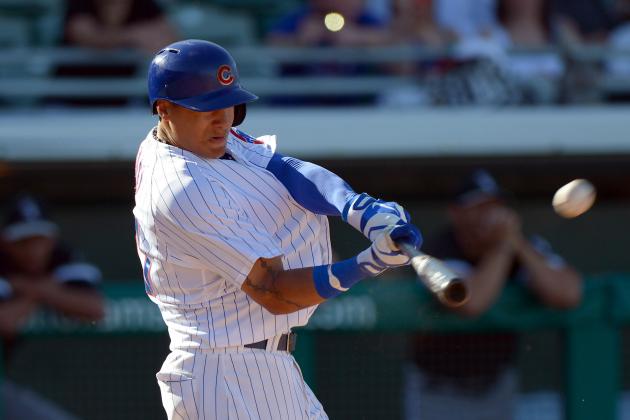 Jake Roth-USA TODAY Sports

Hottest
Javier Baez, SS, Chicago Cubs
.282/.341/.578, 98 R, 75 XBH (37 HR), 111 RBI, 20 SB, 147/40 K/BB (130 G)
Baez got off to a slow start at Double-A Tennessee following a promotion in late June, but he eventually settled in and emerged as one of the hottest hitters in the minor leagues after the All-Star break. In 45 games, the 21-year-old batted .310/.363/.668 with 15 doubles, 17 home runs and 49 RBI. He was especially hot during August, as he posted a 1.059 OPS with 11 doubles and eight home runs in 29 games.
Joc Pederson, OF, Los Angeles Dodgers
.278/.381/.497, 81 R, 49 XBH (22 HR), 31 SB, 114/70 K/BB (123 G)
Fresh off a breakout season at High-A Rancho Cucamonga, there was some doubt as to whether Pederson would offer similar production outside of the hitter-friendly California League. But now, after posting an .878 OPS with 22 home runs and 31 stolen bases in 123 games at Double-A Chattanooga, the 21-year-old outfielder has forced us to reconsider his ceiling. He lacks a clear path to playing time with the Dodgers, but Pederson has the potential to be a solid everyday outfielder in the major leagues.
Maikel Franco, 3B-1B, Philadelphia Phillies
.320/.356/.569, 173 H, 70 XBH (31 HR), 103 RBI, 70/30 K/BB (134 G)
Franco offered a preview of his power last season with a .775 OPS and 14 home runs as a 19-year-old in the Low-A South Atlantic League. This year, however, he emerged as one of the premier sluggers in the minors and, more importantly, demonstrated the ability to make adjustments against advanced pitching.
Franco was shifted from third to first base for the final month of the season, and I wouldn't be surprised if he's developed at the position moving forward. Yes, the move puts more pressure on his bat; but it could also get him to the major leagues by the end of the 2014 season.
Rougned Odor, 2B, Texas Rangers
.305/.365/.474, 156 H, 58 XBH (41 2B), 32 SB, 91/35 K/BB (130 G)
Despite having a name like Rougned Odor, the 19-year-old second baseman has been overshadowed by some of the Rangers' other infield prospects and has flown beneath the radar as a result.
After posting an .822 OPS with 27 steals in 100 games at High-A Myrtle Beach, Odor was promoted to Double-A Frisco in early August. Despite being the third-youngest everyday player at the level, the left-handed hitter didn't skip a beat at the plate, batting .306/.354/.530 with 16 extra-base hits in 30 games.
Coldest
Kaleb Cowart, 3B, Los Angeles Angels
.221/.279/.301, 27 XBH (6 HR), 14 SB, 124/38 K/BB (132 G)
Cowart ranked as the Angels' top prospect heading into the season after an unexpectedly good full-season debut across both Class-A levels in 2012. However, the 21-year-old switch-hitter's struggles at the plate persisted throughout the season, as he failed to bat above .240 in any month. But what I find most concerning is his .202/.263/.277 triple-slash line against right-handed pitching after posting an .828 OPS against it in 2012.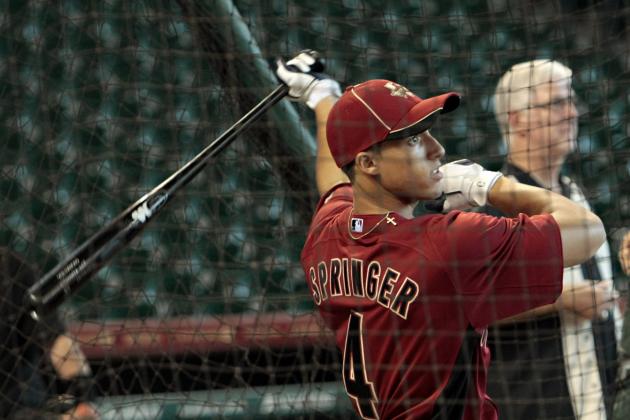 Bob Levey/Getty Images

Hottest
George Springer, OF, Houston Astros
.303/.411/.600, 106 R, 68 XBH (37 HR), 108 RBI, 45 SB, 161/83 K/BB (135 G)
Springer's 2013 season wasn't just good, it was historically good. The 23-year-old had the first 30-home run/30-stolen base season in the minors since 2009 (Grant Desme), and he even made a serious run at the 40-40 club. Springer was sitting on 37 home runs and 41 steals with nine games remaining in the regular season for Triple-A Oklahoma City, but he couldn't come up with three more dingers down the stretch.
While he did strike out 161 times in 135 games, he also improved his walk rate to a career-best (at a full-season level) 14.1 percent. His power and speed will undoubtedly translate in the major leagues, and if the bat is anything close to what it was this season, Springer should become a top-15 overall outfielder.
Kevin Kiermaier, OF, Tampa Bay Rays
.295/.362/.431, 150 H, 42 XBH (15 3B), 21 SB, 87/45 K/BB (136 G)
Kiermaier was one of my favorite sleeper prospects heading into the season. The 23-year-old impressed during his full-season debut in 2011, but he was limited to only 63 games last year after breaking both hands. He has always been a standout defender in center field, and now the bat has caught up in a big way.
Chris Owings, SS, Arizona Diamondbacks
.330/.359/.482, 104 R, 180 H, 51 XBH (12 HR), 81 RBI, 20 SB, 99/22 K/BB (125 G)
Owings, who turned 22 this month, turned in a monster campaign with Triple-A Reno this year after posting a .668 OPS in 69 games at Double-A Mobile during the second half of the 2012 season. And had it not been for the Diamondbacks' acquisition of a pair of shortstops during the offseason (Didi Gregorius and Nick Ahmed), he would have likely opened the 2013 season back at the level.
Instead, Owings ended up leading the Pacific Coast League in runs scored (104), hits (180) and total bases (263) as one of the youngest everyday players at the level. Following in the footsteps of Adam Eaton in 2012, he was named as the PCL's Rookie of the Year and MVP. More importantly, the organization rewarded the 22-year-old for his impressive season with a call-up to the major leagues on Tuesday.
Coldest
Jonathan Singleton, 1B, Houston Astros
.230/.351/.401, 29 XBH (11 HR), 110/59 K/BB (90 G)
Singleton jumped on the fast track to the major leagues last season when he posted an .893 OPS with 21 home runs in 131 games as a 20-year-old in Double-A. Moved up to Triple-A Oklahoma City, everyone (myself included) expected him to put up big numbers in the hitter-friendly Pacific Coast League.
However, Singleton was forced to miss the first 50 games of the season while serving a suspension after a positive test for a drug of abuse (marijuana).
Since his return to action in late May, the 21-year-old made quick work of the Low-A and Double-A levels, but he struggled at Triple-A following a mid-June promotion. In 73 games, he batted just .220/.340/.347 with six home runs and 89 strikeouts in 294 plate appearances. The potential is still there, but it's been a lost year in terms of his overall development.