Ranking Metta World Peace's 15 Best Tweets of the Summer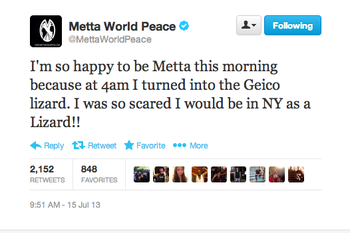 The intellectual in me says Metta was trying to create a modern-day version of Franz Kafka's The Metamorphasis. The biologist in me says Metta doesn't know the difference between a gecko and a lizard.
The realist in me says Metta is insane, or at least forgot to mention that he had a dream.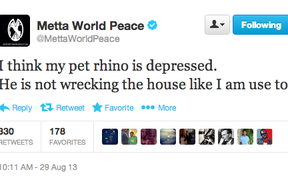 Honestly, owning a rhinoceros is a Grade-A baller move. William Randolph Hearst would be proud.
Of course, if Metta really had a rhino smashing his house down on the daily, he would be in the hospital and the media would make him out to be Siegfried and Roy 2.0.
It's okay Metta, we've all been there. No one can play Jumanji forever.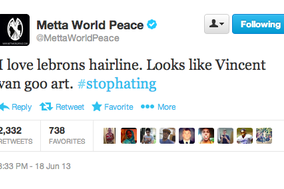 LeBron James has caught plenty of flak for his receding hairline, but he has Metta in his corner. This tweet was sent out when LeBron's balding dome was exposed in "The Headband Game."
LeBron badly wants the Defensive Player of the Year award, and Metta is the only non-big man to win over the last 16 years.
Never mind that Metta made one of history's greatest artists sound like he worked Play-Doh. The tweet was a respectful move from one defensive small forward to another.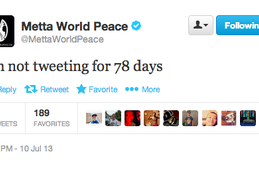 Any guesses how long it took Metta to fire up another tweet? A week? Two days? Four hours?
Nope, Metta shot out another tweet just 51 minutes later saying "Twitter is my stability." If this is stable for Metta, I can't imagine the hilarity/terror of unstable.
He pulls this same stunt all the time, always threatening to become a Twitter quitter. Never in a million years.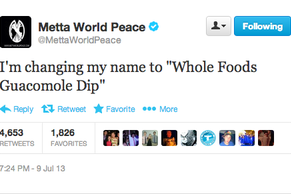 He may be 30 percent body fat, but Metta has a well-professed love for healthy supermarkets like Whole Foods and Trader Joes.
Metta owns a restaurant named "Saladish" in Pasadena, Rancho Palos Verdes and West Covina, and has been known to chow down on vegan snacks.
While Metta revealed plans to change his name again in an interview with Clevver News, he said the back of his jersey would read "World Peace" until retirement. If not "Whole Foods Guacamole Dip," he would have picked Ray Allen's character from He Got Game or "Metta Macchiato."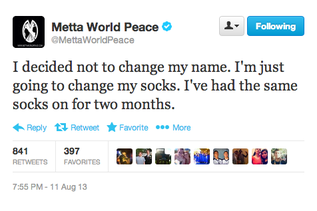 Yeah, that's not any better...
I feel like Metta is the NBA version that one kid in middle school who wore the same stain-covered sweatshirt every day even though his family was loaded.
The man is going to make over $1.5 million this season. Could he really not afford another pair of socks? Think of how appalled Albus Dumbledore would be.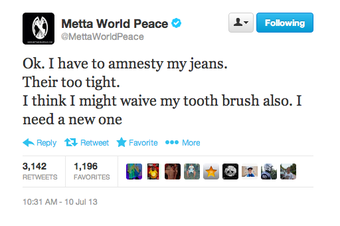 When Metta was amnestied by the Lakers on July 11, he didn't sit around and mope. If Los Angeles was getting rid of him, he would get rid of his possessions.
Metta also spun a tale about his favorite burger joint called "My Favorite Burger" amnestying their whole grain buns. The imaginary restaurant had surpassed their salary cap by signing some lettuce.
Sometimes the truth is stranger than fiction. This is not one of those times.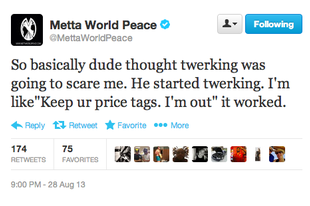 The above tweet is just the end of the story. Uproxx's Brandon Stroud has the full play-by-play.
Metta shattered a glass display case with his elbow, ripped off about 65 deli price tags because he thought they were condescending towards blacks, argued with a one-toothed man over text and stood up to the man's twerking.
After publishing his children's book in June, Metta told more grown-up stories throughout the rest of summer, all of them equally ridiculous.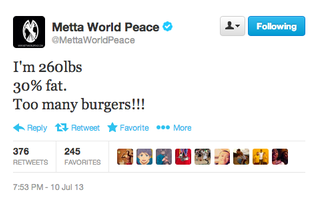 ESPN shows Metta's playing weight is indeed 260 pounds, so he's not making that part up. If his 30 percent body fat is true, he'll be riding the Knicks' bench next season.
BuiltLean's Marc Perry said a male athlete should be 6—13 percent fat. Anything over 25 percent is considered obese.
Metta has posted pictures of him looking toned throughout the summer, so it's safe to assume he was just kidding. Knicks fans who remember the days of Eddy Curry can breath a sigh of relief.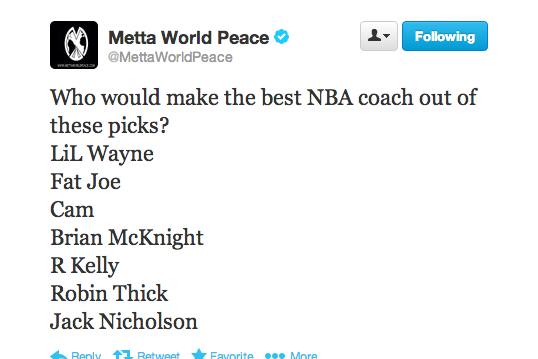 Let's eliminate some guys right off the bat. Fat Joe, Brian McKnight and Cam'ron haven't been big-name artists for a while, though "Terror Squad" is a great nickname for a defense.
Robin Thicke is the hottest name on the list right now, but hiring him as head coach could alienate female fans. Same goes for R. Kelly.
Players wouldn't be able to understand Lil Wayne's instructions, though I would pay to watch him call out plays with Auto-Tune.
The best coach would be the man who doesn't fit in: Jack Nicholson. Metta included the 76-year-old actor because he knows Nicholson has picked up some basketball knowledge from decades of Laker games.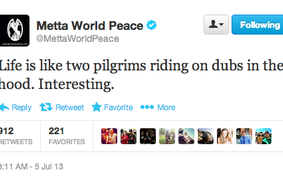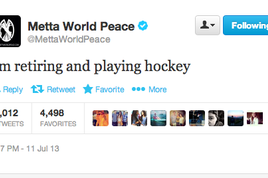 Come to think of it, Metta would actually make a pretty good hockey player when he isn't in the penalty box. He's has a propensity for contact and is used to being his team's goon.
After saying he would join Yao Ming's Shanghai Sharks, Metta clarified that he would stay in Los Angeles and play for the Kings, like how Michael Jordan tried to make it with the Chicago White Sox.
Because Metta World Peace is exactly like Michael Jordan.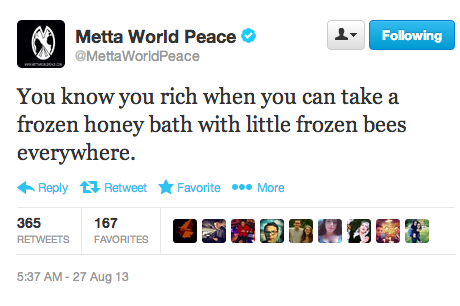 Only peasants think wealth means stacks of cash, houses around the world and garages full of luxury cars. To Metta and GOB Bluth, wealth is measured in honey and bees.
I'm guessing Metta has never actually had a frozen honey bath, because he'd still be stuck in there like Han Solo in carbonite. Getting out of a normal honey bath would be difficult enough, but frozen honey seems nearly impossible.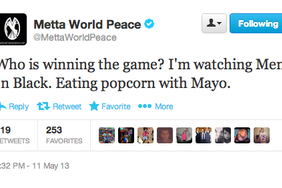 Metta could have theoretically been talking about O.J. Mayo, who played one season at USC. But considering Metta and Mayo have no history and are eight years apart in age, he was probably talking about mayonnaise popcorn.
Whether he used a smartphone or a computer, Metta needed Internet access to send out this tweet. Instead of checking a sports website for the score like a normal person, he had some of his 743,881 followers give him the answers.