Oakland A's Players Who Must Be Let Go This Offseason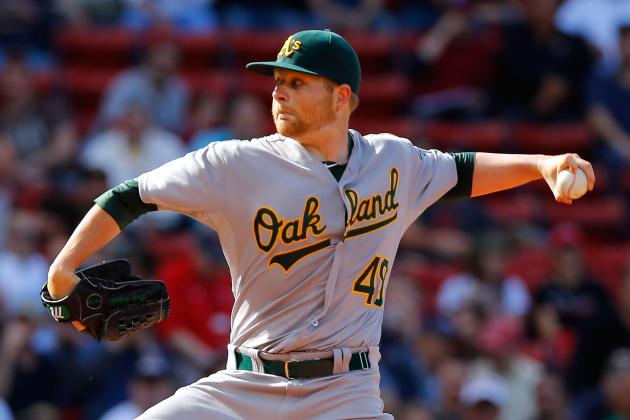 Jared Wickerham/Getty Images
Brett Anderson has missed significant time the last two years.
It's a bit soon to be looking at offseason cuts, but we've seen enough this season to know who the Oakland A's can make the playoffs without. Especially when it comes to next season when nearly everyone will be one year older and cost more money.
This is by no means an article intended to blast the players on this list as horrible human beings that need to be sent off the plank in the middle of the ocean.
It's more so a realistic look at who Oakland can save money on by not bringing back. That saved money, in turn, can go toward deserving extensions or another high-caliber piece to the puzzle.
I'm not Billy Beane, but if I were, I probably wouldn't bring these guys back.
Agree or disagree? Let me know on Twitter.
Begin Slideshow

»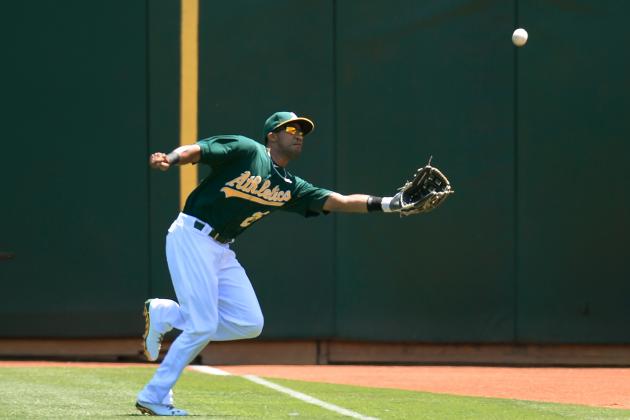 Thearon W. Henderson/Getty Images
Chris Young, one and done.
This one is a no-brainer. Young is the fourth outfielder on the team, he's hitting .192 and he's set to earn
$11 million in 2014. He will also be 30-years-old.
There's a plethora of outfielders that can take over the fourth spot, and any one of them can hit .192 for cheaper.
Michael Taylor has been waiting for a legitimate shot for years. Seth Smith and Brandon Moss are capable of manning a corner spot if needed. Jemile Weeks has taken reps in the Sacramento River Cats' outfield. And there's also Michael Choice, the best choice of them all.
Pay Young $11 million, or buy him out for $1.5 million? This one is too easy.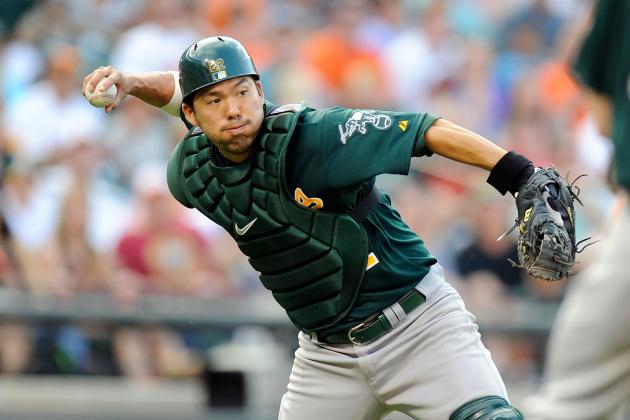 Greg Fiume/Getty Images
It'd be nice to keep him around longer, but not at his price.
I'd actually prefer to keep Suzuki and let go of John Jaso. But I've switched the two for a few reasons.
First, Jaso is younger. Second, he's cheaper. Third, he's likely more willing to platoon than Suzuki, who this offseason plausibly will look for a starting job elsewhere.
Lastly, to keep Suzuki, the A's would have to pay him $8.5 million. Buying him out costs $650,000.
If it cost less to keep Suzuki, I'd be all for keeping him in Oakland.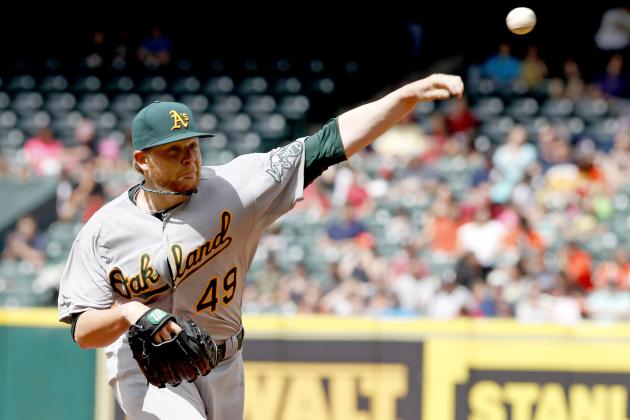 Thomas B. Shea/Getty Images
It may finally be time to let Anderson walk.
This time last year, I wrote about how Oakland could stand to let Brandon McCarthy walk. It wasn't that he lacks talent. He's a very talented pitcher. The team just had other options who were cheaper, younger and just as talented.
Fast forward one year and I can write the same article on Brett Anderson.
He's a great pitcher when he's healthy. But that's when he's healthy. In 2014, the A's will pay him $8 million to hope he can be.
This season, however, the A's have proven they can survive without him. They have several options once again.
Now that Anderson has returned, he's being used out of the bullpen and it's working. It's an intriguing idea to keep Anderson in the pen, just not at $8 million.
A buy out costs $1.5 million.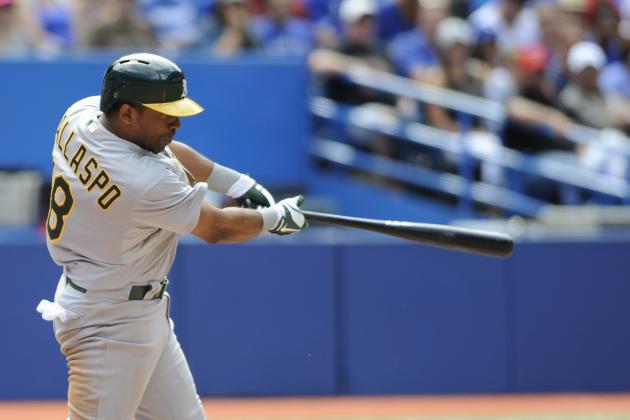 Brad White/Getty Images
Was Callaspo a rental piece?
Callaspo is a 30-year-old, career .273 hitter. That actually isn't all that bad. I just don't see him sticking around in the future plans—especially not for $4.88 million next year.
Again, he's not a terrible hitter and he's not exuberantly expensive. It just doesn't seem to be Oakland's style to keep a guy like Callaspo (age and salary) around more than a year.
Besides, there's other options.
Eric Sogard has done pretty well this season. He may continue to develop as he gains more experience. Hiroyuki Nakajima may finally come around too. Scott Sizemore is returning, and Jemile Weeks may garner one more shot.
Brandon McClintock of
BaySportsNet.com
saw the Callaspo move as a green light for Weeks.



The acquisition of Alberto Callaspo may wind up being the move that prolongs Jemile Weeks' stay with the Oakland Athletics organization.

At 30-years old, though, Callaspo is not the second baseman of the future for the A's, and Sogard, as popular as he has become, really isn't an everyday offensive force at second base either. Weeks, by comparison, still has the ability to be the dynamic player that burst onto the season in 2011 as a rookie. At 26-years old, he's still a year younger than Sogard, and has higher upside than the glasses-wearing fan favorite.



McClintock then added that this is all assuming Weeks isn't traded in the offseason himself, which is a "real possibility."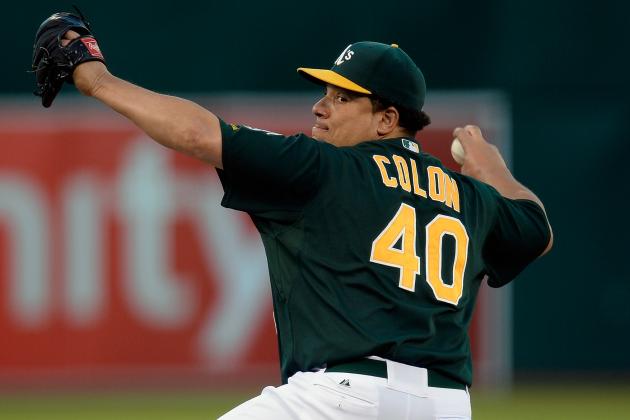 Thearon W. Henderson/Getty Images
41 and slowing down. Is he even worth $1 million?
Colon dazzled at the start of 2013 but has slowly become less and less effective as the year progresses. Next year, he'll be 41 years old.
It's time to get out ahead of a steeper decline.
Look at his latest game logs and it's somewhat alarming. In four starts in August and September, Colon is 0-3 with one no decision. In the span, he's averaged four innings and three runs allowed. Three per game isn't awful. Three per four innings is.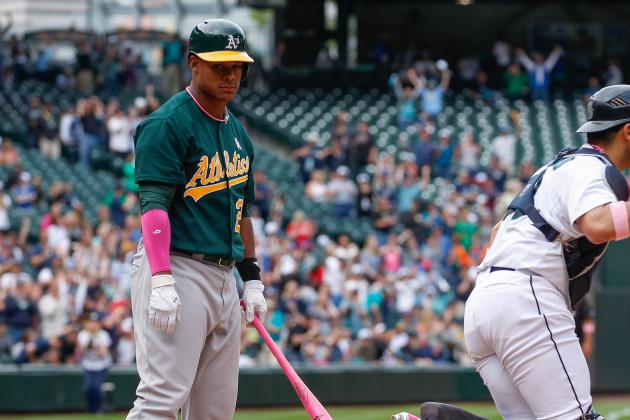 Otto Greule Jr/Getty Images
This sums up Taylor's big-league career.
Michael Taylor is a guy who could definitely leave via trade this offseason. Of course it'd have to be in a package.
Taylor was a once-upon-a-time prospect corner outfielder of the future. Yet, he's been skipped over a few times in the last year or two.
If there truly are no plans for him to be in Oakland's future, he may get flipped ala Chris Carter style.
He's still somewhat young and definitely cheap.
If he stays, many would like to see him as the A's fourth outfielder. But with so many already (Reddick, Cespedes, Crisp, Moss, Choice, Smith) that seems very unlikely.