US Open Tennis 2013 Men's Semifinals: Nadal vs. Gasquet Preview and Prediction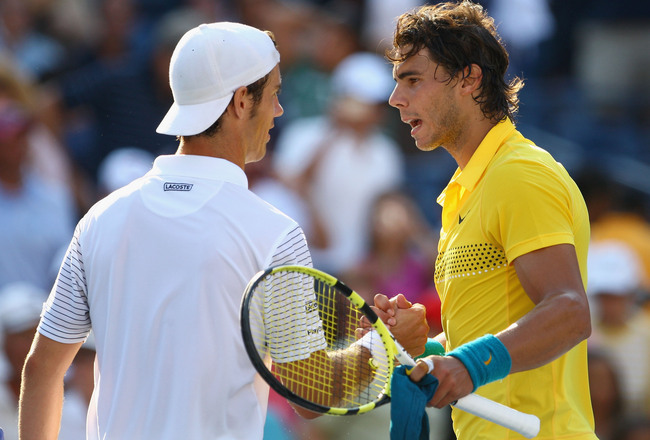 Julian Finney/Getty Images
Rafael Nadal is in the semifinals of the 2013 U.S. Open to nobody's surprise. His opponent Richard Gasquet is a semifinalist for the first time in New York and will be one of the biggest underdogs in tennis history.
While many tennis fans might write off the match as a minor stepping stone for Nadal to reach his third U.S. Open final in four years, there is always the possibility that the veteran Frenchman can pull off the upset.
What must Nadal do to keep his torrid momentum going? Can Gasquet catch lightning in a bottle? The following details what they must do.
Who Has the Historical Edge?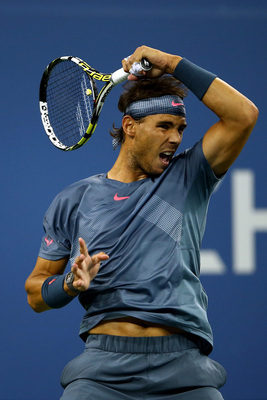 Al Bello/Getty Images
Take a seat and brace yourselves, Richard Gasquet fans. The news is not good. The Frenchman has lost all 10 career matches to Nadal, including all four on hard courts from 2007 to 2009. There is very little optimism to see, no matter how the matches are examined:
Nadal has won 23 of their 27 sets, including 14 sets in a row dating back to Canada in 2008. Two of those lost sets were tiebreakers.
Fortunately for Gasquet, they have not met since the 2011 Davis Cup when Nadal destroyed Gasquet in straight sets including a bagel and breadstick (6-3, 6-0, 6-1).
Though they are only 15 days apart, we have to go back to the last century to find Gasquet's lone success against Nadal. Gasquet recalled in ATP.com that he beat Nadal when they were 13 years old.
What did Gasquet take away from that match? "I told my father after, 'He's a big fighter,'" Gasquet said in this same article in ATP.com.
Gasquet at the US Open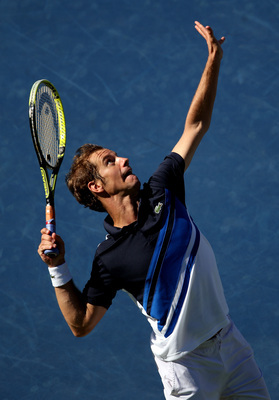 Clive Brunskill/Getty Images
Maybe Richard Gasquet is a miracle worker, but at the least he has survived living on the edge and lived up to our bold prediction. Following his first three matches in which he lost only one set, Gasquet weaved some career-best magic.
He had to take two of three tiebreakers against Milos Raonic in the fourth round, just to get to a fifth set. He also saved a match point. It was a test of wills against his hard-serving, younger opponent.
His quarterfinal opponent David Ferrer has typically outclassed Gasquet in their career achievements with hustle and determination, qualities Gasquet has often lacked. This time around, it was Gasquet who had to show his nerve. He was up two sets before the fatigue became obvious. His conservative play seemed to hope Ferrer would go away, but in the end he held on to win 6-3 in the fifth set.
The key was Gasquet's famous single backhand. He hit it with precision several times down the line when he needed to take chances and gain important points. It coupled with a strong and consistent serve that proved too much for Ferrer.
The encouraging news for Gasquet was getting his second win in 10 matches against Ferrer. Could it catapult him to a bigger upset against Nadal?
Nadal at the US Open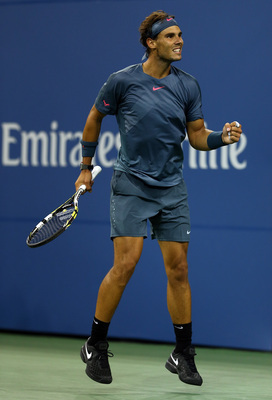 Elsa/Getty Images
If New York was Gotham City, there is no question Nadal is the Dark Knight. His dark, shadowy attire outlines the competitive anger Nadal has played with. If Nadal invented modern tennis intensity, even he is rewriting another chapter.
Case in point, Nadal led quarterfinalist Tommy Robredo 6-0, 2-0 and it looked like Robredo had finally won a game when Nadal pulled an angled shot to the deuce sidelines. Nadal scowled and immediately challenged the out call. He won the point, but it was clear that he was unwilling to concede anything to his fellow Spaniard. He probably felt that he was too soft in coasting to a 6-0, 6-2, 6-2 thrashing.
Nadal's dominance has been so thorough that he has won 15 of 16 sets, dropping only an opening set tiebreaker to Philipp Kohlschreiber.
It's a startling run that continues his unbeaten streak on hard courts in 2013. He is now 20-0 and two wins away from completing the Summer triple crown: Canada, Cincinnati, U.S. Open. Has he ever been better on hard courts?
The Biggest X-Factors
Al Bello/Getty Images
Weather: Any kind of wind, rain or strange occurrences could only help Gasquet if it can ruffle Nadal. It doesn't mean Nadal will lose, but if it upsets his concentration he could be vulnerable.
Energy: To add to Gasquet's difficulties, he must play Nadal after two consecutive five-set matches. It's fortunate he will get an extra day of rest and not play until Saturday, but he will still need to be ready to battle for several hours for a possible win. Nadal should be well rested after cruising through his matches.
Focus: Nobody is better than Nadal at keeping his focus through the twists, turns and cruel vicissitudes of a match, but it's possible to lose this when it's not expected. Three of his last four defeats have been to Lukas Rosol, Horacio Zeballos and Steve Darcis. While each of these can be explained with different sets of variables, Nadal cannot afford to let up for a set or he could find himself in a battle.
Gasquet knows this is now his greatest career opportunity. Will he and his coaches come up with a new plan he can stick to? Will he deviate or panic if things go awry? He must keep his head in the match the whole way, even if things are not going as planned.
Gasquet Will Win the Semifinal If...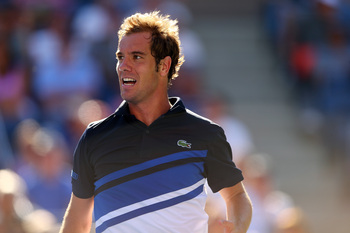 Elsa/Getty Images
Gasquet's best bet in winning the match is if Nadal were to suffer an injury. Nadal did hurt his right knee in the 2010 Australian Open quarterfinals. He pulled out of a semifinal against Andy Murray at Miami in 2012. He also had to bow out of the Paris Masters in 2008 and retire from the first round at Hamburg in 2007.
Barring a Nadal injury, Gasquet simply cannot play back and wait for opportunities. His all-court skills showcase a beautiful backhand and fine, consistent strokes, but without the power and aggressiveness necessary to be a champion. He has so many blades, but no real weapon. It's like trying to use a Swiss Army knife against a sword in hand-to-hand combat.
Gasquet must serve well and be unpredictable. He must not allow Nadal to see too many break points. He must also step in and rip the lines on both sides of the court. It goes against his grain to take the initiative, but he must throw away everything else he has ever tried against Nadal.
An aggressive style would help him lock in with the mental toughness needed for a possible upset. It's unlikely he could be mentally stronger than Nadal, but a hot set could help him ride confidence for a few hours. He will need all the adrenaline and energy he can summon to keep going, and it still likely will not be enough.
Nadal Will Win the Semifinal If...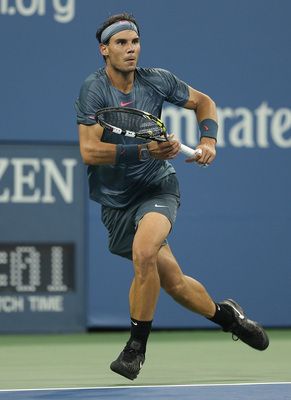 Clive Brunskill/Getty Images
Nadal needs to keep playing as if this were his last match. For him, this is normal. He has played farther back on the baseline in recent matches but has pounced on all opportunities when he can come in and look for a quick kill. His backhand has produced several impressive winners, but his forehand has been a sword of unbreakable Spanish steel.
His serve has been especially impressive. He has held serve all 67 times this tournament with the kind of variety and wizardry that has been different than the big serving blasts he used in the 2010 U.S. Open.
This time around, Nadal is serving at his opponents' bodies, kicking it even wider on the ad court and maintaining a high first-serve percentage. When his opponents take risks on service returns and try to run around the backhand, Nadal is usually uncanny in serving it to the forehand side.
Above all, Nadal is coercing weak replies with this high percentage strategy. It sets up his big forehand and he continues to pound away with winners through hard topspin and flatter blasts to the deuce court. His intensity is branded on every ball.
If Nadal is Nadal, he will win.
Prediction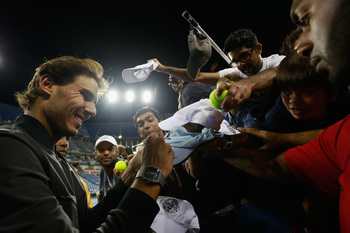 Chris Trotman/Getty Images
This is a David vs. Goliath match. If Gasquet pulls this off, it will rank as one of the the greatest big match victories in the Open era. Usually when champions near Nadal's caliber get this close to a final, they are tougher than ever.
It's possible Gasquet could take one set if he plays nearly flawless, aggressive tennis. It's just that it's so difficult to maintain for three of five sets, and Nadal is playing terrific tennis.
Call this one a straight sets win for Nadal, but with a gallant fight from Gasquet. He just does not have the power and aggressiveness to trouble Nadal unless the Spaniard is uncharacteristically off, which has happened before, but not against Gasquet.
Furthermore, Nadal will want to win comfortably to have plenty of reserve for the U.S. Open final. Often the semifinals are a factor in softening up one of the finalists. On paper, he should have this advantage of not having to battle Novak Djokovic or Andy Murray until the final.
Nadal should be in a good mood to sign autographs on Saturday.
Keep Reading