With a double off Al Alburquerque in the sixth inning, Boston Red Sox DH David Ortiz reached 2,000 career hits with the team's 20-4 shellacking of the Detroit Tigers Wednesday night.
Even better, it happened to come in front of the Fenway Park faithful:
Two-thousand career hits is no small task, but Big Papi is one of those rare few blessed with both power and contact skills.
One of MLB's more beloved players, the accomplishment clearly didn't go unnoticed:
Standing ovation at Fenway Park as David Ortiz celebrates his 2000th career hit. Felicidades, Big Papi. #DETvsBOS

— SportsCenter (@SportsCenter) September 5, 2013
Congrats @davidortiz on his 2000th #MLB hit!!! ⚾ #Papi #baller #RedSox

— Heidi Watney (@HeidiWatney) September 5, 2013
Career hit #2,000 for @davidortiz . Congrats! RT @TomCaron: 2,000!

— Sam Ryan (@SamRyanMLB) September 5, 2013
Congrats to my man @davidortiz on his 2,000 hits! Nice work Big Papi. #keeponkeepingon

— Mike Timlin (@TheMikeTimlin) September 5, 2013
Congrats David Ortiz on 2,000 career hits

— Taylor Munie (@TaylorGang20) September 5, 2013
MY RED SOX ARE CLEANING UP!!! Go, Sox! David Ortiz hit #2000!

— SMcG (@suenomma) September 5, 2013
Reaching the 2,000 milestone was obviously the highlight of the night, but that wasn't Ortiz's entire night. In a September matchup between two of the AL's best, Big Papi was clutch, clubbing two home runs to accompany the RBI double. The home runs happened to be hits No. 1,999 and 2,001.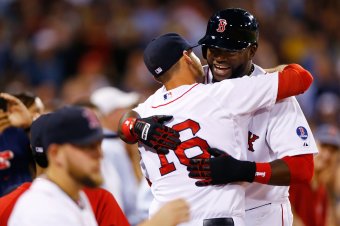 Jared Wickerham/Getty Images
Ortiz has been enjoying a career revitalization of sorts at the age of 37. With his 3-for-5, four RBI performance in the team's historic eight-HR night, it brings Ortiz to 26 home runs in 117 games, to go with his .313 batting average.