What Christian Ponder Must Do to Retain the Starting Quarterback Role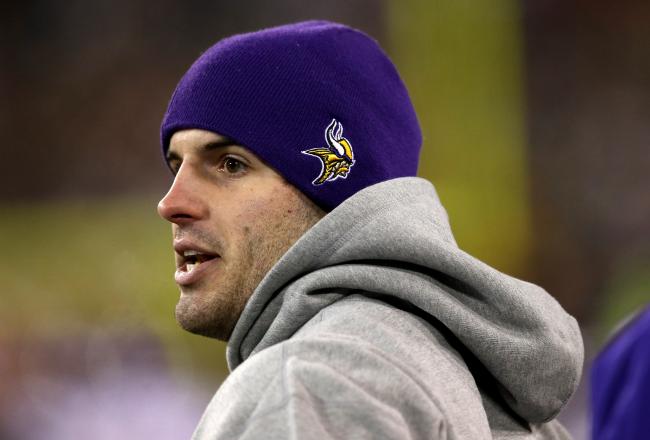 Ponder is capable of being the starter all season long but needs to be smart with the ball and not force plays.
Jonathan Daniel/Getty Images
The Minnesota Vikings are a team that could easily go 10-6 or 6-10 this season. They have a difficult non-conference schedule that has them playing at the New York Giants, Dallas Cowboys, Seattle Seahawks, Baltimore Ravens and Cincinnati Bengals after a Week 5 bye.
The difference between a winning and losing season hinges on Christian Ponder, who has a 12-cylinder offense at his disposal, led by Adrian Peterson.
Ponder is going to have to be Trent Dilfer: spread the ball around, minimize mistakes and hand the ball off frequently. He's going to have to be a game manager.
It's no easy task being an NFL quarterback, however, even if his average pass is a checkdown. There are plenty of linebackers and cornerbacks capable of reading his eyes and taking one back for six.
If Ponder struggles out of the gate, especially against an improved Detroit Lions team in Week 1 and the machine that is the Pittsburgh Steelers in Week 4, the question becomes: How long is his leash?
We're not talking about whether or not Sammy P. will let him hang out with the boys during the bye week. We're asking at what point does coach Leslie Frazier and his staff bench Ponder and turn to Matt Cassel?
Keep in mind that while Cassel struggled as a starter with the Kansas City Chiefs, he was a good system quarterback on a significantly more talented New England Patriots club when Tom Brady was injured in 2008.
The Vikings have a talented enough offense for Cassel to succeed as a plug-in for Ponder. If the former Florida State star wants to keep his job, he must not lock onto one receiver. He must use his tight ends and fullbacks effectively and rely on Minnesota's running game.
Use His Weapons
Hannah Foslien/Getty Images
It's going to be tempting to lock onto Greg Jennings. He is the No. 1 receiver on this club. He was one of Aaron Rodgers' primary targets when he was with the Green Bay Packers and is capable of breaking one loose at any time.
He is also the only proven receiver on the Vikings.
Cordarrelle Patterson possesses incredible natural athleticism and will become a primary target one day, but he only has one year of college under his belt and may have trouble adjusting to NFL defenses only two years removed from junior college play.
Jerome Simpson made a name for himself when he flipped over a defender to score a touchdown as a member of the Cincinnati Bengals, but he still has something to prove as a complete player as he enters his prime.
Jarius Wright and Joe Webb are still young, and the latter was a quarterback last season—a converted quarterback, and it showed, but the backup quarterback nonetheless.
Despite their shortcomings, Ponder is going to have to find a way to get all of his receivers involved this year. If he locks onto Jennings, or a specific route—especially a shorter one over the middle—he will easily be read and find himself in jeopardy of losing his starting job.
A lot of this is on offensive coordinator Bill Musgrave and staff to put him in a position to succeed. But ultimately it comes down to execution, and it comes down to whether Ponder is capable of spreading the ball around when the pocket is collapsing around him.
Tight Ends and Fullbacks are Safety Blankets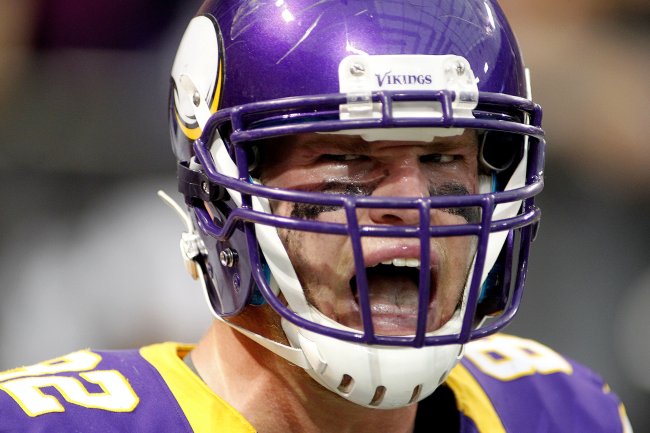 Andy King/Getty Images
It's never a bad idea to toss the ball to Peterson in a pinch. Whether it is a screen pass or a short route, A.D. has the ability to get into the secondary any time he has the football.
The problem with tossing the ball to No. 28 is that defenses always know where he is on the field—or at least in theory they should.
Tight ends and fullbacks kind of hide out in the open, however, and are useful targets for Ponder if he does not want to force the ball downfield.
Nobody expected Zach Line to bust out a 61-yard reception, but the former SMU halfback blasted through two tacklers and found himself in the end zone on what looked like a routine pass.
Granted, that was during the preseason, but fullbacks are sneaky like that. Even if we never see another big-time reception from Line, Rhett Ellison or Jerome Felton when he returns, they could turn what looks like a sack into a first down on a moment's notice.
Tight ends Kyle Rudolph, John Carlson and Ellison (who's more of a tight end than fullback) won't be wandering around in the backfield, at least if they want to keep their jobs, but they also won't be running too many deep routes either.
While they tend not to get drafted early or get a lot of recognition outside of the football cognoscenti, they should get a lot of love in Minnesota this year.
Like many of their colleagues, Kyle Rudolph and John Carlson create matchup problems because they tend to be difficult to cover for linebackers and much larger than cornerbacks.
Linebackers don't always back into pass coverage. When they do, they often struggle to keep up with a fullback barreling down the field. On the other hand, toss a corner on Rudolph and Carlson and they will run them over.
There is no reason for Ponder to force passes down the field or always toss it to a wideout crossing over the middle directly in front of him. He's a cerebral player and knows that. His best option could easily be a tight end, especially if Rudolph and Carlson are health.
There's No Shame in Handing off All the Time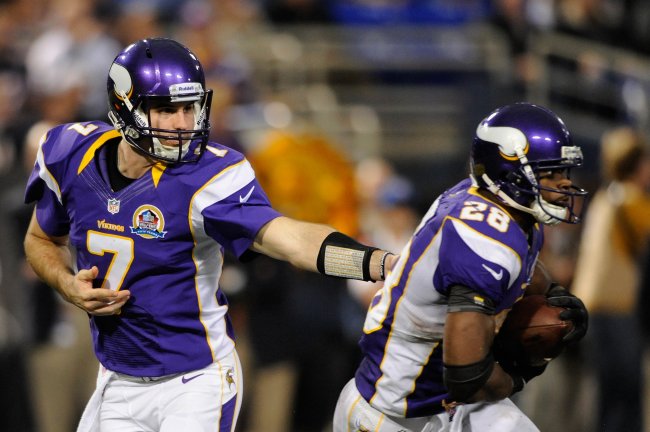 Hannah Foslien/Getty Images
Life gets easier for everyone when Peterson is running the ball.
First of all, this guy goes through nine in a box quicker than Morgan Spurlock at McDonald's. Secondly, because defenses are forced to pack the line, it opens things up in the passing game for Ponder. Finally, it reduces the amount of mistakes Ponder can make—which is the name of the game.
Most of this comes down to how the game is called and, for the most part, it's out of Ponder's hands. If the game plan calls for a lot of passing, he's going to have to pass the ball frequently. If the defense is stopping the run, he's going to have to air it out.
Nobody should freak out about too many running plays. Everyone should know Peterson's game by now: two-yard rush, two-yard rush, three-yard rush and then 78 yards for a touchdown.
He nibbles, nibbles and nibbles before breaking one loose.
As stated earlier, Ponder is a smart player and knows this. He is unlikely to audible out of running plays, but if he does, he will find himself in trouble.
Running will open up the passing game. We all know that if Ponder is unwilling to hand it off all game, Cassel is more than capable of doing so.
Conclusion
By all means, Ponder is capable of playing all year long if he stays healthy. He is a smart player that was talented enough to be chosen in the first round.
Having said that, he also has a capable backup and is playing for a team with high expectations this season. A losing season, no matter how hard the schedule is, will not go over well with Vikings fans this year.
Tom Schreier covers Minnesota sports for Bleacher Report and is a contributor to Yahoo! Sports.
This article is
What is the duplicate article?
Why is this article offensive?
Where is this article plagiarized from?
Why is this article poorly edited?

Minnesota Vikings: Like this team?