UFC: Top 10 Light Heavyweights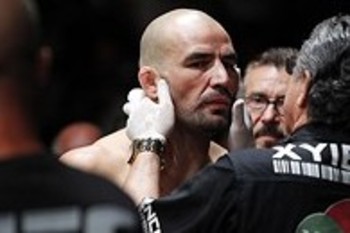 Gary A. Vasquez-USA TODAY Sports
With another big fight at 205 in the books last night, the divisional hierarchy is in need of another shakeup on the rankings sheets. UFC executive Marshall Zalaznik announced at the post-fight press conference that Glover Teixeira's win secured him as the next in line for a fight with champion Jon Jones, who defends against Alex Gustafsson on September 21.
Here's how things look in a division coming off of one big fight and heading into another in a couple of weeks.
*With a fight officially booked at 185 pounds, Lyoto Machida is removed from the light heavyweight rankings.
On the Bubble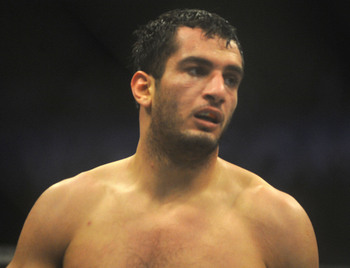 USA TODAY Sports
Gegard Mousasi has all the tools and the pedigree, but only one fight against an unknown opponent since his UFC career began. He could still be only a fight or two from contention when he returns from injury.
Ryan Bader may have proved in his loss to Glover Teixeira that he's never going to be more than a wrestler with raw striking power and little striking technique. The 30-year-old can't seem to get over the hurdle and beat the top guys.
James Te Huna has shown steady improvement to go with sound skills and a scary combination of will and toughness. With a little more evolution and some shoring up of holes in his game, he could be part of the next wave of good 205ers.
10. Thiago Silva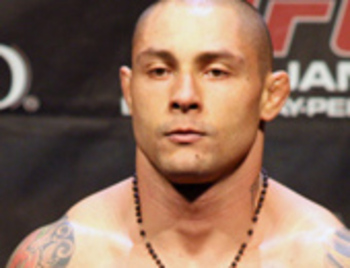 At 15-3 Silva has an impressive record, but with a couple of wins overturned and some close fights against top competition, the life he's made for himself could have been a lot different with a few breaks and better choices.
Still, fresh off his most recent drug suspension and with as violent a win as he's ever had in the UFC over Rafael Cavalcante, the time may be now for the vaunted striker to make his move up the charts.
9. Shogun Rua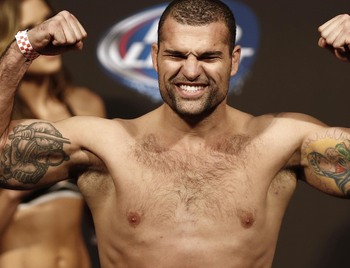 Winslow Townson-USA TODAY Sports
Rua has been an enigma in the UFC, a guy who put together a title run but has still managed to be something of a disappointment. He's been a warrior, a lock to put on a great show and spill a little plasma for the fans, but also a guy that people would love to see get rolling consistently.
Still a lethal striker and more durable than any thousand men walking the street, he's young enough to get back to the top of the heap. If he adds a little more fitness and a little more strategy he could prove to have more in the tank than people realize.
A matchup with Rogerio Nogueira, the man he was originally supposed to face instead of Chael Sonnen, could be the springboard he needs to make that happen.
8. Dan Henderson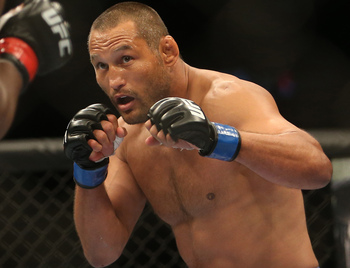 Tom Szczerbowski-USA TODAY Sport
The clock is ticking for Henderson, who may be left to wonder what might have been after he lost a title shot to injury in September 2012. Those gnawing thoughts are likely to be exacerbated by the fact that it's unlikely he'll get back in the mix before age claims his career.
Regardless of where things go from here, Henderson is still a two-division PRIDE champion, a Strikeforce champion, a UFC title challenger and tournament winner, and a guy who would fight anyone at any weight long after such an attitude was the norm.
Nobody in the sport is more decorated.
7. Chael Sonnen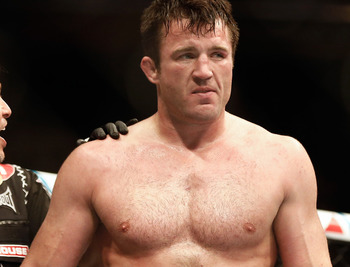 Winslow Townson-USA TODAY Sports
In case you weren't paying attention, since 2009 Sonnen has been absolutely romping anyone not named Jon Jones or Anderson Silva. He may very well be the best guy to never hold a UFC title, and that's saying something considering some of the guys on the roster who could make a similar claim.
Most recently he dispatched of former champion Rua with alarming ease, prompting him to reconsider a return to middleweight and give it a try at 205 a little while longer.
It was announced on UFC Fight Night pre-game show (via MMAFighting.com) that Sonnen will face Rashad Evans at UFC 167 in Las Vegas.
6. Rashad Evans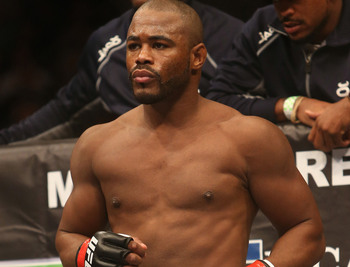 Tom Szczerbowski-USA TODAY Sport
Evans, now splitting time between fighting and television analysis, will be fighting fellow analyst Chael Sonnen at UFC 167. After suffering his first loss outside of a title fight in February, he rebounded to beat Dan Henderson at UFC 161 to move to 17-3-1 in his career.
An athletic wrestler who became a great striker, "Suga" could be looking at his last chance to make a run for gold. He's not getting younger, and the guys coming up aren't getting easier to handle.
5. Antonio Rogerio Nogueira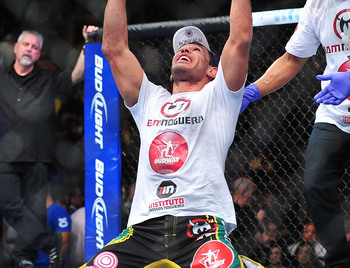 Gary A. Vasquez-USA TODAY Sports
Nogueira has overcome a shaky stretch of losses and near-losses to wrestlers to get things back on track, riding high after a beatdown of Tito Ortiz and a solid win over Rashad Evans in his past two outings.
The Brazilian legend had tried to land a tilt with Shogun Rua, losing the chance to injury at UFC 161. The promotion has hinted that the two may be paired up again in an effort to relive their legendary PRIDE bout from 2005, a bout that Rua won by decision.
Once Lil' Nog is recovered, you'll likely see him trying to keep his momentum going and avenge that loss.
4. Phil Davis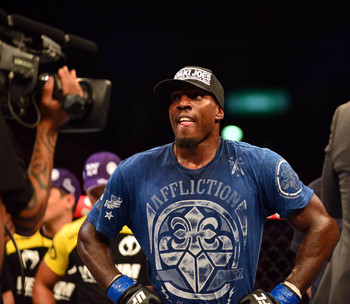 Jason da Silva-USA TODAY Sports
Davis, perhaps in spite of himself, has clawed to the top half of the top 10 after an unconvincing "a win is a win" performance against Lyoto Machida at UFC 163.
The former Nittany Lion has added a respectable striking game to his always formidable wrestling and has matured considerably since he was last derailed on his trip up the rankings by Rashad Evans.
It will only be big fights from here on out for Mr. Wonderful.
3. Glover Teixeira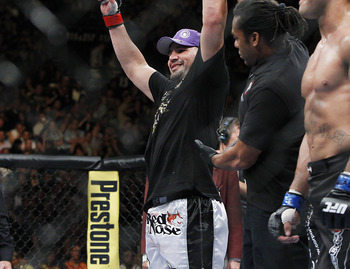 Gary A. Vasquez-USA TODAY Sports
Teixeira did what he was supposed to on a warm Wednesday night in his home country: He smashed Ryan Bader.
Bader looked like he had a game plan early and actually hurt Teixeira a couple of times in frenzied exchanges, but he got overconfident and paid for it with his chin.
Backed by his solid 5-0 UFC record, the Brazilian was named as the next in line to the title after Jon Jones faces Alexander Gustafsson.
2. Alexander Gustafsson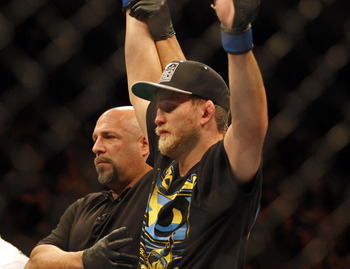 Joe Nicholson-USA TODAY Sports
The next guy to try and wrest the title from the mantel of Jon Jones, he's consistently improved and developed into a solid mixed martial artist. He doesn't, at least on the surface, appear to have much for the champion, but that's why they fight the fights.
He's put down a pretty impressive row of opponents on his march to the title shot, with names like Shogun, Thiago Silva, Matt Hamill and James Te Huna ending up on the wrong side of the ledger against the rangy Swede.
He'll hope to add the biggest notch on his belt yet when he challenges Jones September 21.
1. Jon Jones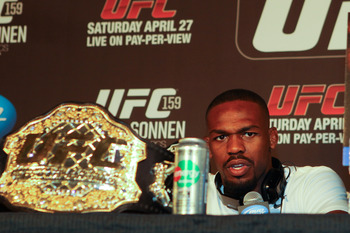 Brad Penner-USA TODAY Sports
It goes without saying that the champion, well on his way to setting a new record for title defenses at 205 pounds, is at the top of the heap. He's, to put it mildly, the baddest man MMA has ever seen in his weight class.
A freak athlete who has never been beaten squarely and has almost as infrequently been even challenged, he's cemented his place with names like Ortiz, Chuck Liddell, and Randy Couture. That's incredible for a man who just turned 26.
He'll look to add to the legacy with a title defense against Alex Gustafsson at UFC 165 in a couple of weeks.
Keep Reading