Teixeira vs. Bader Fight Card: Which Fight Stole the Show at UFC Fight Night 28?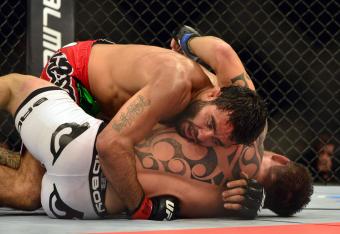 Jason da Silva-USA TODAY Sports
UFC Fight Night 28 promised to bring some awesome fights. It saw some mixed results, even though the main card was enjoyable.
The prelims are supposed to set the tone for the night. Luckily, that was not the case Wednesday night, as the prelims were lackluster, while the main card delivered on all fronts.
The main attraction was a light heavyweight contenders bout between Glover Teixeira and Ryan Bader. The fight was fun while it lasted, as the one-round slugfest saw the Brazilian pummel Bader before referee Herb Dean had to pull him off.
However, it was an earlier main card fight that stole the show in many people's minds. Sure, the top three billings all saw brutal knockouts, but the grappling war with occasional stand-up violence between Rafael Natal and Tor Troeng will be getting the press for being the best bout of the night.
Not many people were expecting the Troeng-Natal bout to be nearly as exciting as it was. Sure, it had a chance of being a solid addition to the night, but not what we got.
Let's start with the non-dominating part of the fight: Troeng's toughness. Multiple times, Troeng was absolutely rocked by Natal and recovered nicely, despite Natal's opportunity to end. He was just too wild on the follow-up punches.
The thing that set the fight apart in my mind, and possibly yours, was the fact that a Brazilian jiu-jitsu black belt in Natal had all he could handle on the ground with Troeng. Most thought that a ground fight would favor the high-level grappler from Brazil, but the Swede put the kibosh on that.
There were some amazing sweeps from both men. The scrambles and transitions made this into an all-out, wild grappling match that had Brazilian fans almost leaping out of their seats through the arena ceiling.
All three rounds were competitive. Even if Natal swept the judges' scorecards, Troeng had him in precarious situations on the ground.
So, even though the most talked about thing of the night will be Joseph Benavidez, Ronaldo Souza and Glover Teixeira possibly notching title shots with their brutal knockouts, let's remember the fight that really got the fans into the event.
It was Troeng vs. Natal, and don't you forget it.
This article is
What is the duplicate article?
Why is this article offensive?
Where is this article plagiarized from?
Why is this article poorly edited?