Frankly, when the New York Giants lost Andre Brown to a knee injury in last Thursday's preseason finale, I did not expect it to change Da'Rel Scott's fate. In his two-year career with the Giants, Scott had carried the ball just 11 times for 25 yards and certainly hadn't stood out in pass protection.
The way I saw it, the Giants still had better third-down options on the roster (veteran Ryan Torain) and on the free-agent market (Michael Turner, Willis McGahee, Jonathan Dwyer, Beanie Wells, Leon Washington).
However, Torain is no longer with the team and the only other halfbacks on the roster, starter David Wilson and third-stringer Michael Cox, have a combined two career starts.
Wilson is a sophomore who needs support carrying the load. Cox is a rookie.
The G-Men did work out Dwyer, Wells and Washington this week, per the Newark Star-Ledger. However, for salary cap purposes, they'll likely wait a week before making any moves—as Bleacher Report correspondent Patricia Traina points out.

For thoses of you crying about signing a RB, the Giants will wait until Week 2 to add any veterans ...

— Patricia Traina (@Patricia_Traina) September 4, 2013
...because if they add them now, their salary counts vs. the cap (of which they don't have much space to begin with) for the entire year.

— Patricia Traina (@Patricia_Traina) September 4, 2013
What that means for Scott is that he'll have a one-night-only audition. If he's successful as the Giants' third-down back and can keep Eli Manning clean and upright in Sunday's regular-season opener against the
Dallas Cowboys
, the Giants might feel comfortable enough to pump the brakes on free-agent considerations. With that being said, a single mistake would probably do him in.
The 2011 seventh-round pick out of Maryland only took 52 preseason snaps, but he was responsible for a sack against third- and fourth-string Jets defenders in the penultimate preseason game: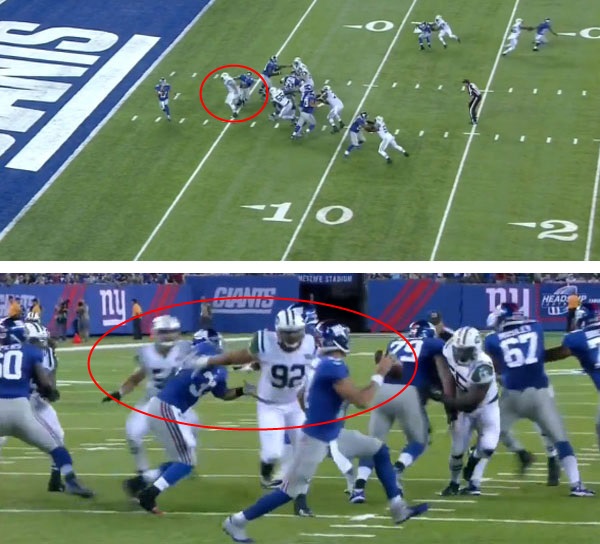 Apart from that, the sample size is limited. Scott has only been tasked with being a pass-protector on three of his 27 career regular-season
NFL
snaps. The 25-year-old isn't particularly big and can be overpowered. He definitely doesn't shy away from taking on defenders as a blocker, but that isn't considered to be a strength of his. He's fast and agile—that's how he's made his money.
Da'Rel Scott's many injuries

| | | |
| --- | --- | --- |
| Date | Injury | Result |
| 2007 | Left knee | Missed most of spring camp |
| 2008 | Ankle | Missed game vs. Georgia Tech |
| 2009 | Sprained knee | Missed spring game |
| 2009 | Broken wrist | Missed five games for Maryland |
| 2011 | Hyperextended knee | Limited in playoffs |
| 2012 | Right knee | Placed on injured reserve |
Washington Times/New York Daily News
A bigger concern could be Scott's durability. In college, he dealt with knee injuries in 2007 and 2009, and he missed the lion's share of the 2012 campaign due to a right knee injury. He's also been hampered by ankle and wrist problems, but the good news is he's healthy now and the above list of free-agent insurance policies isn't likely to dwindle significantly any time soon. So if Scott can step it up early, the Giants can keep rolling while he's healthy.
Scott's primary problem might be that he doesn't offer much of a change of pace. He's similar to Wilson and doesn't bring much more experience or any pass protection prowess to the table. Players can improve and mature and adapt, though, and Scott enters Week 1 of the 2013 regular season with a chance to prove that he has done exactly that.
No pressure, dude.