The wait is over.
NFL kickoff weekend is here, and the league has pulled out all the stops in terms of must-see matchups normally reserved for the final few weeks.
Important divisional battles and potential playoff and Super Bowl scenarios abound in the first week of action.
The entire slate of games is impressive, but the following three could provide some of the best action the NFL will have to offer all season long.
Enjoy.
Week 1 NFL TV Schedule

| | | | |
| --- | --- | --- | --- |
| Away | Home | Time (ET) | TV |
| Thurs., Sept. 5 | | | |
| Baltimore Ravens | Denver Broncos | 8:30 p.m. | NBC |
| Away | Home | Time (ET) | TV |
| Sun., Sept. 8 | | | |
| New England Patriots | Buffalo Bills | 1 p.m. | CBS |
| Seattle Seahawks | Carolina Panthers | 1 p.m. | FOX |
| Cincinnati Bengals | Chicago Bears | 1 p.m. | CBS |
| Miami Dolphins | Cleveland Browns | 1 p.m. | CBS |
| Minnesota Vikings | Detroit Lions | 1 p.m. | FOX |
| Oakland Raiders | Indianapolis Colts | 1 p.m. | CBS |
| Kansas City Chiefs | Jacksonville Jaguars | 1 p.m. | CBS |
| Atlanta Falcons | New Orleans Saints | 1 p.m. | FOX |
| Tampa Bay Buccaneers | New York Jets | 1 p.m. | FOX |
| Tennessee Titans | Pittsburgh Steelers | 1 p.m. | CBS |
| Green Bay Packers | San Francisco 49ers | 4:25 p.m. | FOX |
| Arizona Cardinals | St. Louis Rams | 4:25 p.m. | FOX |
| New York Giants | Dallas Cowboys | 8:30 p.m. | NBC |
| Away | Home | Time (ET) | TV |
| Sun., Sept. 8 | | | |
| Philadelphia Eagles | Washington Redskins | 6:55 p.m. | ESPN |
| Houston Texans | San Diego Chargers | 10:20 p.m. | ESPN |
| Away | Home | Time (ET) | TV |
| Sun., Sept. 8 | | | |
| Philadelphia Eagles | Washington Redskins | 6:55 p.m. | ESPN |
| Houston Texans | San Diego Chargers | 10:20 p.m. | ESPN |
NFL.com
Baltimore Ravens at Denver Broncos
Where: Sports Authority Field, Denver, Colo.
When: Thursday, Sept. 5 at 8:30 p.m. ET
Watch: NBC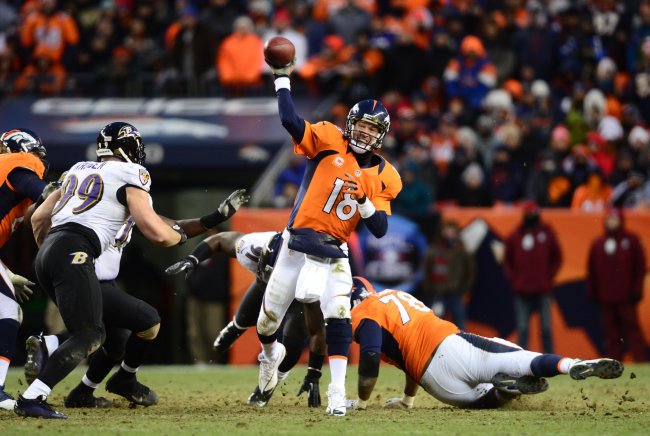 Mark J. Rebilas-USA TODAY Sports
The NFL's reigning Super Bowl champions must open the NFL season on the road against Peyton Manning's Denver Broncos after the league encountered a scheduling issue with the MLB.
The two sides are more than familiar with each other after meeting twice in 2012. Manning led the Broncos to a major victory in Week 15, 34-17, but followed that up with a double-overtime loss at home to the Ravens in the divisional round of the playoffs.
Both teams are intertwined by the now-infamous fax machine error that gave Elvis Dumervil his freedom from Denver in order to join the Ravens.
Manning is seeking revenge for the postseason loss and has a new slot receiver in Wes Welker, formerly of the New England Patriots, to throw to when under duress. On the other hand Baltimore continues to get younger and faster on defense.
Betting against Peyton Manning is a bad move, especially in the regular season at home. Unless Joe Flacco can continue his historic tear from the postseason, Denver should have just enough behind the arm of Manning to scrape by.
Prediction: Broncos 27, Ravens 24
Atlanta Falcons vs. New Orleans Saints
Where: Mercedes Benz Superdome, New Orleans, Lousiana
When: Sunday, Sept. 8 at 1 p.m. ET
Watch: FOX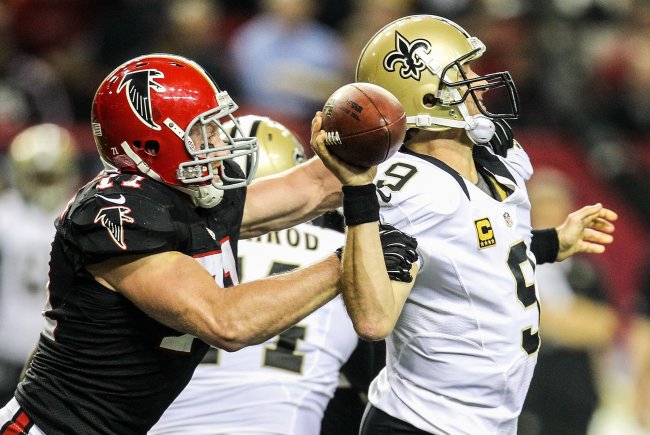 Daniel Shirey-USA TODAY Sports
One of the major storylines of the past decade that has changed the NFL forever was Bountygate in New Orleans.
The Saints are finally free of the punishment and have head coach Sean Payton back in the fold. He joins new defensive coordinator Rob Ryan on a staff determined to not only rebound from the worst statistical defense in NFL history, but to bring the NFC South crown back to New Orleans.
Things are much simpler in Atlanta, as Matt Ryan and Co. finally won a playoff game last postseason.
Not much defense will be on show between these two heated rivals. The NFL as a whole is taking a very offensive-oriented approach, and no two teams better exemplify that trend.
The Falcons have a deadly trio in Julio Jones, Roddy White and Tony Gonzalez, but they finally have a sound running game with Steven Jackson. New Orleans did not do much in the way of adding offensive firepower, but not much was needed with Jimmy Graham, Darren Sproles and Marques Colston in town.
In a division that has never seen a champion repeat, both teams figure to be in the thick of things by the end of the season. To start the season, New Orleans will be tough to overcome at home.
Prediction: Saints 42, Falcons 30
Green Bay Packers at San Francisco 49ers
Where: Candlestick Park, San Francisco, Calif.
When: Sunday, Sept. 8 at 4:25 p.m. ET
Watch: FOX
The rematch of the NFC divisional round from a year ago between the Green Bay Packers and San Francisco 49ers figures to be the most-viewed contest of opening week.
Aaron Rodgers and the Packers had absolutely no answer for Colin Kaepernick's 444 total yards of offense last postseason as the 49ers brutalized Green Bay to the tune of 45-31.
San Francisco continues to be one of the deeper teams in the NFL and stockpiled even more young talent across the board this offseason, but the loss of starting safety Dashon Goldson to free agency could hurt.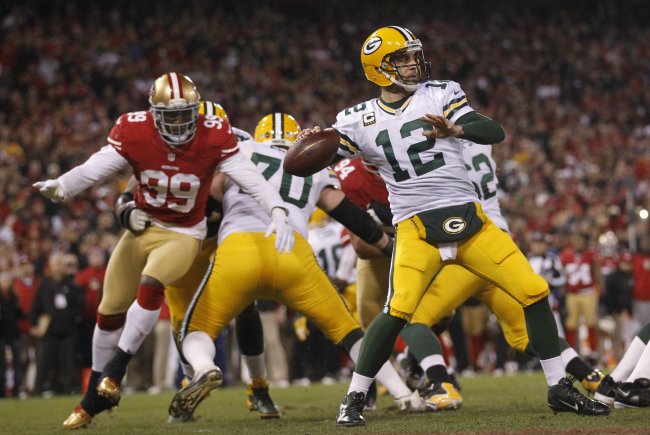 Cary Edmondson-USA TODAY Sports
Meanwhile Green Bay has been studying the defeat all offseason in preparation for a stab at revenge. Rookie running back Eddie Lacy figures to play a prominent role in the outcome as he sees wide-open running lanes with the 49ers transfixed on Rodgers and his weapons.
Rodgers can and will pick apart the secondary, especially with additional help on the ground. Expect another high-scoring affair and Green Bay ultimately extracting some semblance of revenge in the opener on the road.
Prediction: Packers 38, 49ers 30
Follow B/R's Chris Roling on Twitter for more news and analysis @Chris_Roling