UFC Fight Night 28: The Real Winners and Losers from Teixeira vs. Bader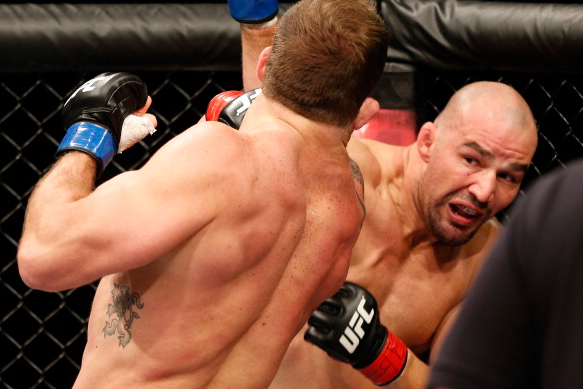 Jason Silva-USA TODAY Sports
Photo by Josh Hedges/Zuffa LLC/Zuffa LLC via Getty Images
The undercard may not have been much more than a collection of local prospects and journeymen, but when the time came to shine on the main card, UFC Fight Night 28 delivered in a major way. Not only did Glover Teixeira stake his claim to a UFC light heavyweight title shot, but Joseph Benavidez and Ronaldo Souza made their own cases for divisional glory.
Teixeira is one of the most hyped newcomers in ages. At first, the praise heaped on him seemed outlandish and ridiculous. But with each impressive win, like his first-round stoppage over Ryan Bader here, it feels more and more justified. Teixeira is for real.
Despite a slow start, this ended up being a good night of fights, one in which even some of the losers were winners in a major way. Who were the winners and who were the losers, on paper as well as in our hearts? Click on to find out.
Have some winners and losers of your own? Let us know in the comments.
Begin Slideshow

»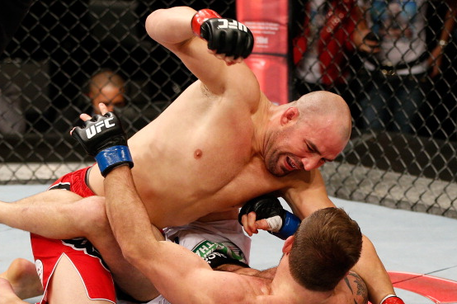 Photo by Josh Hedges/Zuffa LLC/Zuffa LLC via Getty Images
It would have been hard for Glover Teixeira to live up to all the hype. At this point, he's been built up as a super soldier of sorts, created in a lab with the DNA of Chuck Liddell, Royce Gracie and Mike Tyson.
Only a fighter with that kind of marketing behind him could possibly be "disappointing" after a first-round win over a tough opponent like Ryan Bader. But Teixeira is that fighter—and even he's bought into the hype. He expected more than an impressive win. He expected perfection.
That kind of attitude can do one of two things. It can either make a fighter tentative, concerned about not fighting to his potential or, and I expect this to be the case with Glover, it can drive him to greatness. We'll know which is the case soon enough.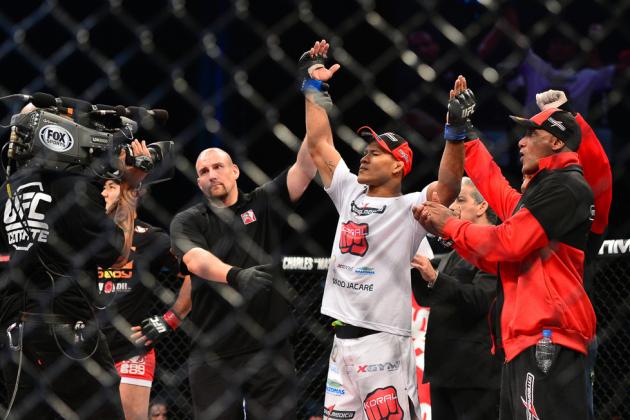 Jason Silva-USA TODAY Sports

You wouldn't believe it from his incredible knockout of perennial middleweight contender Yushin Okami, but Ronaldo "Jacare" Souza is not a striker. In fact, this was only the second knockout win in a career that has spanned almost a decade.
By trade, Souza is a grappler, a jiu jitsu player with 14 submission wins on his resume. If he can consistently add power striking to his skill set, you're suddenly looking at a title contender who will make anyone in the world tremble a little in their private moments. He's potentially that good.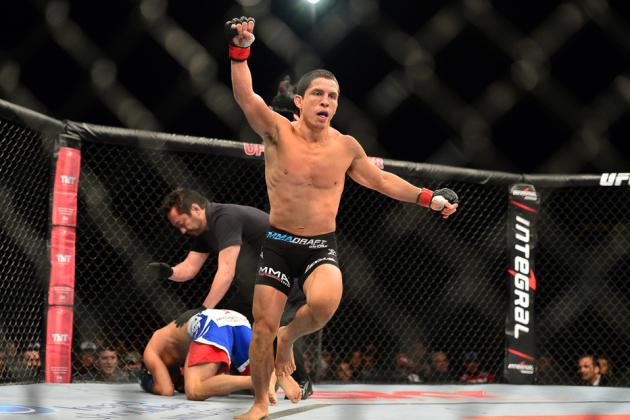 Jason Silva-USA TODAY Sports

If you ignore contextual clues, like the Brazilian translator appearing to be Manute Bol-sized or the cage looking unusually huge, you'd never guess that Joseph Benavidez stands just 5'4" and weighs a scant 125 pounds.
A man that small simply isn't supposed to pack such a large wallop. But, there's Benavidez, landing a brutal knee to the body of Jussier Formiga and ending his fight with a bang for the second bout in a row.
It's clear at this point that Benavidez is at the very least the second-best flyweight in the promotion. Matching him with anyone but champion Demetrious Johnson seems like a waste of everyone's time.
It's an easy decision—or would be if Johnson hadn't beaten Benavidez to win the title less than a year ago. That may cause the UFC to drag its feet in booking this obvious bout.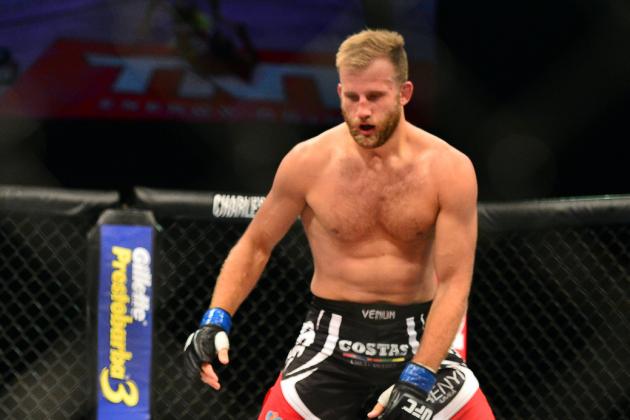 Jason Silva-USA TODAY Sports

Technically, Tor Troeng wasn't the "winner." Middleweight sensation Rafael "Sapo" Natal, a big betting favorite, had his hand raised as expected.
Natal was fighting in his hometown and Troeng was brought in as a sacrificial lamb. But he sure didn't make it easy on Natal. Over and over again, Natal had Troeng in trouble. And, over and over again, Troeng weathered the storm.
In the second round, Natal connected with a disturbingly hard right hand. Troeng got his wits about him, survived and even reversed position.
In the third round, Natal locked in a tight guillotine choke. Troeng, however, refused to yield, giving the referee a big thumbs up to indicate he was doing just fine.
The outcome was never really in question. But, by constantly fighting and struggling for position, Troeng made Natal engage in intense battle for all 15 minutes—and raised his own stock significantly even in defeat. Moxie will win you plenty of fans in the UFC. And Troeng has it in spades.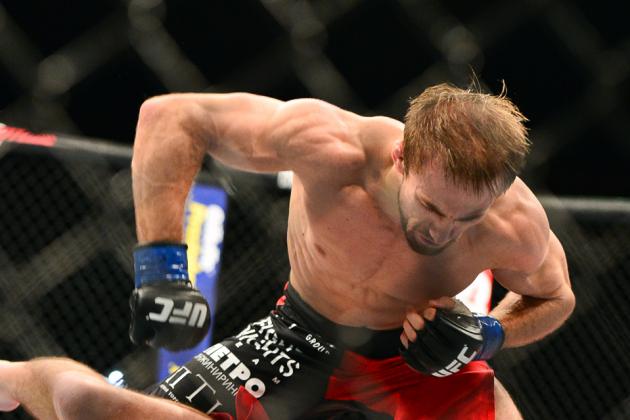 Jason Silva-USA TODAY Sports

After three grueling rounds, Ali Bagautinov finally put the stamp on Marcos Vinicius, knocking him silly with a right hand that belied Ali's meager 125 pounds. In the United States, a punch like that would have been met with oohs and aahs.
This fight, however was in Brazil. Vinicius is a local. Ali is Russian. Thus, his victory was met with a stony silence—until he tried a celebratory flip and landed right on his face. Then, and only then, did the fans erupt into cheers.
Are Brazilian fans xenophobic?
You bet. But hilariously so. Never change, Brazilian fight fans. Never change.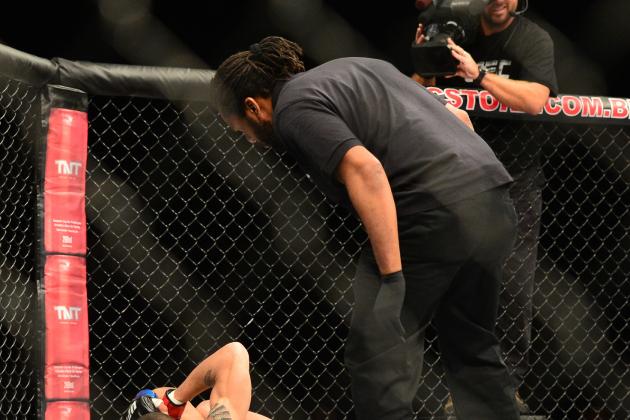 Jason Silva-USA TODAY Sports

If you are a UFC fan and also gainfully employed, this undercard was far from ideal. An early start time, designed to allow for the debut of The Ultimate Fighter on prime time, left many fans unable to watch the early bouts.
Not that they were missing much.
The first eight fighters on the card, combined, accounted for a single career UFC win. The result was tepid and slightly below-par action across the board, with only Lucas Martins, who submitted Ramiro Hernandez in the first round, standing out.
As the UFC has expanded this year, the fight cards have taken an overall hit when it comes to fighter quality. But this? This was a true low point. It can't help but get better from here.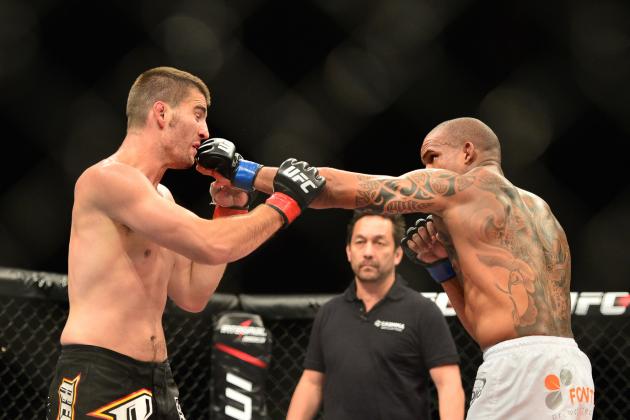 Jason Silva-USA TODAY Sports

Glover Teixeira def. Ryan Bader, TKO (Round 1, 2:55)
Jacare Souza def. Yushin Okami, TKO (Round 1, 2:47)
Joseph Benavidez def. Jussier "Formiga" da Silva, TKO (Round 1, 3:07)
Piotr Hallmann def. Francisco Trinaldo, submission (Round 2, 3:50)
Rafael Natal def. Tor Troeng, unanimous decision (30-27, 29-28, 30-27)
Edimilson Souza def. Felipe Arantes,, split decision (28-29, 29-28, 29-28)
Lucas Martins def. Ramiro Hernandez, submission (Round 1, 1:10)
Elias Silverio def. Joao Zeferino, unanimous decision (30-27, 30-27, 29-28)
Ivan Jorge def. Keith Wisniewski, unanimous decision (29-28, 29-28, 30-27)
Sean Spencer def. Yuri Villefort, split decision (30-27, 28-29, 29-28)