Wisconsin Football: 5 Ways the Badgers Defense Looks Different in 2013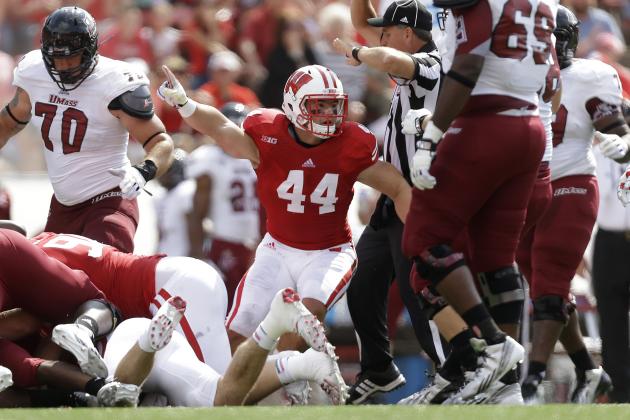 Mike McGinnis/Getty Images

For all the hype about Wisconsin football wanting to implement a read-option this season, the Badgers offense looked like a mirror image of years past. It pounded the rock, took its shots down field and didn't have any designed plays that got the quarterback on the move.
The defense, on the other hand, was a completely different story.
Defensive coordinator Dave Aranda was licking his chops prior to Wisconsin's opener, just waiting to unleash what he had concocted during the offseason. He was like a mad scientist, and he and Andersen's ingenuity shined against Massachusetts as the Badgers shut out the Minutemen.
From Wisconsin's perspective, it was really a joy to watch. The Badgers defense is all sorts of different in 2013, but there are five changes that caught our attention following their Week 1 demolition of UMass.
Begin Slideshow

»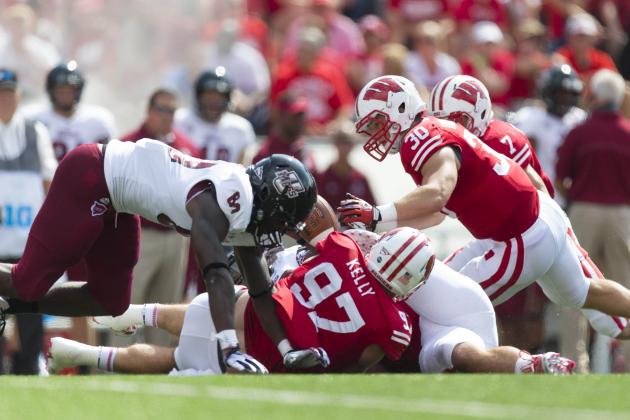 Jeff Hanisch-USA TODAY Sports

The most obvious change that anyone who followed Wisconsin football this offseason saw coming, the Badgers changed the very core of their defense, switching from a 4-3 base to a 3-4. Instead of having four down linemen and three linebackers, Wisconsin flip-flopped the number of personnel at each level of its front seven.
This formation is meant to free up the linebackers while defensive linemen look to take on as many blockers as possible. And as Aranda put it, he would like his safeties to play like outside linebackers and roam near the line of scrimmage at times. Blitzing from the secondary is also something fans should become accustomed to under Aranda.
While the Badgers' primary defense will now be the 3-4, that doesn't mean we won't see any 4-3 this season. That means Brendan Kelly will at times move back to his original position of defensive end with the same personnel on the field, something we saw on occasion against UMass.
Anyone concerned about any transition issues the Badgers may have should worry no more, as Wisconsin looked comfortable in its new base defense in Week 1.
Jeff Hanisch-USA TODAY Sports

Perhaps the most interesting twist during Wisconsin's game against UMass was when Aranda sent out five linebackers onto the field at the same time.
This five-linebacker front, which occurred on multiple occasions, consisted of the Badger linebackers all standing up and shifting just before the ball was snapped. While it didn't produce any sacks—Wisconsin failed to bring down the quarterback all afternoon—it still managed to get pressure on the quarterback and was something we've probably never seen at Madison.
It was a transcendent formation, and it might be just the tip of the iceberg when it comes to new wrinkles Aranda inserts into his defense. With inside linebacker Derek Landisch out against Tennessee Tech with a foot injury, via Tom Mulhern of the Wisconsin State Journal, Aranda may be hesitant to get too tricky, but then again, it is Tennessee Tech.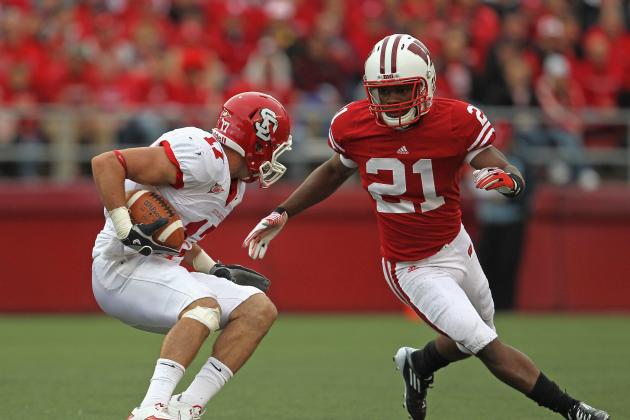 Jonathan Daniel/Getty Images

When Wisconsin's Week 1 depth chart was released, cornerbacks Sojourn Shelton, Peniel Jean and Darius Hillary were all listed as starters, with Hillary being the nickel corner.
This drew the attention of onlookers, as it appeared Shelton earned a starting position over Hillary since the nickle package isn't Wisconsin's base defense. However, Andersen said that all three were starters because the Badgers would be playing a lot of nickel.
He was right, as each corner saw plenty of the field against the Minutemen. The nickel package was one of three basic formations Wisconsin used along with the base 3-4 defense and the 4-3 when Kelly would line up at defensive end.
In the nickel, the Badgers only used two down linemen, something we've seen from the NFL's Green Bay Packers at times. Clearly, the trio of Shelton, Jean and Hillary was effective, as UMass only averaged 3.7 yards per pass attempt while completing under 50 percent of its passes.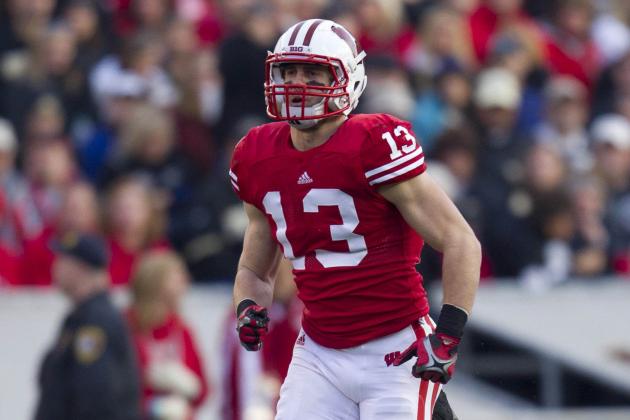 Jeff Hanisch-USA TODAY Sports

Way more substituting.
Wisconsin swapped players early and often against the Minutemen, another promise Andersen made leading up to the opener. Typically in a 3-4 defense, this is common, especially on the defensive line in order to keep players fresh.
As was to be expected, the Badgers put in plenty of second-stringers in the second half once the game was no longer in doubt, but even before then, we saw backups like Warren Herring, Tyler Dippel, Michael Trotter, Conor O'Neill and Joe Schobert get into the game.
Andersen and Aranda clearly feel comfortable with the depth on defense, and while the massive increase in substituting compared to last season may have had something to do with the level of competition, this will remain a common theme as the season progresses.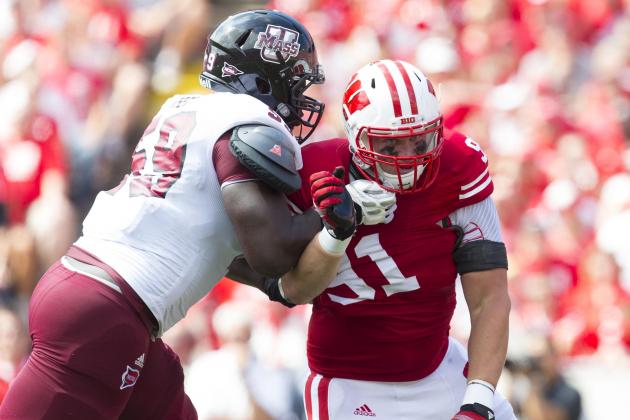 Jeff Hanisch-USA TODAY Sports

The stat sheet from its game against Massachusetts on Aug. 31 simply doesn't do Wisconsin's defense justice.
The Badgers only hit the quarterback twice and didn't record a sack on the day, but they did create two turnovers—one on a forced fumble by Brendan Kelly recovered by Ethan Armstrong, and the other being a leaping interception by Shelton in the second half.
There were also the six pre-snap penalties instigated by the defense, largely due to confusion on UMass' offensive line. The Badgers made it difficult to diagnose where exactly the fourth—or fifth or sixth—rusher was coming from, and the pre-snap adjustments also had the Minutemen in flux.
Make no mistake about it—there was pressure on the quarterback. That clock was running out fast in Mike Wegzyn's head, and as a result, he was getting rid of the football quickly following his three-step drop. That has a lot to do with why he only completed 39 percent of his passes.
By watching the tape, it's evident that the Badgers defense is more aggressive under Aranda near the line of scrimmage and in coverage. The sacks will come, the turnovers will continue and Wisconsin will do all it can to disrupt opposing offenses with its tenacious approach.