NBA Rookies Facing Enormous Pressure to Be a Franchise Savior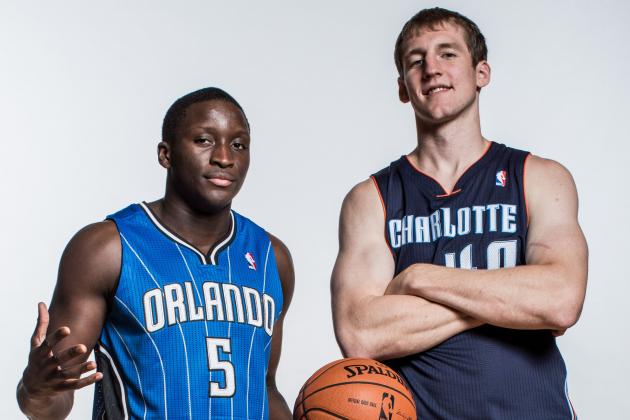 Nick Laham/Getty Images
Which of these top picks will be featured? Or will it be both?
No pressure, NBA rookies.
All we're asking you to do is seamlessly transition from the college game to the NBA while a franchise's entire fanbase looks to you as a savior.
You were a top draft pick, so of course you're immediately going to turn around the team and make it into a powerhouse.
It doesn't matter that someone like Victor Oladipo is going to go from playing against Brandon Triche during the final game of his collegiate career to guarding Paul George on the road in the Orlando Magic's season-opener. It's irrelevant that Cody Zeller's transition involves shifting from Rakeem Christmas and C.J. Fair to Dwight Howard and Omer Asik.
These guys still have to step up in order to appease fans.
So I take it back.
There's a lot of pressure.
Begin Slideshow

»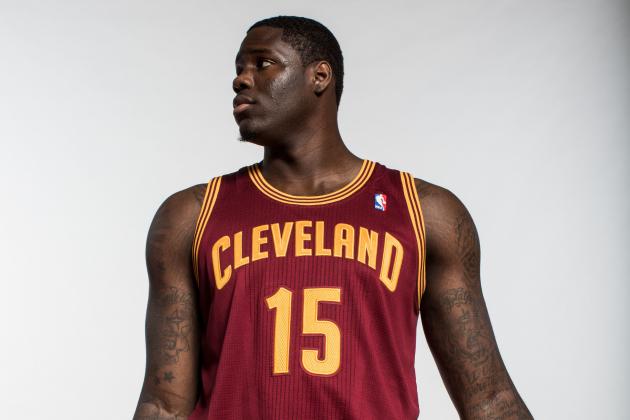 Nick Laham/Getty Images

Team: Cleveland Cavaliers
Draft Pick: No. 1
Position: PF
2012-13 Per-Game Stats: 16.1 points, 8.1 rebounds, 1.0 assists, 0.7 steals, 1.2 blocks (for UNLV)
Anthony Bennett is in a different situation from the rest of the rookies featured in this article. While he's won't be heavily relied on as a first-year pro and landed on a team with a more established franchise player (Kyrie Irving), he still has enormous pressure resting on those shoulders.
Why?
It just goes with the territory of being the No. 1 overall pick. They're held to a higher standard than other draft picks, whether it's fair or not.
Bennett won't be that much of a key contributor during his rookie season. He'll play sparingly behind Tristan Thompson unless the Cleveland Cavaliers reverse course and experiment with playing him at the 3. He won't make or break the season, and he certainly won't be viewed as a franchise savior.
Yet.
At the end of the day—and at the end of the season—Bennett will still be a No. 1 pick. And that means that the expectations will eventually catch up to him.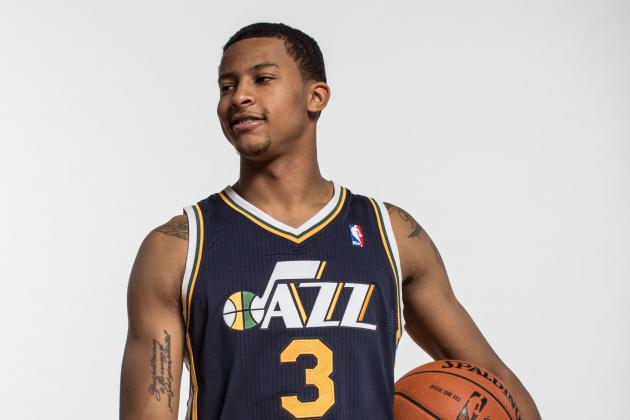 Nick Laham/Getty Images

Team: Utah Jazz
Draft Pick: No. 9
Position: PG
2012-13 Per-Game Stats: 18.6 points, 3.2 rebounds, 6.7 assists, 1.6 steals, 0.5 blocks (for Michigan)
The Utah Jazz have potential studs at every position.
I'm more hesitant to view Alec Burks and Gordon Hayward as future standouts, but they still have that sort of potential. It's more up to Derrick Favors and Enes Kanter to carry the torch in the frontcourt, and at least one of them will be up to the task.
But then there's Trey Burke, the young point guard for whom the Jazz traded two first-round picks to acquire.
The Michigan product is an incredibly talented floor general, and even though he struggled throughout summer league both to find his shot and establish a rapport with his new teammates, he's going to have a successful career.
Over the last few decades, Utah has been a hotbed for great point guards. John Stockton carried the torch for a long time, then Deron Williams took over before he left for the New Jersey Nets. It's time for another standout now, and the franchise's moves on draft night indicate that Burke is the man for the job.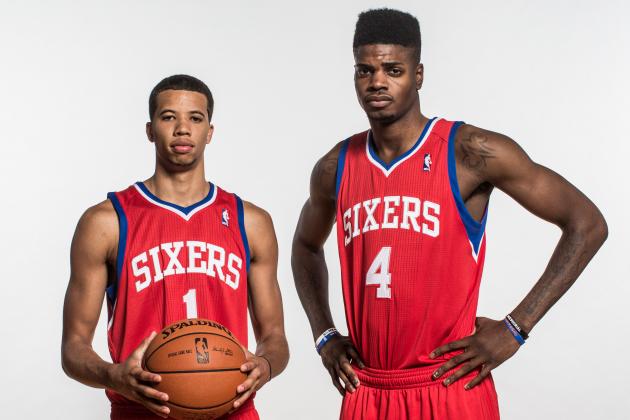 Nick Laham/Getty Images

It's a two-for-one special here.
The Philadelphia 76ers aren't expected to be even remotely competitive during the 2013-14 season—unless we're talking about the Andrew Wiggins sweepstakes and race for the worst record in the NBA. In that case, they're favorites.
However, Michael Carter-Williams and Nerlens Noel are both expected to be franchise saviors going forward.
While Thaddeus Young is a solid combo forward who has done nothing but positive things for this beleaguered franchise, he isn't the future of the organization. Nor is Evan Turner, who has been nothing but disappointing ever since he was drafted at No. 2 in the 2010 NBA draft.
The hopes rest on the shoulders of MCW and Noel—though hopefully not enough weight to hinder the center's recovery from his torn ACL. If Philadelphia was not relying on them, Jrue Holiday would still be on the roster. Trading an All-Star point guard for an unproven rookie is not a decision that's made lightly.
Carter-Williams and Noel are the two main building blocks for the Sixers, at least until they land another potential stud in the 2014 NBA draft. But in this age of the Big Three, it's possible to have three distinct franchise saviors who have not established themselves yet.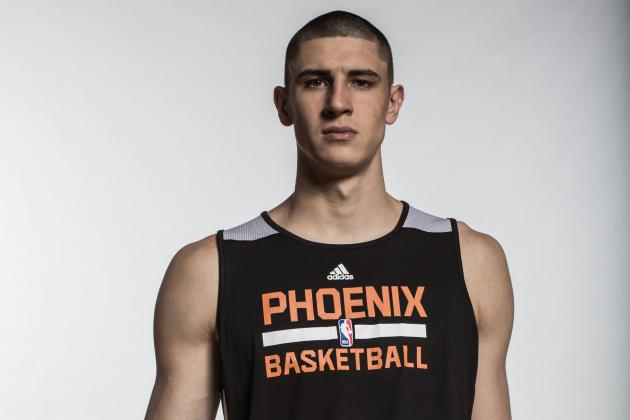 Nick Laham/Getty Images

Team: Phoenix Suns
Draft Pick: No. 5
Position: C
2012-13 Per-Game Stats: 11.9 points, 7.8 rebounds, 1.0 assists, 0.2 steals, 2.1 blocks (for Maryland)
It's hard to win an NBA championship without a dominant big man.
The Phoenix Suns used the No. 5 selection on Alex Len in the 2013 NBA draft, and that flew in the face of conventional wisdom for a couple of reasons.
First, Phoenix already boasted a talented center on the roster. Marcin Gortat has nowhere near the same upside as the Maryland product, but he's undeniably a capable player on both ends of the court, meaning that the team had bigger needs elsewhere.
And yet, the Suns decided to spurn filling those needs in order to upgrade at the 5.
Additionally, there was a more highly touted center left on the board.
Nerlens Noel was expected to factor heavily into the discussion about No. 1 picks, and at the very worst, it seemed like the former Wildcat wouldn't slip past the Charlotte Bobcats at No. 4, seeing as the talent-deficient 'Cats needed as much upside as possible.
And yet, the Suns decided against drafting the surprisingly available flat-topped center so that they could select Len.
Both of these decisions indicate that Len is viewed as a potential franchise savior, but only if his lower extremities can actually stay healthy.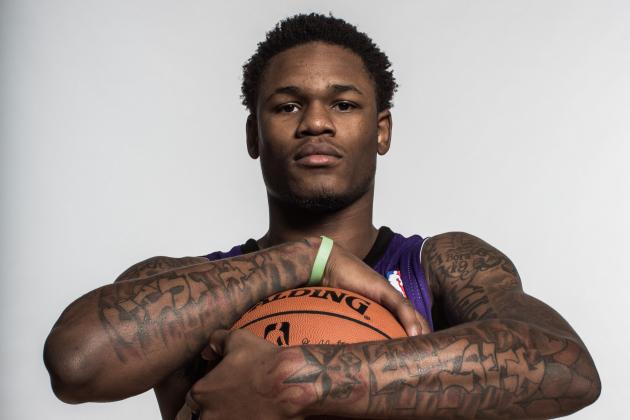 Nick Laham/Getty Images

Team: Sacramento Kings
Draft Pick: No. 7
Position: SG
2012-13 Per-Game Stats: 15.9 points, 5.2 rebounds, 2.0 assists, 1.0 steals, 0.7 blocks (for Kansas)
Something tells me the Sacramento Kings were thrilled when Ben McLemore—a prospect talented enough to have been at least considered by the Cleveland Cavaliers at No. 1—fell into their laps at No. 7.
It's not like the Kings really needed another guard, especially since Tyreke Evans hadn't yet left the team via a sign-and-trade that sent him to the New Orleans Pelicans.
The Kings need hope. While it was an incredible positive that the franchise was able to stay in Sac-Town, it's now time for another superstar to emerge and join DeMarcus Cousins in the ranks of top-tier players who call Sacramento home.
McLemore has drawn comparisons to Ray Allen, and for good reason. His three-point stroke is simply sublime, he boasts remarkable athleticism and he has the tools necessary to be a standout defender once he learns the fundamentals of the game a bit better.
The Kings don't have much in the way of positive expectations right now, but they're not going to be content laying low in the Western Conference for too much longer. It's up to McLemore to emerge and form a potent inside-outside duo with Boogie.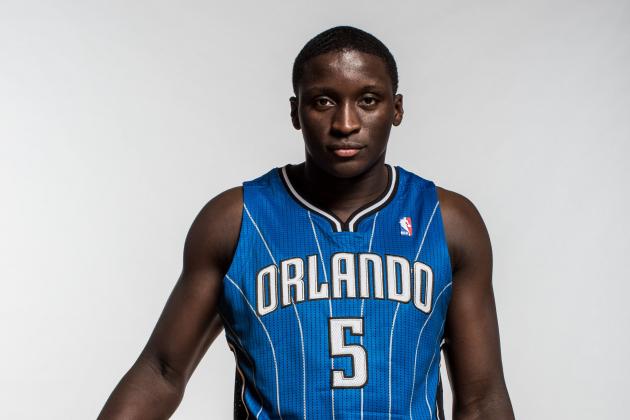 Nick Laham/Getty Images

Team: Orlando Magic
Draft Pick: No. 2
Position: SG
2012-13 Per-Game Stats: 13.6 points, 6.3 rebounds, 2.1 assists, 2.2 steals, 0.8 blocks (for Indiana)

The Orlando Magic are going to surprise a lot of people during the 2013-14 season. This is actually a team with a lot of solid players: Jameer Nelson, Arron Afflalo, Maurice Harkless, Tobias Harris, Glen Davis and Nikola Vucevic.
However, where's the star power coming from?
Harris is the closest thing the Magic have to an established star, and he's still shy. His breakout was over a short period of time when teams didn't have to prepare much for the tanking struggling Magic, and his numbers still left him shy of that "superstar" level of play.
The answer is Victor Oladipo, the rookie shooting guard out of Indiana.
Oladipo has the ability to become a true two-way stud. He's a defensive ace and should be extremely effective on that end of the court, even as a rookie. But his ceiling is just as high on offense because of his slashing instincts, improving jumper and incredible athleticism.
If he develops a consistent shot from the perimeter and hones those ball-handling skills, the sky is the limit for Oladipo. The Magic are counting on him to do exactly that.