WWE Night of Champions 2013: Grading Buildup of Top Feuds Heading into SmackDown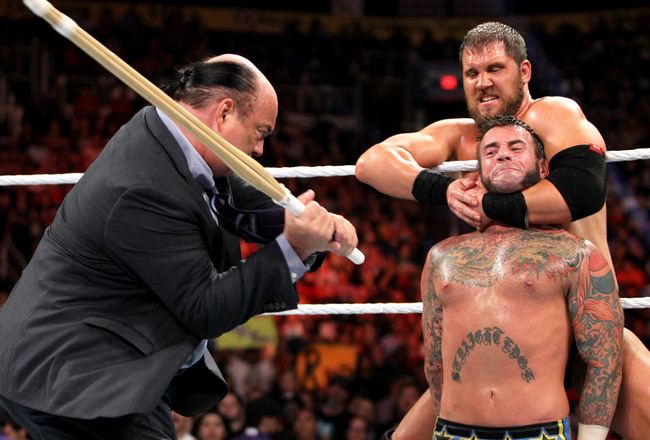 (Photo: WWE.com)

Night of Champions 2013 nears with the rumbling of enemy hatred growing louder.
WWE has a veteran taking on a supposed hero to the Latino people, a pack of angry women gunning for the champion and the pay-per-view's top matches brimming with intensity. How well has the company done so far?
In some cases, the stories have been stellar. Other rivalries have suffered from a lack of focus.
The following grades for these feuds are based on the level of animosity between the foes, how clear and compelling their motivation is and the power of their most memorable moments.
From the fight over the World Heavyweight Championship to the battle to be the face of the company, here is the report card for the buildup to the Night of Champions feuds so far.
Alberto Del Rio vs. Rob Van Dam
Grade: C+
Rob Van Dam is an odd choice as Alberto Del Rio's foil in that the world champ's character is currently centered around the Latino community and claiming to be a hero to them.
Ricardo Rodriguez returned after a brutal beating from Del Rio to announce that he was now backing Van Dam. That certainly provides some spark between Del Rio and Van Dam, but it's a spark WWE hasn't spent much time igniting.
Little time has been given for either foe to discuss their motivations and their issues with each other.
Theirs has been a very standard, everyday feud, with a few in-ring collisions but nothing to make it stand out. For this to jump a letter grade, Del Rio must try to harm his former ring announcer, forcing Van Dam to protect him or something similarly incendiary.
The animosity is not yet at a high level between these Superstars.
AJ Lee vs. the Total Divas Cast
Grade: B-
In just a short amount of time, WWE has managed to create interest in how the Divas title match plays out.
AJ Lee's much talked-about promo dissing her Diva peers kicked things off. She threw verbal barbs at Natalya, Naomi and the Bellas that got folks on the Internet talking. Those women then got a shot to beat each other with the No. 1 contender's spot on the line.
AJ continued her dismissal of her potential challengers while commentating during that match.
She didn't think any of them were deserving to face here and halted that match by interfering. Having Naomi, Brie and Natalya pound on her with such intensity, to the point where the Divas champ was left lying prone on the mat, was a good move.
Every one of the women facing her has something to prove, and AJ is suddenly the cat lowered into a room full of pitbulls.
The emotion and motivation is certainly present with this feud and has already delivered two strong images. SmackDown is WWE's next chance to keep that momentum going.
Miz vs. Fandango
Grade: C-
WWE has been steady with this feud but not all that impressive.
Fandango interrupted Miz during his SummerSlam hosting duties, and Miz followed that up by dressing like the ballroom dancer and mocking his moves. WWE has been consistent with reminding us that these two men have issues, but the intensity of those feelings hasn't shone through the screen.
The company has missed a chance to remind us of their pre-SummerSlam animosity.
It's as if WWE is treating this rivalry as a separate one, where Miz served as guest referee and counted Summer Rae "pinning" Fandango. Heading into SmackDown, WWE has a chance to tie in that past while looking to create another moment fans can hold onto.
Curtis Axel and Paul Heyman vs. CM Punk
Grade: A
It's hard to get any more intense with a wrestling feud without breaking laws.
Paul Heyman and CM Punk's friendship has turned into a festering hatefest between two unrelenting men. Last Monday's Raw saw Heyman break a kendo stick over Punk's body while Curtis Axel held him and laughed.
To help burn this moment into our brains, Heyman shouted how much Punk had broken his heart.
Add that emotional segment with the powerful promos Heyman and Punk have delivered, and you have a feud that has grabbed fans' collective attention in a vise grip. Punk's anger burned onscreen as he addressed his foes on Monday's Raw.
He talked about there being nothing left to say and guaranteeing that he was going to get his hands on Heyman.
As intriguing as this has all been, the lack of focus on Axel and completely ignoring the Intercontinental title takes away from this some. Those elements stand untapped in a feud that has been mostly spot-on.
Randy Orton vs. Daniel Bryan
Grade: A+
Had WWE done nothing from the time Randy Orton cashed in his Money in the Bank contract on Daniel Bryan until now, the animosity between them would still be engrossing.
The story has since grown from a personal rivalry to Bryan fighting against a regime. He has refused to back down from Orton or Triple H and received multiple beatings in the process.
Orton's sliminess has been great in his promos, and Bryan has further endeared himself to the audience by being stubborn, funny and intense. Their feud has given us powerful moments, including Orton cutting through the rain of confetti to attack Bryan at SummerSlam and Bryan giving Orton's new Escalade a new paint job.
It's been a narrative that has required patience as Bryan's moment of glory keeps getting interrupted by The Shield and Orton pounding him into submission. The climax will be all the better for this pacing.
SmackDown is WWE's chance to give us another one of those moments, something worth showing in recaps alongside this feud's most striking images so far.
Keep Reading