Best Gregg Popovich Coaching Moments Ever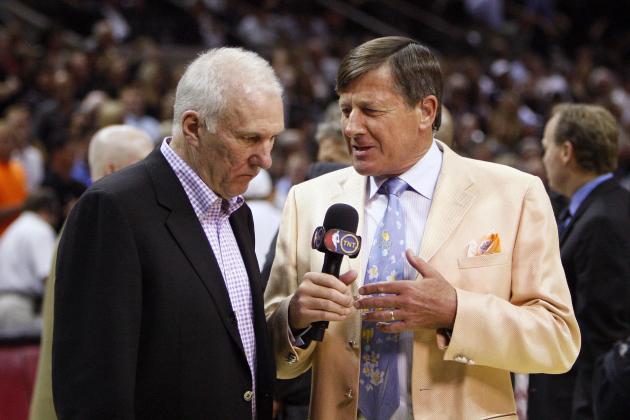 Soobum Im-USA TODAY Sports

Gregg Popovich is truly a unique man.
He has an ability—one few men can claim ownership of—not only to entertain but also to recruit a larger following each and every time he opens his mouth.
The reason? Nearly everything Pop says is quoteworthy.
He's one of the most intelligent coaches to ever step onto an NBA sideline, and his career has featured plenty of ingenious tactics and comical sound bites.
The 2013-14 season is quickly approaching, and fans are anxiously waiting for their favorite curmudgeon to add to his long list of memorable moments.
Begin Slideshow

»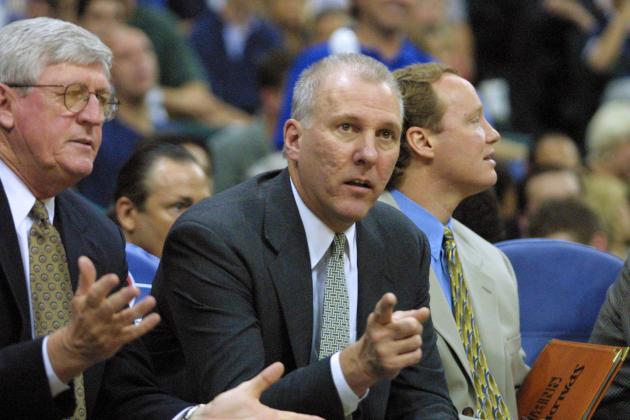 Ronald Martinez/Getty Images

Every great story features an equally great start, and the beginning of Gregg Popovich's coaching tenure is no exception.
The legend of Coach Pop almost never occurred, and his start was controversial, to say the least.
The team's 1996-97 campaign began slowly. Plagued by injury, the Spurs opened the season winning just three of the first 18 games under Bob Hill's guidance.
Hill's firing made sense, though his previous success coupled with injuries to Sean Elliott and David Robinson left many NBA minds doubting the executive decision.
As it turns out, the executive decision was made by Vice President Gregg Popovich, who filled Hill's shoes once Robinson recovered.
It was a brilliant but transparent tactic. Popovich—despite finishing with a losing record—put himself in a position to succeed from the start.
He certainly didn't begin his coaching career in the most graceful manner. But in hindsight, few Spurs fans would have chosen anything different.
Few coaches have enjoyed the success Popovich has. But the players with whom he was able to dominate set him apart from his top-tier counterparts.
Manu Ginobili was never destined to be an NBA star. He nearly went undrafted but was selected by the Spurs with the second-to-last pick in 1999.
Thanks to Gregg Popovich, what could have easily been a forgettable career soon became one that may be rewarded with a Hall of Fame induction.
In this video, Pop consults a much younger Ginobili (note the glaring absence of his signature bald spot) about his "shaky hands." The in-game message that helped calm the Argentinian sensation was only one instance in which Pop's tutelage was key in developing a European product whose future depended on it.
Pop's words were short and, to fans, somewhat forgettable. Manu, though, will likely remember the incident clearly. Gregg Popovich is the primary reason Ginobili was able to achieve such greatness, and it's small moments like these that have helped Pop become an all-time great.
One of Popovich's claims to fame is his unquestioned ability to make in-game changes that alter momentum and help his squad succeed.
The most famous—or perhaps infamous—tactic Pop has claimed ownership of is his patented Hack-a-Shaq routine, in which he purposely fouled notoriously bad free-throw shooter Shaquille O'Neal in an effort to excel while hampering the opponent.
Though not created by the sideline mastermind, former ESPN analyst John Hollinger wrote in 2008 that Pop was the most successful in executing the ploy:
For years, coaches have tripped all over themselves with how to use the Hack-a-Shaq. In the first-round series against Phoenix, Gregg Popovich became the first to really master how to use this weapon to his advantage. He used it in second quarters, when he had guys like Jacque Vaughn and Robert Horry in the game anyway and didn't care if they picked up fouls, and used it when he had the lead to eliminate the chance of a 3-pointer.
Popovich's implementation of Hack-a-Shaq against O'Neal and the Phoenix Suns in the first round of the Western Conference playoffs in 2008 was a factor in the Spurs' Game 5 win.
It also allowed Popovich to display his comedic side the next season. He intentionally fouled O'Neal—who denounced Pop's ruse—immediately after the opening tip.
His ability to maneuver pieces in the Spurs' favor has always been one of Popovich's best qualities, and the intentional foul tactic will forever be associated with his name.
Pop is also known for his unique relationships with his players. This instance—Tony Parker begging Pop for more playing time—is an amusing moment that demonstrates Popovich's unconditional love for his players.
Parker, 29 at the time of the video, was being benched by his coach—a result of a large lead and a need to rest the star point guard. Parker would have none of it.
Declaring he was in no way incapable of playing the extra minutes, Parker argued his way back onto the court. It may have been the only time someone got their way against Popovich.
Known for resting his aging stars, Pop has committed some noteworthy benchings, including the "Restgate" scandal and Tim Duncan's notorious "DNP - Old."
In this case, Pop was looking out for his leading man, though his extreme cautiousness made for a fairly comical highlight.
The great Gregg Popovich takes on many forms.
There is philosophical Pop, sarcastic Pop, genius Pop and, of course, enraged Pop—which trumps the others in terms of hilariousness.
Pop is known for his hostile demeanor, though he rarely blows his fuse for a bad reason. When he feels a ref has committed an injustice, that ref—and everyone watching—is in for a treat.
There's a better chance of stopping an angry Hulk than calming down the coach. And more often than not, the first technical foul has no consequence on Pop.
As shown in the above video, the second technical—which doubles as the coach's one-way ticket out of the stadium—comes within seconds, leaving fans smiling at the sudden burst of anger from the habitually inscrutable man.
But what makes Pop's ejections so special is not the greatness of watching him exit with a sense of satisfaction. It's the strategy behind his departure in the first place.
Sometimes, Pop just plain loses it. But one could argue his fits serve a purpose. As was the case against the Minnesota Timberwolves (reference the video), the Spurs often rally behind their ejected leader, extinguishing the existing deficit and finishing with a win. In this case, an 11-point swing would give the Spurs a victory.
Of course, this could be just another conspiracy theory, but it wouldn't be too audacious to assume every decision made by the legendary coach is done with a greater goal in mind.
No San Antonio Spurs contest is complete without an abrupt but memorable interview with Coach Pop between quarters.
Over the years, his sideline appearances have become as anticipated as the game itself, and the number of quoteworthy clips—way too many to include them all—is staggering.
Perhaps the best sound bite came from an interview with David Aldridge, in which the coach entertained the world with a quick rant about Aldridge's word selection.
Pop—when asked whether he was happy with his team's shot selection—made it abundantly clear that happiness is not something he thinks about in a basketball game.
His harsh response became a mainstream clip, as Pop made two things clear.
First, he showed his competitive edge—something that has contributed to his vast success. He's a no-nonsense guy who knows when to get serious.
Second, the curmudgeon proved that even in his most sarcastic moments, his lack of kindness was encouraged.
He probably didn't intend it, but just by speaking his mind, Pop made a lot of people very happy.
In the 2011-12 season, the Spurs came out of the gate slowly, losing eight of their first 20 games.
Their sluggish start, however, would soon be forgotten. Against the Dallas Mavericks, the Spurs prepared for their ninth loss after falling behind by 18 in the third quarter.
Gregg Popovich had other ideas. Though nobody could have predicted the success of his maneuver, he let a five-man lineup comprised of bench players try their hand at chipping away at the lead.
The reserves battled their way back and nearly finished the comeback after a Danny Green game-winner was called off. Though they lost in overtime, the moment reshaped their season: The team lost just seven more games.
It wasn't Pop's most renowned tactic, as most coaches resort to their benches in blowouts. What made this incident different was the fact that—even after the Spurs were back in the game—Popovich never again called on his starters.
He trusted the backups. And though Parker and Duncan might have been able to complete the comeback, the future Hall of Fame coach recognized it was far more crucial to reward the five men who brought the team back.
It is often regarded as Danny Green's breakout moment and a perfect example of Pop's trust in his bench—something that has defined his coaching career.
We're back with another classic Popovich interview. Did you miss seeing the esteemed coach in action? I sure did.
Again, Popovich doesn't appear to appreciate his interviewer's comments. But instead of a rant, this clip is characterized by its vintage curtness.
For those who don't remember, the Spurs began Game 3 of the conference finals with eight first-quarter turnovers. Popovich referred to it as one of the worst starts he had ever witnessed. The Spurs rebounded later, executing beautifully en route to a double-digit win, but the victory was hardly what caught people's attention.
Sideline reporter Doris Burke asked a pair of questions referring to the team's sluggish start. Pop responded to each question with the same, single-word response: turnovers.
One of the beauties of Coach Pop is his ability to speak his mind without fear of consequences. In this case, he saw one thing wrong with the team, and while it wasn't the media's desired response, he answered the questions as he saw fit.
In the span of two responses, the world saw the real Coach Pop, whose bluntness is anticipated and welcomed anytime a microphone is placed before him. One can only hope his wife doesn't rob us of this experience.
Popovich's best lines often surface when he doesn't realize anyone is listening.
Such is the case in the above video. Popovich delivered a speech more profound than that of Coach Brooks in Miracle. Okay, that may be taking it too far, but Pop's inspiring words resonated anyways.
Despite the lack of grace and background music, Pop was able to penetrate the minds of his players when he called them out for performing without intensity: "I'm seeing a little bit of unconfident, a little hesitation. It's not supposed to be easy. Every round gets tougher. Penetrate hard. Good passes. Shoot with confidence. I want some nasty!"
His words, particularly his request for "some nasty," sparked a San Antonio comeback against the Oklahoma City Thunder in the first game of the 2012 Western Conference Finals.
Popovich's speech may not be in line for a Hollywood remake, but it served its purpose and became a piece of Internet gold, joining the aforementioned and countless other unforgettable moments in the process.