Brian Urlacher Claims That Bears Defense Faked Injuries to Slow Opponents Down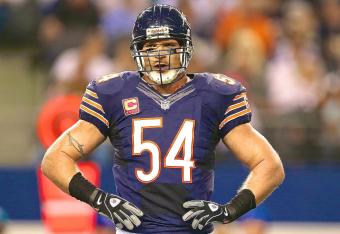 Brian Urlacher confirmed on Wednesday what many of us already assumed: Defensive players fake injuries to slow the game down.
In his new role as an analyst on Fox Football Daily, the former Chicago Bears linebacker said that faking injuries was "part of our game plan," via the Chicago Sun-Times' Patrick Finley:

"We had a guy who was the designated dive guy," he said.

Urlacher said a Bears coach would simulate a swimmers' diving motion with his arms from the sideline and the player "would get hurt."

He said it was beneficial on long drives or early in the season when defenders were more easily gassed.

He said he wouldn't name the coach who pantomimed in the order.
UPDATE: Thursday, Sept. 5
From B/R's Mike Freeman:
Bears player in text to me on Urlacher disclosing fake injuries: "Love Brian like a brother but he betrayed us to help his TV career."

— mike freeman (@mikefreemanNFL) September 5, 2013
UPDATE: Thursday, Sept. 5
Patrick Finley of the Chicago Sun-Times passes along Martellus Bennett's response to Brian Urlacher saying Bears players would fake injuries during games:
Every team does that. Sometimes, it's just like when you're boxing. You get hit too many times, and you want to hold him up against the ropes.

I think a lot of teams do that. You've got to do whatever it takes to win the game.
UPDATE: Wednesday, Sept. 4
Here's video of Urlacher talking about the Bears faking injuries:
Original Text
The NFL game is getting increasingly fast-paced, and especially when offenses are running the hurry-up, it's not exactly surprising that defenders are looking for any solution to catch a necessary break.
One of the more infamous instances of the "fake injury" strategy came in 2011 when New York Giants safety Deon Grant and teammate Jacquian Williams apparently got confused about who was supposed to "dive," resulting in a hilarious(ly bad) sequence.
Here's a look at the video, with a hat tip to the Big Lead for the find.
Grant later said he wouldn't fake an injury, but it was pretty apparent what he was doing.
Now, as Urlacher gives a glimpse into the inner workings of an NFL sideline, we have concrete proof that this kind of tactic is indeed employed in the NFL.
Unfortunately for those who are worried about the sanctity of the sport, with the game only getting faster as it evolves, it's likely something that will continue.
As Pro Football Talk's Josh Alper points out, the NFL is allowed to fine teams if players are found to be faking injuries in order to stop the clock and catch their breath. But it's not exactly something that's easily assessed, particularly due to the physical nature of the sport.
While it's undoubtedly something that will keep happening, hopefully it doesn't get out of hand.
This article is
What is the duplicate article?
Why is this article offensive?
Where is this article plagiarized from?
Why is this article poorly edited?